Off for our daily visit of Markdorf and as I mention before, what a difference a day makes.
Today we noted 178 compared with yesterdays figure of 40.
The weather was much better and the drink and refreshments that the club have to offer was a welcome respite whilst sitting in the shade till it was time to return to Friedrichehafen.
Photographs at: https://www.flickr.com/photos/jlt_egcc74/albums/72177720298930716
Regards
John
Noted between 1330-1530hrs in order as noted.
YR-CRS Czech Sport Aircraft PS-28 C/n C0606
YR-CRZ Czech Sport Aircraft PS-28 C/n C0646
D-MTRJ Pipistrel Virus C/n Unknown
D-MFAE Flight Design CT SW C/n 05-11-10
D-MEBN Aeroprakt A.32 Vixxen C/n Unknown
SP-SAPX Pipistrel Virus C/n 1020VN912
LN-YVV Vanessa Air VL-3 Evolution C/n VL-3-203
D-MWHE Murphy Renegade Spirit C/n 608
D-MZWT Aerospool WT-9 Dynamic RG C/n Unknown
D-MHVN Roland Z-601 Zodiac C/n Unknown
D-MUEF Aeropro Eurofox C/n 050098
21-ANI Flight Design CT LSi C/n F-20-11-01 Marked F-JHLS
78-ARM Vanessa Air VL-3 Evolution C/n VL-3-349 Marked F-JGKE
I-D731 Pipistrel Virus S-Wing C/n Unknown
D-MDPA TL Ultralight TL-3000 Sirius C/n 15SI119
D-MFOE Aerospool WT-9 Dynamic C/n DY589/2016
84-NX Aeroprakt A.22 Vision C/n Unknown
D-MDIE Flight Design CT SW C/n 05-03-10
OO-F33 Dyn'Aero MCR-4 C/n 79
68-AJR Aerospool WT-9 Dynamic C/n Unknown Marked F-JDKP
D-METB Alpi Aviation Pioneer 300 STD C/n 330
D-MAMJ Rans S.6 Coyote II C/n 08061757S
D-MKMC Aeropilot Legend 600 C/n Unknown
D-MURU Tomark Aero SD-4 Viper C/n Unknown
D-MAYA Tecnam P.92 Echo C/n 1502
I-B455 I.C.P. MXP-740 Savannah S C/n 12-10-54-0219
D-MOXT Aeropro Eurofox C/n Unknown
OK-QUA 92 TL Ultralight TL-3000 Sirius C/n 11SI45
D-MOEY Aerospool WT-9 Dynamic C/n Unknown
SP-SAAT Pipistrel Virus S-Wing 100 C/n 457SWN100
PH-DRV Van's RV-12 C/n 120546
PH-4Q7 Aerospool WT-9 Dynamic C/n DY231/2008
OE-7115 Aerospool WT-9 Dynamic C/n DY152/2006
D-MSSY Aerospool WT-9 Dynamic C/n DY225/2008
67-BML Pipistrel Virus S-Wing 80 C/n 459SWN80 Marked F-JTRW
LN-YHA ATEC 321 Faeta C/n Unknown
SP-SHOG Aeroprakt A.22 LS C/n A22LS-343
D-MYLZ Unidentified Type Microlight C/n Unknown
OO-I01 Vanessa Air VL-3 C/n VL-3-070
D-MCNA B & F Technik Funk FK.9 Mk.IV ELA C/n 09-05-462
D-MATC BRM Aero NG-5 Bristell UL C/n 034/2012
D-MKTC Vanessa Air VL-3 Evolution C/n Unknown
OE-7110 Aerospool WT-9 Dynamic C/n DY103/2005
D-MEFG Ikarus Comco C-42 Cyclone C/n 1804-7525
D-MVAB TL Ultralight TL-3000 Sirius C/n Unknown
D-MWPA Remos G-3 Mirage C/n 080
54-AZF Aerospool WT-9 Dynamic C/n Unknown Marked F-JIZG
G-RLMW Tecnam P.2002 Sierra C/n PFA 333-14536
D-MNMB Aerostyle Breezer B400 C/n UL151
D-MEAY Ikarus Comco C-42 Cyclone C/n Unknown
OK-NUU 68 Vanessa Air VL-3 Sprint C/n VL-3-023
D-MFHY Tecnam P.92 Echo C/n 925
D-MMZG B & F Technik Funk FK.9 Mk.VI C/n Unknown
D-MBKD Evektor EV-97 Eurostar SLW C/n 2011-3917
D-MOTL Magni M-24 Orion C/n 24116704
D-MFWS AutoGyro Europe MTO Sport C/n Unknown
D-MGHO AutoGyro Europe Cavalon C/n Unknown
D-MTLB Aerostyle Breezer C/n Unknown
59-DYV Vanessa Air VL-3 Evolution C/n Unknown Callsign F-JIXV
OM-S361 Vanessa Air VL-3 Evolution C/n VL-3-361
57-BYQ Blackwing BW-600-RG C/n 015 Marked F-JILW
D-MDYA Aerospool WT-9 Dynamic C/n DY124/2006
SP-SOMM Pipistrel Sinus C/n 1015SFNM912
D-MSCS Pipistrel Sinus 91 C/n 249SNL912
D-MCPM Alpi Aviation Pioneer 200 C/n 272
D-MCBA Dyn'Aero MCR-01 Banbi C/n 241
59-DQY Vanessa Air VL-3 Evolution C/n VL-3-187
D-MMFC Vanessa Air VL-3 Evolution C/n VL-3-351
D-MLWF Remos G-3 Mirage C/n 442
OY-9366 Jabiru J170 C/n 143
D-MODL Aerospool WT-9 Dynamic C/n DY348/2010
D-MCRW Aerospool WT-9 Dynamic C/n DY401/2011
D-MENO Aeropilot Legend 540 C/n Unknown
YR-CRU Czech Sport Aircraft PS-28 Cruiser C/n C0605
D-MMEH Aerospool WT-9 Dynamic C/n Unknown
D-MDFU Aerospool WT-9 Dynamic C/n Unknown Not in ADQ Type not quite same on ADQ
D-MBOA Aerospool WT-9 Dynamic C/n DY402/2011
D-MSHP Ikarus Comco C-42 Cyclone C/n 0001-6236
PH-VSH Pipistrel Virus S-Wing 121 C/n VSW1210022
OE-7146 Aerospool WT-9 Dynamic C/n DY622/2017
D-MEHW AirLony Skylane C/n 77
D-MLZP AirLony Skylane Carabon C/n Unknown Type not quite same on ADQ
D-MFDS B & F Technik Funk FK.9 Mk.VI C/n Unknown
OE-7000 Aerospool WT-9 Dynamic C/n DY573/2016
D-MUVW Flight Design CT LS C/n F-08-08-25
D-MVCO Urban Air UFM-10 Samba XXL C/n 07/10
D-MRFK B & F Technik Funk FK.9 Mk.III C/n 09-398
D-MASF Pipistrel Sinus 91 C/n 372 SLCH912 Not in ADQ
D-MKMN TL Ultralight TL-9200 Sting C/n 07ST245 Type not quite same on ADQ
D-MRFY Alpi Aviation Pioneer 300 STD C/n Unknown
D-MUCS Remos G-3 Mirage C/n 113
D-MBBJ Flight Design CT SW C/n 07-10-16
SP-SMBM Aeroprakt A.22 LS C/n A22LS-347
D-MPHL Ikarus Comco C-42 Cyclone C/n 0101-6300
01-YL Tecnam P.92 Echo C/n Unknown Marked F-JRKK
SP-SBUD BRM Aero NG-5 BRM Aero NG-5 C/n 446/2019
D-MJGH Ikarus Comco C-42 Cyclone C/n 1805-7526
D-MMDT BRM Aero NG-5 Bristell C/n Unknown
68-YE Aerospool WT-9 Dynamic C/n DY277/2008 Marked F-JWHE
D-MRHK Tecnam P.92 Echo C/n 266
13-AGM Shark Aero Shark C/n 053 Marked F-JHHO
83-ATC Aerospool WT-9 Dynamic C/n Unknown Marked F-JCDO
D-MAWF Remos GX Mirage C/n 425
D-MNUT Aerospool WT-9 Dynamic C/n DY520/2014
57-BUN Tecnam P.2004 Bravo C/n Unknown Marked F-JDNN
D-MBJK Shark Aero Shark C/n 066/2018
D-MYGN Aerospool WT-9 Dynamic C/n Unknown
D-MXWE Pipistrel Virus C/n Unknown
D-MXLA Roko Aero NG-6 C/n 6P0500311K
D-MQBB Dova Aircraft DV-1 Skylark C/n 155/12
PH-FPD Tecnam Astore C/n 069
01-AKF BRM Aero NG-5 Bristell C/n Unknown
OO-H86 B & F Technik Funk FK.14 Polaris C/n 014-175
D-MTNR Aerospool WT-9 Dynamic C/n DY525/2015
D-MOKD Ellipse Aircraft Spirit C/n Unknown
85-AHL BRM Aero NG-5 Bristell XL8 C/n Unknown
D-MGLI B & F Technik Funk FK.14 Polaris C/n 014-114
OO-H91 Spacek SD-1 Minisport C/n 160
85-AGZ Aeroprakt A-22L2 C/n Unknown
G-ZGAB BRM Aero NG-5 Bristell Speed Wing C/n LAA 385-15392
67-CFR Aerospool WT-9 Dynamic RG C/n DY723/20__ Marked F-JHMK
OO-E90 Aeropro Eurofox C/n 17005
D-MWEK Aerospool WT-9 Dynamic C/n DY311/2009
D-MCTM Flight Design CT LS C/n Unknown
D-MJOJ Aeroprakt A.32 Vixxen C/n Unknown
OM-S403 BRM Aero NG-5 Bristell C/n Unknown
08-ET Pipistrel Sinus C/n 100S9120303 Marked F-JGHM
OO-D61 Aeropro Eurofox C/n 10001
D-MYRU Tomark Aero SD-4 Viper C/n 2015
D-MCVW B & F Technik Funk FK.12 Comet C/n 052
D-MAMI B & F Technik Funk FK.9 Mk.IV C/n 04-371
OK-WUS 17 Aerospool WT-9 Dynamic C/n DY601/2016
D-MMWM TL Ultralight TL-96 Sting C/n 06ST193
D-MEUS Aeroprakt A.32 Vixxen C/n Unknown
D-MHNC Evektor EV-97 EuroStar C/n 2008-3508
54-AYY Alpi Aviation Pioneer 300 C/n 430 Marked F-JIQU
D-MSCI Remos G-3 Mirage C/n 083
73-TQ Aerospool WT-9 Dynamic RG C/n Unknown Marked F-JGDG
D-MCEW Pipistrel Virus 600 D C/n Unknown Type not quite same on ADQ
D-MUSI Tecnam P.92 Echo C/n 339
D-MGMD Vanessa Air VL-3 Evolution C/n VL-3-0262
D-MUAW Aerospool WT-9 Dynamic C/n DT418/2011
D-MAKF Aerostyle Breezer C/n 066
OK-YUL 50 Ellipse Aircraft Spirit 912 STi C/n Unknown
D-MYPT Flying Machines FM.250 Vampire C/n FM250V42
D-MMZF B & F Technik Funk FK.9 Mk.IV ELA C/n 09-05-470F
OK-ZUG 06 ATEC 321 Faeta NG C/n Unknown
D-MRMW Aerospool WT-9 Dynamic C/n DY264/2008
OE-7117 Aerospool WT-9 Dynamic C/n DY229/2008
D-MIVA BRM Aero NG-5 Bristell C/n 136/2015
D-MCTL Flight Design CT SW C/n 07-04-24
I-6232 Unidentified Type Light Aircraft C/n Unknown
05-SY Aerospool WT-9 Dynamic RG C/n Unknown Marked F-JIVJ
D-MCTK Flight Design CT 2K C/n 01-09-05-29
D-MRBT Aeroprakt A-22 Vision C/n Unknown
D-MKKG Evektor EV-97 EuroStar C/n 2009-3623
D-MHHS B & F Technik Funk FK.14 A Polaris C/n 014-004
54-AXQ Alpi Aviation Pioneer 300 C/n 399 Marked F-JDTW
D-MWWD Flight Design CT 2K C/n 99-02-01-47
I-8390 Evektor SportStar C/n 2006-2802
D-MRFT Jihlavan Airplanes KP-2 U Sova C/n 4651G
D-MWUW Vidor Asso V Champion C/n 010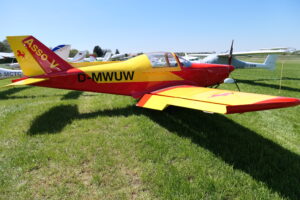 D-MOYO Ikarus Comco C-42 Cyclone C/n 1409-7345
SP-SMIM Aero-Kros MP-02 Czajka C/n 014/18
D-MCTC Flight Design CT C/n Unknown
D-MGIH TL Ultralight TL-3000 Sirius C/n 16SI148
D-MYWF Remos GX Mirage C/n 441
84-MB Pipistrel Virus S-Wing C/n 905SWN100 Marked F-JDFG
D-MFWZ Remos GX Mirage C/n 082
D-MRMY Aerospool WT-9 Dynamic C/n DY381/2010
SP-SKOR Pipistrel Virus 912 C/n 232V912
SP-SPAA Aeroprakt A.22 L Foxbat C/n 189
D-MMHK Vidor Asso V Champion C/n Unknown
OK-YUR 99 Shark Aero Shark C/n 028/2014
D-MHIJ Aerospool WT-9 Dynamic C/n DY349/2010
D-MGFD Ikarus Comco C-42 Cyclone C/n Unknown Not in ADQ
D-MKAO B & F Technik Funk FK.14 Polaris C/n 014-117
OE-CMF Brandli BX-2 Cherry C/n 59