Second full day and the usual format of events, but even busier as we were going to the exhibition halls and the Dornier museum.
The halls will be in a separate report when we have tidied it up.
Photographs in my Friedrichshafen Flickr folder at: https://www.flickr.com/photos/jlt_egcc74/albums/72177720298933044
Regards
John
The Friedricheshafen log for both morning and afternoon sessions below, including a few other bits noted over the top.
However as we were getting ready for the day, we noted a Swiss balloon, plotting on FR24 and seen. The last time we were here we noted three.
Over Bodensee~Baden-Wurttemberg 29th April 2022
Noted at 0705hrs
HB-QZL Ultramagic N-180 C/n 180/122 Air Ballonteam Stefan Zeberli
Noted between 0810-1200hrs
D-EIZF Beech F33A C/n CE-775 Private
D-IBJG Beech C90B C/n LJ-1371 Corporate
D-ESHM Diamond DA 20-A1 C/n 10191 Private
F-GUVL Diamond DA 40D-TDI C/n D4.110 Private
D-ILWA Cessna 340A C/n 340A-0502 Private
OY-TBM Socata TBM940 C/n 1404 Corporate
F-GYPQ Piper PA-46350P C/n 4622013 Private
D-LZNT Zeppelin LZ N07-100 C/n 004 Corporate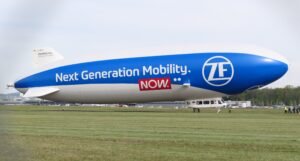 OK-STN Piper PA-46350P C/n 4636698 OK Aviation
N4047C Beech 200 C/n BB-202 Corporate
OE-DTY Reims-Cessna F.172N C/n 1577 Private
OK-SGA Piper PA-46350P C/n 4636318 Private
G-EIMS Bell Helicopters 505 C/n 65213 Corporate
F-BPOB Robin DR.340 C/n 303 Private
HB-PGM Piper PA-28181 C/n 28-8190245 Motorfluggruppe Thurgau
D-EPMR Cirrus Design SR-22 C/n 3112 Private
D-EZLN Zlin Z.143L C/n 4 Private
D-EBBE SAN Jodel D.140C C/n 119 Private
OE-FMB Diamond DA 42 C/n 42.225 Private
OM-JEX Boeing 7378AS C/n 29932 AirExplore


D-EKRS Cessna T.210L C/n 210-59569 Private
HB-WZB Aerostyle BreezerB600 C/n 047LSA Private
D-EDPF Piper L-18C95 C/n 18-3423 Private
D-IAFE Diamond DA 62 C/n 62.138 Private
OK-PEL Cirrus Design SR-22 C/n 4625 Private
D-ECZA Procaer F.15B C/n 24 Private
I-TOPX Beech 400XP C/n RK-579 Aliserio
D-HBFS AgustaWestland AW-109SP C/n 22261 Corporate
OK-EKB Robinson R44 C/n 2014 Private
D-EMIQ Cirrus Design SR-22T C/n 2317 Private
OE-KHC Cessna 172S C/n 172S-10795 Private
HB-KHZ Robin DR.400180R C/n 2661 Fliegerschule Birrfeld
F-PGAR Jodel DR.1051 C/n 910 Private
HB-SFX Aquila A.210 C/n 216 Private
HB-KOE Robin DR.400180 C/n 2569 Motorfluggruppe Birrfeld
N217TS Piper PA-46350P C/n 4636144 Private
OO-VCK Cessna 172S C/n 172S-9837 Private
HB-CDE Reims-Cessna F.177RG C/n 77 Private
M-ATTI Socata TBM930 C/n 1127 Corporate
D-CIFM Cessna 680 C/n 680-0589 Corporate
S5-CMM Cessna 500/501 C/n 501-0259 Corporate
D-CLBM Embraer EMB-505 C/n 50500173 Corporate
N6099Z Cirrus Design SR-22 C/n 625 Private
D-EJAY Socata TB-20 C/n 1611 Private
HB-TDC Cessna 172S C/n 172S-11181 Flugsportgruppe Zurcher Oberland
HB-YKP Stoddard-Hamilton GlaStarGS-1 C/n 5794 Private
OK-PBE Cessna A.185E C/n 185-01740 Private
D-EAOR Reims-Cessna FR.172F C/n 71 Private
D-EINS Piper PA-46310P C/n 46-8508106 Private
PH-ISF Czech Aircraft Works SportCruiser C/n 09SC254 Private
HB-NPD Pipistrel Virus S-Wing 121C C/n VSW121C0091 Private
D-EZKK Mooney M.20K C/n 25-0128 Private
D-EFCM Diamond DA 40NG C/n 40.N036 Private
D-EDXD Reims-Cessna FR.172G C/n 211 Private
OE-FCS Diamond DA 42NG C/n 42.287 Flight Charter GmbH
D-EMES Piper PA-28R-201T C/n 28R-7803214 Private
OE-7104 Aerospool WT-9 C/n DY083/2005 Private
D-HEDC Bell Helicopters 206L-4 C/n 52097 Corporate
D-HRIN Robinson R44Raven I C/n 2562 Private
D-HFUX Robinson R22 C/n 1058 Private
HA-LXE Airbus A321231(SL) C/n 7114 Wizz Air
D-EKPR Piper PA-28181 C/n 28-8190114 Private
D-IJJJ Diamond DA 62 C/n 62.11 Private
LX-RDH Murphy Rebel C/n 510 Private
OK-TNT Pilatus PC-12-47E C/n 1700 Corporate
OK-EAB Cessna 172N C/n 172-68704 Private
SE-MLR Diamond DA 42NG C/n 42.N338 Private
D-EKPP Mooney M.20J C/n 24-0268 Private
OE-FLZ Diamond DA 42NG C/n 42.N351 Diamond Aircraft Industries GmbH
D-EHGD Robin DR.400180 C/n 2159 Private
D-ACNN Canadair Regional-Jet900 C/n 15254 Lufthansa Regional
D-MODU Aerostyle Breezer C/n UL-88 Private
D-FPPP Piper PA-46600TP C/n 4698180 Private
HB-YKN Stoddard-Hamilton GlasairII C/n 2377 Private
D-ENYB Cirrus Design SR-20 C/n 2476 Private
D-MIZL Nando Groppo G70 C/n Unknown Private
D-GIPA Piper PA-34220T C/n 3449048 Lufthansa Flight Training
OM-M350 Direct Fly Alto912TG C/n Unknown Private
EC-NKB Cirrus Design SR-22T C/n 1001 Private
N214VQ Cirrus Design SR-22 C/n 3808 Private
D-EPUZ Diamond DA 40D-TDI C/n D4.337 Private
D-EMFU Bolkow Bo.208C C/n 574 Private
D-HGHB AgustaWestland AW-109SP C/n 22314 Corporate
OK-OKJ Cessna T.182T C/n T182-08850 Air Bohemia
HB-YXA Van's RV-8 C/n 82945 Private
N108FB Maule MX-7235 C/n 10119C Private
PH-IHW Alpi Aviation Pioneer 400 C/n 37 Private
D-EPPH Van's RV-7 C/n 73054 Private
D-HMMO Robinson R44 C/n 12846 Private
D-EDCB Piper PA-22108 C/n 22-8719 Private
D-ERDM Ruschmeyer R90230RG C/n 27 Private
I-STAF Cessna 182N C/n 182-60209 Private
D-EKYS Mooney M.20J C/n 24-1095 Private
D-ETER Cirrus Design SR-22T C/n 478 Private
PH-PHE Piper PA-28RT-201T C/n 28R-8331022 Private
D-EDWN Robin DR.400180R C/n 1927 Private
D-EINK Piper PA-28RT-201T C/n 28R-8331034 Private
LX-FDC Cirrus Design SR-22 C/n 1803 Private
T7-PET Embraer EMB-500 C/n 50000306 Corporate
HB-YPB Denney Kitfox C/n C94110080 Private
D-GMZE Piper PA-34200T C/n 34-7870452 Private
D-EBPL Cessna T.182T C/n T182-08753 Private
HB-PHU Piper PA-28181 C/n 28-8490070 F-Air Flight Operations
N936HB Beech G36 C/n E-3937 Private
N414AK Cessna 414A C/n 414A-0321 Corporate
D-FEEL Pilatus PC-12-47E C/n 2159 Corporate
OK-GUU 02 Jihlavan Airplanes KP-2U C/n 3944G Private
D-EDFR Robin DR.400180R C/n 1334 Private
D-EIFY Beech F33 C/n CD-1254 Private
F-GBQB Reims-Cessna F.182Q C/n 104 Private
D-EEWX Beech F33A C/n CE-947 Private
D-EKSE Robin DR.400180R C/n 1396 Private
N221TN Cirrus Design SR-22T C/n 8504 Private
D-FMCP Socata TBM930 C/n 1230 Corporate
OE-XKX Robinson R44 C/n 1469C Private
D-ERRP Diamond DA 40D-TDI C/n D4.098 Private
D-ECGG Cirrus Design SR-22 C/n 3409 Private
OE-KBU Diamond DA 40 C/n 40.639 Private
D-ESAT Rockwell Commander 114B C/n 14551 Private
HB-KFH Robin DR.400200R C/n 2450 Segel- und Motorfluggruppe Grenchen
D-ERDR Robin DR.400180 C/n 2738 Private
D-EWCC Cessna 182T C/n 182-81819 Private
D-EIAY American Aviation AA-5 C/n 423 Private
9A-EMZ Robin R.1180TD C/n 271 Private
Noted between 1700-1915hrs
Noted on the field from outside the exhibition halls
HB-ZJB Eurocopter EC120B C/n 1123 Corporate
PH-ARI Czech Sport Aircraft SportCruiser C/n P1102010 Private
OK-MGI Diamond DA 42 C/n 42.016 Private
D-EKAD Cessna P.210N C/n P210-00644 Private
N504DT Piper PA-46350P C/n 4636395 Private
F-PIMS Dyn'Aero MCR-4S 2002 C/n 137 Private
N26292 American Aviation AA-5A C/n 508 Private
OY-BYZ Reims-Cessna F.337F C/n 25 Private
D-EMFU Bolkow Bo.208C C/n 574 Private
D-GOOO Piper PA-34200T C/n 34-7970360 Private
OE-FMB Diamond DA 42 C/n 42.225 Private
D-EOJU Reims-Cessna F.172N C/n 1635 Haeusl Air
Noted from other public area's
D-CMOR Embraer EMB-505 C/n 50500373 Corporate
D-IAMR Cessna 414A C/n 414A-0492 Corporate
D-IWOW Piaggio P-180 C/n 1120 Corporate
D-KSRF DG Flugzeugbau DG-1000M C/n 10-219 Private
D-EPUZ Diamond DA 40D-TDI C/n D4.337 Private
N113AC Socata TB-20 C/n 2121 Southern Aircraft Consultancy
D-HCMB Robinson R44 C/n 1478 Private
D-EAOR Reims-Cessna FR.172F C/n 71 Private
N56PV Piper PA-46600TP C/n 4698162 Private
D-GCAT Piper PA-34220T C/n 3449167 Private
D-EGOA Piper PA-28181 C/n 28-8190020 Private
OK-FAC Cirrus Design SR-22 C/n 2160 TL-Ultralight sro
G-LARE Piper PA-39160 C/n 39-16 Private
G-SORG Diamond DA 50C C/n 50.C.A.A.008 Private
D-FEAG Socata TBM930 C/n 1246 Corporate
D-EOEA Mooney M.20K C/n 25-0366 Private
D-EQGS Cirrus Design SR-22T C/n 182 Private
OK-ISP Rockwell Commander 114 C/n 14423 Private
OE-KAS Diamond DA 40 C/n 40.051 Private
OK-ZUA 26 Vanessa Air VL-3 C/n Unknown Private
SE-LLZ Diamond DA 40 C/n 40.061 Private
G-FRAG Piper PA-32300 C/n 32-7940284 Private
N707SN Cirrus Design SJX C/n 41 Corporate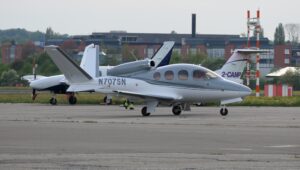 F-GAON Robin DR.400140B C/n 1238 Private
N600KS Piper PA-46500TP C/n 4697017 Private
HB-CQS Cessna P.210N C/n P210-00167 Private
D-EFGV Robin DR.400140 C/n 816 Private
SE-MLM Piper PA-28181 C/n 2843409 Private
D-EOMH Beech F33A C/n CE-1500 Private
Over Friedrichshafen~Baden-Wurttemberg 29th April 2022
HB-FOS Pilatus PC-12-45 C/n 366 Corporate
HB-VPX Pilatus PC-24 C/n 260 Jet Aviation Business Jets
Flyovers. 29th April 2022
In order as noted.
TC-SME Boeing 7378MAX C/n 63607 SunExpress
D-AINZ Airbus A320271N(SL) C/n 9442 Lufthansa
YL-CSH Bombardier CS-300BD-500-1A11 C/n 55016 airBaltic
OE-LWL Embraer Emb-195200LR C/n 19000532 Austrian Airlines
B-327V Airbus A350941 C/n 528 Air China
4X-EKJ Boeing 73785P C/n 35486 El Al Israel Airlines
OK-HFH Pilatus PC-12-47E C/n 1864 T-Air