Final museum / restoration visit of the trip and very unusual.
A pre arrange tour for this small museum which is dedicated to the B-24 Liberator restoration and Memorial.
As you can see from the report, they were also restoring various other aircraft in this rather cramped hangar.
An excellent experience as they also started up one of the B-24 Liberator engines outside and at the rear of the hangar. That was some power and noise!
Photographs at: https://www.flickr.com/photos/jlt_egcc74/albums/72177720307807739
My full Australia trip photographs album is at:  https://www.flickr.com/photos/jlt_egcc74/collections/72157721663725779/
Regards
John
Noted between 1040-1115hrs
A72-176 Consolidated B-24M/R Liberator C/n 5892 Preserved
A46-147 Commonwealth CA-13 Boomerang C/n 970 Private
Unknown. Avro Anson C/n RY LW11513 Preserved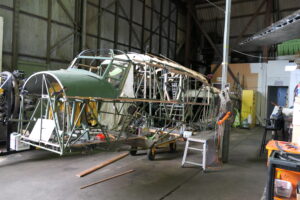 LX-181 Airspeed Oxford Replica C/n Unknown Preserved
Parts of fuselage
44-28151 North American B-24J C/n 841 Preserved
Frame Outside in poor condition
Unknown. Avro Anson C/n RY LW20136 Preserved