Whilst the two hire cars were being picked up, the rest of us were on top of the two public car parks in order to get what we could before driving on to Tarbes~Lourdes.
We would have a much more thorough review on our return the following day.
Not the greatest place for photographs, so grabbed what I could in the rush and fading light.
My photographs at:  https://www.flickr.com/photos/jlt_egcc74/albums/72177720297708790
Regards
John
Noted between 1745-Onwards
Normal airfield traffic
CN-RGH Boeing 73786N C/n 36828 Royal Air Maroc
F-HIAM Tecnam P.2002-JF Sierra C/n 351 Private
OE-LQG Airbus A319111 C/n 4076 easyJet Europe
PH-EZA Embraer Emb-190100LR C/n 19000224 KLM cityhopper
CS-TPU Embraer Emb-190100LR C/n 19000506 TAP Express
OE-ICR Airbus A320214(SL) C/n 6885 easyJet Europe
F-GRHP Airbus A319111 C/n 1344 Air France
G-DBCH Airbus A319131 C/n 2697 British Airways
D-AILB Airbus A319114 C/n 610 Lufthansa Cityline
N898ES Dassault Falcon 7X C/n 15 Corporate
Factory review from the public car parks
F-GSTB Airbus A300B4-608ST C/n 751 Airbus Transport International Coded 2
F-GSTC Airbus A300B4-608ST C/n 765 Airbus Transport International Coded 3
F-GSTF Airbus A300B4-608ST C/n 796 Airbus Transport International Coded 5
F-GXLI Airbus A330743L C/n 1930 Airbus Transport International Coded XL3
F-GXLJ Airbus A330743L C/n 1985 Airbus Transport International Coded XL4
F-WBXL Airbus A330743L C/n 1824 Airbus Transport International Coded XL1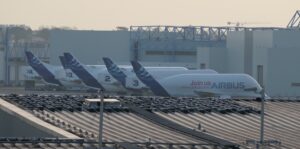 F-WWEY Aerospatiale ATR 72600 C/n 1654 Primer / ATR
F-WWER Aerospatiale ATR 72600 C/n 1648 Primer / ATR
F-WWDM Airbus A320271N(SL) C/n 10546 S7 Airlines
Below was a fuselage, to be D-AENE for Eurowings
F-WW?? Airbus Industrie A320 C/n 10932 Primer / Airbus Industrie
F-WZFD Airbus A350941 C/n 512 China Southern Airlines
F-WZGR Airbus A350941 C/n 504 Primer / Air China
F-WWET Aerospatiale ATR 72600 C/n 1627 All White / ATR
F-WZGV Airbus A350941 C/n 552 Japan Airlines
F-WWCK Airbus A330941N C/n 2010 Delta Air Lines fleet number 3418
F-WWBP Airbus A320251N(SL) C/n 10802 Avianca
F-WWBJ Airbus A320251N(SL) C/n 10807 Flynas
F-WZFU Airbus A3501041 C/n 507 Virgin Atlantic
F-WWYU Airbus A330941N C/n 2006 StarLux Airlines
F-WWKT Airbus A330941N C/n 1999 Delta Air Lines
F-WZNX Airbus A350941 C/n 551 Air France
F-WZFV Airbus A350941 C/n 494 Singapore Airlines
F-WWKH Airbus A330343E C/n 1902 Hong Kong Airlines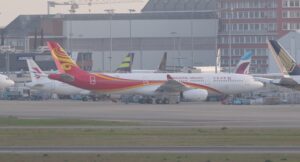 F-WWBE Airbus A320251N(SL) C/n 10737 China Eastern Airlines
F-WWIW Airbus A350941 C/n 459 Iberia
F-WWDE Airbus A320271N(SL) C/n 10637 China Express Airlines
F-WWDL Airbus A320251N(SL) C/n 10777 Flynas / Marked HZ-NS47
F-WWDC Airbus A320251N(SL) C/n 10776 China Eastern Airlines
F-WMIL Airbus A3501041 C/n 059 Airbus Industrie
F-WWYM Airbus A330243 C/n 780 All White / Airbus Industrie
F-WWBY Airbus A320251N(SL) C/n 10658 China Eastern Airlines
F-WWIV Airbus A320251N(SL) C/n 10783 Colorful Guizhou Airlines
F-WZFM Airbus A350941 C/n 548 Air France
F-HAIB Aerospatiale ATR 42500 C/n 637 Air Corsica
Viewed different area/Drive though
F-WWET Aerospatiale ATR 72600 C/n 1650 Primer / ATR
F-WWEH Aerospatiale ATR 72600 C/n 1639 Primer / ATR
Viewed from airport public car park.
Nose portion only. Preserved outside The Air Formation Centre located at 14 Avenue de l'Escadrille Blagnac.
ZS-SLF Airbus A340 212 C/n 006 Preserved