Back to the starting point and a longer review of the Airbus landscape. An anti-clockwise drive produced the following.
Some duplications from the previous day, however plenty more noted on the daytime excursion. Even had time to note a few as we drove past the two museums. Must visit those again soon.
After the drive, dropped the hire cars off and viewed during the remainder of the evening from the terminal till our late flight to Stansted.
My photographs at: https://www.flickr.com/photos/jlt_egcc74/albums/72177720297708790
Regards
John
Noted between 1555-Onwards
Normal airfield traffic & various stored
F-GRNT Swearingen SA.226TMerlin IIIB C/n T-312 Airlec Air Espace
F-GCAG Robin R.1180T C/n 235 Private
EI-DHD Boeing 7378AS C/n 33816 Ryanair
F-GKVE Socata TB-20 C/n 1245 Private
OE-IVT Airbus A320214(SL) C/n 7632 easyJet Europe
OY-GMF Bombardier Global ExpressBD-700-1A10 C/n 9043 Execujet Europe
OE-LKK Airbus A319111 C/n 3426 easyJet Europe
F-HTVQ Boeing 7378AL C/n 39068 Transavia France
OO-SSL Airbus A319111 C/n 1803 Brussels Airlines
9H-QBY Boeing 7378AS C/n 44720 Malta Air
F-GLNH Beech 1900D C/n UE-73 Twin Jet
F-HFGP Beech 350i C/n FL-702 APG Airlines
F-RAFB Dassault Falcon 7X C/n 86 French Air Force
F-RARF Airbus A330223 C/n 240 French Air Force
F-HBNE Airbus A320214 C/n 4664 Air France
CS-TTW Embraer Emb-195200LR C/n 19000407 TAP Express
EC-ISI Airbus A320214 C/n 2123 Volotea
D-AIUM Airbus A320214(SL) C/n 6577 Lufthansa
OE-LKD Airbus A319111 C/n 3720 easyJet Europe
F-BVBI Reims-Cessna F.172M C/n 1109 Private
OE-LKC Airbus A319111 C/n 4056 easyJet Europe
160 Socata TBM700B C/n 160 French Army Coded ABV
N377SA Gulfstream G550 C/n 5155 Corporate
VP-CSM Lockheed Jetstar731 C/n 5092 Withdrawn from use
N155AG Beech B55 C/n TC-2311 Private
EC-NDG Airbus A319111 C/n 3364 Volotea
OE-LQG Airbus A319111 C/n 4076 easyJet Europe
9H-LOS Airbus A320214 C/n 3153 Lauda Europe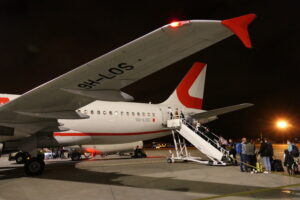 OE-ICM Airbus A320214(SL) C/n 6416 easyJet Europe
OE-IVL Airbus A320214(SL) C/n 6188 easyJet Europe
OE-IJH Airbus A320214(SL) C/n 7687 easyJet Europe
EC-MLC Canadair Regional-Jet1000 C/n 19048 Iberia Regional
G-JZHU Boeing 737800 C/n 63151 Jet 2
OE-IZF Airbus A320214(SL) C/n 6831 easyJet Europe
M-AMRM Aerospatiale ATR 72212A C/n 826 Leasing Company
Museum drive past. A few large items only.
F-WXXL Airbus A380841 C/n 002 Preserved
F-WWCA Airbus A340642 C/n 360 Airbus Industrie
F-WWAI Airbus A320111(WL) C/n 0001 Preserved
EC-IDG Aerospatiale ATR 42 312 C/n 003 Preserved Marked F-WEGA
F-WWEY Aerospatiale ATR 72600 C/n 98 Preserved
F-GFLJ Nord NoratlasN.2501 C/n 2501-201 Preserved Marked 201
F-BVFC BAC/SUD Concorde101 C/n 209 Preserved
F-BTOE Sud Aviation SE.210 Caravelle12 C/n 280 Preserved
F-WWMT Airbus A400M C/n 01 Preserved
F-GHMU Sud Aviation SE.210 Caravelle10B3 C/n 249 Preserved
F-BMQG Morane-Saulnier MS.733 C/n 101 Preserved
Factory review from views available to the public including the airport public car parks
F-WWYS Airbus A330243(MRTT) C/n 2012 French Air Force
F-WZFM Airbus A350941 C/n 548 Air France
F-WWIW Airbus A350941 C/n 459 Iberia
F-WWIV Airbus A320251N(SL) C/n 10783 Colorful Guizhou Airlines
F-WWKT Airbus A330941N C/n 1999 Delta Air Lines
F-WWET Aerospatiale ATR 72600 C/n 1627 All White / ATR
F-WWEY Aerospatiale ATR 72600 C/n 1654 Primer / ATR
F-WWER Aerospatiale ATR 72600 C/n 1648 Primer / ATR
F-HAIB Aerospatiale ATR 42500 C/n 637 Air Corsica
F-WWEW Aerospatiale ATR 72600 C/n 1565 ATR
F-WWBQ Airbus A320251N(SL) C/n 10800 Chengdu Airlines
F-WWDR Airbus A320271N(SL) C/n 10799 tigerair Taiwan
F-WWIG Airbus A320251N(SL) C/n 10801 Flyadeal
F-WWDL Airbus A320251N(SL) C/n 10777 Flynas Marked HZ-NS47
F-WWDC Airbus A320251N(SL) C/n 10776 China Eastern Airlines
F-WZFG Airbus A350941 C/n 556 Primer / Iberia
F-WZNQ Airbus A350941 C/n 561 Primer / China Eastern Airlines
F-WZFN Airbus A350941 C/n 558 Aeroflot Russian Airlines
F-WLXV Airbus A3501041 C/n 438 Qatar Airways
F-WWCD Airbus A330941N C/n 1959 Garuda Indonesia
F-HBNJ Airbus A320214 C/n 4908 Air France
F-WTTO Airbus A330841N C/n 1888 Airbus Industrie
F-WWCC Airbus A330941N C/n 1988 All White / Garuda Indonesia
F-WWYA Airbus A330941N C/n 1971 AirAsia X
F-WWYJ Airbus A330941N C/n 1961 Garuda Indonesia
F-WWYP Airbus A330941N C/n 1958 Garuda Indonesia
F-WWCM Airbus A330941N C/n 1973 All White / Airbus Industrie
F-WWOW Airbus A380841 C/n 001 Airbus Industrie
F-WWYR Airbus A330941N C/n 1970 Airbus Industrie
F-WZND Airbus A3501041 C/n 409 Qatar Airways
F-WWYJ Airbus A330941N C/n 1976 AirAsia X
F-WZNZ Airbus A350941 C/n 506 China Southern Airlines
F-WWKE Airbus A330941N C/n 2004 Cebu Pacific Air
Unmarked Airbus A350 C/n 5000 Airbus Industrie Outside the A350 buildings
F-WWDE Airbus A320271N(SL) C/n 10637 China Express Airlines
F-WWDH Airbus A320251N(SL) C/n 10791 SmartAvia
F-WWBY Airbus A320251N(SL) C/n 10658 China Eastern Airlines
F-WWTN Airbus A320251N(SL) C/n 10774 Peach Marked JA208P
F-WWIP Airbus A320251N(SL) C/n 10763 Flyadeal
F-WWYZ Airbus A330941N C/n 1996 Delta Air Lines
F-WZGO Airbus A3501041 C/n 509 Cathay Pacific Airways
F-WWIM Airbus Industrie A320 C/n 10806 S7 Airlines
F-WWEY Aerospatiale ATR 72600 C/n 1631 Primer / ATR
F-WWBJ Airbus A320251N(SL) C/n 10807 Flynas
F-WWDJ Airbus A320271N(SL) C/n 10771 Volaris
F-WWIN Airbus A320251N(SL) C/n 10818 Iberia
F-WWDF Airbus A320251N(SL) C/n 10804 Azul Linhas Aereas
F-WWBU Airbus A320251N(SL) C/n 10717 Vistara
F-WWEF Aerospatiale ATR 72600 C/n 1637 TAROM
F-WWDP Airbus A320251N(SL) C/n 10748 Vistara
F-WWIF Airbus A320251N(SL) C/n 10758 Eurowings
F-WWBM Airbus A320251N(SL) C/n 10761 SAS Connect
D-AVZO Airbus A321251NX(SL) C/n 7877 Airbus Industrie