Hi all,
The day that we were waiting for, dawned brightly. It wouldn't really be a storage yards tour if you didn't do the biggest one of all!
Three Points
Just down the road from Ryan Field was this rather nice AH-1F. I didn't know that this was here, so had missed on previous trips!
My photographs can be seen here;
https://www.flickr.com/photos/62861611@N08/52015803803/
https://www.flickr.com/photos/62861611@N08/52015757846/
68-17104, Bell AH-1F Cobra, On Display, United States (20832)
Ryan Field
Sadly the only show left in town that can fly you over AMARG, is Double Eagle. I say sadly, as with no competition around, they can pretty much charge what they want and you have no choice but to pay. You no longer have the bus tours from Pima Air & Space Museum as a back option, although I do know some people have opted for a distant view from the road to Mount Lemmon up in the Catalinas – 17 miles away but at a height of 6600ft…..
Anyhow we duly paid our dues as it is totally worth it, despite my preamble. As we had already done Marana/Pinal Air Park very well, and didn't think many US Army helicopters would be left out over the weekend, we asked for some circuits of AMARG and a fly-through at Tucson Airport to enable us to capture all the stored CRJs outside the Bombardier facility.
My photographs can be seen here;
https://www.flickr.com/photos/62861611@N08/albums/72177720298228936
N6215X, Aero Commander Twin Commander 500B (500B-1056-45)
N119HL, Aero Designs Pulsar XP (405)
N7269L, American Aviation AA-1A Trainer (AA1A-0469)
N99YT, American Aviation AA-5 Traveler (AA5-0005)
N7911D, Beech Bonanza H35 (D-5145)
N19BL, Beech Duke B60 (P-267)
N6980Q, Beech Musketeer A23-A19 Sport (MB-404)
N74314, Bellanca Cruisair Senior 14-13-2 (1427)
N8841V, Bellanca Turbo Super Viking 17-31-ATC (31015)
N77315, Cessna 120 (11757)
N7884E, Cessna 150 (17684)
N2613J, Cessna 150G (15065613)
N3905C, Cessna 150H (15069294)
N6954S, Cessna 150H (15067654)
N5715G, Cessna 150K (15071215)
N11518, Cessna 150L (15075480)
N7933G, Cessna 150L (15074741)
N6469K, Cessna 150M (15077717)
N68215, Cessna 152 (15282191)
N757NR, Cessna 152 (15279877)
N6623A, Cessna 172 (28723)
N8056X, Cessna 172B Skyhawk (48556)
N2471Y, Cessna 172D Skyhawk (17249771)
N8800U, Cessna 172F Skyhawk (17252706)
N7296G, Cessna 172K Skyhawk (17258996)
N7581G, Cessna 172L Skyhawk (17259281)
N21272, Cessna 172M Skyhawk (17263920) flew on for photo flight
N80187, Cessna 172M Skyhawk (17266431)
N4768E, Cessna 172N Skyhawk (17271633)
N733CB, Cessna 172N Skyhawk (17268182)
N747AL, Cessna 182B Skylane (51748)
N8850T, Cessna 182C Skylane (52750)
N2853R, Cessna 182K Skylane (18258453)
N9456X, Cessna 182R Skylane (18268533)
N480BW, Cessna 310L (310L0137)
N707GB, Cessna 310R (310R1229)
N402CE, Cessna 402B (402B0364)
N5275G, Cessna U-3A Blue Canoe (38031)
N42EF, Davis DA-2 A (118)
N3834H, Erco Ercoupe 415-D (4535)
N383FM, Fouga Magister CM.170 (383)
N4258H, Mooney M.20J Model 201 (24-0686)
N2021M, Mooney M.20TN Acclaim (31-0138)
NC23165, Piper J-3 F-50 Cub (2951)
N180FF, Piper PA-18 150 Super Cub (1809024)
N7019D, Piper PA-22 150 Tri-Pacer (22-4912)
N3048P, Piper PA-23 Apache 150 (23-959)
N232YP, Piper PA-24 250 Comanche (24-3401)
N482AS, Piper PA-28 140 Cherokee B (28-25252)
N5980U, Piper PA-28 140 Cherokee C (28-26870)
N16318, Piper PA-28 140 Cherokee F (28-7325241)
N16447, Piper PA-28 140 Cherokee F (28-7325276)
N7387W, Piper PA-28 180 Cherokee B (28-1271)
N8914J, Piper PA-28 180 Cherokee C (28-2929)
N9134W, Piper PA-28 235 Cherokee B (28-10753)
N9320N, Piper PA-28R 200 Cherokee Arrow (28R-35020)
N3896F, Piper PA-28R 200 Cherokee Arrow II (28R-7635376)
N621KK, Piper PA-31 P-425 Pressurised Navajo (31P-7400204)
N1166X, Piper PA-34 200T Seneca II (34-7570227)
N8449T, Piper PA-34 220T Seneca III (34-8133272)
N38PR, Piper PA-38 112 Tomahawk (38-78A0780)
N283TY, Robinson R44 Raven II (13944)
NC6079M, Stinson Voyager 108-3 (108-4079)
N96163, Taylorcraft BC-12D (8463)
N67BM, Temco Globe Swift GC-1B (1251)
N20412, Textron Aviation 172S Skyhawk SP (172S12520)
N137S, Vans RV-6 (20316)
N105MS, Vans RV-7 A (70879)
N947Z, Vans RV-9 A (91410)
N315VR, Vashon Aircraft Ranger R7 (10165)
Davis-Monthan (AMARG)
Now I thought I might be mad for doing this, but I don't ever recall seeing a full AMARG log reported to groups before? As I'm posting my log in full disclosure style, then why not?
I thought I would make what potentially (for some) could just be boring long list of serials, a bit more interesting and easier to read by arranging types (such as EA-6, F-15, F-16 etc) within each storage area, and also adding codes and last unit operated by where known. I have also added some photographs to show each area but all the photographs can be seen here;
https://www.flickr.com/photos/62861611@N08/albums/72177720298231895
Now clearly I haven't personally read off all the serials, codes or units marking, but there are some trusted sources that I'm happy to use and give appropiate credit to.
The starting point for me and I suspect many others that have ever made the pilgrimage, is to obtain copies of the official AMARG inventory. These can be emailed directly to you from thee base if you get yourself on their mailing list, or you can find them at publicly accessible sites, such as the ones mentioned below. As this was a December visit, I looked at the November, December and January inventory listings and this way, you can get a grip on what storage areas remain fairly static and which ones, aircraft may have moved to or from.
Then using all the photographs that you've hopefully taken, start the task of reconciling what you see in each area versus the official inventory.
You can see the fruits of my labour of love below;
https://www.flickr.com/photos/62861611@N08/52015870406/
https://www.flickr.com/photos/62861611@N08/52015916048/
This was my sixth visit to MADSC, AMARC and now AMARG and along the way, I have always found the series of books credited to Peter Blanchard, Philip D. Chinnery, Barry Fryer, Danny Bonney & Martyn Swann over the years, to be my bibles. I shamelessly plug these and where you may purchase them from, if interested. The latest version is a digital download only and may be the last one in the series?……..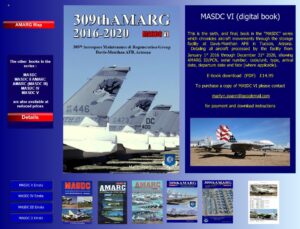 Another great source of information is AMARC Info Facebook group run by Martyn Swann. In his words "This group is for SERIOUS enthusiasts of the aircraft and history of the storage facility ONLY and is aimed as an extension to my MASDC series of books (see www.amarc.info) rather than just general interest." He has given permission for this group to be plugged, should any of you want to join and contribute somehow.
https://www.facebook.com/groups/1620052634886348
Other notable websites for AMARG reseach and reference are;
https://www.scramble.nl/database/military
http://www.amarcexperience.com/
http://gmap.nl/aircraft-maintenance-and-regeneration-group-amarg/
And so on to the log which is a result of extensive research using the items mentioned above, and some Excel trickery to get a format that can be published. I hope this inspires some of you who haven't been yet, to go. The inventory size is slowly reducing year by year……my photographs are not the best as we had to be at the maximum height to keep the Davis-Monthan air traffic controller semi-happy. He really didn't want us to be there and indeed I've heard various versions of permission being refused to people, to others being allowed down to much lower height. It seems even the days of a guaranteed flight over with great photographic opportunities might be over….
The request is for any help on the (at that time) unknown Afghanistan helicopters seen in the AMARG Process (Arrivals/Maintenance & Departures) area. Thanks!
On Davis-Monthan AFB ramps:
85-1367, Lockheed C-130H Hercules, 154th TRS/189th AW/Arkansas ANG, United States Air Force (5082)
09-0108/OT, Lockheed HC-130J Hercules, 418th TES/412th OG, United States Air Force (5633)
17-5902/FL, Lockheed HC-130J Hercules, 39th RQS/920th RQW, United States Air Force (5902)
AMARG storage area 1:
158805/NJ-906, Grumman EA-6B Prowler, AMARG (VAQ-129), United States Navy (P-35)
160434/NH-502, Grumman EA-6B Prowler, AMARG (VAQ-142), United States Navy (P-62)
160706/MD-03, Grumman EA-6B Prowler, AMARG (VMAQ-3), United States Marine Corps (P-69)
160788/NJ-905, Grumman EA-6B Prowler, AMARG (VAQ-129), United States Navy (P-75)
161242/MD-02, Grumman EA-6B Prowler, AMARG (VMAQ-3), United States Marine Corps (P-85)
161245/NH-500, Grumman EA-6B Prowler, AMARG (VAQ-142), United States Navy (P-88)
161779/CB-06, Grumman EA-6B Prowler, AMARG (VMAQT-1), United States Marine Corps (P-102)
161881/CB-02, Grumman EA-6B Prowler, AMARG (VMAQT-1), United States Marine Corps (P-104)
161885/RM-09, Grumman EA-6B Prowler, AMARG (VMAQ-4), United States Marine Corps (P-108)
162227/NJ-910, Grumman EA-6B Prowler, AMARG (VAQ-129), United States Navy (P-113)
162934/CY-01, Grumman EA-6B Prowler, AMARG (VMAQ-2), United States Marine Corps (P-117)
162936/RM-05, Grumman EA-6B Prowler, AMARG (VMAQ-4), United States Marine Corps (P-119)
162939, Grumman EA-6B Prowler, AMARG (VAQ-142), United States Navy (P-122)
163031/RM-06, Grumman EA-6B Prowler, AMARG (VMAQ-4), United States Marine Corps (P-124)
163032/CY-03, Grumman EA-6B Prowler, AMARG (VMAQ-2), United States Marine Corps (P-125)
163034/NJ-904, Grumman EA-6B Prowler, AMARG (VAQ-129), United States Navy (P-127)
163035/NG-502, Grumman EA-6B Prowler, AMARG (VAQ-133), United States Navy (P-128)
163045/CY-00, Grumman EA-6B Prowler, AMARG (VMAQ-2), United States Marine Corps (P-130)
163046/CY-78, Grumman EA-6B Prowler, AMARG (VMAQ-2), United States Marine Corps (P-131)
163048/NJ-900, Grumman EA-6B Prowler, AMARG (VAQ-129), United States Navy (P-133)
163049/NF-502, Grumman EA-6B Prowler, AMARG (VAQ-136), United States Navy (P-134)
163396/NE-500, Grumman EA-6B Prowler, AMARG (VAQ-131), United States Navy (P-136)
163398/RM-06, Grumman EA-6B Prowler, AMARG (VMAQ-4), United States Marine Corps (P-138)
163399/NG-500, Grumman EA-6B Prowler, AMARG (VAQ-133), United States Navy (P-139)
163400/MD-00, Grumman EA-6B Prowler, AMARG (VMAQ-3), United States Marine Corps (P-140)
163401/NF-503, Grumman EA-6B Prowler, AMARG (VAQ-136), United States Navy (P-141)
163406/SD-537, Grumman EA-6B Prowler, AMARG (VX-23), United States Navy (P-146)
163521/CB-05, Grumman EA-6B Prowler, AMARG (VMAQT-1), United States Marine Corps (P-148)
163524/MD-04, Grumman EA-6B Prowler, AMARG (VMAQ-3), United States Marine Corps (P-151)
163526/CY-79, Grumman EA-6B Prowler, AMARG (VMAQ-2), United States Marine Corps (P-153)
163527/04.1, Grumman EA-6B Prowler, AMARG (VMAQ-3), United States Marine Corps (P-154)
163528/CY-80, Grumman EA-6B Prowler, AMARG (VMAQ-2), United States Marine Corps (P-155)
163530/CB-04, Grumman EA-6B Prowler, AMARG (VMAQT-1), United States Marine Corps (P-157)
163884/NE-500, Grumman EA-6B Prowler, AMARG (VAQ-131), United States Navy (P-159)
163887/NH-501, Grumman EA-6B Prowler, AMARG (VAQ-142), United States Navy (P-162)
163888/CY-03, Grumman EA-6B Prowler, AMARG (VMAQ-2), United States Marine Corps (P-163)
163889/CY-04, Grumman EA-6B Prowler, AMARG (VMAQ-2), United States Marine Corps (P-164)
163891/NH-503, Grumman EA-6B Prowler, AMARG (VAQ-142), United States Navy (P-166)
164402/NJ-900, Grumman EA-6B Prowler, AMARG (VAQ-129), United States Navy (P-169)
78-0485/MA, McDonnell Douglas F-15C Eagle, AMARG (131st FS/104th OG/Massachusetts ANG), United States Air Force (466/C018)
78-0490, McDonnell Douglas F-15C Eagle, AMARG (186th FS/120th OG/Montana ANG), United States Air Force (472/C023)
78-0499/MA, McDonnell Douglas F-15C Eagle, AMARG (131st FS/104th OG/Massachusetts ANG), United States Air Force (482/C032)
78-0500/MA, McDonnell Douglas F-15C Eagle, AMARG (131st FS/104th OG/Massachusetts ANG), United States Air Force (484/C033)
78-0508/MA, McDonnell Douglas F-15C Eagle, AMARG (131st FS/104th OG/Massachusetts ANG), United States Air Force (493/C041)
78-0512, McDonnell Douglas F-15C Eagle, AMARG (159th FS/125th OG/Florida ANG), United States Air Force (498/C045)
78-0514/HH, McDonnell Douglas F-15C Eagle, AMARG (199th FS/154th OG/Hawaii ANG), United States Air Force (500/C047)
78-0549/JZ, McDonnell Douglas F-15C Eagle, AMARG (122nd FS/159th FW/Louisiana ANG), United States Air Force (541/C082)
79-0037/JZ, McDonnell Douglas F-15C Eagle, AMARG (122nd FS/159th FW/Louisiana ANG), United States Air Force (574/C106)
79-0047/MA, McDonnell Douglas F-15C Eagle, AMARG (131st FS/104th OG/Massachusetts ANG), United States Air Force (588/C116)
79-0050, McDonnell Douglas F-15C Eagle, AMARG (123rd FS/142nd FW/Oregon ANG), United States Air Force (593/C119)
79-0056/JZ, McDonnell Douglas F-15C Eagle, AMARG (122nd FS/159th FW/Louisiana ANG), United States Air Force (601/C125)
79-0080/EG, McDonnell Douglas F-15C Eagle, AMARG (58th FS/33rd FW), United States Air Force (630/C149)
81-0025/HH, McDonnell Douglas F-15C Eagle, AMARG (199th FS/154th OG/Hawaii ANG), United States Air Force (744/C208)
81-0054/EG, McDonnell Douglas F-15C Eagle, AMARG (58th FS/33rd FW), United States Air Force (814/C237)
82-0029, McDonnell Douglas F-15C Eagle, AMARG (159th FS/125th OG/Florida ANG), United States Air Force (844/C260)
83-0028/TY, McDonnell Douglas F-15C Eagle, AMARG (95th FS/325th FW), United States Air Force (876/C288)
83-0030/EG, McDonnell Douglas F-15C Eagle, AMARG (33rd FW), United States Air Force (880/C290)
83-0031, McDonnell Douglas F-15C Eagle, AMARG (114th FS/173d FW/Oregon ANG), United States Air Force (881/C291)
83-0032/TY, McDonnell Douglas F-15C Eagle, AMARG (2nd FS/325th FW), United States Air Force (883/C292)
80-0572, General Dynamics F-16A (ADF) Fighting Falcon, AMARG (194th FS/144th OG/California ANG), United States Air Force (61-293)
80-0583, General Dynamics F-16A (ADF) Fighting Falcon, AMARG (194th FS/144th OG/California ANG), United States Air Force (61-304)
80-0591/IL, General Dynamics F-16A (ADF) Fighting Falcon, AMARG (169th FS/183rd FG/Illinois ANG), United States Air Force (61-312)
80-0598, General Dynamics F-16A (ADF) Fighting Falcon, AMARG (171st FS/191st FG/Michigan ANG), United States Air Force (61-319)
80-0601, General Dynamics F-16A (ADF) Fighting Falcon, AMARG (111th FS/174th FW/Texas ANG), United States Air Force (61-322)
80-0602/PR, General Dynamics F-16A (ADF) Fighting Falcon, AMARG (198th FS/156th OG/Puerto Rico ANG), United States Air Force (61-323)
80-0614, General Dynamics F-16A (ADF) Fighting Falcon, AMARG (194th FS/144th OG/California ANG), United States Air Force (61-335)
80-0619, General Dynamics F-16A (ADF) Fighting Falcon, AMARG (119th FS/177th FW/New Jersey ANG), United States Air Force (61-340)
80-0620, General Dynamics F-16A (ADF) Fighting Falcon, AMARG (194th FS/144th OG/California ANG), United States Air Force (61-341)
80-0621, General Dynamics F-16A (ADF) Fighting Falcon, AMARG (194th FS/144th OG/California ANG), United States Air Force (61-342)
81-0675/FL, General Dynamics F-16A (ADF) Fighting Falcon, AMARG (159th FS/125th OG/Florida ANG), United States Air Force (61-356)
81-0694/PR, General Dynamics F-16A (ADF) Fighting Falcon, AMARG (198th FS/156th FG/Puerto Rico ANG), United States Air Force (61-375)
81-0695/FL, General Dynamics F-16A (ADF) Fighting Falcon, AMARG (159th FS/125th OG/Florida ANG), United States Air Force (61-376)
81-0700/IL, General Dynamics F-16A (ADF) Fighting Falcon, AMARG (169th FS/183rd FG/Illinois ANG), United States Air Force (61-381)
81-0705, General Dynamics F-16A (ADF) Fighting Falcon, AMARG (119th FS/177th FW/New Jersey ANG), United States Air Force (61-386)
81-0707, General Dynamics F-16A (ADF) Fighting Falcon, AMARG (119th FS/177th FW/New Jersey ANG), United States Air Force (61-388)
81-0709/PR, General Dynamics F-16A (ADF) Fighting Falcon, AMARG (198th FS/156th OG/Puerto Rico ANG), United States Air Force (61-390)
81-0710, General Dynamics F-16A (ADF) Fighting Falcon, AMARG (119th FS/177th FW/New Jersey ANG), United States Air Force (61-391)
81-0712/FL-12, General Dynamics F-16A (ADF) Fighting Falcon, AMARG (159th FS/125th OG/Florida ANG), United States Air Force (61-393)
81-0715, General Dynamics F-16A (ADF) Fighting Falcon, AMARG (119th FS/177th FW/New Jersey ANG), United States Air Force (61-396)
81-0716, General Dynamics F-16A (ADF) Fighting Falcon, AMARG (136th FS/107th OG/New York ANG), United States Air Force (61-397)
81-0731/FL-13, General Dynamics F-16A (ADF) Fighting Falcon, AMARG (159th FS/125th OG/Florida ANG), United States Air Force (61-412)
81-0737, General Dynamics F-16A (ADF) Fighting Falcon, AMARG (119th FS/177th FW/New Jersey ANG), United States Air Force (61-418)
MM7248, General Dynamics F-16A (ADF) Fighting Falcon, AMARG (AMI/18° Gruppo/37° Stormo), 80-0622, Italian Air Force (61-343/M22-13)
78-0015/AZ, General Dynamics F-16A Fighting Falcon, AMARG (162nd FW/Arizona ANG), United States Air Force (61-21)
81-0667/LF, General Dynamics F-16A Fighting Falcon, AMARG (425th FS/56th FW), United States Air Force (61-348)
81-0679/LF, General Dynamics F-16A Fighting Falcon, AMARG (425th FS/56th FW), United States Air Force (61-360)
81-0796/AZ, General Dynamics F-16A Fighting Falcon, AMARG (162nd FW/Arizona ANG), United States Air Force (61-477)
82-0908/FM, General Dynamics F-16A Fighting Falcon, AMARG (162nd FW/Arizona ANG), United States Air Force (61-501)
82-0911/FS, General Dynamics F-16A Fighting Falcon, AMARG (184th FS/188th OG/Arkansas ANG), United States Air Force (61-504)
82-0921/PR, General Dynamics F-16A Fighting Falcon, AMARG (198th FS/156th OG/Puerto Rico ANG), United States Air Force (61-514)
82-0932/PR, General Dynamics F-16A Fighting Falcon, AMARG (198th FS/156th OG/Puerto Rico ANG), United States Air Force (61-525)
82-0946/AZ, General Dynamics F-16A Fighting Falcon, AMARG (162nd FW/Arizona ANG), United States Air Force (61-539)
82-0957/AZ, General Dynamics F-16A Fighting Falcon, AMARG (162nd FW/Arizona ANG), United States Air Force (61-550)
82-0964/AZ, General Dynamics F-16A Fighting Falcon, AMARG (162nd FW/Arizona ANG), United States Air Force (61-557)
82-0968/SI, General Dynamics F-16A Fighting Falcon, AMARG (170th FS/183rd FG/Illinois ANG), United States Air Force (61-561)
82-1009/FS, General Dynamics F-16A Fighting Falcon, AMARG (184th FS/188th OG/Arkansas ANG), United States Air Force (61-602)
82-1013/AZ, General Dynamics F-16A Fighting Falcon, AMARG (162nd FW/Arizona ANG), United States Air Force (61-606)
82-1027/AZ, General Dynamics F-16B (ADF) Fighting Falcon, AMARG (162nd FW/Arizona ANG), United States Air Force (62-93)
82-1031/AZ, General Dynamics F-16B (ADF) Fighting Falcon, AMARG (162nd FW/Arizona ANG), United States Air Force ( 62-97 )
82-1039/AZ, General Dynamics F-16B (ADF) Fighting Falcon, AMARG (162nd FW/Arizona ANG), United States Air Force (62-105/B-152)
78-0087, General Dynamics F-16B Fighting Falcon, AMARG (162nd FW/Arizona ANG), United States Air Force (62-13)
78-0094/AZ, General Dynamics F-16B Fighting Falcon, AMARG (162nd FW/Arizona ANG), United States Air Force (62-20)
79-0414/AZ, General Dynamics F-16B Fighting Falcon, AMARG (162nd FW/Arizona ANG), United States Air Force (62-46)
80-0631/AZ, General Dynamics F-16B Fighting Falcon, AMARG (162nd FW/Arizona ANG), United States Air Force (62-73)
80-0638/AZ, General Dynamics F-16B Fighting Falcon, AMARG (162nd FW/Arizona ANG), United States Air Force (62-80)
82-1047/ED, General Dynamics F-16B Fighting Falcon, AMARG (412thTW), United States Air Force (62-113)
83-1144/AZ, General Dynamics F-16C Fighting Falcon, AMARG (162nd FW/Arizona ANG), United States Air Force (5C-27)
83-1162/MN, General Dynamics F-16C Fighting Falcon, AMARG (179th FS/148th OG/Minnesota ANG), United States Air Force (5C-45)
84-1245, General Dynamics F-16C Fighting Falcon, AMARG (179th FS/148th OG/Minnesota ANG), United States Air Force (5C-82)
84-1251/LF, General Dynamics F-16C Fighting Falcon, AMARG (61st FS/56th FW), United States Air Force (5C-88)
84-1258/AZ, General Dynamics F-16C Fighting Falcon, AMARG (162nd FW/Arizona ANG), United States Air Force (5C-95)
84-1266, General Dynamics F-16C Fighting Falcon, AMARG (163rd FS/122nd OG/Indiana ANG), United States Air Force (5C-103)
84-1285/AZ, General Dynamics F-16C Fighting Falcon, AMARG (162nd FW/Arizona ANG), United States Air Force (5C-122)
84-1317/ED, General Dynamics F-16C Fighting Falcon, AMARG (412th TW), United States Air Force (5C-154)
84-1378/LF, General Dynamics F-16C Fighting Falcon, AMARG (61st FS/56th FW), United States Air Force (5C-160)
84-1383/AZ, General Dynamics F-16C Fighting Falcon, AMARG (162nd FW/Arizona ANG), United States Air Force (5C-165)
85-1398, General Dynamics F-16C Fighting Falcon, AMARG (175th FS/114th OG/South Dakota ANG), United States Air Force (5C-178)
85-1430/LF, General Dynamics F-16C Fighting Falcon, AMARG (61st FS/56th FW), United States Air Force (5C-210)
85-1435/LF, General Dynamics F-16C Fighting Falcon, AMARG (62nd FS/56th FW), United States Air Force (5C-215)
86-0359/ED, General Dynamics F-16C Fighting Falcon, AMARG (412thTW), United States Air Force (5C-465)
87-0373, General Dynamics F-16D Fighting Falcon, AMARG (416th FLTS/412th TW), United States Air Force (5D-67)
156691/A-920, North American/Rockwell T-2C Buckeye, AMARG (CTW-1), United States Navy (318-6)
156704/A-993, North American/Rockwell T-2C Buckeye, AMARG (CTW-1), United States Navy (318-19)
156705/A-992, North American/Rockwell T-2C Buckeye, AMARG (CTW-1), United States Navy (318-20)
156709/A-947, North American/Rockwell T-2C Buckeye, AMARG (CTW-1), United States Navy (318-24)
156715/A-983XO, North American/Rockwell T-2C Buckeye, AMARG (CTW-1), United States Navy (318-30)
156719/A-937, North American/Rockwell T-2C Buckeye, AMARG (CTW-1), United States Navy (318-34)
156726/A-976, North American/Rockwell T-2C Buckeye, AMARG (CTW-1), United States Navy (318-41)
156733/A-922, North American/Rockwell T-2C Buckeye, AMARG (CTW-1), United States Navy (318-48)
157030/F-850, North American/Rockwell T-2C Buckeye, AMARG (CTW-6), United States Navy (332-1)
157032/20, North American/Rockwell T-2C Buckeye, AMARG (TPS), United States Navy (332-3)
157033/A-968, North American/Rockwell T-2C Buckeye, AMARG (CTW-1), United States Navy (332-4)
157054/A-989, North American/Rockwell T-2C Buckeye, AMARG (CTW-1), United States Navy (332-25)
157061/A-919, North American/Rockwell T-2C Buckeye, AMARG (CTW-1), United States Navy (332-32)
157062/A-962, North American/Rockwell T-2C Buckeye, AMARG (CTW-1), United States Navy (332-33)
157063/F-805, North American/Rockwell T-2C Buckeye, AMARG (CTW-6), United States Navy (332-34)
157064/F-822, North American/Rockwell T-2C Buckeye, AMARG (CTW-6), United States Navy (332-35)
157065/F-846, North American/Rockwell T-2C Buckeye, AMARG (CTW-6), United States Navy (332-36)
158314/A-991, North American/Rockwell T-2C Buckeye, AMARG (CTW-1), United States Navy (340-5)
158319/A-981, North American/Rockwell T-2C Buckeye, AMARG (CTW-1), United States Navy (340-10)
158324/F-816, North American/Rockwell T-2C Buckeye, AMARG (CTW-6), United States Navy (340-15)
158330/24, North American/Rockwell T-2C Buckeye, AMARG (TPS), United States Navy (340-21)
158331/B-361, North American/Rockwell T-2C Buckeye, AMARG (TW-2), United States Navy (340-22)
158332/A-952, North American/Rockwell T-2C Buckeye, AMARG (CTW-1), United States Navy (340-23)
158333/A-941, North American/Rockwell T-2C Buckeye, AMARG (CTW-1), United States Navy (340-24)
158575/A-971, North American/Rockwell T-2C Buckeye, AMARG (CTW-1), United States Navy (346-1)
158577/F-831, North American/Rockwell T-2C Buckeye, AMARG (CTW-6), United States Navy (346-3)
158578/25, North American/Rockwell T-2C Buckeye, AMARG (TPS), United States Navy (346-4)
158579/26, North American/Rockwell T-2C Buckeye, AMARG (TPS), United States Navy (346-5)
158580/A-951, North American/Rockwell T-2C Buckeye, AMARG (CTW-1), United States Navy (346-6)
158585/F-806, North American/Rockwell T-2C Buckeye, AMARG (CTW-6), United States Navy (346-11)
158588/A-936, North American/Rockwell T-2C Buckeye, AMARG (CTW-1), United States Navy (346-14)
158591/A-948, North American/Rockwell T-2C Buckeye, AMARG (CTW-1), United States Navy (346-17)
158597/A-917, North American/Rockwell T-2C Buckeye, AMARG (CTW-1), United States Navy (346-23)
158602/B-305, North American/Rockwell T-2C Buckeye, AMARG (TW-2), United States Navy (346-28)
158605/27, North American/Rockwell T-2C Buckeye, AMARG (TPS), United States Navy (346-31)
158882/F-833, North American/Rockwell T-2C Buckeye, AMARG (CTW-6), United States Navy (352-7)
158884/A-978, North American/Rockwell T-2C Buckeye, AMARG (CTW-1), United States Navy (352-9)
158885/B-364, North American/Rockwell T-2C Buckeye, AMARG (TW-2), United States Navy (352-10)
158888/A-958, North American/Rockwell T-2C Buckeye, AMARG (CTW-1), United States Navy (352-13)
158895/A-983, North American/Rockwell T-2C Buckeye, AMARG (CTW-1), United States Navy (352-20)
158897/B-308, North American/Rockwell T-2C Buckeye, AMARG (TW-2), United States Navy (352-22)
158899/F-809, North American/Rockwell T-2C Buckeye, AMARG (CTW-6), United States Navy (352-24)
158900/A-926, North American/Rockwell T-2C Buckeye, AMARG (CTW-1), United States Navy (352-25)
158901/A-949, North American/Rockwell T-2C Buckeye, AMARG (CTW-1), United States Navy (352-26)
158903/A-921, North American/Rockwell T-2C Buckeye, AMARG (CTW-1), United States Navy (352-28)
158907/A-929, North American/Rockwell T-2C Buckeye, AMARG (CTW-1), United States Navy (352-32)
159151/F-810, North American/Rockwell T-2C Buckeye, AMARG (CTW-6), United States Navy (367-2)
159157/F-801, North American/Rockwell T-2C Buckeye, AMARG (CTW-6), United States Navy (367-8)
159161/A-978, North American/Rockwell T-2C Buckeye, AMARG (CTW-1), United States Navy (367-12)
159163/A-953, North American/Rockwell T-2C Buckeye, AMARG (CTW-1), United States Navy (367-14)
159164/A-955, North American/Rockwell T-2C Buckeye, AMARG (CTW-1), United States Navy (367-15)
159168/F-814, North American/Rockwell T-2C Buckeye, AMARG (CTW-6), United States Navy (367-19)
159171/A-975, North American/Rockwell T-2C Buckeye, AMARG (CTW-1), United States Navy (367-22)
159172/A-998, North American/Rockwell T-2C Buckeye, AMARG (CTW-1), United States Navy (367-23)
159704/B-343, North American/Rockwell T-2C Buckeye, AMARG (TW-2), United States Navy (unknown)
159706/A-965, North American/Rockwell T-2C Buckeye, AMARG (CTW-1), United States Navy (unknown)
159708/F-817, North American/Rockwell T-2C Buckeye, AMARG (CTW-6), United States Navy (unknown)
159710/F-811, North American/Rockwell T-2C Buckeye, AMARG (CTW-6), United States Navy (unknown)
159714/F-801, North American/Rockwell T-2C Buckeye, AMARG (CTW-6), United States Navy (unknown)
159715/F-803, North American/Rockwell T-2C Buckeye, AMARG (CTW-6), United States Navy (unknown)
159718/A-876, North American/Rockwell T-2C Buckeye, AMARG (CTW-1), United States Navy (unknown)
159719/A-990, North American/Rockwell T-2C Buckeye, AMARG (CTW-1), United States Navy (unknown)
159720/A-954, North American/Rockwell T-2C Buckeye, AMARG (CTW-1), United States Navy (unknown)
159723/C-617, North American/Rockwell T-2C Buckeye, AMARG (TW-3), United States Navy (unknown)
163872/KD-33, McDonnell Douglas AV-8B Harrier II, AMARG (VMAT-203), United States Marine Corps (180)
163869/KD-26, McDonnell Douglas AV-8B Harrier II, AMARG (VMAT-203), United States Marine Corps (177)
163877/KD-23, McDonnell Douglas AV-8B Harrier II, AMARG (VMAT-203), United States Marine Corps (185)
164152/KD-30, McDonnell Douglas AV-8B Harrier II, AMARG (VMAT-203), United States Marine Corps (225)
AMARG storage area 2:
161311, Beechcraft NC-12B Super King Air, AMARG (North Island), United States Navy (BJ-28)
163563, Beechcraft RC-12F Super King Air, AMARG (NRL), United States Navy (BU-11)
163564, Beechcraft RC-12F Super King Air, AMARG (North Island), United States Navy (BU-12)
163847, Beechcraft RC-12M Super King Air, AMARG (Chambers Field), United States Navy (BV-12)
89-00267, Beechcraft RC-12N Guardrail, AMARG (L3 Lakehurst), United States Army (FE-13)
89-00271, Beechcraft RC-12N Guardrail, AMARG (L3 Lakehurst), United States Army (FE-17)
161188/G-325, Beechcraft TC-12B Super King Air, AMARG (TAW-4), United States Navy (BJ-4)
161190/G-336, Beechcraft TC-12B Super King Air, AMARG (TAW-4), United States Navy (BJ-6)
161193/G-322, Beechcraft TC-12B Super King Air, AMARG (TAW-4), United States Navy (BJ-9)
161195/G-331, Beechcraft TC-12B Super King Air, AMARG (TAW-4), United States Navy (BJ-11)
161201/G-306, Beechcraft TC-12B Super King Air, AMARG (TAW-4), United States Navy (BJ-17)
161205/G-323, Beechcraft TC-12B Super King Air, AMARG (TAW-4), United States Navy (BJ-21)
161306/G-326, Beechcraft TC-12B Super King Air, AMARG (TAW-4), United States Navy (BJ-23)
161310/G-324, Beechcraft TC-12B Super King Air, AMARG (TAW-4), United States Navy (BJ-27)
161315/G-310, Beechcraft TC-12B Super King Air, AMARG (TAW-4), United States Navy (BJ-32)
161325/G-333, Beechcraft TC-12B Super King Air, AMARG (TAW-4), United States Navy (BJ-42)
161505/G-312, Beechcraft TC-12B Super King Air, AMARG (TAW-4), United States Navy (BJ-53)
161186/7G, Beechcraft UC-12B Super King Air, AMARG (Whidbey Island), United States Marine Corps (BJ-2)
161191, Beechcraft UC-12B Super King Air, AMARG (Yuma), United States Marine Corps (BJ-7)
161192/5Y, Beechcraft UC-12B Super King Air, AMARG (Yuma), United States Marine Corps (BJ-8)
161202/7L, Beechcraft UC-12B Super King Air, AMARG (Point Mugu), United States Marine Corps (BJ-18)
161203, Beechcraft UC-12B Super King Air, AMARG (North Island), United States Navy (BJ-19)
161206, Beechcraft UC-12B Super King Air, AMARG (North Island), United States Navy (BJ-22)
161307/7-, Beechcraft UC-12B Super King Air, AMARG (Patuxent River), United States Navy (BJ-24)
161308/5Y, Beechcraft UC-12B Super King Air, AMARG (Yuma), United States Marine Corps (BJ-25)
161309, Beechcraft UC-12B Super King Air, AMARG (CFLSW det Washington), United States Navy (BJ-26)
161313, Beechcraft UC-12B Super King Air, AMARG (North Island), United States Navy (BJ-30)
161317/5A, Beechcraft UC-12B Super King Air, AMARG (MASD Washington), United States Marine Corps (BJ-34)
161319, Beechcraft UC-12B Super King Air, AMARG (JB McGuire), United States Marine Corps (BJ-36)
161320, Beechcraft UC-12B Super King Air, AMARG (Fort Worth), United States Navy (BJ-37)
161321/7Q, Beechcraft UC-12B Super King Air, AMARG (Key West), United States Navy (BJ-38)
161322/7X, Beechcraft UC-12B Super King Air, AMARG (Point Mugu), United States Navy (BJ-39)
161499/7Z, Beechcraft UC-12B Super King Air, AMARG (South Weymouth), United States Navy (BJ-47)
161500, Beechcraft UC-12B Super King Air, AMARG (Beaufort), United States Marine Corps (BJ-48)
161501, Beechcraft UC-12B Super King Air, AMARG (Patuxent River), United States Navy (BJ-49)
161503/7D, Beechcraft UC-12B Super King Air, AMARG (Fort Worth), United States Navy (BJ-51)
161504, Beechcraft UC-12B Super King Air, AMARG (Jacksonville), United States Navy (BJ-52)
161506, Beechcraft UC-12B Super King Air, AMARG (Norfolk), United States Navy (BJ-54)
161512, Beechcraft UC-12B Super King Air, AMARG (New Orleans), United States Navy (BJ-60)
161516/7W, Beechcraft UC-12B Super King Air, AMARG (VRC-30), United States Navy (BJ-64)
90-07014, Shorts C-23C Sherpa, AMARG (Wallops Island), United States Army (SH3214/K0014)
94-00308, Shorts C-23C Sherpa, AMARG (Wallops Island), United States Army (SH3422/AK-022)
94-00309, Shorts C-23D Sherpa, AMARG (Wallops Island), United States Army (SH3423/AK-023)
94-00312, Shorts C-23C Sherpa, AMARG (USFS), N154Z, United States Army (SH3426/AK-026)
10-0322/, PZL-Mielec C‑145A Combat Coyote, AMARG (6th SOS/919th SOW), United States Air Force (AJE003-22)
10-0323/, PZL-Mielec C‑145A Combat Coyote, AMARG (6th SOS/919th SOW), United States Air Force (AJE003-23)
10-0324/, PZL-Mielec C‑145A Combat Coyote, AMARG (6th SOS/919th SOW), United States Air Force (AJE003-24)
11-0329/, PZL-Mielec C‑145A Combat Coyote, AMARG (6th SOS/919th SOW), United States Air Force (AJE003-29)
82-23671, Sikorsky HH-60G Blackhawk, AMARG (512th RQS/58th SOW), United States Air Force (70-494)
82-23718, Sikorsky HH-60G Blackhawk, AMARG (512th RQS/58th SOW), United States Air Force (70-541)
87-26006, Sikorsky HH-60G Blackhawk, AMARG (66th RQS/563rd RQG), United States Air Force (70-1205)
87-26013/FT, Sikorsky HH-60G Blackhawk, AMARG (66th RQS/563rd RQG), United States Air Force (70-1217)
89-26204, Sikorsky HH-60G Blackhawk, AMARG (66th RQS/563rd RQG), United States Air Force (70-1433)
90-26237/FL, Sikorsky HH-60G Blackhawk, AMARG (301st RQS/920th OG), United States Air Force (70-1610)
90-26311, Sikorsky HH-60G Blackhawk, AMARG (66th RQS/563rd RQG), United States Air Force (70-1541)
91-26352, Sikorsky HH-60G Blackhawk, AMARG (66th RQS/563rd RQG), United States Air Force (70-1653)
92-26461/FT, Sikorsky HH-60G Blackhawk, AMARG (66th RQS/563rd RQG), United States Air Force (70-1767)
92-26464/FT, Sikorsky HH-60G Blackhawk, AMARG (41st RQS/347th RQG), United States Air Force (70-1821)
97-26772/FT, Sikorsky HH-60G Blackhawk, AMARG (41st RQS/347th RQG), United States Air Force (unknown)
163785/NW-312, Sikorsky HH-60H Seahawk, AMARG (HSC-85), United States Navy (unknown)
163787/NW-202, Sikorsky HH-60H Seahawk, AMARG (HSC-84), United States Navy (70-625)
163788, Sikorsky HH-60H Seahawk, AMARG (HSC-84), United States Navy (70-626)
164841/NW-315, Sikorsky HH-60H Seahawk, AMARG (HSC-85), United States Navy (70-2275)
164845/SA, Sikorsky HH-60H Seahawk, AMARG (HSC-3), United States Navy (70-2279)
165115/AB-614, Sikorsky HH-60H Seahawk, AMARG (HS-11), United States Navy (70-1953)
165120/AB-616, Sikorsky HH-60H Seahawk, AMARG (HS-11), United States Navy (70-1688)
165122/NW-302, Sikorsky HH-60H Seahawk, AMARG (HSC-85), United States Navy (70-2286)
165256/AB-617, Sikorsky HH-60H Seahawk, AMARG (HS-11), United States Navy (70-2289)
165258/NW-301, Sikorsky HH-60H Seahawk, AMARG (HSC-85), United States Navy (70-2291)
165259/NW-303, Sikorsky HH-60H Seahawk, AMARG (HSC-85), United States Navy (70-2292)
166406/TS-406, Sikorsky MH-60R Seahawk, AMARG (HSM-41), United States Navy (70-2712)
166517, Sikorsky MH-60R Seahawk, AMARG (HX-21), United States Navy (70-2893)
166537, Sikorsky MH-60R Seahawk, AMARG (HSM-40), United States Navy (70-3071)
166538/HK-032, Sikorsky MH-60R Seahawk, AMARG (HSM-40), United States Navy (unknown)
167004/AC-710, Sikorsky MH-60R Seahawk, AMARG (HSM-74), United States Navy (unknown)
167005/HR-501, Sikorsky MH-60R Seahawk, AMARG (HSM-48), United States Navy (unknown)
167006/AC-712, Sikorsky MH-60R Seahawk, AMARG (HSM-74), United States Navy (unknown)
167027/HQ-470, Sikorsky MH-60R Seahawk, AMARG (HSM-46), United States Navy (unknown)
167028/HK-016, Sikorsky MH-60R Seahawk, AMARG (HSM-40), United States Navy (unknown)
167029/HK-017, Sikorsky MH-60R Seahawk, AMARG (HSM-40), United States Navy (unknown)
165744/HU-715, Sikorsky MH-60S Seahawk, AMARG (HSC-2), United States Navy (70-2558)
165752/BR-55, Sikorsky MH-60S Seahawk, AMARG (HSC-28), United States Navy (70-2621)
162977/HK-412, Sikorsky SH-60B Seahawk, AMARG (HSM-40), United States Navy (70-462)
164175/HR-501, Sikorsky SH-60B Seahawk, AMARG (HSL-48), United States Navy (70-1708)
164813/TH-63, Sikorsky SH-60B Seahawk, AMARG (HSM-37), United States Navy (70-2234)
164848/HR-515, Sikorsky SH-60B Seahawk, AMARG (HSL-48), United States Navy ( 70-1931)
164850/TH-50, Sikorsky SH-60B Seahawk, AMARG (HSM-37), United States Navy ( 70-1933)
164852/HK-421, Sikorsky SH-60B Seahawk, AMARG (HSL-42), United States Navy ( 70-1935)
165095/TX-113, Sikorsky SH-60B Seahawk, AMARG (HSL-49), United States Navy (70-2266)
165106/HR-507, Sikorsky SH-60B Seahawk, AMARG (HSM-48), United States Navy ( 70-2267)
165108/NW-602, Sikorsky SH-60B Seahawk, AMARG (HSL-60), United States Navy (70-2269)
163286/DD-460, Sikorsky SH-60F Seahawk, AMARG (VX-31), United States Navy (70-619)
164078/NF-620, Sikorsky SH-60F Seahawk, AMARG (HS-14), United States Navy (70-644)
164080/NF-621, Sikorsky SH-60F Seahawk, AMARG (HS-14), United States Navy (70-646)
164086/SA-616, Sikorsky SH-60F Seahawk, AMARG (HSC-3), United States Navy (unknown)
164087/SA-10, Sikorsky SH-60F Seahawk, AMARG (HSC-3), United States Navy (70-659)
164094/NK-614, Sikorsky SH-60F Seahawk, AMARG (HS-4), United States Navy (unknown)
164098/NH-613, Sikorsky SH-60F Seahawk, AMARG (HS-6), United States Navy (70-1578)
164101/NF-622, Sikorsky SH-60F Seahawk, AMARG (HS-14), United States Navy ( 70-1584)
164447/NF-623, Sikorsky SH-60F Seahawk, AMARG (HS-14), United States Navy ( 70-1684)
164452, Sikorsky SH-60F Seahawk, AMARG (Key West), United States Navy (70-1689)
164459/NF-612, Sikorsky SH-60F Seahawk, AMARG (HS-14), United States Navy (70-1696)
164460/NF-610, Sikorsky SH-60F Seahawk, AMARG (HS-14), United States Navy (70-1697)
164610/AC-610, Sikorsky SH-60F Seahawk, AMARG (HS-7), United States Navy (70-1799)
164617/NF-611, Sikorsky SH-60F Seahawk, AMARG (HS-14), United States Navy (70-1806)
164620/RA-13, Sikorsky SH-60F Seahawk, AMARG (HS-10), United States Navy (70-1809)
164797/NF-614, Sikorsky SH-60F Seahawk, AMARG (HS-14), United States Navy (70-1843)
164798/NF-613, Sikorsky SH-60F Seahawk, AMARG (HS-14), United States Navy (70-1844)
164803/AA-613, Sikorsky SH-60F Seahawk, AMARG (HS-15), United States Navy ( 70-1849)
159393/NK-724, Lockheed ES-3A Viking, AMARG (VQ-5 det.B), United States Navy (3029)
159394/762, Lockheed ES-3A Viking, AMARG (VQ-6), United States Navy (3030)
159395, Lockheed S-3A Viking, AMARG (VS-29), United States Navy (3031)
159396, Lockheed S-3A Viking, AMARG (NAWCAD), United States Navy (3032)
159417, Lockheed S-3A Viking, AMARG (VS-41), United States Navy (3053)
159749, Lockheed S-3A Viking, AMARG (VS-35), United States Navy (3078)
160586/NE-700, Lockheed S-3A Viking, AMARG (VS-38), United States Navy (3166)
160594/NL-707, Lockheed S-3A Viking, AMARG (VS-37), United States Navy (3174)
160595/NE-706, Lockheed S-3A Viking, AMARG (VS-38), United States Navy (3175)
160598, Lockheed S-3A Viking, AMARG (VS-41), United States Navy (3178)
158863/NJ-735, Lockheed S-3B Viking, AMARG (VS-41), United States Navy (3011)
158865/NG-706, Lockheed S-3B Viking, AMARG (VS-31), United States Navy (3013)
158866/AG-705, Lockheed S-3B Viking, AMARG (VS-31), United States Navy (3014)
158867/NE-702, Lockheed S-3B Viking, AMARG (VS-38), United States Navy (3015)
158870/706, Lockheed S-3B Viking, AMARG (VS-21), United States Navy (3018)
158871/AG-707, Lockheed S-3B Viking, AMARG (VS-31), United States Navy (3019)
158872/NF-705, Lockheed S-3B Viking, AMARG (VS-21), United States Navy (3020)
158873/AG-706, Lockheed S-3B Viking, AMARG (VS-31), United States Navy (3021)
159388/AG-701, Lockheed S-3B Viking, AMARG (VS-31), United States Navy (3024)
159390/AA-700, Lockheed S-3B Viking, AMARG (VS-30), United States Navy (3026)
159392/NE-705, Lockheed S-3B Viking, AMARG (VS-38), United States Navy (3028)
159399/NJ-727, Lockheed S-3B Viking, AMARG (VS-41), United States Navy (3035)
159407/NG-704, Lockheed S-3B Viking, AMARG (VS-33), United States Navy (3043)
159409/AG-707, Lockheed S-3B Viking, AMARG (VS-31), United States Navy (3045)
159413/NJ-727, Lockheed S-3B Viking, AMARG (VS-41), United States Navy (3049)
159416/NG-701, Lockheed S-3B Viking, AMARG (VS-33), United States Navy (3052)
159741/AC-706, Lockheed S-3B Viking, AMARG (VS-22), United States Navy (3070)
159744/AB-705, Lockheed S-3B Viking, AMARG (VS-32), United States Navy (3073)
159745/NG-707, Lockheed S-3B Viking, AMARG (VS-33), United States Navy (3074)
159747/AA-704, Lockheed S-3B Viking, AMARG (VS-22), United States Navy (3076)
159750/AC-707, Lockheed S-3B Viking, AMARG (VS-22), United States Navy (3079)
159751/AB-702, Lockheed S-3B Viking, AMARG (VS-32), United States Navy (3080)
159753/NG-700, Lockheed S-3B Viking, AMARG (VS-33), United States Navy (3082)
159756/NJ-735, Lockheed S-3B Viking, AMARG (VS-41), United States Navy (3085)
159760/AA-700, Lockheed S-3B Viking, AMARG (VS-22), United States Navy (3089)
159762/AA-710, Lockheed S-3B Viking, AMARG (VS-30), United States Navy (3091)
159765/AA-707, Lockheed S-3B Viking, AMARG (VS-22), United States Navy (3094)
159771/NJ-732, Lockheed S-3B Viking, AMARG (VS-41), United States Navy (3100)
160121/NG-701, Lockheed S-3B Viking, AMARG (VS-33), United States Navy (3103)
160124/AC-703, Lockheed S-3B Viking, AMARG (VS-22), United States Navy (3106)
160125/AA-707, Lockheed S-3B Viking, AMARG (VS-30), United States Navy (3107)
160127/NJ-731, Lockheed S-3B Viking, AMARG (VS-41), United States Navy (3109)
160128/NG-703, Lockheed S-3B Viking, AMARG (VS-33), United States Navy (3110)
160130/NG-706, Lockheed S-3B Viking, AMARG (VS-33), United States Navy (3112)
160131/NJ-741, Lockheed S-3B Viking, AMARG (VS-41), United States Navy (3113)
160132/AJ-703, Lockheed S-3B Viking, AMARG (VS-24), United States Navy (3114)
160133/AB-707, Lockheed S-3B Viking, AMARG (VS-32), United States Navy (3115)
160134/AB-700, Lockheed S-3B Viking, AMARG (VS-32), United States Navy (3116)
160135/NF-701, Lockheed S-3B Viking, AMARG (VS-21), United States Navy (3117)
160136/NJ-741, Lockheed S-3B Viking, AMARG (VS-41), United States Navy (3118)
160138/AG-712, Lockheed S-3B Viking, AMARG (VS-31), United States Navy (3120)
160139/NK-705, Lockheed S-3B Viking, AMARG (VS-35), United States Navy (3121)
160140/777, Lockheed S-3B Viking, AMARG (VS-22), United States Navy (3122)
160142/NG-700, Lockheed S-3B Viking, AMARG (VS-31), United States Navy (3124)
160143/AA-705, Lockheed S-3B Viking, AMARG (VS-22), United States Navy (3125)
160145/AA-722, Lockheed S-3B Viking, AMARG (VS-22), United States Navy (3127)
160147/700, Lockheed S-3B Viking, AMARG (VX-30), United States Navy (3129)
160149/NG-704, Lockheed S-3B Viking, AMARG (VS-31), United States Navy (3131)
160152/AA-706, Lockheed S-3B Viking, AMARG (VS-22), United States Navy (3134)
160153/702, Lockheed S-3B Viking, AMARG (VS-32), United States Navy (3135)
160155/NJ-724, Lockheed S-3B Viking, AMARG (VS-41), United States Navy (3137)
160156/NJ-735, Lockheed S-3B Viking, AMARG (VS-41), United States Navy (3138)
160157/NJ-724, Lockheed S-3B Viking, AMARG (VS-41), United States Navy (3139)
160158/AA-706, Lockheed S-3B Viking, AMARG (VS-30), United States Navy (3140)
160159/NG-701, Lockheed S-3B Viking, AMARG (VS-33), United States Navy (3141)
160161/701, Lockheed S-3B Viking, AMARG (VS-32), United States Navy (3143)
160162/NJ-737, Lockheed S-3B Viking, AMARG (VS-41), United States Navy (3144)
160163/NJ-725, Lockheed S-3B Viking, AMARG (VS-41), United States Navy (3145)
160569/NG-705, Lockheed S-3B Viking, AMARG (VS-33), United States Navy (3149)
160572/AA-702, Lockheed S-3B Viking, AMARG (VS-30), United States Navy (3152)
160573/NJ-730, Lockheed S-3B Viking, AMARG (VS-41), United States Navy (3153)
160576/NJ-734, Lockheed S-3B Viking, AMARG (VS-41), United States Navy (3156)
160577/NG-702, Lockheed S-3B Viking, AMARG (VS-33), United States Navy (3157)
160580/NJ-746, Lockheed S-3B Viking, AMARG (VS-41), United States Navy (3160)
160582/AA-707, Lockheed S-3B Viking, AMARG (VS-22), United States Navy (3162)
160588/706, Lockheed S-3B Viking, AMARG (VS-32), United States Navy (3168)
160589/NG-703, Lockheed S-3B Viking, AMARG (VS-31), United States Navy (3169)
160591/JA, Lockheed S-3B Viking, AMARG (VX-1), United States Navy (3171)
160596/NH-704, Lockheed S-3B Viking, AMARG (VS-29), United States Navy (3176)
160602/AJ-706, Lockheed S-3B Viking, AMARG (VS-24), United States Navy (3182)
160603/AC-706, Lockheed S-3B Viking, AMARG (VS-22), United States Navy (3183)
160605/NJ-725, Lockheed S-3B Viking, AMARG (VS-41), United States Navy (3185)
160606/AB-710, Lockheed S-3B Viking, AMARG (VS-32), United States Navy (3186)
AMARG storage area 3:
85-0066, Rockwell B-1B Lancer, AMARG (28th BW), United States Air Force (26)
86-0115/EL, Rockwell B-1B Lancer, AMARG (34th BS/28th BW), United States Air Force (75)
85-0081, Rockwell B-1B Lancer, AMARG (34th BS/28th BW), United States Air Force (41)
60-0014/LA, Boeing B-52H Stratofortress, AMARG (20th BS/2nd BW), United States Air Force (464379)
AMARG storage area 4:
156507/507, Lockheed EP-3E Orion, AMARG (VQ-1), United States Navy (5501)
156514/514, Lockheed EP-3E Orion, AMARG (VQ-1), United States Navy (5508)
160291/291, Lockheed EP-3E Orion, AMARG (VQ-1), United States Navy (5654)
150522/340, Lockheed NP-3D Orion, AMARG (VX-30), United States Navy (5048)
154589/RL-589, Lockheed NP-3D Orion, AMARG (NRL), United States Navy (5270)
152754/LV, Lockheed P-3B Orion, AMARG (VP-66), United States Navy (5196)
153430, Lockheed P-3B Orion, AMARG (VP-66), United States Navy (5227)
153436, Lockheed P-3B Orion, AMARG (VP-93), United States Navy (5233)
153448/PL-67, Lockheed P-3B Orion, AMARG (VP-67), United States Navy (5244)
153449, Lockheed P-3B Orion, AMARG (VP-90), United States Navy (5245)
153458, Lockheed P-3B Orion, AMARG (VP-94), United States Navy (5254)
154578, Lockheed P-3B Orion, AMARG (VP-60), United States Navy (5259)
154579, Lockheed P-3B Orion, AMARG (VP-94), United States Navy (5260)
154582/LU, Lockheed P-3B Orion, AMARG (VP-64), United States Navy (5263)
154586/LU, Lockheed P-3B Orion, AMARG (VP-64), United States Navy (5267)
154590/LU-00, Lockheed P-3B Orion, AMARG (VP-64), United States Navy (5271)
154592/LV-00, Lockheed P-3B Orion, AMARG (VP-66), United States Navy (5273)
154595, Lockheed P-3B Orion, AMARG (VP-64), United States Navy (5276)
154597, Lockheed P-3B Orion, AMARG (VP-60), United States Navy (5278)
154599/LV, Lockheed P-3B Orion, AMARG (VP-66), United States Navy (5280)
154601/LZ-03, Lockheed P-3B Orion, AMARG (VP-94), United States Navy (5282)
154602, Lockheed P-3B Orion, AMARG (VP-93), United States Navy (5283)
154604, Lockheed P-3B Orion, AMARG (VP-67), United States Navy (5285)
157319/PD-319, Lockheed P-3C AIP Orion, AMARG (VP-26), United States Navy (5534)
157331/331, Lockheed P-3C AIP Orion, AMARG (VP-47), United States Navy (5546)
158210/210, Lockheed P-3C AIP Orion, AMARG (VP-69), United States Navy (5555)
158222/222, Lockheed P-3C AIP Orion, AMARG (VP-40), United States Navy (5567)
158224/224, Lockheed P-3C AIP Orion, AMARG (VP-40), United States Navy (5569)
158571/571, Lockheed P-3C AIP Orion, AMARG (VP-1), United States Navy (5580)
159318/318, Lockheed P-3C AIP Orion, AMARG (VP-26), United States Navy (5608)
161012/012, Lockheed P-3C AIP Orion, AMARG (VP-69), United States Navy (5696)
161124/JA-124, Lockheed P-3C AIP Orion, AMARG (VX-1), United States Navy (5703)
161763/763, Lockheed P-3C AIP Orion, AMARG (VP-69), United States Navy (5775)
161765/765, Lockheed P-3C AIP Orion, AMARG (VP-10), United States Navy (5779)
163006/006, Lockheed P-3C AIP Orion, AMARG (VP-40), United States Navy (5813)
158564/564, Lockheed P-3C AIP+ Orion, AMARG (VP-62), United States Navy (5573)
158573/573, Lockheed P-3C AIP+ Orion, AMARG (VP-47), United States Navy (5582)
159323/RD-323, Lockheed P-3C AIP+ Orion, AMARG (VP-47), United States Navy (5613)
161413/413, Lockheed P-3C AIP+ Orion, AMARG (VXS-1), United States Navy (5752)
162314/RC-314, Lockheed P-3C AIP+ Orion, AMARG (VP-46), United States Navy (5786)
162774/774, Lockheed P-3C AIP+ Orion, AMARG (VX-20), United States Navy (5800)
163002/002, Lockheed P-3C AIP+ Orion, AMARG (VP-9), United States Navy (5809)
163003/003, Lockheed P-3C AIP+ Orion, AMARG (VP-9), United States Navy (5810)
163004/004, Lockheed P-3C AIP+ Orion, AMARG (VQ-1), United States Navy (5811)
161001/001, Lockheed P-3C BMUP Orion, AMARG (VP-69), United States Navy (5683)
161409/409, Lockheed P-3C BMUP Orion, AMARG (VP-62), United States Navy (5747)
158931/LA-931, Lockheed P-3C CDU Orion, AMARG (VP-5), United States Navy (5603)
161002/002, Lockheed P-3C CDU Orion, AMARG (VP-26), United States Navy (5684)
161014/014, Lockheed P-3C CDU Orion, AMARG (VP-16), United States Navy (5699)
161332/332, Lockheed P-3C CDU Orion, AMARG (VP-30), United States Navy (5729)
156509/LL-509, Lockheed P-3C Orion, AMARG (VP-30), United States Navy (5503)
156513/LE-513, Lockheed P-3C Orion, AMARG (VP-11), United States Navy (5507)
156524/524, Lockheed P-3C Orion, AMARG (VQ-1), United States Navy (5518)
159513/JA-513, Lockheed P-3C Orion, AMARG (VX-1), United States Navy (5631)
159884/OB-884, Lockheed P-3C Orion, AMARG (VPU-1), United States Navy (5635)
160763/763, Lockheed P-3C-II Orion, AMARG (VQ-1), United States Navy (5669)
161003/PD-003, Lockheed P-3C-II Orion, AMARG (VP-9), United States Navy (5685)
161004/4, Lockheed P-3C-II Orion, AMARG (VPU-1), United States Navy (5686)
161013/013, Lockheed P-3C-II Orion, AMARG (VP-30), United States Navy (5698)
161125/125, Lockheed P-3C-II Orion, AMARG (VP-30), United States Navy (5705)
161334/334, Lockheed P-3C-II½ Orion, AMARG (VP-30), United States Navy (5731)
161335/335, Lockheed P-3C-II½ Orion, AMARG (VQ-2), United States Navy (5732)
156510/510, Lockheed P-3C-IIIR Orion, AMARG (VP-30), United States Navy (5504)
156516/LF-516, Lockheed P-3C-IIIR Orion, AMARG (VP-16), United States Navy (5510)
156518/518, Lockheed P-3C-IIIR Orion, AMARG (VP-30), United States Navy (5512)
156523/LL-39/523, Lockheed P-3C-IIIR Orion, AMARG (VP-30), United States Navy (5517)
156530/530, Lockheed P-3C-IIIR Orion, AMARG (VP-30), United States Navy (5524)
157315/315, Lockheed P-3C-IIIR Orion, AMARG (VP-8), United States Navy (5530)
157317, Lockheed P-3C-IIIR Orion, AMARG (VP-92), United States Navy (5532)
157322/LK-322, Lockheed P-3C-IIIR Orion, AMARG (VP-26), United States Navy (5537)
157324/324, Lockheed P-3C-IIIR Orion, AMARG (VP-9), United States Navy (5539)
157327/327, Lockheed P-3C-IIIR Orion, AMARG (VP-9), United States Navy (5542)
157329/LL-329, Lockheed P-3C-IIIR Orion, AMARG (VP-30), United States Navy (5544)
158205/205, Lockheed P-3C-IIIR Orion, AMARG (VP-46), United States Navy (5549)
158211/211, Lockheed P-3C-IIIR Orion, AMARG (VP-40), United States Navy (5556)
158212/PD-212, Lockheed P-3C-IIIR Orion, AMARG (VP-9), United States Navy (5557)
158216/216, Lockheed P-3C-IIIR Orion, AMARG (VP-46), United States Navy (5561)
158219/LA-219, Lockheed P-3C-IIIR Orion, AMARG (VP-5), United States Navy (5564)
158220/YD-220, Lockheed P-3C-IIIR Orion, AMARG (VP-4), United States Navy (5565)
158221/RC-221, Lockheed P-3C-IIIR Orion, AMARG (VP-46), United States Navy (5566)
158223/YD-223, Lockheed P-3C-IIIR Orion, AMARG (VP-4), United States Navy (5568)
158226/226, Lockheed P-3C-IIIR Orion, AMARG (VP-69), United States Navy (5571)
158565/565, Lockheed P-3C-IIIR Orion, AMARG (VP-92), United States Navy (5574)
158916/PD-916, Lockheed P-3C-IIIR Orion, AMARG (VP-9), United States Navy (5588)
158923/923, Lockheed P-3C-IIIR Orion, AMARG (VP-30), United States Navy (5595)
158932/932, Lockheed P-3C-IIIR Orion, AMARG (VP-45), United States Navy (5604)
158935/935, Lockheed P-3C-IIIR Orion, AMARG (VQ-1), United States Navy (5607)
159328/328, Lockheed P-3C-IIIR Orion, AMARG (VP-46), United States Navy (5618)
151352/LL-21, Lockheed TP-3A Orion, AMARG (VP-30), United States Navy (5065)
151371/LL-23, Lockheed TP-3A Orion, AMARG (VP-30), United States Navy (5084)
153433, Lockheed UP-3B Orion, AMARG, United States Navy (5230)
AMARG storage area 5:
69-6568, Lockheed AC-130H Hercules, AMARG (16th SOS/27th SOW), United States Air Force (4342)
69-6573, Lockheed AC-130H Hercules, AMARG (16th SOS/27th SOW), United States Air Force (4347)
69-6577, Lockheed AC-130H Hercules, AMARG (16th SOS/27th SOW), United States Air Force (4352)
89-0513, Lockheed AC-130U Hercules, AMARG (4th SOS/1st SOW), United States Air Force (5232)
89-1052, Lockheed AC-130U Hercules, AMARG (4th SOS/1st SOW), United States Air Force (5199)
89-1054, Lockheed AC-130U Hercules, AMARG (4th SOS/1st SOW), United States Air Force (5203)
90-0164, Lockheed AC-130U Hercules, AMARG (4th SOS/1st SOW), United States Air Force (5257)
90-0166, Lockheed AC-130U Hercules, AMARG (4th SOS/1st SOW), United States Air Force (5261)
88-1305, Lockheed AC-130W Hercules, AMARG (16th SOS/27th SOW), United States Air Force (5166)
62-1793, Lockheed C-130E Hercules, AMARG (61st AS/19th AW), United States Air Force (3743)
62-1823, Lockheed C-130E Hercules, AMARG (61st AS/19th AW), United States Air Force (3786)
63-7834, Lockheed C-130E Hercules, AMARG (62nd AS/314th AW), United States Air Force (3902)
63-7867, Lockheed C-130E Hercules, AMARG (61st AS/19th AW), United States Air Force (3937)
79-0476, Lockheed C-130H Hercules, AMARG (186th AS/120th AW/Montana ANG), United States Air Force (4856)
82-0056, Lockheed C-130H Hercules, AMARG (16th SOS/27th SOW), United States Air Force (4971)
88-4407, Lockheed C-130H Hercules, AMARG (913th AW), United States Air Force (5160)
64-14862/DM, Lockheed EC-130H Hercules, AMARG (43rd ECS/55th ECG), United States Air Force (4089)
1700, Lockheed HC-130H Hercules, AMARG (Barbers Point), United States Coast Guard (4947)
88-2101, Lockheed HC-130N Hercules, AMARG (106th RQW/New York ANG), United States Air Force (5202)
88-2102, Lockheed HC-130N Hercules, AMARG (106th RQW/New York ANG), United States Air Force (5210)
65-0973/FT, Lockheed HC-130P Hercules, AMARG (71st RQS/23rd Wing), United States Air Force (4121)
65-0986/FT, Lockheed HC-130P Hercules, AMARG (920th RQW), United States Air Force (4141)
147572/QB-572, Lockheed KC-130F Hercules, AMARG (VMGR-352), United States Marine Corps (3554)
148247/QD-247, Lockheed KC-130F Hercules, AMARG (VMGR-152), United States Marine Corps (3573)
148249/GR-249, Lockheed KC-130F Hercules, AMARG (VMGRT-253), United States Marine Corps (3577)
149788/GR-788, Lockheed KC-130F Hercules, AMARG (VMGRT-253), United States Marine Corps (3640)
149792/QB-792, Lockheed KC-130F Hercules, AMARG (VMGR-352), United States Marine Corps (3658)
149806/806, Lockheed KC-130F Hercules, AMARG (VX-20), United States Air Force (3703)
149816/QD-816, Lockheed KC-130F Hercules, AMARG (VMGR-152), United States Marine Corps (3726)
150686/686, Lockheed KC-130F Hercules, AMARG (VX-20), United States Air Force (3733)
163023/404, Lockheed KC-130T Hercules, AMARG (VX-30), United States Navy (5045)
164181/NY-181, Lockheed KC-130T Hercules, AMARG (VMGR-452), United States Marine Corps (5176)
164442/NY-442, Lockheed KC-130T Hercules, AMARG (VMGR-452), United States Marine Corps (5222)
164999/NY-999, Lockheed KC-130T Hercules, AMARG (VMGR-452), United States Marine Corps (5302)
165163/NY-163, Lockheed KC-130T-30 Hercules, AMARG (VMGR-452), United States Marine Corps (5340)
165353/NY-353, Lockheed KC-130T Hercules, AMARG (VMGR-452), United States Marine Corps (5412)
148320/320, Lockheed LC-130F Hercules, AMARG (VX-30), United States Navy (3565)
159130/XD-04, Lockheed LC-130R Hercules, AMARG (VXE-6), United States Air Force (4516)
64-0568, Lockheed MC-130E Hercules, AMARG (711th SOS/919th OG), United States Air Force (4086)
88-0194, Lockheed MC-130H Combat Talon II, AMARG (15th SOS/1st SOW), United States Air Force (5133)
88-0195, Lockheed MC-130H Combat Talon II, AMARG (15th SOS/1st SOW), United States Air Force (5134)
66-0219/CA, Lockheed MC-130P Hercules, AMARG (129th RQW/California ANG), United States Air Force (4175)
AMARG storage area 6:
69-6569, Lockheed AC-130H Hercules, AMARG (16th SOS/27th SOW), United States Air Force (4343)
62-1788, Lockheed C-130E Hercules, AMARG (62nd AS/314th AW), United States Air Force (3735)
62-1833, Lockheed C-130E Hercules, AMARG (62nd AS/314th AW), United States Air Force (3796)
62-1835, Lockheed C-130E Hercules, AMARG (53rd AS/314th AW), United States Air Force (3798)
62-1849, Lockheed C-130E Hercules, AMARG (61st AS/19th AW), United States Air Force (3812)
63-7767, Lockheed C-130E Hercules, AMARG (314th AW), United States Air Force (3833)
63-7796, Lockheed C-130E Hercules, AMARG (62nd AS/314th AW), United States Air Force (3862)
63-7831, Lockheed C-130E Hercules, AMARG (62nd AS/314th AW), United States Air Force (3899)
63-7840, Lockheed C-130E Hercules, AMARG (61st AS/19th AW), United States Air Force (3910)
63-7848, Lockheed C-130E Hercules, AMARG (62nd AS/314th AW), United States Air Force (3918)
63-7859, Lockheed C-130E Hercules, AMARG (62nd AS/314th AW), United States Air Force (3929)
64-0544/PR, Lockheed C-130E Hercules, AMARG (198th AS/156th OG/Puerto Rico ANG), United States Air Force (4034)
74-1667, Lockheed C-130H Hercules, AMARG (103rd AW/Connecticut ANG), United States Air Force (4613)
148896/GR-896, Lockheed KC-130F Hercules, AMARG (VMGRT-253), United States Marine Corps (3623)
149795/GR-795, Lockheed KC-130F Hercules, AMARG (VMGRT-253), United States Marine Corps (3664)
149799/QD-799, Lockheed KC-130F Hercules, AMARG (VMGR-152), United States Marine Corps (3684)
150689/QD-689, Lockheed KC-130F Hercules, AMARG (VMGR-152), United States Marine Corps (3741)
150690/QD-690, Lockheed KC-130F Hercules, AMARG (VMGR-152), United States Marine Corps (3742)
160019/QD-019, Lockheed KC-130R Hercules, AMARG (VMGR-152), United States Marine Corps (4689)
93-2105, Lockheed HC-130H(N) Hercules, AMARG (939th RQW), United States Air Force (5388)
62-1843, Lockheed MC-130E Hercules, AMARG (711th SOS/919th OG), United States Air Force (3990)
AMARG storage area 7:
83-0077, McDonnell Douglas KC-10A Extender, AMARG (60th AMW), United States Air Force (48218/388)
86-0036, McDonnell Douglas KC-10A Extender, AMARG (305th AMW), United States Air Force (48249/424)
87-0120, McDonnell Douglas KC-10A Extender, AMARG (305th AMW), United States Air Force ( 48306/430)
79-0434, McDonnell Douglas KC-10A Extender, AMARG (305th AMW), United States Air Force (48201/333)
79-1713, McDonnell Douglas KC-10A Extender, AMARG (60th AMW), United States Air Force (48205/363)
79-1949, McDonnell Douglas KC-10A Extender, AMARG (305th AMW), United States Air Force (48209/377)
83-0081, McDonnell Douglas KC-10A Extender, AMARG (305th AMW), United States Air Force (48222/392)
87-0122, McDonnell Douglas KC-10A Extender, AMARG (305th AMW), United States Air Force (48308/432)
87-0124, McDonnell Douglas KC-10A Extender, AMARG (305th AMW), United States Air Force (48310/441)
AMARG storage area 8:
786-061, Bell AH-1Z Super Cobra, AMARG, 169248, Pakistan Army (unknown)
786-062, Bell AH-1Z Super Cobra, AMARG, 169250, Pakistan Army (unknown)
786-063, Bell AH-1Z Super Cobra, AMARG, 169252, Pakistan Army (unknown)
786-064, Bell AH-1Z Super Cobra, AMARG, 169371, Pakistan Army (unknown)
786-065, Bell AH-1Z Super Cobra, AMARG, 169372, Pakistan Army (unknown)
786-066, Bell AH-1Z Super Cobra, AMARG, 169373, Pakistan Army (unknown)
786-067, Bell AH-1Z Super Cobra, AMARG, 169374, Pakistan Army (unknown)
786-068, Bell AH-1Z Super Cobra, AMARG, 169375, Pakistan Army (unknown)
786-069, Bell AH-1Z Super Cobra, AMARG, 169376, Pakistan Army (unknown)
786-070, Bell AH-1Z Super Cobra, AMARG, 169377, Pakistan Army (unknown)
786-071, Bell AH-1Z Super Cobra, AMARG, 169378, Pakistan Army (unknown)
786-072, Bell AH-1Z Super Cobra, AMARG, 169379, Pakistan Army (unknown)
166759/MV-42, Bell AH-1Z Super Cobra, AMARG (VMX-1), United States Marine Corps (59004)
168003, Bell AH-1Z Super Cobra, AMARG, United States Marine Corps (59015)
168422/QT-429, Bell AH-1Z Super Cobra, AMARG (HMLAT-303), United States Marine Corps (59025)
168424/QT-642, Bell AH-1Z Super Cobra, AMARG (HMLAT-303), United States Marine Corps (59202)
168525/VT-25, Bell AH-1Z Super Cobra, AMARG (HMLA-367), United States Marine Corps (59204)
168966/VT-27, Bell AH-1Z Super Cobra, AMARG (HMLA-367), United States Marine Corps (59223)
164602/AJ-213, Grumman F-14D Tomcat, AMARG (VF-213), United States Navy (630/D-35)
156519/519, Lockheed EP-3E Orion, AMARG (VQ-1), United States Navy (5513)
158204/RL-204, Lockheed NP-3C Orion, AMARG (NRL), United States Navy (5548)
158227/300, Lockheed NP-3D Orion, AMARG (VX-30), United States Navy (5551)
153432, Lockheed P-3B Orion, AMARG (VP-93), United States Navy (5229)
153451/LZ, Lockheed P-3B Orion, AMARG (VP-94), United States Navy (5247)
154588, Lockheed P-3B Orion, AMARG (NAWCWD), United States Navy (5269)
154593/LU-03, Lockheed P-3B Orion, AMARG (VP-64), United States Navy (5274)
154598, Lockheed P-3B Orion, AMARG (VP-64), United States Navy (5279)
158215/215, Lockheed P-3C AIP Orion, AMARG (VQ-1), United States Navy (5560)
158919/919, Lockheed P-3C AIP Orion, AMARG (VP-47), United States Navy (5591)
161766/RC-766, Lockheed P-3C AIP Orion, AMARG (VP-46), United States Navy (5781)
161767/PD-767, Lockheed P-3C AIP Orion, AMARG (VP-9), United States Navy (5783)
162315/315, Lockheed P-3C AIP Orion, AMARG (VP-40), United States Navy (5788)
162773/773, Lockheed P-3C AIP Orion, AMARG (VP-40), United States Navy (5799)
162775/PD-775, Lockheed P-3C AIP Orion, AMARG (VP-9), United States Navy (5801)
162778/304, Lockheed P-3C AIP Orion, AMARG (VX-30), United States Navy (5804)
158563/RD-563, Lockheed P-3C AIP+ Orion, AMARG (VP-1), United States Navy (5572)
159514/514, Lockheed P-3C AIP+ Orion, AMARG (VP-30), United States Navy (5632)
159894/RC-894, Lockheed P-3C AIP+ Orion, AMARG (VP-46), United States Navy (5645)
160287/287, Lockheed P-3C AIP+ Orion, AMARG (VP-40), United States Navy (5650)
160761/761, Lockheed P-3C AIP+ Orion, AMARG (VP-69), United States Navy (5665)
161764/764, Lockheed P-3C AIP+ Orion, AMARG (VQ-1), United States Navy (5777)
163289/289, Lockheed P-3C AIP+ Orion, AMARG (VP-9), United States Navy (5814)
161126/126, Lockheed P-3C BMUP Orion, AMARG (VP-1), United States Navy (5707)
161411/411, Lockheed P-3C BMUP+ Orion, AMARG (VP-69), United States Navy (5749)
161412/306, Lockheed P-3C BMUP+ Orion, AMARG (VX-30), United States Navy (5751)
161596/596, Lockheed P-3C BMUP+ Orion, AMARG (VP-40), United States Navy (5771)
159506/506, Lockheed P-3C Orion, AMARG (VP-30), United States Navy (5624)
159512/512, Lockheed P-3C Orion, AMARG (VQ-1), United States Navy (5630)
160284/LL-284, Lockheed P-3C-I Orion, AMARG (VP-30), United States Navy (5647)
157323/PG-323, Lockheed P-3C-IIIR Orion, AMARG (VP-65), United States Navy (5538)
158574, Lockheed P-3C-IIIR Orion, AMARG (NAWC-23), United States Navy (5583)
158914/914, Lockheed P-3C-IIIR Orion, AMARG (VPU-2), United States Navy (5586)
158917/917, Lockheed P-3C-IIIR Orion, AMARG (VQ-1), United States Navy (5589)
158926/305, Lockheed P-3C-IIIR Orion, AMARG (VX-30), United States Navy (5598)
159324/324, Lockheed P-3C-IIIR Orion, AMARG (VP-40), United States Navy (5614)
159504, Lockheed P-3SPA Orion, AMARG (VPU-2), United States Navy (5621)
160285, Lockheed P-3SPA Orion, AMARG (VPU-2), United States Navy (5648)
160290/290, Lockheed P-3SPA Orion, AMARG (VPU-2), United States Navy (5653)
160292/292, Lockheed P-3SPA Orion, AMARG (VPU-2), United States Navy (5655)
161122/122, Lockheed P-3SPA Orion, AMARG (VPU-2), United States Navy (5701)
161593/593, Lockheed P-3C BMUP+ Orion, AMARG (VP-40), United States Navy (5767)
162111/HN-426, Sikorsky SH-60B Seahawk, AMARG (HSL-42), United States Navy (70-401)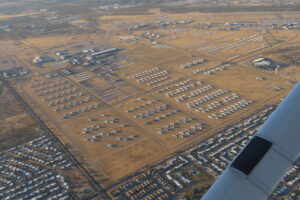 AMARG storage area 10:
90-0163, Lockheed AC-130U Hercules, AMARG (4th SOS/1st SOW), United States Air Force (5256)
62-1784, Lockheed C-130E Hercules, AMARG (61st AS/19th AW), United States Air Force (3729)
62-1808, Lockheed C-130E Hercules, AMARG (62nd AS/314th AW), United States Air Force (3762)
62-1810, Lockheed C-130E Hercules, AMARG (62nd AS/314th AW), United States Air Force (3771)
62-1811, Lockheed C-130E Hercules, AMARG (61st AS/19th AW), United States Air Force (3772)
62-1816, Lockheed C-130E Hercules, AMARG (62nd AS/314th AW), United States Air Force (3778)
62-1820/PR, Lockheed C-130E Hercules, AMARG (198th AS/156th OG/Puerto Rico ANG), United States Air Force (3783)
62-1824, Lockheed C-130E Hercules, AMARG (61st AS/19th AW), United States Air Force (3787)
62-1837, Lockheed C-130E Hercules, AMARG (43rd AW), United States Air Force (3800)
62-1842/PR, Lockheed C-130E Hercules, AMARG (156th AW/Puerto Rico ANG), United States Air Force (3805)
62-1850, Lockheed C-130E Hercules, AMARG (53rd AS/314th AW), United States Air Force (3814)
62-1864, Lockheed C-130E Hercules, AMARG (43rd AW), United States Air Force (3828)
62-1866, Lockheed C-130E Hercules, AMARG (53rd AS/314th AW), United States Air Force (3830)
63-7770, Lockheed C-130E Hercules, AMARG (43rd AW), United States Air Force (3836)
63-7782, Lockheed C-130E Hercules, AMARG (43rd AW), United States Air Force (3848)
63-7804, Lockheed C-130E Hercules, AMARG (62nd AS/314th AW), United States Air Force (3870)
63-7809, Lockheed C-130E Hercules, AMARG (463rd AG), United States Air Force (3879)
63-7815, Lockheed C-130E Hercules, AMARG (1st SOW), United States Air Force (3889)
63-7816, Lockheed C-130E Hercules, AMARG (1st SOW), United States Air Force (3890)
63-7818, Lockheed C-130E Hercules, AMARG (43rd AW), United States Air Force (3884)
63-7837, Lockheed C-130E Hercules, AMARG (43rd AW), United States Air Force (3907)
63-7846, Lockheed C-130E Hercules, AMARG (62nd AS/314th AW), United States Air Force (3916)
63-7847, Lockheed C-130E Hercules, AMARG (62nd AS/314th AW), United States Air Force (3917)
63-7871, Lockheed C-130E Hercules, AMARG (61st AS/463rd AG), United States Air Force (3941)
63-7879/RS, Lockheed C-130E Hercules, AMARG (86th AW), United States Air Force (3950)
63-7889, Lockheed C-130E Hercules, AMARG (154th TS/189th AW/Arkansas ANG), United States Air Force (3960)
63-7894, Lockheed C-130E Hercules, AMARG (53rd AS/314th AW), United States Air Force (3965)
63-7899, Lockheed C-130E Hercules, AMARG (62nd AS/314th AW), United States Air Force (3970)
64-0502/RS, Lockheed C-130E Hercules, AMARG (86th AW), United States Air Force (3986)
64-0504, Lockheed C-130E Hercules, AMARG (43rd AW), United States Air Force (3988)
64-0512, Lockheed C-130E Hercules, AMARG (62nd AS/314th AW), United States Air Force (3996)
64-17681/RS, Lockheed C-130E Hercules, AMARG (86th AW), United States Air Force (4069)
72-1290, Lockheed C-130E Hercules, AMARG (61st AS/19th AW), United States Air Force (4502)
72-1292, Lockheed C-130E Hercules, AMARG (43rd AW), United States Air Force (4505)
72-1296, Lockheed C-130E Hercules, AMARG (62nd AS/314th AW), United States Air Force (4517)
74-2063, Lockheed C-130H Hercules, AMARG (103rd AW/Connecticut ANG), United States Air Force (4655)
83-0487, Lockheed C-130H Hercules, AMARG (109th AW/New York ANG), United States Air Force (5012)
86-0418, Lockheed C-130H Hercules, 186th AS/120th AW/Montana ANG, United States Air Force (5110)
88-4402, Lockheed C-130H Hercules, AMARG (1st SOW), United States Air Force (5155)
65-0987/FT, Lockheed HC-130P Hercules, AMARG (71st RQS/23rd Wing), United States Air Force (4142)
66-0224/FT, Lockheed HC-130P Hercules, AMARG (79th RQS/563rd RQG), United States Air Force (4186)
149808/908, Lockheed KC-130F Hercules, AMARG (VX-20), United States Navy (3705)
149815/815, Lockheed KC-130F Hercules, AMARG (VX-20), United States Navy (3725)
63-7785, Lockheed MC-130E Hercules, AMARG (919th SOW), United States Air Force (3991)
64-0551, Lockheed MC-130E Hercules, AMARG (711th SOS/919th OG), United States Air Force (4046)
64-0565, Lockheed MC-130E Hercules, AMARG (711th SOS/919th OG), United States Air Force (4077)
64-0572, Lockheed MC-130E Hercules, AMARG (919th SOW), United States Air Force (4090)
64-14858, Lockheed MC-130P Hercules, AMARG (58th SOW), United States Air Force (4081)
65-0975, Lockheed MC-130P Hercules, AMARG (58th SOW), United States Air Force (4125)
65-0992, Lockheed MC-130P Hercules, AMARG (67th SOS/352nd SOG), United States Air Force (4155)
AMARG storage area 11:
160269/G-877, Beechcraft T-34C Turbo Mentor, AMARG (TAW-4), United States Navy (GL-5)
160462/G-704, Beechcraft T-34C Turbo Mentor, AMARG (TAW-4), United States Navy (GL-19)
160465/E-465, Beechcraft T-34C Turbo Mentor, AMARG (TAW-5), United States Navy (GL-22)
160466/G-732, Beechcraft T-34C Turbo Mentor, AMARG (TAW-4), United States Navy (GL-23)
160469/G-873, Beechcraft T-34C Turbo Mentor, AMARG (TAW-4), United States Navy (GL-26)
160471/E-471, Beechcraft T-34C Turbo Mentor, AMARG (TAW-5), United States Navy (GL-28)
160476/G-831, Beechcraft T-34C Turbo Mentor, AMARG (TAW-4), United States Navy (GL-33)
160477/G-841, Beechcraft T-34C Turbo Mentor, AMARG (TAW-4), United States Navy (GL-34)
160479/G-756, Beechcraft T-34C Turbo Mentor, AMARG (TAW-4), United States Navy (GL-36)
160481/G-775, Beechcraft T-34C Turbo Mentor, AMARG (TAW-4), United States Navy (GL-38)
160483/F-483, Beechcraft T-34C Turbo Mentor, AMARG (CTW-6), United States Navy (GL-40)
160485/G-802, Beechcraft T-34C Turbo Mentor, AMARG (TAW-4), United States Navy (GL-42)
160488/E-488, Beechcraft T-34C Turbo Mentor, AMARG (SFWSL), United States Navy (GL-45)
160491/835, Beechcraft T-34C Turbo Mentor, AMARG (SFWSL), United States Navy (GL-48)
160492/G-803, Beechcraft T-34C Turbo Mentor, AMARG (TAW-4), United States Navy (GL-49)
160499/G-806, Beechcraft T-34C Turbo Mentor, AMARG (TAW-4), United States Navy (GL-56)
160501/G-806, Beechcraft T-34C Turbo Mentor, AMARG (TAW-4), United States Navy (GL-58)
160502/G-852, Beechcraft T-34C Turbo Mentor, AMARG (TAW-4), United States Navy (GL-59)
160505/G-766, Beechcraft T-34C Turbo Mentor, AMARG (TAW-4), United States Navy (GL-62)
160511/G-877, Beechcraft T-34C Turbo Mentor, AMARG (TAW-4), United States Navy (GL-68)
160513/E-513, Beechcraft T-34C Turbo Mentor, AMARG (TAW-5), United States Navy (GL-70)
160514/G-810, Beechcraft T-34C Turbo Mentor, AMARG (TAW-4), United States Navy (GL-71)
160515/G-874, Beechcraft T-34C Turbo Mentor, AMARG (TAW-4), United States Navy (GL-72)
160519/E-519, Beechcraft T-34C Turbo Mentor, AMARG (TAW-5), United States Navy (GL-76)
160522/E-522, Beechcraft T-34C Turbo Mentor, AMARG (TAW-5), United States Navy (GL-79)
160526/G-755, Beechcraft T-34C Turbo Mentor, AMARG (TAW-4), United States Navy (GL-83)
160529/E-529, Beechcraft T-34C Turbo Mentor, AMARG (TAW-5), United States Navy (GL-86)
160530/G-810, Beechcraft T-34C Turbo Mentor, AMARG (TAW-4), United States Navy (GL-87)
160532/G-804, Beechcraft T-34C Turbo Mentor, AMARG (TAW-4), United States Navy (GL-89)
160534/G-811, Beechcraft T-34C Turbo Mentor, AMARG (TAW-4), United States Navy (GL-91)
160535/G-812, Beechcraft T-34C Turbo Mentor, AMARG (TAW-4), United States Navy (GL-92)
160630/E-630, Beechcraft T-34C Turbo Mentor, AMARG (TAW-5), United States Navy (GL-95)
160631/G-865, Beechcraft T-34C Turbo Mentor, AMARG (TAW-4), United States Navy (GL-96)
160639/G-866, Beechcraft T-34C Turbo Mentor, AMARG (TAW-4), United States Navy (GL-104)
160643/E-643, Beechcraft T-34C Turbo Mentor, AMARG (TAW-5), United States Navy (GL-150)
160649/E-649, Beechcraft T-34C Turbo Mentor, AMARG (TAW-5), United States Navy (GL-114)
160651/G-711, Beechcraft T-34C Turbo Mentor, AMARG (TAW-4), United States Navy (GL-116)
160931/G-727, Beechcraft T-34C Turbo Mentor, AMARG (TAW-4), United States Navy (GL-117)
160934/G-855, Beechcraft T-34C Turbo Mentor, AMARG (TAW-4), United States Navy (GL-120)
160935/E-935, Beechcraft T-34C Turbo Mentor, AMARG (TAW-5), United States Navy (GL-121)
160936/G-847, Beechcraft T-34C Turbo Mentor, AMARG (TAW-4), United States Navy (GL-122)
160940/G-740, Beechcraft T-34C Turbo Mentor, AMARG (TAW-4), United States Navy (GL-126)
160948/G-807, Beechcraft T-34C Turbo Mentor, AMARG (TAW-4), United States Navy (GL-134)
160950/E-950, Beechcraft T-34C Turbo Mentor, AMARG (TAW-5), United States Navy (GL-136)
160953/E-953, Beechcraft T-34C Turbo Mentor, AMARG (TAW-5), United States Navy (GL-139)
160954/G-756, Beechcraft T-34C Turbo Mentor, AMARG (TAW-4), United States Navy (GL-140)
160956/E-956, Beechcraft T-34C Turbo Mentor, AMARG (TAW-5), United States Navy (GL-142)
160957/E-957, Beechcraft T-34C Turbo Mentor, AMARG (TAW-5), United States Navy (GL-143)
160963/E-963, Beechcraft T-34C Turbo Mentor, AMARG (TAW-5), United States Navy (GL-149)
161024/G-734, Beechcraft T-34C Turbo Mentor, AMARG (TAW-4), United States Navy (GL-152)
161027/E-027, Beechcraft T-34C Turbo Mentor, AMARG (TAW-5), United States Navy (GL-155)
161028/E-028, Beechcraft T-34C Turbo Mentor, AMARG (TAW-5), United States Navy (GL-156)
161029/G-723, Beechcraft T-34C Turbo Mentor, AMARG (TAW-4), United States Navy (GL-157)
161032/E-032, Beechcraft T-34C Turbo Mentor, AMARG (TAW-5), United States Navy (GL-160)
161033/G-826, Beechcraft T-34C Turbo Mentor, AMARG (TAW-4), United States Navy (GL-161)
161037/G-864, Beechcraft T-34C Turbo Mentor, AMARG (TAW-4), United States Navy (GL-165)
161039/E-039, Beechcraft T-34C Turbo Mentor, AMARG (TAW-5), United States Navy (GL-167)
161040/G-813, Beechcraft T-34C Turbo Mentor, AMARG (TAW-4), United States Navy (GL-168)
161041/G-846, Beechcraft T-34C Turbo Mentor, AMARG (TAW-4), United States Navy (GL-169)
161042/E-042, Beechcraft T-34C Turbo Mentor, AMARG (TAW-5), United States Navy (GL-170)
161046/E-046, Beechcraft T-34C Turbo Mentor, AMARG (TAW-5), United States Navy (GL-174)
161050/E-050, Beechcraft T-34C Turbo Mentor, AMARG (TAW-5), United States Navy (GL-178)
161790/G-830, Beechcraft T-34C Turbo Mentor, AMARG (TAW-4), United States Navy (GL-185)
161791/E-791, Beechcraft T-34C Turbo Mentor, AMARG (TAW-5), United States Navy (GL-186)
161792/E-792, Beechcraft T-34C Turbo Mentor, AMARG (TAW-5), United States Navy (GL-187)
161794/G-827, Beechcraft T-34C Turbo Mentor, AMARG (TAW-4), United States Navy (GL-189)
161798/G-754, Beechcraft T-34C Turbo Mentor, AMARG (TAW-4), United States Navy (GL-193)
161800/G-814, Beechcraft T-34C Turbo Mentor, AMARG (TAW-4), United States Navy (GL-195)
161801/E-801, Beechcraft T-34C Turbo Mentor, AMARG (TAW-5), United States Navy (GL-196)
161802/E-802, Beechcraft T-34C Turbo Mentor, AMARG (TAW-5), United States Navy (GL-197)
161803/G-833, Beechcraft T-34C Turbo Mentor, AMARG (TAW-4), United States Navy (GL-198)
161804/G-748, Beechcraft T-34C Turbo Mentor, AMARG (TAW-4), United States Navy (GL-199)
161806/G-811, Beechcraft T-34C Turbo Mentor, AMARG (TAW-4), United States Navy (GL-201)
161807/G-725, Beechcraft T-34C Turbo Mentor, AMARG (TAW-4), United States Navy (GL-202)
161808/G-750, Beechcraft T-34C Turbo Mentor, AMARG (TAW-4), United States Navy (GL-203)
161811/E-811, Beechcraft T-34C Turbo Mentor, AMARG (TAW-5), United States Navy (GL-206)
161814/G-714, Beechcraft T-34C Turbo Mentor, AMARG (TAW-4), United States Navy (GL-209)
161817/G-827, Beechcraft T-34C Turbo Mentor, AMARG (TAW-4), United States Navy (GL-212)
161820/G-720, Beechcraft T-34C Turbo Mentor, AMARG (TAW-4), United States Navy (GL-215)
161821/821, Beechcraft T-34C Turbo Mentor, AMARG (SFWSL), United States Navy (GL-216)
161822/G-722, Beechcraft T-34C Turbo Mentor, AMARG (TAW-4), United States Navy (GL-217)
161824/G-724, Beechcraft T-34C Turbo Mentor, AMARG (TAW-4), United States Navy (GL-219)
161828/E-828, Beechcraft T-34C Turbo Mentor, AMARG (TAW-5), United States Navy (GL-223)
161829/G-823, Beechcraft T-34C Turbo Mentor, AMARG (TAW-4), United States Navy (GL-224)
161830/G-725, Beechcraft T-34C Turbo Mentor, AMARG (TAW-4), United States Navy (GL-225)
161831/G-720, Beechcraft T-34C Turbo Mentor, AMARG (TAW-4), United States Navy (GL-226)
161837/G-747, Beechcraft T-34C Turbo Mentor, AMARG (TAW-4), United States Navy (GL-232)
161838/G-762, Beechcraft T-34C Turbo Mentor, AMARG (TAW-4), United States Navy (GL-233)
161839/G-776, Beechcraft T-34C Turbo Mentor, AMARG (TAW-4), United States Navy (GL-234)
161840/840, Beechcraft T-34C Turbo Mentor, AMARG (SFWSL), United States Navy (GL-235)
161841/G/4-TW-10, Beechcraft T-34C Turbo Mentor, AMARG (TAW-4), United States Navy (GL-236)
161843/G-743, Beechcraft T-34C Turbo Mentor, AMARG (TAW-4), United States Navy (GL-238)
162250/E-250, Beechcraft T-34C Turbo Mentor, AMARG (TAW-5), United States Navy (GL-248)
162252/E-252, Beechcraft T-34C Turbo Mentor, AMARG (TAW-5), United States Navy (GL-250)
162253/G-711, Beechcraft T-34C Turbo Mentor, AMARG (TAW-4), United States Navy (GL-251)
162254/G-826, Beechcraft T-34C Turbo Mentor, AMARG (TAW-4), United States Navy (GL-252)
162256/E-256, Beechcraft T-34C Turbo Mentor, AMARG (TAW-5), United States Navy (GL-254)
162259/G-837, Beechcraft T-34C Turbo Mentor, AMARG (TAW-4), United States Navy (GL-257)
162260/G-724, Beechcraft T-34C Turbo Mentor, AMARG (TAW-4), United States Navy (GL-258)
162261/E-261, Beechcraft T-34C Turbo Mentor, AMARG (TAW-5), United States Navy (GL-259)
162265/G-845, Beechcraft T-34C Turbo Mentor, AMARG (TAW-4), United States Navy (GL-263)
162266/G-874, Beechcraft T-34C Turbo Mentor, AMARG (TAW-4), United States Navy (GL-264)
162267/G-821, Beechcraft T-34C Turbo Mentor, AMARG (TAW-4), United States Navy (GL-265)
162269/G-844, Beechcraft T-34C Turbo Mentor, AMARG (TAW-4), United States Navy (GL-267)
162271/G-846, Beechcraft T-34C Turbo Mentor, AMARG (TAW-4), United States Navy (GL-269)
162273/E-273, Beechcraft T-34C Turbo Mentor, AMARG (TAW-5), United States Navy (GL-271)
162274/E-274, Beechcraft T-34C Turbo Mentor, AMARG (TAW-5), United States Navy (GL-272)
162276/G-853, Beechcraft T-34C Turbo Mentor, AMARG (TAW-4), United States Navy (GL-274)
162278/G-871, Beechcraft T-34C Turbo Mentor, AMARG (TAW-4), United States Navy (GL-276)
162281/F-83, Beechcraft T-34C Turbo Mentor, AMARG (CTW-6), United States Navy (GL-279)
162283/G-743, Beechcraft T-34C Turbo Mentor, AMARG (TAW-4), United States Navy (GL-281)
162286/G-867, Beechcraft T-34C Turbo Mentor, AMARG (TAW-4), United States Navy (GL-284)
162291, Beechcraft T-34C Turbo Mentor, AMARG (SFWSL), United States Navy (GL-289)
162292/E-292, Beechcraft T-34C Turbo Mentor, AMARG (US Army/ABNSOTD), United States Army (GL-290)
162294/E-294, Beechcraft T-34C Turbo Mentor, AMARG (TAW-5), United States Navy (GL-292)
162295/G-852, Beechcraft T-34C Turbo Mentor, AMARG (TAW-4), United States Navy (GL-293)
162296/E-296, Beechcraft T-34C Turbo Mentor, AMARG (TAW-5), United States Navy (GL-294)
162297/G-731, Beechcraft T-34C Turbo Mentor, AMARG (TAW-4), United States Navy (GL-295)
162298/G-767, Beechcraft T-34C Turbo Mentor, AMARG (TAW-4), United States Navy (GL-296)
162299/E-299, Beechcraft T-34C Turbo Mentor, AMARG (TAW-5), United States Navy (GL-297)
162300/G-840, Beechcraft T-34C Turbo Mentor, AMARG (TAW-4), United States Navy (GL-298)
162301/E-301, Beechcraft T-34C Turbo Mentor, AMARG (TAW-5), United States Navy (GL-299)
162303/E-303, Beechcraft T-34C Turbo Mentor, AMARG (TAW-5), United States Navy (GL-301)
162304/G-736, Beechcraft T-34C Turbo Mentor, AMARG (TAW-4), United States Navy (GL-302)
162306/G-824, Beechcraft T-34C Turbo Mentor, AMARG (TAW-4), United States Navy (GL-304)
162625/625, Beechcraft T-34C Turbo Mentor, AMARG (SFWSL), United States Navy (GL-310)
162627/627, Beechcraft T-34C Turbo Mentor, AMARG (SFWSL), United States Navy (GL-312)
162628/E-628, Beechcraft T-34C Turbo Mentor, AMARG (TAW-5), United States Navy (GL-313)
162630/E-468, Beechcraft T-34C Turbo Mentor, AMARG (TAW-5), United States Navy (GL-315)
162632/E-474, Beechcraft T-34C Turbo Mentor, AMARG (TAW-5), United States Navy (GL-317)
162633/E-498, Beechcraft T-34C Turbo Mentor, AMARG (TAW-5), United States Navy (GL-318)
162634/503, Beechcraft T-34C Turbo Mentor, AMARG (SFWSL), United States Navy (GL-319)
162637/G-841, Beechcraft T-34C Turbo Mentor, AMARG (TAW-4), United States Navy (GL-322)
162638/E-533, Beechcraft T-34C Turbo Mentor, AMARG (TAW-5), United States Navy (GL-323)
162639/G-860, Beechcraft T-34C Turbo Mentor, AMARG (TAW-4), United States Navy (GL-324)
162640/E-955, Beechcraft T-34C Turbo Mentor, AMARG (SFWSL), United States Navy (GL-325)
162642/G-865, Beechcraft T-34C Turbo Mentor, AMARG (TAW-4), United States Navy (GL-327)
162644/E-285, Beechcraft T-34C Turbo Mentor, AMARG (SFWSL), United States Navy (GL-329)
162647/E-537, Beechcraft T-34C Turbo Mentor, AMARG (TAW-5), United States Navy (GL-332)
164157/G-766, Beechcraft T-34C Turbo Mentor, AMARG (TAW-4), United States Navy (GL-337)
164165/E-165, Beechcraft T-34C Turbo Mentor, AMARG (TAW-5), United States Navy (GL-345)
164170/G-721, Beechcraft T-34C Turbo Mentor, AMARG (TAW-4), United States Navy (GL-350)
AMARG storage area 12:
3-4412, Bell AH-1J Cobra, AMARG, Imperial Iranian Army (26512)
67-15463, Bell AH-1S Cobra, AMARG (1-126th Avn Rgt/Rhode Island ARNG), United States Army (20127)
67-15498, Bell AH-1S Cobra, AMARG (1-126th Avn Rgt/Rhode Island ARNG), United States Army (20162)
67-15660, Bell AH-1S Cobra, AMARG (Ohio ARNG), United States Army (20324)
67-15785, Bell AH-1S Cobra, AMARG (1-126th Avn Rgt/Rhode Island ARNG), United States Army (20449)
67-15791, Bell AH-1S Cobra, AMARG (1-126th Avn Rgt/Rhode Island ARNG), United States Army (20455)
68-15094, Bell AH-1S Cobra, AMARG (Fort Drum), United States Army (20628)
68-15158, Bell AH-1S Cobra, AMARG (Ohio ARNG), United States Army (20692)
70-15964, Bell AH-1S Cobra, AMARG (Ohio ARNG), United States Army (20908)
70-15997, Bell AH-1S Cobra, AMARG (1-126th Avn Rgt/Rhode Island ARNG), United States Army (20941)
70-16021, Bell AH-1S Cobra, AMARG (1-126th Avn Rgt/Rhode Island ARNG), United States Army (20965)
70-16026, Bell AH-1S Cobra, AMARG (Ohio ARNG), United States Army (20970)
70-16097, Bell AH-1S Cobra, AMARG (Ohio ARNG), United States Army (21041)
70-16099, Bell AH-1S Cobra, AMARG (Ohio ARNG), United States Army (21043)
70-16105, Bell AH-1S Cobra, AMARG (Ohio ARNG), United States Army (21049)
71-20992, Bell AH-1S Cobra, AMARG (New Jersey ARNG), United States Army (21063)
160105/TV-43, Bell AH-1W Sea Cobra, AMARG (HMLA-167), United States Marine Corps (29124)
160798, Bell AH-1W Sea Cobra, AMARG (HMLA-167), United States Marine Corps (26112)
160799/QT-456, Bell AH-1W Sea Cobra, AMARG (HMLAT-303), United States Marine Corps (29113)
160816, Bell AH-1W Sea Cobra, AMARG (HMLA-269), United States Marine Corps (26931)
160822/VT-32, Bell AH-1W Sea Cobra, AMARG (HMLA-367), United States Marine Corps (26907)
161019, Bell AH-1W Sea Cobra, AMARG (HMLA-167), United States Marine Corps (26121/29168)
162538/VT-24, Bell AH-1W Sea Cobra, AMARG (HMLA-367), United States Marine Corps (26207)
162544/WR-26, Bell AH-1W Sea Cobra, AMARG (HMLA-775), United States Marine Corps (26213)
162548/VT-33, Bell AH-1W Sea Cobra, AMARG (HMLA-367), United States Marine Corps (29161)
162551/VT-30, Bell AH-1W Sea Cobra, AMARG (HMLA-367), United States Marine Corps (26220)
162553/HF-58, Bell AH-1W Sea Cobra, AMARG (HMLA-269), United States Marine Corps (26222)
162554, Bell AH-1W Sea Cobra, AMARG (HMLA-269), United States Marine Corps (29133)
162557/VT-22, Bell AH-1W Sea Cobra, AMARG (HMLA-367), United States Marine Corps (26226)
162566/VT-25, Bell AH-1W Sea Cobra, AMARG (HMLA-367), United States Marine Corps (26235)
162567/QT-425, Bell AH-1W Sea Cobra, AMARG (HMLAT-303), United States Marine Corps (26236)
162569/TV-39, Bell AH-1W Sea Cobra, AMARG (HMLA-167), United States Marine Corps (26238)
162572/QT-460, Bell AH-1W Sea Cobra, AMARG (HMLAT-303), United States Marine Corps (26241)
163936/MV-40, Bell AH-1W Sea Cobra, AMARG (VMX-1), United States Marine Corps (29502)
163938/QT-441, Bell AH-1W Sea Cobra, AMARG (HMLAT-303), United States Marine Corps (26263)
163943/26, Bell AH-1W Sea Cobra, AMARG (HMLA-367), United States Marine Corps (29120)
163946/HF, Bell AH-1W Sea Cobra, AMARG (HMLA-269), United States Marine Corps (26271)
163952/SE-22, Bell AH-1W Sea Cobra, AMARG (HMLA-469), United States Marine Corps (26277)
164575/HF-68, Bell AH-1W Sea Cobra, AMARG (HMLA-269), United States Marine Corps (29157)
165044/QT-430, Bell AH-1W Sea Cobra, AMARG (HMLAT-303), United States Marine Corps (29104)
165046/TV-36, Bell AH-1W Sea Cobra, AMARG (HMLA-167), United States Marine Corps (26308)
165053/TV-40, Bell AH-1W Sea Cobra, AMARG (HMLA-167), United States Marine Corps (26313)
165054/TV, Bell AH-1W Sea Cobra, AMARG (HMLA-167), United States Marine Corps (26314)
165056/MM-23, Bell AH-1W Sea Cobra, AMARG (HMLA-773 det.A), United States Marine Corps (29162)
165097/TV-34, Bell AH-1W Sea Cobra, AMARG (HMLA-167), United States Marine Corps (29152)
165271/WR-23, Bell AH-1W Sea Cobra, AMARG (HMLA-775), United States Marine Corps (26319)
165274/HF, Bell AH-1W Sea Cobra, AMARG (HMLA-269), United States Marine Corps (26322)
165277/QT-431, Bell AH-1W Sea Cobra, AMARG (HMLAT-303), United States Marine Corps (26325)
165278/QT-434, Bell AH-1W Sea Cobra, AMARG (HMLAT-303), United States Marine Corps (26326)
165279/TV-41, Bell AH-1W Sea Cobra, AMARG (HMLA-167), United States Marine Corps (26327)
165288/HF-56, Bell AH-1W Sea Cobra, AMARG (HMLA-269), United States Marine Corps (26336)
165290/MP-02, Bell AH-1W Sea Cobra, AMARG (HMLA-773), United States Marine Corps (26338)
165325/QT-432, Bell AH-1W Sea Cobra, AMARG (HMLAT-303), United States Marine Corps (26349)
165328/WG-43, Bell AH-1W Sea Cobra, AMARG (HMLA-773 det.B), United States Marine Corps (26352)
165330/QT-461, Bell AH-1W Sea Cobra, AMARG (HMLAT-303), United States Marine Corps (26354)
165361/WR-21, Bell AH-1W Sea Cobra, AMARG (HMLA-775), United States Marine Corps (26361)
165362/HF-71, Bell AH-1W Sea Cobra, AMARG (HMLA-269), United States Marine Corps (26362)
165364/HF-57, Bell AH-1W Sea Cobra, AMARG (HMLA-269), United States Marine Corps (26364)
165393/TV-37, Bell AH-1W Sea Cobra, AMARG (HMLA-167), United States Marine Corps (unknown)
165446/TV-42, Bell AH-1W Sea Cobra, AMARG (HMLA-167), United States Marine Corps (unknown)
165447/VT-31, Bell AH-1W Sea Cobra, AMARG (HMLA-367), United States Marine Corps (unknown)
165448/VT-21, Bell AH-1W Sea Cobra, AMARG (HMLA-367), United States Marine Corps (unknown)
165450/QT-427, Bell AH-1W Sea Cobra, AMARG (HMLAT-303), United States Marine Corps (unknown)
70-2458/GF, Bell HH-1H Iroquois, AMARG (79th RQF/321st MW), United States Air Force (17102)
70-2462/GF, Bell HH-1H Iroquois, AMARG (79th RQF/321st MW), United States Air Force (17106)
70-2463/GF, Bell HH-1H Iroquois, AMARG (79th RQF/321st MW), United States Air Force (17107)
70-2464/GF, Bell HH-1H Iroquois, AMARG (79th RQF/321st MW), United States Air Force (17108)
70-2473/EL, Bell HH-1H Iroquois, AMARG (44th RQF/44th MW), United States Air Force (17117)
70-2475/MT, Bell HH-1H Iroquois, AMARG (54th RQF/91st MW), United States Air Force (17119)
70-2479/WM, Bell HH-1H Iroquois, AMARG (47th RQF/351st MW), United States Air Force (17123)
70-2486, Bell HH-1H Iroquois, AMARG (54th RQF/91st MW), United States Air Force (17130)
158552/QT-412, Bell HH-1N Iroquois, AMARG (HMLAT-303), United States Marine Corps (31637)
158232/ES-30, Bell UH-1N Iroquois, AMARG (VMM-266 (HMLA-167)), United States Marine Corps (31403)
158262/MM, Bell UH-1N Iroquois, AMARG (HMLA-773 det.A), United States Marine Corps (31603)
158263/WG, Bell UH-1N Iroquois, AMARG (HMLA-773 det.B), United States Marine Corps (31604)
158264/QT-303, Bell UH-1N Iroquois, AMARG (HMLAT-303), United States Marine Corps (31605)
158266, Bell UH-1N Iroquois, AMARG (HMLA-467), United States Marine Corps (31607)
158267/MP, Bell UH-1N Iroquois, AMARG (HMLA-773), United States Marine Corps (31608)
158269/MP, Bell UH-1N Iroquois, AMARG (HMLA-773), United States Marine Corps (31610)
158270/WB-15, Bell UH-1N Iroquois, AMARG (HMLA-467), United States Marine Corps (31611)
158271/CA, Bell UH-1N Iroquois, AMARG (HMLA-467), United States Marine Corps (31612)
158287/MM-34, Bell UH-1N Iroquois, AMARG (HMLA-773 det.A), United States Marine Corps (31628)
158549/MM-30, Bell UH-1N Iroquois, AMARG (HMLA-773 det.A), United States Marine Corps (31634)
158558/ES-31, Bell UH-1N Iroquois, AMARG (VMM-266 (HMLA-167)), United States Marine Corps (31643)
158560/WG-55, Bell UH-1N Iroquois, AMARG (HMLA-773 det.B), United States Marine Corps (31645)
158561/MM, Bell UH-1N Iroquois, AMARG (HMLA-773 det.A), United States Marine Corps (31646)
158768/CA, Bell UH-1N Iroquois, AMARG (HMLA-467), United States Marine Corps (31437)
158772, Bell UH-1N Iroquois, AMARG (HMLA-267), United States Marine Corps (31648)
158773, Bell UH-1N Iroquois, AMARG (HMLA-267), United States Marine Corps (31649)
158775/MP, Bell UH-1N Iroquois, AMARG (HMLA-773), United States Marine Corps (31651)
158777/MM-38, Bell UH-1N Iroquois, AMARG (HMLA-773 det.A), United States Marine Corps (31653)
158778/WG, Bell UH-1N Iroquois, AMARG (HMLA-773 det.B), United States Marine Corps (31654)
159186, Bell UH-1N Iroquois, AMARG (HMLA-267), United States Marine Corps (31662)
159189/MP, Bell UH-1N Iroquois, AMARG (HMLA-773), United States Marine Corps (31655)
159195/ES-32, Bell UH-1N Iroquois, AMARG (VMM-266 (HMLA-167)), United States Marine Corps (31671)
159196, Bell UH-1N Iroquois, AMARG (HMLA-269), United States Marine Corps (31672)
159197/CA-04, Bell UH-1N Iroquois, AMARG (HMLA-467), United States Marine Corps (31673)
159200, Bell UH-1N Iroquois, AMARG (HMLAT-303), United States Marine Corps (31676)
159202/SE, Bell UH-1N Iroquois, AMARG (HMLA-469), United States Marine Corps (31678)
159204, Bell UH-1N Iroquois, AMARG (HMLAT-303), United States Marine Corps (31680)
159205/YW, Bell UH-1N Iroquois, AMARG (HMLA-469), United States Marine Corps (31681)
159208, Bell UH-1N Iroquois, AMARG (HMLA-267), United States Marine Corps (31684)
159683, Bell UH-1N Iroquois, AMARG (HMLA-269), United States Marine Corps (31690)
159684, Bell UH-1N Iroquois, AMARG (HMM-265), United States Marine Corps (31694)
159690/YW-33, Bell UH-1N Iroquois, AMARG (HMLA-469), United States Marine Corps (31700)
159698, Bell UH-1N Iroquois, AMARG (HMM-265), United States Marine Corps (31706)
159701/QT-401, Bell UH-1N Iroquois, AMARG (HMLAT-303), United States Marine Corps (31711)
160169, Bell UH-1N Iroquois, AMARG (HMLA-267), United States Marine Corps (31719)
160172, Bell UH-1N Iroquois, AMARG (HMM-163), United States Marine Corps (31722)
160177, Bell UH-1N Iroquois, AMARG (HMLA-267), United States Marine Corps (31727)
160445/SE-26, Bell UH-1N Iroquois, AMARG (HMLA-469), United States Marine Corps (31737)
160453, Bell UH-1N Iroquois, AMARG (HMLA-167), United States Marine Corps (31745)
160454, Bell UH-1N Iroquois, AMARG (HMLA-167), United States Marine Corps (31746)
160455/CA-02, Bell UH-1N Iroquois, AMARG (HMLA-467), United States Marine Corps (31747)
160459/CA-06, Bell UH-1N Iroquois, AMARG (HMLA-467), United States Marine Corps (31751)
160460/TV-08, Bell UH-1N Iroquois, AMARG (HMLA-167), United States Marine Corps (31752)
160461/EP, Bell UH-1N Iroquois, AMARG (HMM-265), United States Marine Corps (31753)
160619, Bell UH-1N Iroquois, AMARG (HX-21), United States Navy (31754)
160621/EP, Bell UH-1N Iroquois, AMARG (HMM-265), United States Marine Corps (31756)
166757/QT-507, Bell UH-1Y Venom, AMARG (HMLAT-303), United States Marine Corps (55007/Y7)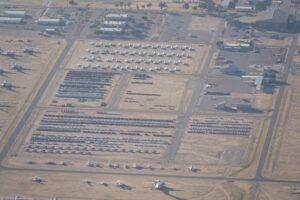 AMARG storage area 13:
81-0799/MN, General Dynamics F-16A (ADF) Fighting Falcon, AMARG (179th FS/148th OG/Minnesota ANG), United States Air Force (61-480)
80-0558/PR, General Dynamics F-16A Fighting Falcon, AMARG (198th FS/156th FG/Puerto Rico ANG), United States Air Force (61-279)
80-0577/PR, General Dynamics F-16A Fighting Falcon, AMARG (198th FS/156th FG/Puerto Rico ANG), United States Air Force (61-298)
80-0611, General Dynamics F-16A Fighting Falcon, AMARG (194th FS/144th OG/California ANG), United States Air Force (61-332)
81-0670/LF, General Dynamics F-16A Fighting Falcon, AMARG (425th FS/56th FW), United States Air Force (61-351)
81-0681/FL-06, General Dynamics F-16A Fighting Falcon, AMARG (159th FS/125th OG/Florida ANG), United States Air Force (61-362)
81-0768/, General Dynamics F-16A Fighting Falcon, AMARG (134th FS/158th OW/Vermont ANG), United States Air Force (61-449)
82-0900/AZ, General Dynamics F-16A Fighting Falcon, AMARG (148th FS/162nd FW/Arizona ANG), United States Air Force (61-493)
83-1099/AZ, General Dynamics F-16A Fighting Falcon, AMARG (195th FS/162nd FW/Arizona ANG), United States Air Force (61-652)
82-1034/AZ, General Dynamics F-16B (ADF) Fighting Falcon, AMARG (195th FS/162nd FW/Arizona ANG), United States Air Force (62-100)
82-1035/AZ, General Dynamics F-16B (ADF) Fighting Falcon, AMARG (195th FS/162nd FW/Arizona ANG), United States Air Force (62-101)
MM7268, General Dynamics F-16B (ADF) Fighting Falcon, AMARG (AMI/18° Gruppo/37° Stormo), 82-1049, Italian Air Force (62-115/M23-3)
82-1026/AZ, General Dynamics F-16B Fighting Falcon, AMARG (195th FS/162nd FW/Arizona ANG), United States Air Force (62-92)
83-1166/AZ, General Dynamics F-16B Fighting Falcon, AMARG (195th FS/162nd FW/Arizona ANG), United States Air Force (62-116)
83-1170/AZ, General Dynamics F-16B Fighting Falcon, AMARG (195th FS/162nd FW/Arizona ANG), United States Air Force (62-120)
83-1121/LF, General Dynamics F-16C Fighting Falcon, AMARG (62nd FS/56th FW), United States Air Force (5C-4)
83-1122/LF, General Dynamics F-16C Fighting Falcon, AMARG (309th FS/56th FW), United States Air Force (5C-5)
83-1142, General Dynamics F-16C Fighting Falcon, AMARG (134th FS/158th OW/Vermont ANG), United States Air Force (5C-25)
83-1147/EF, General Dynamics F-16C Fighting Falcon, AMARG (111th FS/174th FW/Texas ANG), United States Air Force (5C-30)
83-1150, General Dynamics F-16C Fighting Falcon, AMARG (134th FS/158th OW/Vermont ANG), United States Air Force (5C-33)
83-1153/LF, General Dynamics F-16C Fighting Falcon, AMARG (61st FS/56th FW), United States Air Force (5C-36)
83-1157/MN, General Dynamics F-16C Fighting Falcon, AMARG (179th FS/148th OG/Minnesota ANG), United States Air Force (5C-40)
84-1212, General Dynamics F-16C Fighting Falcon, AMARG (134th FS/158th OW/Vermont ANG), United States Air Force (5C-49)
84-1214, General Dynamics F-16C Fighting Falcon, AMARG (179th FS/148th OG/Minnesota ANG), United States Air Force (5C-51)
84-1215/AZ, General Dynamics F-16C Fighting Falcon, AMARG (195th FS/162nd FW/Arizona ANG), United States Air Force (5C-52)
84-1223/EF, General Dynamics F-16C Fighting Falcon, AMARG (111th FS/174th FW/Texas ANG), United States Air Force (5C-60)
84-1225/AZ, General Dynamics F-16C Fighting Falcon, AMARG (162nd FW/Arizona ANG), United States Air Force (5C-62)
84-1226/AZ, General Dynamics F-16C Fighting Falcon, AMARG (195th FS/162nd FW/Arizona ANG), United States Air Force (5C-63)
84-1227/AZ, General Dynamics F-16C Fighting Falcon, AMARG (195th FS/162nd FW/Arizona ANG), United States Air Force (5C-64)
84-1229, General Dynamics F-16C Fighting Falcon, AMARG (134th FS/158th OW/Vermont ANG), United States Air Force (5C-66)
84-1231/AZ, General Dynamics F-16C Fighting Falcon, AMARG (195th FS/162nd FW/Arizona ANG), United States Air Force (5C-68)
84-1234, General Dynamics F-16C Fighting Falcon, AMARG (416th FLTS/412th TW), United States Air Force (5C-71)
84-1238/FW, General Dynamics F-16C Fighting Falcon, AMARG (163rd FS/122nd OG/Indiana ANG), United States Air Force (5C-75)
84-1239/LF, General Dynamics F-16C Fighting Falcon, AMARG (61st FS/56th FW), United States Air Force (5C-76)
84-1240/LF, General Dynamics F-16C Fighting Falcon, AMARG (61st FS/56th FW), United States Air Force (5C-77)
84-1242/AZ, General Dynamics F-16C Fighting Falcon, AMARG (195th FS/162nd FW/Arizona ANG), United States Air Force (5C-79)
84-1247/AZ, General Dynamics F-16C Fighting Falcon, AMARG (162nd FW/Arizona ANG), United States Air Force (5C-84)
84-1254/EF, General Dynamics F-16C Fighting Falcon, AMARG (111th FS/174th FW/Texas ANG), United States Air Force (5C-91)
84-1257/FW, General Dynamics F-16C Fighting Falcon, AMARG (163rd FS/122nd OG/Indiana ANG), United States Air Force (5C-94)
84-1265/AZ, General Dynamics F-16C Fighting Falcon, AMARG (195th FS/162nd FW/Arizona ANG), United States Air Force (5C-102)
84-1271/LF, General Dynamics F-16C Fighting Falcon, AMARG (309th FS/56th FW), United States Air Force (5C-108)
84-1275/AZ, General Dynamics F-16C Fighting Falcon, AMARG (195th FS/162nd FW/Arizona ANG), United States Air Force (5C-112)
84-1280/LF, General Dynamics F-16C Fighting Falcon, AMARG (61st FS/56th FW), United States Air Force (5C-117)
84-1288/AZ, General Dynamics F-16C Fighting Falcon, AMARG (195th FS/162nd FW/Arizona ANG), United States Air Force (5C-125)
84-1290/AZ, General Dynamics F-16C Fighting Falcon, AMARG (195th FS/162nd FW/Arizona ANG), United States Air Force (5C-127)
84-1291, General Dynamics F-16C Fighting Falcon, AMARG (179th FS/148th OG/Minnesota ANG), United States Air Force (5C-128)
84-1295/AC, General Dynamics F-16C Fighting Falcon, AMARG (119th FS/177th FW/New Jersey ANG), United States Air Force (5C-132)
84-1306/LF, General Dynamics F-16C Fighting Falcon, AMARG (62nd FS/56th FW), United States Air Force (5C-143)
84-1312/AZ, General Dynamics F-16C Fighting Falcon, AMARG (195th FS/162nd FW/Arizona ANG), United States Air Force (5C-149)
84-1375/AZ, General Dynamics F-16C Fighting Falcon, AMARG (162nd FW/Arizona ANG), United States Air Force (5C-157)
84-1380/AZ, General Dynamics F-16C Fighting Falcon, AMARG (195th FS/162nd FW/Arizona ANG), United States Air Force (5C-162)
84-1385/AZ, General Dynamics F-16C Fighting Falcon, AMARG (195th FS/162nd FW/Arizona ANG), United States Air Force (5C-167)
84-1386/LF, General Dynamics F-16C Fighting Falcon, AMARG (62nd FS/56th FW), United States Air Force (5C-168)
84-1391/AZ, General Dynamics F-16C Fighting Falcon, AMARG (195th FS/162nd FW/Arizona ANG), United States Air Force (5C-173)
85-1404/AZ, General Dynamics F-16C Fighting Falcon, AMARG (162nd FW/Arizona ANG), United States Air Force (5C-184)
85-1405/AT, General Dynamics F-16C Fighting Falcon, AMARG (ANG/AFRC Test Center/162nd FW/Arizona ANG), United States Air Force (5C-185)
85-1411/AZ, General Dynamics F-16C Fighting Falcon, AMARG (162nd FW/Arizona ANG), United States Air Force (5C-191)
85-1419/AZ, General Dynamics F-16C Fighting Falcon, AMARG (195th FS/162nd FW/Arizona ANG), United States Air Force (5C-199)
85-1420/MN, General Dynamics F-16C Fighting Falcon, AMARG (179th FS/148th OG/Minnesota ANG), United States Air Force (5C-200)
85-1427/LF, General Dynamics F-16C Fighting Falcon, AMARG (61st FS/56th FW), United States Air Force (5C-207)
85-1429/LF, General Dynamics F-16C Fighting Falcon, AMARG (61st FS/56th FW), United States Air Force (5C-209)
85-1431/LF, General Dynamics F-16C Fighting Falcon, AMARG (61st FS/56th FW), United States Air Force (5C-211)
85-1433/EF, General Dynamics F-16C Fighting Falcon, AMARG (111th FS/174th FW/Texas ANG), United States Air Force (5C-213)
85-1437/LF, General Dynamics F-16C Fighting Falcon, AMARG (62nd FS/56th FW), United States Air Force (5C-217)
85-1440, General Dynamics F-16C Fighting Falcon, AMARG (175th FS/114th OG/South Dakota ANG), United States Air Force (5C-220)
85-1441/LF, General Dynamics F-16C Fighting Falcon, AMARG (61st FS/56th FW), United States Air Force (5C-221)
86-0208/MI, General Dynamics F-16C Fighting Falcon, AMARG (163rd FS/122nd OG/Indiana ANG), United States Air Force (5C-314)
86-0209/DC, General Dynamics F-16C Fighting Falcon, AMARG (121st FS/113th FW/District of Columbia ANG), United States Air Force (5C-315)
86-0221/FW, General Dynamics F-16C Fighting Falcon, AMARG (163rd FS/122nd OG/Indiana ANG), United States Air Force (5C-327)
86-0224/AC, General Dynamics F-16C Fighting Falcon, AMARG (119th FS/177th FW/New Jersey ANG), United States Air Force (5C-330)
86-0225, General Dynamics F-16C Fighting Falcon, AMARG (175th FS/114th OG/South Dakota ANG), United States Air Force (5C-331)
86-0230/AC, General Dynamics F-16C Fighting Falcon, AMARG (119th FS/177th FW/New Jersey ANG), United States Air Force (5C-336)
86-0234/IN, General Dynamics F-16C Fighting Falcon, AMARG (163rd FS/122nd OG/Indiana ANG), United States Air Force (5C-340)
86-0237, General Dynamics F-16C Fighting Falcon, AMARG (175th FS/114th OG/South Dakota ANG), United States Air Force (5C-343)
86-0245/TX, General Dynamics F-16C Fighting Falcon, AMARG (457th FS/301st OG), United States Air Force (5C-351)
86-0248, General Dynamics F-16C Fighting Falcon, AMARG (175th FS/114th OG/South Dakota ANG), United States Air Force (5C-354)
86-0259/AC, General Dynamics F-16C Fighting Falcon, AMARG (119th FS/177th FW/New Jersey ANG), United States Air Force (5C-365)
87-0281/FM, General Dynamics F-16C Fighting Falcon, AMARG (93rd FS/482nd OG), United States Air Force (5C-542)
85-1571/TX, General Dynamics F-16D Fighting Falcon, AMARG (457th FS/301st OG), United States Air Force (5D-40)
85-1573/IN, General Dynamics F-16D Fighting Falcon, AMARG (163rd FS/122nd OG/Indiana ANG), United States Air Force (5D-42)
86-0042, General Dynamics F-16D Fighting Falcon, AMARG (124th FS/132nd FW/Iowa ANG), United States Air Force (5D-46)
87-0386/ED, General Dynamics F-16D Fighting Falcon, AMARG (416th FLTS/412th TW), United States Air Force (5D-80)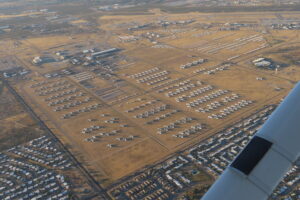 AMARG storage area 14:
90-2103, Lockheed HC-130H(N) Hercules, AMARG (939th RQW), United States Air Force (5294)
69-6570, Lockheed AC-130H Hercules, AMARG (16th SOS/27th SOW), United States Air Force (4344)
89-0509, Lockheed AC-130U Hercules, AMARG (4th SOS/1st SOW), United States Air Force (5228)
89-0511, Lockheed AC-130U Hercules, AMARG (4th SOS/1st SOW), United States Air Force (5230)
89-0512, Lockheed AC-130U Hercules, AMARG (4th SOS/1st SOW), United States Air Force (5231)
89-0514, Lockheed AC-130U Hercules, AMARG (4th SOS/1st SOW), United States Air Force (5233)
90-0165, Lockheed AC-130U Hercules, AMARG (4th SOS/1st SOW), United States Air Force (5259)
90-0167, Lockheed AC-130U Hercules, AMARG (4th SOS/1st SOW), United States Air Force (5262)
92-0253, Lockheed AC-130U Hercules, AMARG (4th SOS/1st SOW), United States Air Force (5279)
79-0475, Lockheed C-130H Hercules, AMARG (186th AS/120th AW/Montana ANG), United States Air Force (4855)
79-0479, Lockheed C-130H Hercules, AMARG (179th AW/Ohio ANG), United States Air Force (4859)
81-0628, Lockheed C-130H Hercules, AMARG (154th TS/189th AW/Arkansas ANG), United States Air Force (4942)
81-0631, Lockheed C-130H Hercules, AMARG (154th TS/189th AW/Arkansas ANG), United States Air Force (4946)
82-0059, Lockheed C-130H Hercules, AMARG (109th AW/New York ANG), United States Air Force (4977)
85-0037, Lockheed C-130H Hercules, AMARG (357th AS/908th AW), United States Air Force (5077)
85-1362, Lockheed C-130H Hercules, AMARG (181st AS/136th AW/Texas ANG), United States Air Force (5072)
85-1368, Lockheed C-130H Hercules, AMARG (181st AS/136th AW/Texas ANG), United States Air Force (5084)
86-0414, Lockheed C-130H Hercules, AMARG (154th TS/189th AW/Arkansas ANG), United States Air Force (5102)
65-0989/DM, Lockheed EC-130H Hercules, AMARG (43rd ECS/55th ECG), United States Air Force (4150)
64-0555, Lockheed MC-130E Hercules, AMARG (919th SOW), United States Air Force (4056)
84-0476, Lockheed MC-130H Hercules, AMARG (15th SOS/1st SOW), United States Air Force (5042)
952, Lockheed C-130H Hercules, AMARG (335 Skv), Royal Norwegian Air Force (4334)
954, Lockheed C-130H Hercules, AMARG (335 Skv), Royal Norwegian Air Force (4336)
88-0193, Lockheed MC-130H Hercules, AMARG (15th SOS/1st SOW), United States Air Force (5132)
164177, Sikorsky SH-60B Seahawk, AMARG (HSL-49), United States Navy (70-1710)
145633, Vought RF-8G Crusader, AMARG (VFP-206), United States Navy (1019)
AMARG storage area 15:
160244/QP, Douglas A-4M Skyhawk, AMARG (VMA-124), United States Marine Corps (14587)
160248/QP, Douglas A-4M Skyhawk, AMARG (VMA-124), United States Marine Corps (14591)
160258/QP-19, Douglas A-4M Skyhawk, AMARG (VMA-124), United States Marine Corps (14601)
160261/QP-07, Douglas A-4M Skyhawk, AMARG (VMA-124), United States Marine Corps (14604)
154630, Douglas OA-4M Skyhawk, AMARG (MALS-11), United States Marine Corps (13748)
153463/A-732, Douglas TA-4J Skyhawk, AMARG (TW-1), United States Navy (13529)
153669/C-420, Douglas TA-4J Skyhawk, AMARG (TW-3), United States Navy (13607)
153677/B-163, Douglas TA-4J Skyhawk, AMARG (TW-2), United States Navy (13615)
153680/A-772, Douglas TA-4J Skyhawk, AMARG (TW-1), United States Navy (13618)
154297/C-430, Douglas TA-4J Skyhawk, AMARG (TW-3), United States Navy (13685)
154305/A-751, Douglas TA-4J Skyhawk, AMARG (CTW-1), United States Navy (13693)
154310/B-103, Douglas TA-4J Skyhawk, AMARG (TW-2), United States Navy (13698)
154657/NJ-613, Douglas TA-4J Skyhawk, AMARG (VF-126), United States Navy (13775)
155074/C-401, Douglas TA-4J Skyhawk, AMARG (TW-3), United States Navy (13890)
155089/C-445, Douglas TA-4J Skyhawk, AMARG (TW-3), United States Navy (13905)
155106/B-159, Douglas TA-4J Skyhawk, AMARG (TW-2), United States Navy (13922)
155107/B-131, Douglas TA-4J Skyhawk, AMARG (TW-2), United States Navy (13923)
155117, Douglas TA-4J Skyhawk, AMARG (VF-126), United States Navy (13933)
156891/C-404, Douglas TA-4J Skyhawk, AMARG (TW-3), United States Navy (13984)
156897/F-234, Douglas TA-4J Skyhawk, AMARG (TW-6), United States Navy (13990)
156901/A-748, Douglas TA-4J Skyhawk, AMARG (TW-1), United States Navy (13994)
156914/A-715, Douglas TA-4J Skyhawk, AMARG (TW-1), United States Navy (14007)
156941/A-774, Douglas TA-4J Skyhawk, AMARG (TW-1), United States Navy (14034)
156942/C-426, Douglas TA-4J Skyhawk, AMARG (TW-3), United States Navy (14035)
156947/B-105, Douglas TA-4J Skyhawk, AMARG (TW-2), United States Navy (14040)
158075/B-132, Douglas TA-4J Skyhawk, AMARG (TW-2), United States Navy (14112)
158095/B-142, Douglas TA-4J Skyhawk, AMARG (TW-2), United States Navy (14132)
158105/B-138, Douglas TA-4J Skyhawk, AMARG (TW-2), United States Navy (14142)
158110/A-701, Douglas TA-4J Skyhawk, AMARG (TW-1), United States Navy (14147)
158118/A-718, Douglas TA-4J Skyhawk, AMARG (TW-1), United States Navy (14155)
158136/A-701/CO, Douglas TA-4J Skyhawk, AMARG (TW-1), United States Navy (14173)
158140/A-720, Douglas TA-4J Skyhawk, AMARG (TW-1), United States Navy (14177)
158465/A-765, Douglas TA-4J Skyhawk, AMARG (TW-1), United States Navy (14270)
158513/A-737, Douglas TA-4J Skyhawk, AMARG (TW-1), United States Navy (14318)
158520/A-736, Douglas TA-4J Skyhawk, AMARG (TW-1), United States Navy (14325)
162854/AF-413, McDonnell Douglas F/A-18A Hornet, AMARG (VFA-204), United States Navy (385/A322)
162859/AF-09, McDonnell Douglas F/A-18A Hornet, AMARG (VFC-12), United States Navy (391/A327)
162877/VW-00, McDonnell Douglas F/A-18A Hornet, AMARG (VMFA-314), United States Marine Corps (420/A348)
162894/46, McDonnell Douglas F/A-18A Hornet, AMARG (NSAWC), United States Navy (448/A367)
162899/10, McDonnell Douglas F/A-18A Hornet, AMARG (VFC-12), United States Navy (456/A374)
163151/AF-412, McDonnell Douglas F/A-18A Hornet, AMARG (VFA-204), United States Navy (575/A482)
163153/VW-03, McDonnell Douglas F/A-18A Hornet, AMARG (VMFA-314), United States Marine Corps (578/A485)
162863/AF-11, McDonnell Douglas F/A-18A+ Hornet, AMARG (VFC-12), United States Navy (400/A333)
162869/08, McDonnell Douglas F/A-18A+ Hornet, AMARG (VFC-12), United States Navy (408/A340)
163105/AF-14, McDonnell Douglas F/A-18A+ Hornet, AMARG (VFC-12), United States Navy (494/A408)
163148/AF-06, McDonnell Douglas F/A-18A+ Hornet, AMARG (VFC-12), United States Navy (570/A477)
163155/MA-00, McDonnell Douglas F/A-18A+ Hornet, AMARG (VMFA-112), United States Marine Corps (582/A489)
163162/VE-07, McDonnell Douglas F/A-18A+ Hornet, AMARG (VMFA-115), United States Marine Corps (594/A501)
163169/VE-211, McDonnell Douglas F/A-18A+ Hornet, AMARG (VMFA-115), United States Marine Corps (607/A513)
163175/MA-07, McDonnell Douglas F/A-18A+ Hornet, AMARG (VMFA-112), United States Marine Corps (618/A523)
162884/VE-11, McDonnell Douglas F/A-18A++ Hornet, AMARG (VMFA-115), United States Marine Corps (432/A356)
163161/VE-203, McDonnell Douglas F/A-18A++ Hornet, AMARG (VMFA-115), United States Marine Corps (592/A499)
163168/VE-01, McDonnell Douglas F/A-18A++ Hornet, AMARG (VMFA-115), United States Marine Corps ( 605/A511)
161924/AF-12, McDonnell Douglas F/A-18B Hornet, AMARG (VFC-12), United States Navy (124/B032)
162842/MA-24, McDonnell Douglas F/A-18B Hornet, AMARG (VMFA-112), United States Marine Corps (364/B059)
162864/MA-23, McDonnell Douglas F/A-18B Hornet, AMARG (VMFA-112), United States Marine Corps (402/B067)
163115/MA-22, McDonnell Douglas F/A-18B Hornet, AMARG (VMFA-112), United States Marine Corps (511/B088)
163440/SH-132, McDonnell Douglas F/A-18C Hornet, AMARG (VMFAT-101), United States Marine Corps (643/C012)
163477, McDonnell Douglas F/A-18C Hornet, AMARG (VFA-122), United States Navy (705/C038)
163487/AD-304, McDonnell Douglas F/A-18C Hornet, AMARG (VFA-106), United States Navy (721/C045)
163496/NH-302, McDonnell Douglas F/A-18C Hornet, AMARG (VFA-146), United States Navy ( 735/C052)
163715/SH-136, McDonnell Douglas F/A-18C Hornet, AMARG (VMFAT-101), United States Marine Corps ( 778/C076)
163746/357, McDonnell Douglas F/A-18C Hornet, AMARG (VFA-122), United States Navy (819/C105)
163754, McDonnell Douglas F/A-18C Hornet, AMARG (Blue Angels), United States Navy (829/C112)
163770/AD-316, McDonnell Douglas F/A-18C Hornet, AMARG (VFA-106), United States Navy (850/C127)
163772/SH-102, McDonnell Douglas F/A-18C Hornet, AMARG (VMFAT-101), United States Marine Corps ( 852/C128)
163775/AD-324, McDonnell Douglas F/A-18C Hornet, AMARG (VFA-106), United States Navy (856/C131)
164034/AD-317, McDonnell Douglas F/A-18C Hornet, AMARG (VFA-106), United States Navy (920/C170)
164041/AD-306, McDonnell Douglas F/A-18C Hornet, AMARG (VFA-106), United States Navy (929/C174)
164042/NG-307, McDonnell Douglas F/A-18C Hornet, AMARG (VFA-97), United States Navy (930/C175)
164055/10, McDonnell Douglas F/A-18C Hornet, AMARG (VMFA-323), United States Marine Corps (945/C183)
164062/DC-22, McDonnell Douglas F/A-18C Hornet, AMARG (VMFA-122), United States Marine Corps (952/C187)
164066/22, McDonnell Douglas F/A-18C Hornet, AMARG (NAWDC), United States Navy (956/C190)
164226/AD-306, McDonnell Douglas F/A-18C Hornet, AMARG (VFA-106), United States Navy ( 989/C214)
164227/SH-160, McDonnell Douglas F/A-18C Hornet, AMARG (VMFAT-101), United States Marine Corps (990/C215)
164228/AD-441, McDonnell Douglas F/A-18C Hornet, AMARG (VFA-106), United States Navy (991/D070)
164270/AD-314, McDonnell Douglas F/A-18C Hornet, AMARG (VFA-106), United States Navy (1033/C248)
164633/25, McDonnell Douglas F/A-18C Hornet, AMARG (NAWDC), United States Navy (1050/C262)
164637/SH-163, McDonnell Douglas F/A-18C Hornet, AMARG (VMFAT-101), United States Marine Corps (1054/C266)
164676/35, McDonnell Douglas F/A-18C Hornet, AMARG (VFC-12), United States Navy (1106/C292)
164712/DW-712, McDonnell Douglas F/A-18C Hornet, AMARG (VMFA-251), United States Marine Corps (1156/C316)
164905/NA-215, McDonnell Douglas F/A-18C Hornet, AMARG (VMFA-251), United States Marine Corps (1237/C364)
165199/WK-02, McDonnell Douglas F/A-18C Hornet, AMARG (VMFA(AW)-224), United States Marine Corps (1350/C424)
163464/7, McDonnell Douglas F/A-18D Hornet, AMARG (Blue Angels), United States Navy (685/D010)
163997/AD-430, McDonnell Douglas F/A-18D Hornet, AMARG (VFA-106), United States Navy (879/D036)
164224/SH-273, McDonnell Douglas F/A-18D Hornet, AMARG (VMFAT-101), United States Marine Corps (987/D069)
164677, McDonnell Douglas F/A-18D Hornet, AMARG (VMFA(AW)-533), United States Marine Corps (1107/D095)
160108/WR-89, Bell AH-1W Sea Cobra, AMARG (HMLA-775), United States Marine Corps ( 26073/26936/29111)
160743, Bell AH-1W Sea Cobra, AMARG (VMM-365 (HMLA-167)), United States Marine Corps (26914/29139)
160804, Bell AH-1W Sea Cobra, AMARG (VMM-365 (HMLA-167)), United States Marine Corps (26924/29145)
160814/WR-24, Bell AH-1W Sea Cobra, AMARG (HMLA-775), United States Marine Corps (26919)
160819, Bell AH-1W Sea Cobra, AMARG (HMLA-269), United States Marine Corps (29165)
161018, Bell AH-1W Sea Cobra, AMARG (HMLA-775), United States Marine Corps (26944/29224)
162547, Bell AH-1W Sea Cobra, AMARG (HMLA-269), United States Marine Corps (26216)
162570, Bell AH-1W Sea Cobra, AMARG (HMLA-775), United States Marine Corps (26239)
163931, Bell AH-1W Sea Cobra, AMARG (HMLA-269), United States Marine Corps (26256)
163945/WR-25, Bell AH-1W Sea Cobra, AMARG (HMLA-775), United States Marine Corps (26270/29110)
164572/WG-01, Bell AH-1W Sea Cobra, AMARG (HMLA-773 det.B), United States Marine Corps (26280/29114)
165042, Bell AH-1W Sea Cobra, AMARG (HMLA-773 det.B), United States Marine Corps (26304)
165048/WR-22, Bell AH-1W Sea Cobra, AMARG (HMLA-775), United States Marine Corps (26310)
165051/MM-20, Bell AH-1W Sea Cobra, AMARG (HMLA-773 det.A), United States Marine Corps (26311)
165276, Bell AH-1W Sea Cobra, AMARG (VMM-365 (HMLA-167)), United States Marine Corps (26324)
165281, Bell AH-1W Sea Cobra, AMARG (VMM-365 (HMLA-167)), United States Marine Corps (26329)
165282/HF-41, Bell AH-1W Sea Cobra, AMARG (HMLA-269), United States Marine Corps (26330)
165283/WG-00, Bell AH-1W Sea Cobra, AMARG (HMLA-773 det.B), United States Marine Corps (26331)
165284, Bell AH-1W Sea Cobra, AMARG (HMLA-773 det.B), United States Marine Corps (26332)
165285/MM-22, Bell AH-1W Sea Cobra, AMARG (HMLA-773 det.A), United States Marine Corps (26333)
165287/WG-03, Bell AH-1W Sea Cobra, AMARG (HMLA-773 det.B), United States Marine Corps (26335)
165289/WG-04, Bell AH-1W Sea Cobra, AMARG (HMLA-773 det.B), United States Marine Corps (26337)
165291, Bell AH-1W Sea Cobra, AMARG (HMLA-773 det.B), United States Marine Corps (26339)
165322/MM-26, Bell AH-1W Sea Cobra, AMARG (HMLA-773 det.A), United States Marine Corps (26346)
165324/MP-04, Bell AH-1W Sea Cobra, AMARG (HMLA-773 det.B), United States Marine Corps (26348)
165331, Bell AH-1W Sea Cobra, AMARG (HMLA-269), United States Marine Corps (26355)
165363/WR-28, Bell AH-1W Sea Cobra, AMARG (HMLA-775), United States Marine Corps (26363)
165365/WG-09, Bell AH-1W Sea Cobra, AMARG (HMLA-773 det.B), United States Marine Corps (26365)
165366, Bell AH-1W Sea Cobra, AMARG (HMLA-269), United States Marine Corps (26366)
165368/WR-27, Bell AH-1W Sea Cobra, AMARG (HMLA-775), United States Marine Corps (26368)
165394/MM-24, Bell AH-1W Sea Cobra, AMARG (HMLA-773 det.A), United States Marine Corps (unknown)
165449/MM-28, Bell AH-1W Sea Cobra, AMARG (HMLA-773 det.A), United States Marine Corps (unknown)
163950/TV-35, Bell AH-1W Sea Cobra, AMARG (HMLA-167), United States Marine Corps (29115)
164586/TV-44, Bell AH-1W Sea Cobra, AMARG (HMLA-167), United States Marine Corps (26285)
166756/QT-506, Bell UH-1Y Venom, AMARG (HMLAT-303), United States Marine Corps (55006/Y6)
166769/QT-510, Bell UH-1Y Venom, AMARG (HMLAT-303), United States Marine Corps (55010/Y10)
167800/SM-05, Bell UH-1Y Venom, AMARG (HMLA-369), United States Marine Corps (55108/Y20)
167803/QT-523, Bell UH-1Y Venom, AMARG (HMLAT-303), United States Marine Corps (55111/Y23)
167990/UV-10, Bell UH-1Y Venom, AMARG (HMLA-469), United States Marine Corps (55118/Y30)
167995/SN-00, Bell UH-1Y Venom, AMARG (HMLA-169), United States Marine Corps (55123/Y35)
167996/SM-16, Bell UH-1Y Venom, AMARG (HMLA-369), United States Marine Corps (55124/Y36)
167997/HF-89, Bell UH-1Y Venom, AMARG (HMLA-269), United States Marine Corps (55125/Y37)
167998/TV-06, Bell UH-1Y Venom, AMARG (HMLA-167), United States Marine Corps (55126/Y38)
168037/SM-03, Bell UH-1Y Venom, AMARG (HMLA-369), United States Marine Corps (55129/Y41)
168040/HF-86, Bell UH-1Y Venom, AMARG (HMLA-269), United States Marine Corps (55132/Y44)
168046/TV-04, Bell UH-1Y Venom, AMARG (HMLA-167), United States Marine Corps (55138/Y50)
168411/TV-05, Bell UH-1Y Venom, AMARG (HMLA-167), United States Marine Corps (55148/Y60)
166755/MV-30, Bell UH-1Y Venom, AMARG (VMX-1), United States Marine Corps (55005/Y5)
149013/NW, Kaman SH-2F Seasprite, AMARG (HSL-94), United States Navy (17)
149017, Kaman SH-2F Seasprite, AMARG (HSL-74), United States Navy (21)
149036/TD-04, Kaman SH-2F Seasprite, AMARG (HSL-31), United States Navy (40)
149748, Kaman SH-2F Seasprite, AMARG (HSL-74), United States Navy (50)
149753/HT-031, Kaman SH-2F Seasprite, AMARG (HSL-30), United States Navy (55)
149761/TF-15, Kaman SH-2F Seasprite, AMARG (HSL-33), United States Navy (63)
149768/HT-034, Kaman SH-2F Seasprite, AMARG (HSL-30), United States Navy (70)
149770/HV-132, Kaman SH-2F Seasprite, AMARG (HSL-32), United States Navy (72)
149780, Kaman SH-2F Seasprite, AMARG (HSL-94), United States Navy (82)
150140/TG, Kaman SH-2F Seasprite, AMARG (HSL-35), United States Navy (90)
150141/NW-45, Kaman SH-2F Seasprite, AMARG (HSL-74), United States Navy (91)
150163/NW-20, Kaman SH-2F Seasprite, AMARG (HSL-94), United States Navy (113)
150165/HT-033, Kaman SH-2F Seasprite, AMARG (HSL-30), United States Navy (115)
150169/TH-60, Kaman SH-2F Seasprite, AMARG (HSL-37), United States Navy (119)
150174/TG-36, Kaman SH-2F Seasprite, AMARG (HSL-35), United States Navy (124)
150178, Kaman SH-2F Seasprite, AMARG (HSL-94), United States Navy (128)
150179/TF-15, Kaman SH-2F Seasprite, AMARG (HSL-33), United States Navy (129)
151304/TD-03, Kaman SH-2F Seasprite, AMARG (HSL-31), United States Navy (141)
151309/TD-01, Kaman SH-2F Seasprite, AMARG (HSL-31), United States Navy (146)
151311, Kaman SH-2F Seasprite, AMARG (HSL-74), United States Navy (148)
151332, Kaman SH-2F Seasprite, AMARG (HSL-94), United States Navy (169)
151334/HT-041, Kaman SH-2F Seasprite, AMARG (HSL-30), United States Navy (171)
151335/NW-40, Kaman SH-2F Seasprite, AMARG (HSL-74), United States Navy (172)
152203, Kaman SH-2F Seasprite, AMARG (HSL-74), United States Navy (187)
156488/70, Sikorsky SH-3D Sea King, AMARG (Patuxent River SAR), United States Navy (61.434)
156499, Sikorsky SH-3D Sea King, AMARG (HC-16), United States Navy (61.445)
156500, Sikorsky SH-3D Sea King, AMARG (Whidbey Island SAR), United States Navy (61.446)
148051/7E, Sikorsky SH-3G Sea King, AMARG (Jacksonville), United States Navy (61.029)
149003/71, Sikorsky SH-3G Sea King, AMARG (Patuxent River SAR), United States Navy (61.077)
149694/7R-694, Sikorsky SH-3G Sea King, AMARG (Oceana SAR), United States Navy (61.107)
149731, Sikorsky SH-3G Sea King, AMARG (HC-2), United States Navy (61.149)
149737/HU-721, Sikorsky SH-3G Sea King, AMARG (HC-2), United States Navy (61.155)
149930/AR-730, Sikorsky SH-3G Sea King, AMARG (HC-1), United States Navy (61.205)
151547/7R-547, Sikorsky SH-3G Sea King, AMARG (Oceana SAR), United States Navy (61.259)
148990/AC-614, Sikorsky SH-3H Sea King, AMARG (HS-7), United States Navy (61.064)
148997/NE-614, Sikorsky SH-3H Sea King, AMARG (HS-14), United States Navy (61.071)
149894/NE-612, Sikorsky SH-3H Sea King, AMARG (HS-14), United States Navy (61.160)
149905/23, Sikorsky SH-3H Sea King, AMARG (VC-8), United States Navy (61.174)
149913, Sikorsky SH-3H Sea King, AMARG (HC-85), United States Navy (61.183)
152110/NE-618, Sikorsky SH-3H Sea King, AMARG (HS-14), United States Navy (61.303)
152130/70, Sikorsky SH-3H Sea King, AMARG (NSWC), United States Navy (61.325)
154117, Sikorsky SH-3H Sea King, AMARG (Oceana SAR), United States Navy (61.407)
156495/NE-617, Sikorsky SH-3H Sea King, AMARG (HS-14), United States Navy (61.441)
156505/NE-610, Sikorsky SH-3H Sea King, AMARG (HS-14), United States Navy (61.451)
152562/YT-00, Boeing-Vertol CH-46E Sea Knight, AMARG (HMMT-164), United States Marine Corps (2184)
153368/PF-06, Boeing-Vertol CH-46E Sea Knight, AMARG (HMM-364), United States Marine Corps (2264)
154005/YT-05, Boeing-Vertol CH-46E Sea Knight, AMARG (HMMT-164), United States Marine Corps (2356)
154011/PF-07, Boeing-Vertol CH-46E Sea Knight, AMARG (HMM-364), United States Marine Corps (2362)
154799/YT-03, Boeing-Vertol CH-46E Sea Knight, AMARG (HMMT-164), United States Marine Corps (2406)
154817/YT-17, Boeing-Vertol CH-46E Sea Knight, AMARG (HMMT-164), United States Marine Corps (2424)
154819/YT-09, Boeing-Vertol CH-46E Sea Knight, AMARG (HMMT-164), United States Marine Corps (2426)
154827/PF-03, Boeing-Vertol CH-46E Sea Knight, AMARG (HMM-364), United States Marine Corps (2434)
154832/PF-00, Boeing-Vertol CH-46E Sea Knight, AMARG (HMM-364), United States Marine Corps (2439)
154853/YQ-00, Boeing-Vertol CH-46E Sea Knight, AMARG (HMM-268), United States Marine Corps (2460)
155309/PF-02, Boeing-Vertol CH-46E Sea Knight, AMARG (HMM-364), United States Marine Corps (2478)
155311/00, Boeing-Vertol CH-46E Sea Knight, AMARG (HMX-1), United States Marine Corps (2480)
156420/YT-11, Boeing-Vertol CH-46E Sea Knight, AMARG (HMMT-164), United States Marine Corps (2490)
156426/YT-08, Boeing-Vertol CH-46E Sea Knight, AMARG (HMMT-164), United States Marine Corps (2496)
156438/PF-10, Boeing-Vertol CH-46E Sea Knight, AMARG (HMM-364), United States Marine Corps (2508)
156444/MQ-424, Boeing-Vertol CH-46E Sea Knight, AMARG (HMM-774), United States Marine Corps (2514)
156456/YQ-01, Boeing-Vertol CH-46E Sea Knight, AMARG (HMM-268), United States Marine Corps (2526)
156472/PF-01, Boeing-Vertol CH-46E Sea Knight, AMARG (HMM-364), United States Marine Corps (2542)
156474/YT-16, Boeing-Vertol CH-46E Sea Knight, AMARG (HMMT-164), United States Marine Corps (2544)
157682/20, Boeing-Vertol CH-46E Sea Knight, AMARG (HMX-1), United States Marine Corps (2581)
157706/PF-04, Boeing-Vertol CH-46E Sea Knight, AMARG (HMM-364), United States Marine Corps (2605)
156955/YL-40, Sikorsky CH-53D Sea Stallion, AMARG (HMH-362), United States Marine Corps (65.202)
156968/YZ-07, Sikorsky CH-53D Sea Stallion, AMARG (HMH-363), United States Marine Corps (65.215)
157164/43, Sikorsky CH-53D Sea Stallion, AMARG (HMH-362), United States Marine Corps (65.290)
157728/YZ-16, Sikorsky CH-53D Sea Stallion, AMARG (HMH-363), United States Marine Corps (65.304)
157741/YL-33, Sikorsky CH-53D Sea Stallion, AMARG (HMH-362), United States Marine Corps (65.317)
162019/E-55, Bell TH-57C Sea Ranger, AMARG (TAW-5), United States Navy (3698)
162673/E-111, Bell TH-57C Sea Ranger, AMARG (TAW-5), United States Navy (3759)
168447/N23, Northrop Grumman MQ-8B Fire Scout, AMARG, United States Navy (N-23)
168448/N24, Northrop Grumman MQ-8B Fire Scout, AMARG, United States Navy (N-24)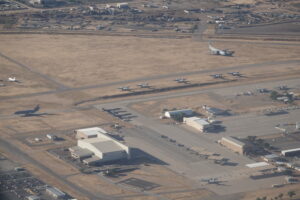 AMARG storage area 17:
74-1666, Lockheed C-130H Hercules, AMARG (179th AW/Ohio ANG), United States Air Force (4611)
74-1661, Lockheed C-130H Hercules, AMARG (186th AS/120th AW/Montana ANG), United States Air Force (4596)
81-0626, Lockheed C-130H Hercules, AMARG (154th TS/189th AW/Arkansas ANG), United States Air Force (4939)
73-1580/DM, Lockheed EC-130H Hercules, AMARG (55th ECG), United States Air Force (4542)
89-0282, Lockheed MC-130H Hercules, AMARG (15th SOS/1st SOW), United States Air Force (5243)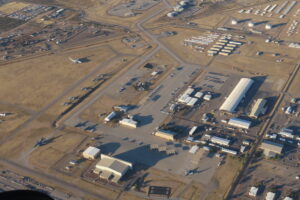 AMARG storage area 18:
70-0461, Lockheed C-5A Galaxy, AMARG (439th AW), United States Air Force (500-75)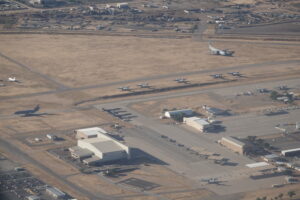 AMARG storage area 19:
86-0034, McDonnell Douglas KC-10A Extender, AMARG (60th AMW), United States Air Force ( 48247/421)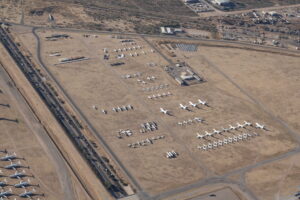 AMARG storage area 20:
155018, Douglas A-4F Skyhawk, AMARG (VF-126), United States Navy (13834)
77-0240/NO, Fairchild A-10A Thunderbolt II, AMARG (706th FS/926th OG), United States Air Force (A10-0165)
86-0202, Grumman C-20B Gulfstream III, AMARG (89th AW), United States Air Force (468)
85-0049, Grumman C-20C Gulfstream III, AMARG (89th AW), United States Air Force (456)
85-0050, Grumman C-20C Gulfstream III, AMARG (89th AW), United States Air Force (458)
87-00140, Grumman C-20E Gulfstream III, AMARG (USAPAT/EFD), United States Army (498)
91-00108, Grumman C-20F Gulfstream IV, AMARG (USAPAT/PFD), United States Army (1162)
165093, Grumman C-20G Gulfstream IV, AMARG (VR-51), United States Navy (1187)
87-0139, Grumman C-20K Gulfstream III, AMARG (Hanscom AFB), United States Air Force (497)
84-0068, Gates Learjet Corporation Learjet C-21A, AMARG (76th AS/86th AW), United States Air Force (35A-514)
84-0073, Gates Learjet Corporation Learjet C-21A, AMARG (457th AS/375th AW), United States Air Force (35A-519)
84-0074, Gates Learjet Corporation Learjet C-21A, AMARG (457th AS/375th AW), United States Air Force (35A-520)
84-0078, Gates Learjet Corporation Learjet C-21A, AMARG (457th AS/375th AW), United States Air Force (35A-524)
84-0080, Gates Learjet Corporation Learjet C-21A, AMARG (457th AS/375th AW), United States Air Force (35A-526)
84-0086, Gates Learjet Corporation Learjet C-21A, AMARG (76th AS/86th AW), United States Air Force (35A-532)
84-0088, Gates Learjet Corporation Learjet C-21A, AMARG (458th AS/375th AW), United States Air Force (35A-534)
84-0089, Gates Learjet Corporation Learjet C-21A, AMARG (457th AS/375th AW), United States Air Force (35A-535)
84-0092, Gates Learjet Corporation Learjet C-21A, AMARG (457th AS/375th AW), United States Air Force (35A-538)
84-0104, Gates Learjet Corporation Learjet C-21A, AMARG (311th AS/375th AW), United States Air Force (35A-550)
84-0105, Gates Learjet Corporation Learjet C-21A, AMARG (311th AS/375th AW), United States Air Force (35A-551)
84-0107, Gates Learjet Corporation Learjet C-21A, AMARG (311th AS/375th AW), United States Air Force (35A-553)
84-0108, Gates Learjet Corporation Learjet C-21A, AMARG (76th AS/86th AW), United States Air Force (35A-554)
84-0112, Gates Learjet Corporation Learjet C-21A, AMARG (76th AS/86th AW), United States Air Force (35A-558)
84-0113, Gates Learjet Corporation Learjet C-21A, AMARG (458th AS/375th AW), United States Air Force (35A-559)
84-0115, Gates Learjet Corporation Learjet C-21A, AMARG (457th AS/375th AW), United States Air Force (35A-561)
84-0116, Gates Learjet Corporation Learjet C-21A, AMARG (311th AS/375th AW), United States Air Force (35A-562)
84-0117, Gates Learjet Corporation Learjet C-21A, AMARG (457th AS/375th AW), United States Air Force (35A-563)
84-0122, Gates Learjet Corporation Learjet C-21A, AMARG (311th AS/375th AW), United States Air Force (35A-568)
84-0132, Gates Learjet Corporation Learjet C-21A, AMARG (AFFSA), United States Air Force (35A-579)
84-0133, Gates Learjet Corporation Learjet C-21A, AMARG (311th AS/375th AW), United States Air Force (35A-580)
84-0138, Gates Learjet Corporation Learjet C-21A, AMARG (332nd ALF), United States Air Force (35A-574)
84-0141, Gates Learjet Corporation Learjet C-21A, AMARG (54th AS/375th AW), United States Air Force (35A-584)
165740, Cessna UC-35C Citation Encore , VMR Belle Chasse, United States Marine Corps (560-0524)
165741, Cessna UC-35C Citation Encore , VMR Belle Chasse, United States Marine Corps (560-0529)
64-0893, McDonnell F-4C Phantom II, AMARG (123rd FIS/142nd FIG/Oregon ANG), United States Air Force (1311)
65-0641, McDonnell F-4D Phantom II, AMARG (111th FIS/174th FIW/Texas ANG), United States Air Force (1627)
65-0652, McDonnell F-4D Phantom II, AMARG (179th FIS/148th FG/Minnesota ANG), United States Air Force (1655)
153777, McDonnell F-4J Phantom II, AMARG (VMFAT-101), United States Marine Corps (1811)
155539/1, McDonnell F-4S Phantom II, AMARG (VX-4), United States Navy (2777)
157245, McDonnell F-4S Phantom II, AMARG (VMFA-251), United States Marine Corps (3610)
157249/SH-14, McDonnell F-4S Phantom II, AMARG (VMFAT-101), United States Marine Corps (3628)
157269/SH-11, McDonnell F-4S Phantom II, AMARG (VMFAT-101), United States Marine Corps (3732)
157345/RF-30, McDonnell RF-4B Phantom II, AMARG (VMFP-3), United States Marine Corps (3735)
64-1038/BH, McDonnell RF-4C Phantom II, AMARG (106th TRS/Alabama ANG), United States Air Force (900)
64-1062, McDonnell RF-4C Phantom II, AMARG (173rd TRS/155th TRG/Nebraska ANG), United States Air Force (1021)
80-0487/SH, General Dynamics F-16A Fighting Falcon, AMARG (465th FS/507th OG), United States Air Force (61-208)
68-15093, Bell AH-1F Cobra, , United States Army (20627)
152426/QL, Bell UH-1E Iroquois, AMARG (HML-776), United States Marine Corps (6092)
63-13146, Bell UH-1P Iroquois, AMARG (ADTC), United States Air Force (7006)
72-21549, Bell UH-1V Iroquois, AMARG (23rd FTS/58th OG), United States Air Force (13248)
74-22420, Bell UH-1H Iroquois, AMARG (23rd FTS/58th OG), United States Air Force (13744)
67-21360, Cessna O-2A Super Skymaster, AMARG (176th TASS/128th TASW/Wisconsin ANG), United States Air Force (337M-0066)
68-10865, Cessna O-2A Super Skymaster, AMARG (27th TASS/602nd TACW), United States Air Force (337M-0230)
68-10971, Cessna O-2A Super Skymaster, AMARG (507th TACW), United States Air Force (337M-0247)
68-6889, Cessna O-2A Super Skymaster, AMARG (24th CW), United States Air Force (337M-0178)
68-6900, Cessna O-2A Super Skymaster, AMARG (24th CW), United States Air Force (337M-0189)
69-7608, Cessna O-2A Super Skymaster, AMARG (27th TASS/602nd TACW), United States Air Force (337M-0406)
69-7612/SR, Cessna O-2A Super Skymaster, AMARG (21st TASS), United States Air Force (337M-0410)
N705GG, de Havilland Canada EO-5B Dash 7, AMARG (204th MIB), United States Army (48)
62-5956/VN, Cessna T-37B Tweety Bird, AMARG (71st FTW), United States Air Force (40724)
64-13422/XL, Cessna T-37B Tweety Bird, AMARG (47th FTW), United States Air Force (40837)
67-14737/RA, Cessna T-37B Tweety Bird, AMARG (12th FTW), United States Air Force (40990)
67-14746/XL, Cessna T-37B Tweety Bird, AMARG (47th FTW), United States Air Force (41002)
67-22261/VN, Cessna T-37B Tweety Bird, AMARG (71st FTW), United States Air Force (41073)
67-22262/VN, Cessna T-37B Tweety Bird, AMARG (71st FTW), United States Air Force (41075)
68-7990/VN, Cessna T-37B Tweety Bird, AMARG (71st FTW), United States Air Force (41085)
68-7992/VN, Cessna T-37B Tweety Bird, AMARG (71st FTW), United States Air Force (41087)
68-8024/RA, Cessna T-37B Tweety Bird, AMARG (12th FTW), United States Air Force (41129)
68-8049/VN, Cessna T-37B Tweety Bird, AMARG (71st FTW), United States Air Force (41154)
68-8064/VN, Cessna T-37B Tweety Bird, AMARG (71st FTW), United States Air Force (41169)
62-3627/HM, Northrop AT-38B Talon, AMARG (433rd TFTS/479th TTW), United States Air Force (N5332)
63-8211/HM, Northrop AT-38B Talon, AMARG (434th TFTS/479th TTW), United States Air Force (N5558)
64-13276/HM, Northrop AT-38B Talon, AMARG (433rd TFTS/479th TTW), United States Air Force (N5705)
63-8155/XL, Northrop T-38A Talon, AMARG (12thFTW), United States Air Force (N5502)
67-14946/DY, Northrop T-38A Talon, AMARG (49th FW), United States Air Force (T6087)
158843/F-23, North American CT-39G Sabreliner, AMARG (CTW-6), United States Navy (306-52)
159362/F-21, North American CT-39G Sabreliner, AMARG (CTW-6), United States Navy (306-66)
59-2870/ED, North American NT-39A Sabreliner, AMARG (418th FLTS/412th TW), United States Air Force (265-3)
60-3478/ED, North American NT-39A Sabreliner, AMARG (418th FLTS/412th TW), United States Air Force (265-6)
159364/F-25, North American T-39G Sabreliner, AMARG (CTW-6), United States Navy (306-69)
159365/F-20, North American T-39G Sabreliner, AMARG (CTW-6), United States Navy (306-105)
160053/F-18, North American T-39G Sabreliner, AMARG (CTW-6), United States Navy (306-104)
160055/F-24, North American T-39G Sabreliner, AMARG (CTW-6), United States Navy (306-106)
165518/F-10, North American T-39N Sabreliner, AMARG (CTW-6), United States Navy (282-77)
165510/F-02, North American T-39N Sabreliner, AMARG (CTW-6), United States Navy (282-81)
165511/F-03, North American T-39N Sabreliner, AMARG (CTW-6), United States Navy (282-29)
165512/F-04, North American T-39N Sabreliner, AMARG (CTW-6), United States Navy (282-2)
165514/F-06, North American T-39N Sabreliner, AMARG (CTW-6), United States Navy (282-30)
165515/F-07, North American T-39N Sabreliner, AMARG (CTW-6), United States Navy (282-72)
165516/F-08, North American T-39N Sabreliner, AMARG (CTW-6), United States Navy (282-90)
165517/F-09, North American T-39N Sabreliner, AMARG (CTW-6), United States Navy (282-61)
165519/F-11, North American T-39N Sabreliner, AMARG (CTW-6), United States Navy (282-19)
165521/F-13, North American T-39N Sabreliner, AMARG (CTW-6), United States Navy (282-94)
73-1154/RA, Boeing CT-43A, AMARG (12th FTW), United States Air Force (20701)
71-1404/RA, Boeing CT-43A, AMARG (12th FTW), United States Air Force (20686)
72-0288/RA, Boeing CT-43A, AMARG (12th FTW), United States Air Force (20695)
73-1152/RA, Boeing CT-43A, AMARG (12th FTW), United States Air Force (20699)
73-1156/RA, Boeing CT-43A, AMARG (12th FTW), United States Air Force (20703)
67-18932, Grumman OV-1D Mohawk, AMARG (224th MIB), United States Army (133C)
68-15940, Grumman OV-1D Mohawk, AMARG (158th MIB/Georgia ARNG), United States Army (144C)
68-15942, Grumman OV-1D Mohawk, AMARG (158th MIB/Georgia ARNG), United States Army (146C)
68-15955, Grumman OV-1D Mohawk, AMARG (224th MIB), United States Army (159C)
43-52436, Convair XC-99, AMARG, United States Air Force (1)
43+95, Panavia Tornado IDS, AMARG (JbG-31), German Air Force (246/GS063/4095)
AMARG storage area 21:
158185/WE, Douglas A-4M Skyhawk, AMARG (VMA-214), United States Marine Corps (14222)
160243, Douglas A-4M Skyhawk, AMARG (VMA-124), United States Marine Corps (14586)
160262/QP-06, Douglas A-4M Skyhawk, AMARG (VMA-124), United States Marine Corps (14605)
160263, Douglas A-4M Skyhawk, AMARG (VMA-124), United States Marine Corps (14606)
55-4285, Martin B-57E Canberra, AMARG (17th DSES/24th AD), United States Air Force (387)
52-1511, Martin EB-57B Canberra, AMARG (134th DSES/158th DSEG/Vermont ANG), United States Air Force (094)
52-1521, Martin EB-57B Canberra, AMARG (134th DSES/158th DSEG/Vermont ANG), United States Air Force (104)
52-1545, Martin EB-57B Canberra, AMARG (134th DSES/158th DSEG/Vermont ANG), United States Air Force (128)
52-1564, Martin EB-57B Canberra, AMARG (134th DSES/158th DSEG/Vermont ANG), United States Air Force (147)
55-4238, Martin B-57E Canberra, AMARG (17th DSES), United States Air Force (340)
63-13291, Martin WB-57F Canberra, AMARG (58th WRS), United States Air Force (unknown)
63-13301, Martin WB-57F Canberra, AMARG (58th WRS), United States Air Force (unknown)
63-13302, Martin WB-57F Canberra, AMARG (58th WRS), United States Air Force (unknown)
93-01322, Shorts C-23C Sherpa, AMARG (USFS), N170Z, United States Army (SH3406/AK-006)
93-01333, Shorts C-23C Sherpa, AMARG (USFS), N177Z, United States Army (SH3417/AK-017)
94-00313, Shorts C-23C Sherpa, AMARG (USFS), N113Z, United States Army (SH3427/AK-027)
62-1786, Lockheed C-130E Hercules, AMARG (62nd AS/314th AW), United States Air Force (3731)
62-1804, Lockheed C-130E Hercules, AMARG (314th AW), United States Air Force (3758)
62-1817, Lockheed C-130E Hercules, AMARG (53rd AS/314th AW), United States Air Force (3779)
62-1832, Lockheed C-130E Hercules, AMARG (79th RQS/563rd RQG), United States Air Force (3795)
62-1844, Lockheed C-130E Hercules, AMARG (62nd AS/314th AW), United States Air Force (3807)
62-1847/RS, Lockheed C-130E Hercules, AMARG (86th AW), United States Air Force (3810)
62-1852, Lockheed C-130E Hercules, AMARG (62nd AS/314th AW), United States Air Force (3816)
62-1855, Lockheed C-130E Hercules, AMARG (62nd AS/314th AW), United States Air Force (3819)
63-7769, Lockheed C-130E Hercules, AMARG (61st AS/19th AW), United States Air Force (3835)
63-7786, Lockheed C-130E Hercules, AMARG (62nd AS/314th AW), United States Air Force (3853)
63-7792, Lockheed C-130E Hercules, AMARG (62nd AS/314th AW), United States Air Force (3860)
63-7800, Lockheed C-130E Hercules, AMARG (154th TS/189th AW/Arkansas ANG), United States Air Force (3866)
63-7812, Lockheed C-130E Hercules, AMARG (154th TS/189th AW/Arkansas ANG), United States Air Force (3882)
63-7817, Lockheed C-130E Hercules, AMARG (61st AS/19th AW), United States Air Force (3895)
63-7824, Lockheed C-130E Hercules, AMARG (62nd AS/314th AW), United States Air Force (3892)
63-7825/RS, Lockheed C-130E Hercules, AMARG (86th AW), United States Air Force (3893)
63-7829, Lockheed C-130E Hercules, AMARG (62nd AS/314th AW), United States Air Force (3897)
63-7830, Lockheed C-130E Hercules, AMARG (53rd AS/314th AW), United States Air Force (3898)
63-7832, Lockheed C-130E Hercules, AMARG (62nd AS/314th AW), United States Air Force (3900)
63-7833, Lockheed C-130E Hercules, AMARG (61st AS/19th AW), United States Air Force (3901)
63-7839, Lockheed C-130E Hercules, AMARG (463rd AG), United States Air Force (3909)
63-7841/PR, Lockheed C-130E Hercules, AMARG (156th AW/Puerto Rico ANG), United States Air Force (3911)
63-7845, Lockheed C-130E Hercules, AMARG (62nd AS/314th AW), United States Air Force (3915)
63-7857, Lockheed C-130E Hercules, AMARG (463rd AG), United States Air Force (3927)
63-7860, Lockheed C-130E Hercules, AMARG (314th AW), United States Air Force (3930)
63-7864, Lockheed C-130E Hercules, AMARG (62nd AS/314th AW), United States Air Force (3934)
63-7880, Lockheed C-130E Hercules, AMARG (314th AW), United States Air Force (3951)
63-7883, Lockheed C-130E Hercules, AMARG (53rd AS/314th AW), United States Air Force (3954)
63-7884, Lockheed C-130E Hercules, AMARG (61st AS/19th AW), United States Air Force (3955)
63-7885/RS, Lockheed C-130E Hercules, AMARG (86th AW), United States Air Force (3956)
63-7890, Lockheed C-130E Hercules, AMARG (62nd AS/314th AW), United States Air Force (3961)
63-7896, Lockheed C-130E Hercules, AMARG (314th AW), United States Air Force (3967)
63-9813, Lockheed C-130E Hercules, AMARG (61st AS/19th AW), United States Air Force (3974)
63-9814, Lockheed C-130E Hercules, AMARG (314th AW), United States Air Force (3975)
64-0498, Lockheed C-130E Hercules, AMARG (43rd AW), United States Air Force (3982)
64-0515/PR, Lockheed C-130E Hercules, AMARG (198th AS/156th OG/Puerto Rico ANG), United States Air Force (3999)
64-0518, Lockheed C-130E Hercules, AMARG (463rd AG), United States Air Force (4002)
64-0531, Lockheed C-130E Hercules, AMARG (43rd AW), United States Air Force (4019)
64-0537, Lockheed C-130E Hercules, AMARG (43rd AW), United States Air Force (4027)
64-0538, Lockheed C-130E Hercules, AMARG (314th AW), United States Air Force (4028)
64-18240/RS, Lockheed C-130E Hercules, AMARG (86th AW), United States Air Force (4105)
70-1265, Lockheed C-130E Hercules, AMARG (43rd AW), United States Air Force (4418)
70-1266, Lockheed C-130E Hercules, AMARG (43rd AW), United States Air Force (4419)
70-1267, Lockheed C-130E Hercules, AMARG (43rd AW), United States Air Force (4420)
70-1270, Lockheed C-130E Hercules, AMARG (43rd AW), United States Air Force (4424)
70-1271/RS, Lockheed C-130E Hercules, AMARG (86th AW), United States Air Force (4425)
70-1275, Lockheed C-130E Hercules, AMARG (43rd AW), United States Air Force (4434)
72-1295, Lockheed C-130E Hercules, AMARG (314th AW), United States Air Force (4510)
78-0809, Lockheed C-130H Hercules, AMARG (911th AW), United States Air Force (4819)
79-0474, Lockheed C-130H Hercules, AMARG (152nd AW/Nevada ANG), United States Air Force (4854)
64-14853/FL, Lockheed HC-130P Hercules, AMARG (920th RQW), United States Air Force (4037)
64-14863, Lockheed HC-130H Hercules, AMARG (71st RQS/23rd Wing), United States Air Force (4094)
69-5823, Lockheed MC-130P Hercules, AMARG (9th SOS/1st SOW), United States Air Force (4371)
69-5827, Lockheed MC-130P Hercules, AMARG (9th SOS/1st SOW), United States Air Force (4376)
69-5830, Lockheed HC-130N Hercules, AMARG (920th RQW), United States Air Force (4379)
64-14854, Lockheed MC-130P Hercules, AMARG (67th SOS/352nd SOG), United States Air Force (4038)
147573/QD-573, Lockheed KC-130F Hercules, AMARG (VMGR-152), United States Marine Corps (3555)
148894/894, Lockheed KC-130F Hercules, AMARG (VX-30), United States Air Force (3608)
148898/BH-898, Lockheed KC-130F Hercules, AMARG (VMGR-252), United States Marine Corps (3631)
148899/QD-899, Lockheed KC-130F Hercules, AMARG (VMGR-152), United States Marine Corps (3632)
149796/QB-796, Lockheed KC-130F Hercules, AMARG (VMGR-352), United States Marine Corps (3665)
149812/QD-812, Lockheed KC-130F Hercules, AMARG (VMGR-152), United States Marine Corps (3718)
150687/GR-687, Lockheed KC-130F Hercules, AMARG (VMGRT-253), United States Marine Corps (3734)
150688/GR-688, Lockheed KC-130F Hercules, AMARG (VMGRT-253), United States Marine Corps (3740)
148319/XD-07, Lockheed LC-130F Hercules, AMARG (VXE-6), United States Air Force (3564)
64-0561, Lockheed MC-130E Hercules, AMARG (711th SOS/919th OG), United States Air Force (4065)
64-0562, Lockheed MC-130E Hercules, AMARG (711th SOS/919th OG), United States Air Force (4068)
65-0971, Lockheed MC-130P Hercules, AMARG (550th SOS/58th SOW), United States Air Force (4116)
69-5825, Lockheed MC-130P Hercules, AMARG (17th SOS/353rd SOG), United States Air Force (4374)
69-5828, Lockheed MC-130P Hercules, AMARG (1st SOG det.1/1st SOW), United States Air Force (4377)
163592/NY-592, Lockheed KC-130T Hercules, AMARG (VMGR-452), United States Marine Corps (5145)
63-7895/PR, Lockheed C-130E Hercules, AMARG (156th AW/Puerto Rico ANG), United States Air Force (3966)
64-0571, Lockheed MC-130E Hercules, AMARG (711th SOS/919th OG), United States Air Force (4087)
65-0964/FT, Lockheed HC-130P Hercules, AMARG (79th RQS/563rd RQG), United States Air Force (4104)
65-0970/FL, Lockheed HC-130P Hercules, AMARG (920th RQW), United States Air Force (4112)
65-0983/FT, Lockheed HC-130P Hercules, AMARG (71st RQS/23rd Wing), United States Air Force (4138)
69-5821, Lockheed MC-130P Hercules, AMARG (550th SOS/58th SOW), United States Air Force (4368)
69-5822, Lockheed MC-130P Hercules, AMARG (9th SOS/1st SOW), United States Air Force (4370)
69-6574, Lockheed AC-130H Hercules, AMARG (16th SOS/27th SOW), United States Air Force (4348)
72-1289, Lockheed C-130E Hercules, AMARG (62nd AS/314th AW), United States Air Force (4500)
73-1597, Lockheed C-130H Hercules, AMARG (186th AS/120th AW/Montana ANG), United States Air Force (4571)
86-1393, Lockheed C-130H Hercules, AMARG (154th TS/189th AW/Arkansas ANG), United States Air Force (5096)
88-0192, Lockheed MC-130H Hercules, AMARG (15th SOS/1st SOW), United States Air Force (5131)
89-0281, Lockheed MC-130H Hercules, AMARG (15th SOS/1st SOW), United States Air Force (5237)
80-0557/ED, General Dynamics F-16A Fighting Falcon, AMARG (416th FLTS/412th TW), United States Air Force (61-278)
81-0674, General Dynamics F-16A (ADF) Fighting Falcon, AMARG (186th FS/120th OG/Montana ANG), United States Air Force (61-355)
82-0949, General Dynamics F-16A Fighting Falcon, AMARG (184th FS/188th OG/Arkansas ANG), United States Air Force (61-542)
82-0979, General Dynamics F-16A Fighting Falcon, AMARG (186th FS/120th OG/Montana ANG), United States Air Force (61-572)
81-0813, General Dynamics F-16B Fighting Falcon, AMARG (LMTAS), United States Air Force (62-82)
84-1269/ED, General Dynamics F-16C Fighting Falcon, AMARG (416th FLTS/412th TW), United States Air Force (5C-106)
84-1394/FW, General Dynamics F-16C Fighting Falcon, AMARG (163rd FS/122nd OG/Indiana ANG), United States Air Force (5C-176)
87-0296, General Dynamics F-16C Fighting Falcon, AMARG (100th FS/187th FW/Alabama ANG), United States Air Force (5C-557)
163279/46, General Dynamics TF-16N Fighting Falcon, AMARG (NFWS), 85-1380, United States Navy (3N-2)
160834/QT-427, Bell HH-1N Iroquois, AMARG (HMLAT-303), United States Marine Corps (31452)
159777/TV-15, Bell UH-1N Iroquois, AMARG (HMLA-167), United States Marine Corps (31714)
149758/NW-46, Kaman SH-2F Seasprite, AMARG (HSL-74), United States Navy (60)
153455/LX-2, Lockheed P-3B Orion, AMARG (VP-90), United States Navy (5251)
151376/LL-22, Lockheed TP-3A Orion, AMARG (VP-30), United States Navy (5089)
151382/LL-29, Lockheed TP-3A Orion, AMARG (VP-30), United States Navy (5095)
158862/NH-722, Lockheed ES-3A Viking, AMARG (VQ-5 det.C), United States Navy (3010)
159391/767, Lockheed ES-3A Viking, AMARG (VQ-6), United States Navy (3027)
159397/NF-726, Lockheed ES-3A Viking, AMARG (VQ-5), United States Navy (3033)
159400/764, Lockheed ES-3A Viking, AMARG (VQ-6), United States Navy (3036)
159401/766, Lockheed ES-3A Viking, AMARG (VQ-6), United States Navy (3037)
159403/SS-720, Lockheed ES-3A Viking, AMARG (VQ-5), United States Navy (3039)
159405/725, Lockheed ES-3A Viking, AMARG (VQ-5), United States Navy (3041)
159414/765, Lockheed ES-3A Viking, AMARG (VQ-6), United States Navy (3050)
159415/NH-723, Lockheed ES-3A Viking, AMARG (VQ-5 det.C), United States Navy (3051)
159420/NF-721, Lockheed ES-3A Viking, AMARG (VQ-5), United States Navy (3056)
159752/AC-761, Lockheed ES-3A Viking, AMARG (VQ-6), United States Navy (3081)
159410/VS-702, Lockheed S-3A Viking, AMARG (VS-35), United States Navy (3046)
159419/760, Lockheed ES-3A Viking, AMARG (VQ-6), United States Navy (3055)
160144/NJ-731, Lockheed S-3B Viking, AMARG (VS-41), United States Navy (3126)
160585/NE-702, Lockheed S-3A Viking, AMARG (VS-38), United States Navy (3165)
159729/NJ-750, Lockheed S-3B Viking, AMARG (VS-41), United States Navy (3058)
159761/NH-702, Lockheed S-3B Viking, AMARG (VS-29), United States Navy (3090)
159769/AA-704, Lockheed S-3B Viking, AMARG (VS-30), United States Navy (3098)
160129/AC-701, Lockheed S-3B Viking, AMARG (VS-22), United States Navy (3111)
160160/NJ-737, Lockheed S-3B Viking, AMARG (VS-41), United States Navy (3142)
160578/NJ-733, Lockheed S-3B Viking, AMARG (VS-41), United States Navy (3158)
157353/RW-353, North American CT-39E Sabreliner, AMARG (VRC-30), United States Navy (282-84)
159383/KD-05, Hawker Siddeley TAV-8A Harrier, AMARG (VMAT-203), United States Marine Corps (212023/6)
AMARG storage area 22:
68-0212, Lockheed C-5A Galaxy, AMARG (167th AW/West Virginia ANG), United States Air Force (500-15)
68-0219, Lockheed C-5A Galaxy, AMARG (433rd AW), United States Air Force (500-22)
68-0221, Lockheed C-5A Galaxy, AMARG (433rd AW), United States Air Force (500-24)
68-0222, Lockheed C-5A Galaxy, AMARG (167th AW/West Virginia ANG), United States Air Force (500-25)
68-0223, Lockheed C-5A Galaxy, AMARG (433rd AW), United States Air Force (500-26)
68-0224, Lockheed C-5A Galaxy, AMARG (167th AW/West Virginia ANG), United States Air Force (500-27)
68-0226, Lockheed C-5A Galaxy, AMARG (433rd AW), United States Air Force (500-29)
69-0001, Lockheed C-5A Galaxy, AMARG (137th AS/105th AW/New York ANG), United States Air Force (500-32)
69-0002, Lockheed C-5A Galaxy, AMARG (433rd AW), United States Air Force (500-33)
69-0006, Lockheed C-5A Galaxy, AMARG (433rd AW), United States Air Force (500-37)
69-0009, Lockheed C-5A Galaxy, AMARG (167th AW/West Virginia ANG), United States Air Force (500-40)
69-0010, Lockheed C-5A Galaxy, AMARG (164th AW/Tennessee ANG), United States Air Force (500-41)
69-0012, Lockheed C-5A Galaxy, AMARG (167th AW/West Virginia ANG), United States Air Force (500-43)
69-0013, Lockheed C-5A Galaxy, AMARG (164th AW/Tennessee ANG), United States Air Force (500-44)
69-0018, Lockheed C-5A Galaxy, AMARG (164th AW/Tennessee ANG), United States Air Force (500-49)
69-0020, Lockheed C-5A Galaxy, AMARG (439th AW), United States Air Force (500-51)
69-0021, Lockheed C-5A Galaxy, AMARG (167th AW/West Virginia ANG), United States Air Force (500-52)
69-0022, Lockheed C-5A Galaxy, AMARG (167th AW/West Virginia ANG), United States Air Force (500-53)
69-0023, Lockheed C-5A Galaxy, AMARG (167th AW/West Virginia ANG), United States Air Force (500-54)
69-0025, Lockheed C-5A Galaxy, AMARG (167th AW/West Virginia ANG), United States Air Force (500-56)
70-0445, Lockheed C-5A Galaxy, AMARG (433rd AW), United States Air Force (500-59)
70-0448, Lockheed C-5A Galaxy, AMARG (439th AW), United States Air Force (500-62)
70-0452, Lockheed C-5A Galaxy, AMARG (167th AW/West Virginia ANG), United States Air Force (500-66)
70-0456, Lockheed C-5A Galaxy, AMARG (439th AW), United States Air Force (500-70)
70-0460, Lockheed C-5A Galaxy, AMARG (167th AW/West Virginia ANG), United States Air Force (500-74)
70-0463, Lockheed C-5A Galaxy, AMARG (164th AW/Tennessee ANG), United States Air Force (500-77)
68-0214, Lockheed C-5A Galaxy, AMARG (433rd AW), United States Air Force (500-17)
69-0005, Lockheed C-5A Galaxy, AMARG (164th AW/Tennessee ANG), United States Air Force (500-36)
69-0007, Lockheed C-5A Galaxy, AMARG (433rd AW), United States Air Force (500-38)
69-0016, Lockheed C-5A Galaxy, AMARG (433rd AW), United States Air Force (500-47)
70-0464, Lockheed C-5A Galaxy, AMARG (137th AS/105th AW/New York ANG), United States Air Force (500-78)
67-22583, Douglas C-9A Nightingale, AMARG (374th AW), United States Air Force (47241/281)
68-10958, Douglas C-9A Nightingale, AMARG (374th AW), United States Air Force (47366/530)
68-10959, Douglas C-9A Nightingale, AMARG (375th AW), United States Air Force (47367/539)
68-8932, Douglas C-9A Nightingale, AMARG (375th AW), United States Air Force (47297/377)
68-8935, Douglas C-9A Nightingale, AMARG (375th AW), United States Air Force (47300/438)
159114/114, Douglas C-9B Skytrain II, AMARG (VR-61), United States Navy (47584/696)
159115/115, Douglas C-9B Skytrain II, AMARG (VR-61), United States Navy (47587/700)
159116/116, Douglas C-9B Skytrain II, AMARG (VR-61), United States Navy (47580/704)
159117/117, Douglas C-9B Skytrain II, AMARG (VR-56), United States Navy (47581/692)
159118/118, Douglas C-9B Skytrain II, AMARG (VR-61), United States Navy (47585/698)
159119/119, Douglas C-9B Skytrain II, AMARG (VR-56), United States Navy (47578/702)
160046/046, Douglas C-9B Skytrain II, AMARG (VMR-1), United States Navy ( 47684/786)
160047, Douglas C-9B Skytrain II, AMARG (VMR-1), United States Navy (47687/795)
160048/048, Douglas C-9B Skytrain II, AMARG (VR-52), United States Navy (47681/784)
160049/049, Douglas C-9B Skytrain II, AMARG (VR-56), United States Navy (47698/809)
160050/050, Douglas C-9B Skytrain II, AMARG (VR-61), United States Navy ( 47699/801)
160051/051, Douglas C-9B Skytrain II, AMARG (VR-61), United States Navy (47700/811)
161266/266, Douglas C-9B Skytrain II, AMARG (VR-46), United States Navy (48137/982)
163512/RX-512, Douglas DC-9-32, AMARG (VR-57), United States Navy (47474)
163513/JU-513, Douglas DC-9-32, AMARG (VR-56), United States Navy (47477)
164605/RX-605, Douglas DC-9-33RC, AMARG (VR-57), United States Navy (47545)
88-00326, Beechcraft RC-12N Guardrail, AMARG (L3 Lakehurst), United States Army (FE-11)
88-00327, Beechcraft RC-12N Guardrail, AMARG (L3 Lakehurst), United States Army (FE-12)
161196/G-335, Beechcraft TC-12B Super King Air, AMARG (TAW-4), United States Navy (BJ-12)
161314/G-307, Beechcraft TC-12B Super King Air, AMARG (TAW-4), United States Navy (BJ-31)
161497/G-321, Beechcraft TC-12B Super King Air, AMARG (TAW-4), United States Navy (BJ-45)
161498/G-320, Beechcraft TC-12B Super King Air, AMARG (TAW-4), United States Navy (BJ-46)
161508/G-313, Beechcraft TC-12B Super King Air, AMARG (TAW-4), United States Navy (BJ-56)
66-7771/DO, McDonnell F-4D Phantom II, AMARG (89th TFS/906th TFG), United States Air Force (2423)
66-0330/GA, McDonnell F-4E Phantom II, AMARG (35th TFW), United States Air Force (2609)
66-0372/GA, McDonnell F-4E Phantom II, AMARG (35th TFW), United States Air Force (2776)
67-0218/GA, McDonnell F-4E Phantom II, AMARG (35th TFW), United States Air Force (2854)
67-0223/GA, McDonnell F-4E Phantom II, AMARG (35th TFW), United States Air Force (2875)
67-0241/GA, McDonnell F-4E Phantom II, AMARG (35th TFW), United States Air Force (2923)
67-0245/GA, McDonnell F-4E Phantom II, AMARG (35th TFW), United States Air Force (2933)
67-0348/HO, McDonnell F-4E Phantom II, AMARG (20th FS/49th FW), United States Air Force (3207)
68-0308/TH, McDonnell F-4E Phantom II, AMARG (457th TFS/301st FW), United States Air Force (3326)
68-0321/HO, McDonnell F-4E Phantom II, AMARG (20th FS/49th FW), United States Air Force (3351)
68-0337/HO, McDonnell F-4E Phantom II, AMARG (20th FS/49th FW), United States Air Force (3381)
68-0372/HO, McDonnell F-4E Phantom II, AMARG (20th FS/49th FW), United States Air Force (3448)
68-0410/SL, McDonnell F-4E Phantom II, AMARG (110th TFS/131st TFW/Missouri ANG), United States Air Force (3516)
68-0418/HO, McDonnell F-4E Phantom II, AMARG (20th FS/49th FW), United States Air Force (3530)
68-0447/TH, McDonnell F-4E Phantom II, AMARG (457th TFS/301st FW), United States Air Force (3587)
68-0495/HO, McDonnell F-4E Phantom II, AMARG (20th FS/49th FW), United States Air Force (3676)
68-0516/HO, McDonnell F-4E Phantom II, AMARG (20th FS/49th FW), United States Air Force (3709)
68-0529/HO, McDonnell F-4E Phantom II, AMARG (20th FS/49th FW), United States Air Force (3728)
68-0538/HO, McDonnell F-4E Phantom II, AMARG (20th FS/49th FW), United States Air Force (3741)
71-0240/PN, McDonnell F-4E Phantom II, AMARG (3rd TFW), United States Air Force (4229)
71-1085/PN, McDonnell F-4E Phantom II, AMARG (3rd TFW), United States Air Force (4257)
72-1482/GA, McDonnell F-4E Phantom II, AMARG (21st TFTS/35th TFW), United States Air Force (4430)
73-1164/TX, McDonnell F-4E Phantom II, AMARG (704th TFS/924th TFG), United States Air Force (4665)
73-1166/TX, McDonnell F-4E Phantom II, AMARG (704th TFS/924th TFG), United States Air Force (4675)
73-1188/GA, McDonnell F-4E Phantom II, AMARG (21st TFTS/35th TFW), United States Air Force (4748)
74-0650/GA, McDonnell F-4E Phantom II, AMARG (21st TFTS/35th TFW), United States Air Force (4801)
74-0656/WW, McDonnell F-4E Phantom II, AMARG (562nd FS/35th FW), United States Air Force (4807)
74-1045/WW, McDonnell F-4E Phantom II, AMARG (561st FS/35th FW), United States Air Force (4828)
74-1059/WW, McDonnell F-4E Phantom II, AMARG (35th TFW), United States Air Force (4846)
74-1630/TX, McDonnell F-4E Phantom II, AMARG (704th TFS/924th TFG), United States Air Force (4861)
72-1118/HO, McDonnell F-4F Phantom II, AMARG (20th FS/49th FW), United States Air Force (4363)
72-1141/HO, McDonnell F-4F Phantom II, AMARG (20th FS/49th FW), United States Air Force (4425)
72-1159/HO, McDonnell F-4F Phantom II, AMARG (20th FS/49th FW), United States Air Force (4468)
72-1164/HO, McDonnell F-4F Phantom II, AMARG (20th FS/49th FW), United States Air Force (4481)
72-1174/HO, McDonnell F-4F Phantom II, AMARG (20th FS/49th FW), United States Air Force (4504)
72-1180/HO, McDonnell F-4F Phantom II, AMARG (20th FS/49th FW), United States Air Force (4518)
72-1218/HO, McDonnell F-4F Phantom II, AMARG (20th FS/49th FW), United States Air Force (4627)
67-0438, McDonnell RF-4C Phantom II, AMARG (153rd TRS/186th TRG/Mississipp ANG), United States Air Force (2828)
80-0542, General Dynamics F-16A (ADF) Fighting Falcon, AMARG (171st FS/191st FG/Michigan ANG), United States Air Force (61-263)
80-0556/IL, General Dynamics F-16A (ADF) Fighting Falcon, AMARG (169th FS/183rd FG/Illinois ANG), United States Air Force (61-277)
80-0560/IL, General Dynamics F-16A (ADF) Fighting Falcon, AMARG (169th FS/183rd FG/Illinois ANG), United States Air Force (61-281)
80-0568, General Dynamics F-16A (ADF) Fighting Falcon, AMARG (171st FS/191st FG/Michigan ANG), United States Air Force (61-289)
80-0570, General Dynamics F-16A (ADF) Fighting Falcon, AMARG (171st FS/191st FG/Michigan ANG), United States Air Force (61-291)
80-0571, General Dynamics F-16A (ADF) Fighting Falcon, AMARG (171st FS/191st FG/Michigan ANG), United States Air Force (61-292)
80-0579, General Dynamics F-16A (ADF) Fighting Falcon, AMARG (171st FS/191st FG/Michigan ANG), United States Air Force (61-300)
80-0580, General Dynamics F-16A (ADF) Fighting Falcon, AMARG (171st FS/191st FG/Michigan ANG), United States Air Force (61-301)
80-0607, General Dynamics F-16A (ADF) Fighting Falcon, AMARG (194th FS/144th OG/California ANG), United States Air Force (61-328)
80-0613, General Dynamics F-16A (ADF) Fighting Falcon, AMARG (171st FS/191st FG/Michigan ANG), United States Air Force (61-334)
81-0669, General Dynamics F-16A (ADF) Fighting Falcon, AMARG (194th FS/144th OG/California ANG), United States Air Force (61-350)
81-0682/FL, General Dynamics F-16A (ADF) Fighting Falcon, AMARG (159th FS/125th FG/Florida ANG), United States Air Force (61-363)
81-0691, General Dynamics F-16A (ADF) Fighting Falcon, AMARG (114th FS/173d FW/Oregon ANG), United States Air Force (61-372)
81-0696/FL, General Dynamics F-16A (ADF) Fighting Falcon, AMARG (159th FS/125th OG/Florida ANG), United States Air Force (61-377)
81-0698, General Dynamics F-16A (ADF) Fighting Falcon, AMARG (134th FS/158th OW/Vermont ANG), United States Air Force (61-379)
81-0701, General Dynamics F-16A (ADF) Fighting Falcon, AMARG (171st FS/191st FG/Michigan ANG), United States Air Force (61-382)
81-0708, General Dynamics F-16A (ADF) Fighting Falcon, AMARG (171st FS/191st FG/Michigan ANG), United States Air Force (61-389)
81-0711, General Dynamics F-16A (ADF) Fighting Falcon, AMARG (119th FS/177th FW/New Jersey ANG), United States Air Force (61-392)
81-0718, General Dynamics F-16A (ADF) Fighting Falcon, AMARG (136th FS/107th OG/New York ANG), United States Air Force (61-399)
81-0719, General Dynamics F-16A (ADF) Fighting Falcon, AMARG (171st FS/191st FG/Michigan ANG), United States Air Force (61-400)
81-0720, General Dynamics F-16A (ADF) Fighting Falcon, AMARG (136th FS/107th OG/New York ANG), United States Air Force (61-401)
81-0725, General Dynamics F-16A (ADF) Fighting Falcon, AMARG (136th FS/107th OG/New York ANG), United States Air Force (61-406)
81-0726, General Dynamics F-16A (ADF) Fighting Falcon, AMARG (136th FS/107th OG/New York ANG), United States Air Force (61-407)
81-0727, General Dynamics F-16A (ADF) Fighting Falcon, AMARG (136th FS/107th OG/New York ANG), United States Air Force (61-408)
81-0732/FL-15, General Dynamics F-16A (ADF) Fighting Falcon, AMARG (159th FS/125th OG/Florida ANG), United States Air Force (61-413)
81-0733/IL, General Dynamics F-16A (ADF) Fighting Falcon, AMARG (169th FS/183rd FG/Illinois ANG), United States Air Force (61-414)
81-0734, General Dynamics F-16A (ADF) Fighting Falcon, AMARG (134th FS/158th OW/Vermont ANG), United States Air Force (61-415)
81-0735, General Dynamics F-16A (ADF) Fighting Falcon, AMARG (136th FS/107th OG/New York ANG), United States Air Force (61-416)
81-0736, General Dynamics F-16A (ADF) Fighting Falcon, AMARG (136th FS/107th OG/New York ANG), United States Air Force (61-417)
81-0740, General Dynamics F-16A (ADF) Fighting Falcon, AMARG (134th FS/158th OW/Vermont ANG), United States Air Force (61-421)
81-0741/IL, General Dynamics F-16A (ADF) Fighting Falcon, AMARG (169th FS/183rd FG/Illinois ANG), United States Air Force (61-422)
81-0742, General Dynamics F-16A (ADF) Fighting Falcon, AMARG (134th FS/158th OW/Vermont ANG), United States Air Force (61-423)
81-0743, General Dynamics F-16A (ADF) Fighting Falcon, AMARG (134th FS/158th OW/Vermont ANG), United States Air Force (61-424)
81-0744, General Dynamics F-16A (ADF) Fighting Falcon, AMARG (134th FS/158th OW/Vermont ANG), United States Air Force (61-425)
81-0746, General Dynamics F-16A (ADF) Fighting Falcon, AMARG (134th FS/158th OW/Vermont ANG), United States Air Force (61-427)
81-0748, General Dynamics F-16A (ADF) Fighting Falcon, AMARG (134th FS/158th OW/Vermont ANG), United States Air Force (61-429)
81-0749, General Dynamics F-16A (ADF) Fighting Falcon, AMARG (134th FS/158th OW/Vermont ANG), United States Air Force (61-430)
81-0752, General Dynamics F-16A (ADF) Fighting Falcon, AMARG (134th FS/158th OW/Vermont ANG), United States Air Force (61-433)
81-0753, General Dynamics F-16A (ADF) Fighting Falcon, AMARG (134th FS/158th OW/Vermont ANG), United States Air Force (61-434)
81-0755/FL-10, General Dynamics F-16A (ADF) Fighting Falcon, AMARG (159th FS/125th OG/Florida ANG), United States Air Force (61-436)
81-0756/PR, General Dynamics F-16A (ADF) Fighting Falcon, AMARG (198th FS/156th FG/Puerto Rico ANG), United States Air Force (61-437)
81-0757/FL, General Dynamics F-16A (ADF) Fighting Falcon, AMARG (159th FS/125th OG/Florida ANG), United States Air Force (61-438)
81-0760, General Dynamics F-16A (ADF) Fighting Falcon, AMARG (194th FS/144th OG/California ANG), United States Air Force (61-441)
81-0762/IL, General Dynamics F-16A (ADF) Fighting Falcon, AMARG (169th FS/183rd FG/Illinois ANG), United States Air Force (61-443)
81-0767, General Dynamics F-16A (ADF) Fighting Falcon, AMARG (134th FS/158th OW/Vermont ANG), United States Air Force (61-448)
81-0769, General Dynamics F-16A (ADF) Fighting Falcon, AMARG (134th FS/158th OW/Vermont ANG), United States Air Force (61-450)
81-0780, General Dynamics F-16A (ADF) Fighting Falcon, AMARG (179th FS/148th OG/Minnesota ANG), United States Air Force (61-461)
81-0781, General Dynamics F-16A (ADF) Fighting Falcon, AMARG (178th FS/119th OG/North Dakota ANG), United States Air Force (61-462)
79-0348/DO, General Dynamics F-16A Fighting Falcon, AMARG (89th FS/906th FG), United States Air Force (61-133)
79-0354/DO, General Dynamics F-16A Fighting Falcon, AMARG (89th FS/906th FG), United States Air Force (61-139)
79-0365/DO, General Dynamics F-16A Fighting Falcon, AMARG (89th FS/906th FG), United States Air Force (61-150)
80-0551, General Dynamics F-16A Fighting Falcon, AMARG (182nd FS/149th FG/Texas ANG), United States Air Force (61-272)
80-0584/ED, General Dynamics F-16A Fighting Falcon, AMARG (416th FLTS/412th TW), United States Air Force (61-305)
81-0688/ED, General Dynamics F-16A Fighting Falcon, AMARG (416th FLTS/412th TW), United States Air Force (61-369)
81-0792/SI, General Dynamics F-16A Fighting Falcon, AMARG (170th FS/183rd FG/Illinois ANG), United States Air Force (61-473)
81-0809, General Dynamics F-16A Fighting Falcon, AMARG (114th FS/173d FW/Oregon ANG), United States Air Force (61-490)
82-0915, General Dynamics F-16A Fighting Falcon, AMARG (119th FS/177th FW/New Jersey ANG), United States Air Force (61-508)
82-0916/IL, General Dynamics F-16A Fighting Falcon, AMARG (169th FS/183rd FG/Illinois ANG), United States Air Force (61-509)
82-0917/IL, General Dynamics F-16A Fighting Falcon, AMARG (169th FS/183rd FG/Illinois ANG), United States Air Force (61-510)
82-0923/IL, General Dynamics F-16A Fighting Falcon, AMARG (169th FS/183rd FG/Illinois ANG), United States Air Force (61-516)
82-0945, General Dynamics F-16A Fighting Falcon, AMARG (171st FS/191st FG/Michigan ANG), United States Air Force (61-538)
82-0947/IL, General Dynamics F-16A Fighting Falcon, AMARG (169th FS/183rd FG/Illinois ANG), United States Air Force (61-540)
82-0958/IL, General Dynamics F-16A Fighting Falcon, AMARG (169th FS/183rd FG/Illinois ANG), United States Air Force (61-551)
82-0960, General Dynamics F-16A Fighting Falcon, AMARG (194th FS/144th OG/California ANG), United States Air Force (61-553)
82-0963, General Dynamics F-16A Fighting Falcon, AMARG (194th FS/144th OG/California ANG), United States Air Force (61-556)
82-0966/IL, General Dynamics F-16A Fighting Falcon, AMARG (169th FS/183rd FG/Illinois ANG), United States Air Force (61-559)
82-0973/PR, General Dynamics F-16A Fighting Falcon, AMARG (198th FS/156th FG/Puerto Rico ANG), United States Air Force (61-566)
82-0974, General Dynamics F-16A Fighting Falcon, AMARG (134th FS/158th OW/Vermont ANG), United States Air Force (61-567)
82-0978, General Dynamics F-16A Fighting Falcon, AMARG (134th FS/158th OW/Vermont ANG), United States Air Force (61-571)
82-1002/SI, General Dynamics F-16A Fighting Falcon, AMARG (170th FS/183rd FG/Illinois ANG), United States Air Force (61-595)
82-1010, General Dynamics F-16A Fighting Falcon, AMARG (134th FS/158th OW/Vermont ANG), United States Air Force (61-603)
83-1066/SA, General Dynamics F-16A Fighting Falcon, AMARG (182nd FS/149th FG/Texas ANG), United States Air Force (61-619)
83-1069/TX, General Dynamics F-16A Fighting Falcon, AMARG (704th FS/924th OG), United States Air Force (61-622)
83-1072/SI, General Dynamics F-16A Fighting Falcon, AMARG (170th FS/183rd FG/Illinois ANG), United States Air Force (61-625)
83-1083/SI, General Dynamics F-16A Fighting Falcon, AMARG (170th FS/183rd FG/Illinois ANG), United States Air Force (61-636)
83-1096/TX, General Dynamics F-16A Fighting Falcon, AMARG (704th FS/924th OG), United States Air Force (61-649)
83-1101/TX, General Dynamics F-16A Fighting Falcon, AMARG (704th FS/924th OG), United States Air Force (61-654)
83-1103/SA, General Dynamics F-16A Fighting Falcon, AMARG (182nd FS/149th OG/Texas ANG), United States Air Force (61-656)
83-1106/SA, General Dynamics F-16A Fighting Falcon, AMARG (182nd FS/149th OG/Texas ANG), United States Air Force (61-659)
83-1112/SI, General Dynamics F-16A Fighting Falcon, AMARG (170th FS/183rd FG/Illinois ANG), United States Air Force (61-665)
83-1113/SA, General Dynamics F-16A Fighting Falcon, AMARG (182nd FS/149th FG/Texas ANG), United States Air Force (61-666)
80-0636/AZ, General Dynamics F-16B (ADF) Fighting Falcon, AMARG (162nd FW/Arizona ANG), United States Air Force (62-78)
81-0818/AZ, General Dynamics F-16B (ADF) Fighting Falcon, AMARG (162nd FW/Arizona ANG), United States Air Force (62-87)
81-0819/AZ, General Dynamics F-16B (ADF) Fighting Falcon, AMARG (162nd FW/Arizona ANG), United States Air Force (62-88)
79-0432, General Dynamics F-16B Fighting Falcon, AMARG (162nd FW/Arizona ANG), United States Air Force (62-64)
80-0635/ED, General Dynamics F-16B Fighting Falcon, AMARG (416th FLTS/412th TW), United States Air Force (62-77)
81-0821/AZ, General Dynamics F-16B Fighting Falcon, AMARG (162nd FW/Arizona ANG), United States Air Force (62-90)
83-1118/ED, General Dynamics F-16C Fighting Falcon, AMARG (416th FLTS/412th TW), United States Air Force (5C-1)
83-1131/LF, General Dynamics F-16C Fighting Falcon, AMARG (61st FS/56th FW), United States Air Force (5C-14)
84-1305/LF, General Dynamics F-16C Fighting Falcon, AMARG (62nd FS/56th FW), United States Air Force (5C-142)
84-1315/FW, General Dynamics F-16C Fighting Falcon, AMARG (163rd FS/122nd OG/Indiana ANG), United States Air Force (5C-152)
84-1392/LF, General Dynamics F-16C Fighting Falcon, AMARG (62nd FS/56th FW), United States Air Force (5C-174)
85-1561, General Dynamics F-16C Fighting Falcon, AMARG (138th FS/174th OG/New York ANG), United States Air Force (5C-303)
160516/G-737, Beechcraft T-34C Turbo Mentor, AMARG (TAW-4), United States Navy (GL-73)
160527/G-802, Beechcraft T-34C Turbo Mentor, AMARG (TAW-4), United States Navy (GL-84)
160634/G-854, Beechcraft T-34C Turbo Mentor, AMARG (TAW-4), United States Navy (GL-99)
160636/G-816, Beechcraft T-34C Turbo Mentor, AMARG (TAW-4), United States Navy (GL-102)
160637/G-757, Beechcraft T-34C Turbo Mentor, AMARG (TAW-4), United States Navy (GL-103)
160641/G-834, Beechcraft T-34C Turbo Mentor, AMARG (TAW-4), United States Navy (GL-106)
160647/G-730, Beechcraft T-34C Turbo Mentor, AMARG (TAW-4), United States Navy (GL-112)
160938/G-705, Beechcraft T-34C Turbo Mentor, AMARG (TAW-4), United States Navy (GL-124)
160941/G-862, Beechcraft T-34C Turbo Mentor, AMARG (TAW-4), United States Navy (GL-127)
160962/G-813, Beechcraft T-34C Turbo Mentor, AMARG (TAW-4), United States Navy (GL-148)
161795/G-732, Beechcraft T-34C Turbo Mentor, AMARG (TAW-4), United States Navy (GL-190)
161815/G-715, Beechcraft T-34C Turbo Mentor, AMARG (TAW-4), United States Navy (GL-210)
161827/G-820, Beechcraft T-34C Turbo Mentor, AMARG (TAW-4), United States Navy (GL-222)
162263/G-716, Beechcraft T-34C Turbo Mentor, AMARG (TAW-4), United States Navy (GL-261)
162264/G-726, Beechcraft T-34C Turbo Mentor, AMARG (TAW-4), United States Navy (GL-262)
162275/G-762, Beechcraft T-34C Turbo Mentor, AMARG (TAW-4), United States Navy (GL-273)
162302/G-722, Beechcraft T-34C Turbo Mentor, AMARG (TAW-4), United States Navy (GL-300)
162636/E-518, Beechcraft T-34C Turbo Mentor, AMARG (SFWSL), United States Navy (GL-321)
164156/G-723, Beechcraft T-34C Turbo Mentor, AMARG (TAW-4), United States Navy (GL-336)
164163/G-777, Beechcraft T-34C Turbo Mentor, AMARG (TAW-4), United States Navy (GL-343)
164164/G-727, Beechcraft T-34C Turbo Mentor, AMARG (TAW-4), United States Navy (GL-344)
164168/G-860, Beechcraft T-34C Turbo Mentor, AMARG (TAW-4), United States Navy (GL-348)
164171/G-821, Beechcraft T-34C Turbo Mentor, AMARG (TAW-4), United States Navy (GL-351)
58-1906/RA, Cessna T-37B Tweety Bird, AMARG (12th FTW), United States Air Force (40331)
58-1921/RA, Cessna T-37B Tweety Bird, AMARG (12th FTW), United States Air Force (40346)
60-0141/VN, Cessna T-37B Tweety Bird, AMARG (71st FTW), United States Air Force (40629)
60-0176/CB, Cessna T-37B Tweety Bird, AMARG (14th FTW), United States Air Force (40673)
60-0181/EN, Cessna T-37B Tweety Bird, AMARG (80th FTW), United States Air Force (40678)
61-2504/VN, Cessna T-37B Tweety Bird, AMARG (71st FTW), United States Air Force (40708)
61-2915/VN, Cessna T-37B Tweety Bird, AMARG (71st FTW), United States Air Force (40713)
61-2916/VN, Cessna T-37B Tweety Bird, AMARG (71st FTW), United States Air Force (40714)
62-5955/CB, Cessna T-37B Tweety Bird, AMARG (14th FTW), United States Air Force (40723)
64-13413/VN, Cessna T-37B Tweety Bird, AMARG (71st FTW), United States Air Force (40828)
64-13417/XL, Cessna T-37B Tweety Bird, AMARG (47th FTW), United States Air Force (40832)
64-13419/VN, Cessna T-37B Tweety Bird, AMARG (71st FTW), United States Air Force (40834)
64-13439/VN, Cessna T-37B Tweety Bird, AMARG (71st FTW), United States Air Force (40854)
64-13442/CB, Cessna T-37B Tweety Bird, AMARG (14th FTW), United States Air Force (40857)
64-13443/CB, Cessna T-37B Tweety Bird, AMARG (14th FTW), United States Air Force (40858)
64-13451/EN, Cessna T-37B Tweety Bird, AMARG (80th FTW), United States Air Force (40866)
64-13454/EN, Cessna T-37B Tweety Bird, AMARG (80th FTW), United States Air Force (40869)
64-13468/EN, Cessna T-37B Tweety Bird, AMARG (80th FTW), United States Air Force (40883)
66-7986/EN, Cessna T-37B Tweety Bird, AMARG (80th FTW), United States Air Force (40946)
66-7988/RA, Cessna T-37B Tweety Bird, AMARG (12th FTW), United States Air Force (40948)
66-7989/RA, Cessna T-37B Tweety Bird, AMARG (12th FTW), United States Air Force (40949)
66-7994/RA, Cessna T-37B Tweety Bird, AMARG (12th FTW), United States Air Force (40954)
66-7995/RA, Cessna T-37B Tweety Bird, AMARG (12th FTW), United States Air Force (40955)
66-7999/VN, Cessna T-37B Tweety Bird, AMARG (71st FTW), United States Air Force (40959)
66-8001/XL, Cessna T-37B Tweety Bird, AMARG (47th FTW), United States Air Force (40966)
67-14730/EN, Cessna T-37B Tweety Bird, AMARG (80th FTW), United States Air Force (40983)
67-14734/XL, Cessna T-37B Tweety Bird, AMARG (47th FTW), United States Air Force (40987)
67-14739/EN, Cessna T-37B Tweety Bird, AMARG (80th FTW), United States Air Force (40993)
67-14749/VN, Cessna T-37B Tweety Bird, AMARG (71st FTW), United States Air Force (41006)
67-14752/EN, Cessna T-37B Tweety Bird, AMARG (80th FTW), United States Air Force (41009)
67-14761/EN, Cessna T-37B Tweety Bird, AMARG (80th FTW), United States Air Force (41024)
67-14763/XL, Cessna T-37B Tweety Bird, AMARG (47th FTW), United States Air Force (41027)
67-22245/EN, Cessna T-37B Tweety Bird, AMARG (80th FTW), United States Air Force (41050)
67-22247/RA, Cessna T-37B Tweety Bird, AMARG (12th FTW), United States Air Force (41053)
67-22249/XL, Cessna T-37B Tweety Bird, AMARG (47th FTW), United States Air Force (41056)
67-22251/CB, Cessna T-37B Tweety Bird, AMARG (14th FTW), United States Air Force (41059)
67-22254/RA, Cessna T-37B Tweety Bird, AMARG (12th FTW), United States Air Force (41063)
67-22256/RA, Cessna T-37B Tweety Bird, AMARG (12th FTW), United States Air Force (41066)
67-22259/XL, Cessna T-37B Tweety Bird, AMARG (47th FTW), United States Air Force (41071)
68-7983/CB, Cessna T-37B Tweety Bird, AMARG (14th FTW), United States Air Force (41078)
68-7984/VN, Cessna T-37B Tweety Bird, AMARG (71st FTW), United States Air Force (41079)
68-7988/VN, Cessna T-37B Tweety Bird, AMARG (80th FTW), United States Air Force (41083)
68-7994/CB, Cessna T-37B Tweety Bird, AMARG (14th FTW), United States Air Force (41091)
68-7999/XL, Cessna T-37B Tweety Bird, AMARG (47th FTW), United States Air Force (41098)
68-8005/XL, Cessna T-37B Tweety Bird, AMARG (47th FTW), United States Air Force (41107)
68-8009/CB, Cessna T-37B Tweety Bird, AMARG (14th FTW), United States Air Force (41114)
68-8019/EN, Cessna T-37B Tweety Bird, AMARG (80th FTW), United States Air Force (41124)
68-8027/EN, Cessna T-37B Tweety Bird, AMARG (80th FTW), United States Air Force (41132)
68-8036/CB, Cessna T-37B Tweety Bird, AMARG (14th FTW), United States Air Force (41141)
68-8046/CB, Cessna T-37B Tweety Bird, AMARG (14th FTW), United States Air Force (41151)
68-8059/EN, Cessna T-37B Tweety Bird, AMARG (80th FTW), United States Air Force (41164)
68-8062/RA, Cessna T-37B Tweety Bird, AMARG (12th FTW), United States Air Force (41167)
68-8067/CB, Cessna T-37B Tweety Bird, AMARG (14th FTW), United States Air Force (41172)
68-8073/EN, Cessna T-37B Tweety Bird, AMARG (80th FTW), United States Air Force (41192)
62-3738/HM, Northrop AT-38B Talon, AMARG (479th TTW), United States Air Force (N5443)
60-0554, Northrop T-38A Talon, AMARG (12th FTW), United States Air Force (N5127)
60-0578/BB, Northrop T-38A Talon, AMARG (9th RW), United States Air Force (N5151)
60-0581/BB, Northrop T-38A Talon, AMARG (9th RW), United States Air Force (N5154)
61-0826, Northrop T-38A Talon, AMARG (80th FTW), United States Air Force (N5192)
61-0827, Northrop T-38A Talon, AMARG (14th FTW), United States Air Force (N5193)
61-0834, Northrop T-38A Talon, AMARG (14th FTW), United States Air Force (N5200)
61-0855, Northrop T-38A Talon, AMARG (14th FTW), United States Air Force (N5221)
61-0861/ED, Northrop T-38A Talon, AMARG (412th TW), United States Air Force (N5227)
61-0909, Northrop T-38A Talon, AMARG (14th FTW), United States Air Force (N5275)
61-0920, Northrop T-38A Talon, AMARG (80th FTW), United States Air Force (N5286)
61-0924, Northrop T-38A Talon, AMARG (80th FTW), United States Air Force (N5290)
61-0930, Northrop T-38A Talon, AMARG (14th FTW), United States Air Force (N5296)
62-3628/MO, Northrop T-38A Talon, AMARG (366th Wing), United States Air Force (N5333)
62-3633, Northrop T-38A Talon, AMARG (80th FTW), United States Air Force (N5338)
62-3636, Northrop T-38A Talon, AMARG (14th FTW), United States Air Force (N5341)
62-3651, Northrop T-38A Talon, AMARG (64th FTW), United States Air Force (N5356)
62-3663, Northrop T-38A Talon, AMARG (82nd FTW), United States Air Force (N5368)
62-3665/EN, Northrop T-38A Talon, AMARG (80th FTW), United States Air Force (N5370)
62-3669, Northrop T-38A Talon, AMARG (64th FTW), United States Air Force (N5374)
62-3677, Northrop T-38A Talon, AMARG (80th FTW), United States Air Force (N5382)
62-3679, Northrop T-38A Talon, AMARG (64th FTW), United States Air Force (N5384)
62-3681, Northrop T-38A Talon, AMARG (64th FTW), United States Air Force (N5386)
62-3709, Northrop T-38A Talon, AMARG (71st FTW), United States Air Force (N5414)
62-3714, Northrop T-38A Talon, AMARG (71st FTW), United States Air Force (N5419)
62-3716, Northrop T-38A Talon, AMARG (71st FTW), United States Air Force (N5421)
62-3725, Northrop T-38A Talon, AMARG (71st FTW), United States Air Force (N5430)
62-3730/EN, Northrop T-38A Talon, AMARG (80th FTW), United States Air Force (N5435)
62-3741, Northrop T-38A Talon, AMARG (71st FTW), United States Air Force (N5446)
62-3745, Northrop T-38A Talon, AMARG (71st FTW), United States Air Force (N5450)
62-3747, Northrop T-38A Talon, AMARG (71st FTW), United States Air Force (N5452)
63-8113/EN, Northrop T-38A Talon, AMARG (80th FTW), United States Air Force (N5460)
63-8124/MT, Northrop T-38A Talon, AMARG (64th FTW), United States Air Force (N5471)
63-8126/EN, Northrop T-38A Talon, AMARG (80th FTW), United States Air Force (N5473)
63-8127/EN, Northrop T-38A Talon, AMARG (80th FTW), United States Air Force (N5474)
63-8138/EN, Northrop T-38A Talon, AMARG (80th FTW), United States Air Force (N5485)
63-8141, Northrop T-38A Talon, AMARG (47th FTW), United States Air Force (N5488)
63-8142, Northrop T-38A Talon, AMARG (71st FTW), United States Air Force (N5489)
63-8144/EN, Northrop T-38A Talon, AMARG (80th FTW), United States Air Force (N5491)
63-8178, Northrop T-38A Talon, AMARG (80th FTW), United States Air Force (N5525)
63-8179, Northrop T-38A Talon, AMARG (64th FTW), United States Air Force (N5526)
63-8185/LB, Northrop T-38A Talon, AMARG (64th FTW), United States Air Force (N5532)
63-8189/LB, Northrop T-38A Talon, AMARG (64th FTW), United States Air Force (N5536)
63-8196, Northrop T-38A Talon, AMARG (64th FTW), United States Air Force (N5543)
63-8198, Northrop T-38A Talon, AMARG (47th FTW), United States Air Force (N5545)
63-8221, Northrop T-38A Talon, AMARG (80th FTW), United States Air Force (N5568)
63-8236, Northrop T-38A Talon, AMARG (47th FTW), United States Air Force (N5583)
64-13173/XL, Northrop T-38A Talon, AMARG (47th FTW), United States Air Force (N5602)
64-13185/XL, Northrop T-38A Talon, AMARG (47th FTW), United States Air Force (N5614)
64-13186, Northrop T-38A Talon, AMARG (47th FTW), United States Air Force (N5615)
64-13191, Northrop T-38A Talon, AMARG (47th FTW), United States Air Force (N5620)
64-13209/RA, Northrop T-38A Talon, AMARG (12th FTW), United States Air Force (N5638)
64-13227/XL, Northrop T-38A Talon, AMARG (47th FTW), United States Air Force (N5656)
64-13228, Northrop T-38A Talon, AMARG (80th FTW), United States Air Force (N5657)
64-13242/XL, Northrop T-38A Talon, AMARG (47th FTW), United States Air Force (N5671)
64-13243, Northrop T-38A Talon, AMARG (47th FTW), United States Air Force (N5672)
64-13244/XL, Northrop T-38A Talon, AMARG (47th FTW), United States Air Force (N5673)
64-13254, Northrop T-38A Talon, AMARG (47th FTW), United States Air Force (N5683)
64-13256, Northrop T-38A Talon, AMARG (47th FTW), United States Air Force (N5685)
64-13274, Northrop T-38A Talon, AMARG (14th FTW), United States Air Force (N5703)
65-10363, Northrop T-38A Talon, AMARG (Lockheed), United States Air Force (N5782)
65-10389, Northrop T-38A Talon, AMARG (71st FTW), United States Air Force (N5808)
65-10400, Northrop T-38A Talon, AMARG (14th FTW), United States Air Force (N5819)
65-10406, Northrop T-38A Talon, AMARG (47th FTW), United States Air Force (N5825)
65-10409, Northrop T-38A Talon, AMARG (71st FTW), United States Air Force (N5828)
66-4388/DY, Northrop T-38A Talon, AMARG (49th FW), United States Air Force (T6019)
63-8168/CB, Northrop T-38A Talon, AMARG (14th FTW), United States Air Force (N5515)
AMARG storage area 23:
63-8058, Boeing KC-135D Stratotanker, AMARG (117th ARS/190th ARW/Kansas ANG), United States Air Force (18670)
63-8059, Boeing KC-135D Stratotanker, AMARG (117th ARS/190th ARW/Kansas ANG), United States Air Force (18671)
63-8060, Boeing KC-135D Stratotanker, AMARG (117th ARS/190th ARW/Kansas ANG), United States Air Force (18672)
55-3141, Boeing KC-135E Stratotanker, AMARG (174th ARS/185th OG/Iowa ANG), United States Air Force (17257)
56-3604, Boeing KC-135E Stratotanker, AMARG (108th ARS/Illinois ANG), United States Air Force (17353)
56-3654, Boeing KC-135E Stratotanker, AMARG (132nd ARS/ 101st OG/Maine ANG), United States Air Force (17403)
57-1423, Boeing KC-135E Stratotanker, AMARG (126th ARW/Illinois ANG), United States Air Force (17494)
57-1445, Boeing KC-135E Stratotanker, AMARG (108th ARW/New Jersey ANG), United States Air Force (17516)
57-1478, Boeing KC-135E Stratotanker, AMARG (133rd ARS/157th OG/New Hampshire ANG), United States Air Force (17549)
57-1482, Boeing KC-135E Stratotanker, AMARG (108th ARS/Illinois ANG), United States Air Force (17553)
57-1497, Boeing KC-135E Stratotanker, AMARG (108th ARS/Illinois ANG), United States Air Force (17568)
57-1509, Boeing KC-135E Stratotanker, AMARG (126th ARW/Illinois ANG), United States Air Force (17580)
58-0005, Boeing KC-135E Stratotanker, AMARG (117th ARS/190th ARW/Kansas ANG), United States Air Force (17750)
58-0012, Boeing KC-135E Stratotanker, AMARG (191st ARS/151st OG/Utah ANG), United States Air Force (17757)
58-0037, Boeing KC-135E Stratotanker, AMARG (147th ARS/171st ARW/Pennsylvania ANG), United States Air Force (17782)
58-0064, Boeing KC-135E Stratotanker, AMARG (940th ARW), United States Air Force (17809)
58-0078, Boeing KC-135E Stratotanker, AMARG (108th ARW/New Jersey ANG), United States Air Force (17823)
58-0080, Boeing KC-135E Stratotanker, AMARG (174th ARS/185th OG/Iowa ANG), United States Air Force (17825)
58-0087, Boeing KC-135E Stratotanker, AMARG (108th ARW/New Jersey ANG), United States Air Force (17832)
58-0115, Boeing KC-135E Stratotanker, AMARG (137th ARW/Oklahoma ANG), United States Air Force (17860)
59-1445, Boeing KC-135E Stratotanker, AMARG (137th ARW/Oklahoma ANG), United States Air Force (17933)
59-1451, Boeing KC-135E Stratotanker, AMARG (940th ARW), United States Air Force (17939)
59-1457, Boeing KC-135E Stratotanker, AMARG (117th ARS/190th ARW/Kansas ANG), United States Air Force (17945)
59-1473, Boeing KC-135E Stratotanker, AMARG (191st ARS/151st OG/Utah ANG), United States Air Force (17961)
61-0270, Boeing KC-135E Stratotanker, AMARG (940th ARW), United States Air Force (18177)
57-2593, Boeing KC-135R Stratotanker, AMARG (121st ARW/Ohio ANG), United States Air Force (17729)
58-0008, Boeing KC-135R Stratotanker, AMARG (133rd ARS/157th OG/New Hampshire ANG), United States Air Force (17753)
58-0114, Boeing KC-135R Stratotanker, AMARG (151st ARW/Utah ANG), United States Air Force (17859)
58-0130, Boeing KC-135R Stratotanker, AMARG (126th ARS/128th ARW/Wisconsin ANG), United States Air Force (17875)
60-0321, Boeing KC-135R Stratotanker, AMARG (336th ARS/452nd AMW), United States Air Force (18096/T0441)
61-0302/HH, Boeing KC-135R Stratotanker, AMARG (203rd ARS/154th OG/Hawaii ANG), United States Air Force (18209)
61-0304, Boeing KC-135R Stratotanker, AMARG (92nd ARW), United States Air Force (18211)
61-0306/D, Boeing KC-135R Stratotanker, AMARG (351st ARS/100th ARW), United States Air Force (18213)
61-0312, Boeing KC-135R Stratotanker, AMARG (97th AMW), United States Air Force (18219)
62-3504, Boeing KC-135R Stratotanker, AMARG (134th ARW/Tennessee ANG), United States Air Force (18487)
62-3520, Boeing KC-135R Stratotanker, AMARG (133rd ARS/157th OG/New Hampshire ANG), United States Air Force (18503)
62-3546/HH, Boeing KC-135R Stratotanker, AMARG (203rd ARS/154th OG/Hawaii ANG), United States Air Force (18529)
62-3548/ZZ, Boeing KC-135R Stratotanker, AMARG (909th ARS/18th Wing), United States Air Force ( 18531/T0599)
63-8037, Boeing KC-135R Stratotanker, AMARG (22nd ARW), United States Air Force (18654)
61-2670/OF, Boeing OC-135B Stratotanker, AMARG (45th RS/55th Wing), United States Air Force ( 18346/C3026)
61-2665/OF, Boeing WC-135B Stratotanker, AMARG (55th Wing), United States Air Force (18341)
161096, Grumman E-2C Hawkeye, AMARG (NAD North Island), United States Navy (A60)
161228/NJ-321, Grumman E-2C Hawkeye, AMARG (VAW-110), United States Navy (A68)
161345, Grumman E-2C Hawkeye, AMARG (NAWCAD), United States Navy (A78)
161346/02, Grumman E-2C Hawkeye, AMARG (VAW-77), United States Navy (A79)
161783/AF-00, Grumman E-2C Hawkeye, AMARG (VAW-77), United States Navy (unknown)
161785/AD-600, Grumman E-2C Hawkeye, AMARG (VAW-120), United States Navy (unknown)
162616, Grumman E-2C Hawkeye, AMARG (VAW-126), United States Navy (unknown)
162797/AJ-603, Grumman E-2C Hawkeye, AMARG (VAW-124), United States Navy (unknown)
162800/AD-606, Grumman E-2C Hawkeye, AMARG (VAW-120), United States Navy (unknown)
162801/AD-602, Grumman E-2C Hawkeye, AMARG (VAW-120), United States Navy (unknown)
162802/AF-602, Grumman E-2C Hawkeye, AMARG (VAW-78), United States Navy (unknown)
163024/AC-601, Grumman E-2C Hawkeye, AMARG (VAW-126), United States Navy (A52-117)
163028/AF-604, Grumman E-2C Hawkeye, AMARG (VAW-78), United States Navy (A52-121)
163693/AB-600, Grumman E-2C Hawkeye, AMARG (VAW-123), United States Navy (A52-133)
163695/AF-603, Grumman E-2C Hawkeye, AMARG (VAW-77), United States Navy (A52-135)
163696/602, Grumman E-2C Hawkeye, AMARG (NSAWC), United States Navy (A52-136)
163850/AF-600, Grumman E-2C Hawkeye, AMARG (VAW-77), United States Navy (A52-131)
164108/601, Grumman E-2C Hawkeye, AMARG (NSAWC), United States Navy (A52-140)
164487/645, Grumman E-2C Hawkeye, AMARG (VAW-120), United States Navy (A153)
164497/642, Grumman E-2C+ Hawkeye, AMARG (VAW-120), United States Navy (A163)
164110/660, Grumman TE-2C Hawkeye, AMARG (VAW-120), United States Navy (A52-142)
163490/NH-301, McDonnell Douglas F/A-18C Hornet, AMARG (VFA-146), United States Navy (725/C047)
163751/407, McDonnell Douglas F/A-18C Hornet, AMARG (VFA-81), United States Navy (826/C109)
163777, McDonnell Douglas F/A-18C Hornet, AMARG (VFA-146), United States Navy (859/C133)
163769/406, McDonnell Douglas F/A-18C Hornet, AMARG (VFA-81), United States Navy (849/C126)
148887, Lockheed EP-3E Orion, AMARG (NAD Jacksonville), United States Navy (5005)
152756, Lockheed P-3B Orion, AMARG (VP-66), United States Navy (5198)
153417, Lockheed P-3B Orion, AMARG (VP-94), United States Navy (5214)
153435, Lockheed P-3B Orion, AMARG (VP-66), United States Navy (5232)
158225/225, Lockheed P-3C AIP Orion, AMARG (VP-30), United States Navy (5570)
159320/320, Lockheed P-3C AIP Orion, AMARG (VP-30), United States Navy (5610)
159322/RD-322, Lockheed P-3C AIP Orion, AMARG (VP-47), United States Navy (5612)
159507/PD-507, Lockheed P-3C AIP Orion, AMARG (VP-9), United States Navy (5625)
161333/333, Lockheed P-3C AIP Orion, AMARG (VP-62), United States Navy (5730)
162316/316, Lockheed P-3C AIP Orion, AMARG (VP-69), United States Navy (5790)
163292/292, Lockheed P-3C AIP Orion, AMARG (VP-69), United States Navy (5821)
159885/885, Lockheed P-3C AIP+ Orion, AMARG (VP-46), United States Navy (5636)
161127/127, Lockheed P-3C BMUP Orion, AMARG (VP-62), United States Navy (5710)
161329/LT-329, Lockheed P-3C BMUP Orion, AMARG (VP-62), United States Navy (5726)
158206/JQ-21, Lockheed P-3C Orion, AMARG (VP-1), United States Navy (5550)
161591/44-P-4, Lockheed P-3C-CDU Orion, AMARG (VP-30), United States Navy (5764)
160762/762, Lockheed P-3C-II Orion, AMARG (VP-47), United States Navy (5667)
161005/005, Lockheed P-3C-II Orion, AMARG (VP-30), United States Navy (5687)
161010/LL-010, Lockheed P-3C-II Orion, AMARG (VP-30), United States Navy (5694)
156521/LL-521, Lockheed P-3C-IIIR Orion, AMARG (VP-30), United States Navy (5515)
158214/LL-214, Lockheed P-3C-IIIR Orion, AMARG (VP-30), United States Navy (5559)
158915/915, Lockheed P-3C-IIIR Orion, AMARG (VP-10), United States Navy (5587)
158918/918, Lockheed P-3C-IIIR Orion, AMARG (VP-1), United States Navy (5590)
158921/921, Lockheed P-3C-IIIR Orion, AMARG (VP-1), United States Navy (5593)
158924/RD-924, Lockheed P-3C-IIIR Orion, AMARG (VP-1), United States Navy (5596)
158925/925, Lockheed P-3C-IIIR Orion, AMARG (VP-30), United States Navy (5597)
158927/927, Lockheed P-3C-IIIR Orion, AMARG (VP-10), United States Navy (5599)
158929/LL-929, Lockheed P-3C-IIIR Orion, AMARG (VP-30), United States Navy (5601)
159889/889, Lockheed P-3C-IIIR Orion, AMARG (VP-4), United States Navy (5640)
158928, Lockheed P-3SPA Orion, AMARG (VPU-2), United States Navy (5600)
163854/KD-27, McDonnell Douglas AV-8B Harrier II, AMARG (VMAT-203), United States Marine Corps (168)
163864/KD-34, McDonnell Douglas AV-8B Harrier II, AMARG (VMAT-203), United States Marine Corps (172)
163874/WP-21, McDonnell Douglas AV-8B Harrier II, AMARG (VMA-223), United States Marine Corps (182)
163879/KD-24, McDonnell Douglas AV-8B Harrier II, AMARG (VMAT-203), United States Marine Corps (187)
163880/KD-28, McDonnell Douglas AV-8B Harrier II, AMARG (VMAT-203), United States Marine Corps (188)
163881/KD-35, McDonnell Douglas AV-8B Harrier II, AMARG (VMAT-203), United States Marine Corps (189)
163883/WE-20, McDonnell Douglas AV-8B Harrier II, AMARG (VMA-214), United States Marine Corps (191)
164117/WE-25, McDonnell Douglas AV-8B Harrier II, AMARG (VMA-214), United States Marine Corps (194)
164121/KD-33, McDonnell Douglas AV-8B Harrier II, AMARG (VMAT-203), United States Marine Corps (198)
164128/WL-21, McDonnell Douglas AV-8B Harrier II, AMARG (VMA-311), United States Marine Corps (204)
164141/KD-31, McDonnell Douglas AV-8B Harrier II, AMARG (VMAT-203), United States Marine Corps (214)
165382/WE-12, McDonnell Douglas AV-8B+(R) Harrier II, AMARG (VMA-214), United States Marine Corps (277)
165398/WE-14, McDonnell Douglas AV-8B+(R) Harrier II, AMARG (VMA-214), United States Marine Corps (288)
165420/WE-10, McDonnell Douglas AV-8B+(R) Harrier II, AMARG (VMA-214), United States Marine Corps (292)
165583/WE-07, McDonnell Douglas AV-8B+(R) Harrier II, AMARG (VMA-214), United States Marine Corps (320)
163180/KD-03, McDonnell Douglas TAV-8B Harrier II, AMARG (VMAT-203), United States Marine Corps (212204/T04)
163207/KD-02, McDonnell Douglas TAV-8B Harrier II, AMARG (VMAT-203), United States Marine Corps ( 212208/T9)
163860/KD-16, McDonnell Douglas TAV-8B Harrier II, AMARG (VMAT-203), United States Marine Corps (T14)
ZD411/40A, BAe Harrier GR.7A, AMARG, Royal Air Force (P40)
ZD431/43A, BAe Harrier GR.7A, AMARG (4(R) Sqn), Royal Air Force (P43)
ZD320, BAe Harrier GR.9, AMARG, Royal Air Force (512043/P1)
ZD320, BAe Harrier GR.9, AMARG, Royal Air Force (512043/P1)
ZD327, BAe Harrier GR.9, AMARG, Royal Air Force (512115/P8)
ZD328, BAe Harrier GR.9, AMARG (41 Sqn), Royal Air Force (512116/P9)
ZD330, BAe Harrier GR.9, AMARG (4(R) Sqn), Royal Air Force (P11)
ZD352/19, BAe Harrier GR.9, AMARG (4(R) Sqn), Royal Air Force (P19)
ZD354, BAe Harrier GR.9, AMARG (1 Sqn), Royal Air Force (P21)
ZD375/23, BAe Harrier GR.9, AMARG (4(R) Sqn), Royal Air Force (P23)
ZD379/27, BAe Harrier GR.9, AMARG (1 Sqn), Royal Air Force (P27)
ZD401/30, BAe Harrier GR.9, AMARG (4(R) Sqn), Royal Air Force (P30)
ZD402/31, BAe Harrier GR.9, AMARG (1 Sqn), Royal Air Force (P31)
ZD403/32, BAe Harrier GR.9, AMARG (1 Sqn), Royal Air Force (P32)
ZD405/34, BAe Harrier GR.9, AMARG, Royal Air Force (P34)
ZD406, BAe Harrier GR.9, AMARG, Royal Air Force (P35)
ZD409/38, BAe Harrier GR.9, AMARG, Royal Air Force (P38)
ZD410, BAe Harrier GR.9, AMARG (4(R) Sqn), Royal Air Force (P39)
ZD435/47, BAe Harrier GR.9, AMARG, Royal Air Force (P47)
ZD437/49, BAe Harrier GR.9, AMARG, Royal Air Force (P49)
ZD438/50, BAe Harrier GR.9, AMARG, Royal Air Force (P50)
ZD463/53, BAe Harrier GR.9, AMARG (20 Sqn), Royal Air Force (P53)
ZD466/55, BAe Harrier GR.9, AMARG, Royal Air Force (P56)
ZD468/58, BAe Harrier GR.9, AMARG (1 Sqn), Royal Air Force (P58)
ZG474/64, BAe Harrier GR.9, AMARG, Royal Air Force (P64)
ZG480/70, BAe Harrier GR.9, AMARG, Royal Air Force (P70)
ZG500/71, BAe Harrier GR.9, AMARG, Royal Air Force (P71)
ZG501/72, BAe Harrier GR.9, AMARG, Royal Air Force (P72)
ZG502/73, BAe Harrier GR.9, AMARG, Royal Air Force (P73)
ZG508/79, BAe Harrier GR.9, AMARG, Royal Air Force (P79)
ZG530/84, BAe Harrier GR.9, AMARG, Royal Air Force (P84)
ZG531/85, BAe Harrier GR.9, AMARG, Royal Air Force (P85)
ZG857/EB-Z, BAe Harrier GR.9, AMARG (1 Sqn), Royal Air Force (P89)
ZG858, BAe Harrier GR.9, AMARG (4(R) Sqn), Royal Air Force (P90)
ZG862/94, BAe Harrier GR.9, AMARG, Royal Air Force (P94)
ZD329, BAe Harrier GR.9A, AMARG, Royal Air Force (P10)
ZD346/13A, BAe Harrier GR.9A, AMARG (1 Sqn), Royal Air Force (P13)
ZD347/14A, BAe Harrier GR.9A, AMARG, Royal Air Force (P14)
ZD348/15A, BAe Harrier GR.9A, AMARG, Royal Air Force (P15)
ZD351, BAe Harrier GR.9A, AMARG, Royal Air Force (P18)
ZD378/26A, BAe Harrier GR.9A, AMARG (1 Sqn), Royal Air Force (P26)
ZD436/48A, BAe Harrier GR.9A, AMARG (1 Sqn), Royal Air Force (P48)
ZD467/57A, BAe Harrier GR.9A, AMARG (1 Sqn), Royal Air Force (P57)
ZG472/62, BAe Harrier GR.9A, AMARG, Royal Air Force (P62)
ZG479/69A, BAe Harrier GR.9A, AMARG (1 Sqn), Royal Air Force (P69)
ZG504/75A, BAe Harrier GR.9A, AMARG, Royal Air Force (P75)
ZG505, BAe Harrier GR.9A, AMARG (1 Sqn), Royal Air Force (P76)
ZG506/77A, BAe Harrier GR.9A, AMARG, Royal Air Force (P77)
ZG859/91A, BAe Harrier GR.9A, AMARG (4(R) Sqn), Royal Air Force (P91)
ZG860, BAe Harrier GR.9A, AMARG (MOD/QinetiQ), Royal Air Force (P92)
ZH662/110, BAe Harrier T.10, AMARG (20 Sqn), Royal Air Force (TX010)
ZH657/105, BAe Harrier T.12, AMARG (4(R) Sqn), Royal Air Force (TX005)
ZH659/107, BAe Harrier T.12, AMARG (4(R) Sqn), Royal Air Force (TX007)
ZH660/108, BAe Harrier T.12, AMARG, Royal Air Force (TX008)
ZH661/109, BAe Harrier T.12, AMARG, Royal Air Force (TX009)
ZH663/111, BAe Harrier T.12, AMARG (1 Sqn), Royal Air Force (TX011)
ZH664/112, BAe Harrier T.12, AMARG (4(R) Sqn), Royal Air Force (TX012)
ZH665/113, BAe Harrier T.12A, AMARG (4(R) Sqn), Royal Air Force (TX013)
140120, Lockheed CP-140A Arcturus, AMARG (14 Wing), Royal Canadian Air Force (5829)
140121, Lockheed CP-140A Arcturus, AMARG (14 Wing), Royal Canadian Air Force (5830)
LX-N90455, Boeing E-3A Sentry, AMARG (NAEWF), NATO (22850)
LX-N90458, Boeing E-3A Sentry, AMARG (NAEWF), NATO (22853)
AMARG storage area 24:
146447/GD-101XO, Douglas ERA-3B Skywarrior, AMARG (VAQ-33), United States Navy (12399)
84-0050, Rockwell B-1B Lancer, AMARG (9th BS/7th BW), United States Air Force (10)
84-0053/DY, Rockwell B-1B Lancer, AMARG (13th BS/7th BW), United States Air Force (13)
84-0054, Rockwell B-1B Lancer, AMARG (7th BW), United States Air Force (14)
84-0055/DY, Rockwell B-1B Lancer, AMARG (28th BS/7th BW), United States Air Force (15)
84-0058/DY, Rockwell B-1B Lancer, AMARG (9th BS/7th BW), United States Air Force (18)
85-0062/DY, Rockwell B-1B Lancer, AMARG (9th BS/7th BW), United States Air Force (22)
85-0065/DY, Rockwell B-1B Lancer, AMARG (28h BS/7th BW), United States Air Force (25)
85-0067/DY, Rockwell B-1B Lancer, AMARG (419th FLTS/412th TW), United States Air Force (27)
85-0070/EL, Rockwell B-1B Lancer, AMARG (77th BS/28th BW), United States Air Force (30)
85-0071/GA, Rockwell B-1B Lancer, AMARG (128th BS/116th OG/Georgia ANG), United States Air Force (31)
85-0086/EL, Rockwell B-1B Lancer, AMARG (37th BS/28th BW), United States Air Force (46)
86-0096/EL, Rockwell B-1B Lancer, AMARG (37th BS/28th BW), United States Air Force (56)
86-0100/DY, Rockwell B-1B Lancer, AMARG (28h BS/7th BW), United States Air Force (60)
86-0128/EL, Rockwell B-1B Lancer, AMARG (28th BW), United States Air Force (88)
86-0130/EL, Rockwell B-1B Lancer, AMARG (37th BS/28th BW), United States Air Force (90)
86-0131/EL, Rockwell B-1B Lancer, AMARG (77th BS/28th BW), United States Air Force (91)
85-0083/EL, Rockwell B-1B Lancer, AMARG (34th BS/28th BW), United States Air Force (43)
85-0087/DY, Rockwell B-1B Lancer, AMARG (9th BS/7th BW), United States Air Force (47)
86-0093/EL, Rockwell B-1B Lancer, AMARG (37th BS/28th BW), United States Air Force (53)
86-0118/EL, Rockwell B-1B Lancer, AMARG (37th BS/28th BW), United States Air Force (78)
86-0123/DY, Rockwell B-1B Lancer, AMARG (9th BS/7th BW), United States Air Force (83)
86-0132/DY, Rockwell B-1B Lancer, AMARG (28h BS/7th BW), United States Air Force (92)
86-0133/DY, Rockwell B-1B Lancer, AMARG (28h BS/7th BW), United States Air Force (93)
57-6473/CA, Boeing B-52G Stratofortress, AMARG (93rd BW), United States Air Force (464178)
57-6477, Boeing B-52G Stratofortress, AMARG (93rd BW), United States Air Force (464182)
57-6480, Boeing B-52G Stratofortress, AMARG (2nd BW), United States Air Force (464185)
57-6485, Boeing B-52G Stratofortress, AMARG (2nd BW), United States Air Force (464190)
57-6486, Boeing B-52G Stratofortress, AMARG (93rd BW), United States Air Force (464191)
57-6491, Boeing B-52G Stratofortress, AMARG (2nd BW), United States Air Force (464196)
57-6510, Boeing B-52G Stratofortress, AMARG (93rd BW), United States Air Force (464215)
57-6512, Boeing B-52G Stratofortress, AMARG (93rd BW), United States Air Force (464217)
57-6514, Boeing B-52G Stratofortress, AMARG (93rd BW), United States Air Force (464219)
57-6516, Boeing B-52G Stratofortress, AMARG (416thBW), United States Air Force (464221)
58-0159, Boeing B-52G Stratofortress, AMARG (379th BW), United States Air Force (464227)
58-0167, Boeing B-52G Stratofortress, AMARG (93rd BW), United States Air Force (464235)
58-0171, Boeing B-52G Stratofortress, AMARG (2nd BW), United States Air Force (464239)
58-0175, Boeing B-52G Stratofortress, AMARG (379th BW), United States Air Force (464243)
58-0182, Boeing B-52G Stratofortress, AMARG (379th BW), United States Air Force (464250)
58-0184, Boeing B-52G Stratofortress, AMARG (2nd BW), United States Air Force (464252)
58-0199, Boeing B-52G Stratofortress, AMARG (93rd BW), United States Air Force (464267)
58-0204, Boeing B-52G Stratofortress, AMARG (379th BW), United States Air Force (464272)
58-0217, Boeing B-52G Stratofortress, AMARG (379th BW), United States Air Force (464285)
58-0224, Boeing B-52G Stratofortress, AMARG (43rd SW), United States Air Force (464292)
58-0227, Boeing B-52G Stratofortress, AMARG (2nd BW), United States Air Force (464295)
58-0237, Boeing B-52G Stratofortress, AMARG (379th BW), United States Air Force (464305)
58-0238, Boeing B-52G Stratofortress, AMARG (2nd BW), United States Air Force (464306)
58-0247, Boeing B-52G Stratofortress, AMARG (379th BW), United States Air Force (464315)
59-2568, Boeing B-52G Stratofortress, AMARG (379th BW), United States Air Force (464331)
148148/RW-30, Grumman C-2A Greyhound, AMARG (VRC-30), United States Navy (2)
152790/423, Grumman C-2A Greyhound, AMARG (VRC-50), United States Navy (7)
152791/RW-32, Grumman C-2A Greyhound, AMARG (VRC-30), United States Navy (8)
152794/RW-33, Grumman C-2A Greyhound, AMARG (VRC-30), United States Navy (11)
162151, Grumman C-2A Greyhound, AMARG (VRC-40), United States Navy (31)
68-0211, Lockheed C-5A Galaxy, AMARG (167th AW/West Virginia ANG), United States Air Force (500-14)
68-0215, Lockheed C-5A Galaxy, AMARG (164th AW/Tennessee ANG), United States Air Force (500-18)
68-0217, Lockheed C-5A Galaxy, AMARG (167th AW/West Virginia ANG), United States Air Force (500-20)
68-0225, Lockheed C-5A Galaxy, AMARG (167th AW/West Virginia ANG), United States Air Force (500-28)
69-0003, Lockheed C-5A Galaxy, AMARG (445th AW), United States Air Force (500-34)
69-0008, Lockheed C-5A Galaxy, AMARG (137th AS/105th AW/New York ANG), United States Air Force (500-38)
69-0011, Lockheed C-5A Galaxy, AMARG (164th AW/Tennessee ANG), United States Air Force (500-42)
69-0015, Lockheed C-5A Galaxy, AMARG (164th AW/Tennessee ANG), United States Air Force (500-46)
69-0017, Lockheed C-5A Galaxy, AMARG (164th AW/Tennessee ANG), United States Air Force (500-48)
69-0019, Lockheed C-5A Galaxy, AMARG (164th AW/Tennessee ANG), United States Air Force (500-50)
69-0026, Lockheed C-5A Galaxy, AMARG (164th AW/Tennessee ANG), United States Air Force (500-57)
69-0027, Lockheed C-5A Galaxy, AMARG (167th AW/West Virginia ANG), United States Air Force (500-58)
70-0446, Lockheed C-5A Galaxy, AMARG (445th AW), United States Air Force (500-60)
70-0447, Lockheed C-5A Galaxy, AMARG (445th AW), United States Air Force (500-61)
70-0449, Lockheed C-5A Galaxy, AMARG (164th AW/Tennessee ANG), United States Air Force (500-63)
70-0453, Lockheed C-5A Galaxy, AMARG (445th AW), United States Air Force (500-67)
70-0454, Lockheed C-5A Galaxy, AMARG (164th AW/Tennessee ANG), United States Air Force (500-68)
70-0455, Lockheed C-5A Galaxy, AMARG (167th AW/West Virginia ANG), United States Air Force (500-69)
70-0457, Lockheed C-5A Galaxy, AMARG (445th AW), United States Air Force (500-71)
70-0459, Lockheed C-5A Galaxy, AMARG (167th AW/West Virginia ANG), United States Air Force (500-73)
70-0462, Lockheed C-5A Galaxy, AMARG (167th AW/West Virginia ANG), United States Air Force (500-76)
70-0465, Lockheed C-5A Galaxy, AMARG (164th AW/Tennessee ANG), United States Air Force (500-79)
70-0466, Lockheed C-5A Galaxy, AMARG (445th AW), United States Air Force (500-80)
70-0467, Lockheed C-5A Galaxy, AMARG (164th AW/Tennessee ANG), United States Air Force (500-81)
63-7814/FT, Lockheed C-130E Hercules, AMARG (71st RQS/23rd Wing), United States Air Force (3888)
86-1395, Lockheed C-130H Hercules, AMARG (154th TS/189th AW/Arkansas ANG), United States Air Force (5101)
89-9101, Lockheed C-130H-2 Hercules, AMARG (154th TS/189th AW/Arkansas ANG), United States Air Force (5216)
91-1239, Lockheed C-130H-2½ Hercules, AMARG (154th TS/189th AW/Arkansas ANG), United States Air Force (5289)
91-1651, Lockheed C-130H-2½ Hercules, AMARG (154th TS/189th AW/Arkansas ANG), United States Air Force (5290)
69-5833, Lockheed HC-130N Hercules, AMARG (920th RQW), United States Air Force (4382)
62-1863/FT, Lockheed HC-130P Hercules, AMARG (71st RQS/23rd Wing), United States Air Force (3827)
64-14860/FT, Lockheed HC-130P Hercules, AMARG (71st RQS/23rd Wing), United States Air Force (4084)
64-14864/FL, Lockheed HC-130P Hercules, AMARG (920th RQW), United States Air Force (4097)
64-14865, Lockheed HC-130P Hercules, AMARG (550th SOS/58th SOW), United States Air Force (4098)
65-0976/FL, Lockheed HC-130P Hercules, AMARG (920th RQW), United States Air Force (4126)
149789/QD-789, Lockheed KC-130F Hercules, AMARG (VMGR-152), United States Marine Corps (3644)
160240/QD-240, Lockheed KC-130R Hercules, AMARG (VMGR-152), United States Marine Corps (4712)
160626/626, Lockheed KC-130R Hercules, AMARG (VX-30), United States Navy (4770)
162785/QH-785, Lockheed KC-130T Hercules, AMARG (VMGR-234), United States Marine Corps (5009)
65-0993, Lockheed MC-130P Hercules, AMARG (9th SOS/1st SOW), United States Air Force (4156)
66-0215, Lockheed MC-130P Hercules, AMARG (9th SOS/1st SOW), United States Air Force (4165)
66-0217, Lockheed MC-130P Hercules, AMARG (9th SOS/1st SOW), United States Air Force (4173)
66-0220, Lockheed MC-130P Hercules, AMARG (17th SOS/353rd SOG), United States Air Force (4179)
66-0225, Lockheed MC-130P Hercules, AMARG (17th SOS/353rd SOG), United States Air Force (4187)
69-5819, Lockheed MC-130P Hercules, AMARG (9th SOS/1st SOW), United States Air Force (4363)
69-5820, Lockheed MC-130P Hercules, AMARG (9th SOS/1st SOW), United States Air Force (4367)
69-5826, Lockheed MC-130P Hercules, AMARG (17th SOS/353rd SOG), United States Air Force (4375)
69-5831, Lockheed MC-130P Hercules, AMARG (17th SOS/353rd SOG), United States Air Force (4380)
87-0024, Lockheed MC-130H Combat Talon II, AMARG (1st SOS/353rd SOG), United States Air Force (5092)
72-1163/HO, McDonnell F-4F Phantom II, AMARG (20th FS/49th FW), United States Air Force (4479)
72-1170/HO, McDonnell F-4F Phantom II, AMARG (20th FS/49th FW), United States Air Force (4496)
72-1176/HO, McDonnell F-4F Phantom II, AMARG (20th FS/49th FW), United States Air Force (4509)
72-1177/HO, McDonnell F-4F Phantom II, AMARG (20th FS/49th FW), United States Air Force (4512)
72-1200/HO, McDonnell F-4F Phantom II, AMARG (20th FS/49th FW), United States Air Force (4577)
72-1231/HO, McDonnell F-4F Phantom II, AMARG (20th FS/49th FW), United States Air Force (4667)
72-1257/HO, McDonnell F-4F Phantom II, AMARG (20th FS/49th FW), United States Air Force (4744)
160378/220, Grumman NF-14A Tomcat, AMARG (NWTSPM), United States Navy (H-80)
75-0043, McDonnell Douglas F-15A Eagle, AMARG (159th FS/125th OG/Florida ANG), United States Air Force (142/A123)
76-0072, McDonnell Douglas F-15A Eagle, AMARG (159th FS/125th OG/Florida ANG), United States Air Force (260/A224)
77-0066/JZ, McDonnell Douglas F-15A Eagle, AMARG (122nd FS/159th FW/Louisiana ANG), United States Air Force (338/A278)
77-0112/JZ, McDonnell Douglas F-15A Eagle, AMARG (122nd FS/159th FW/Louisiana ANG), United States Air Force (397/A324)
77-0134/JZ, McDonnell Douglas F-15A Eagle, AMARG (122nd FS/159th FW/Louisiana ANG), United States Air Force (423/A346)
76-0125, McDonnell Douglas F-15B Eagle, AMARG (159th FS/125th OG/Florida ANG), United States Air Force (187/B027)
78-0507/JZ, McDonnell Douglas F-15C Eagle, AMARG (122nd FS/159th FW/Louisiana ANG), United States Air Force (492/C040)
78-0513, McDonnell Douglas F-15C Eagle, AMARG (186th FS/120th OG/Montana ANG), United States Air Force (499/C046)
78-0533, McDonnell Douglas F-15C Eagle, AMARG (186th FS/120th OG/Montana ANG), United States Air Force (522/C066)
78-0542/TY, McDonnell Douglas F-15C Eagle, AMARG (95th FS/325th FW), United States Air Force (533/C075)
79-0036/JZ, McDonnell Douglas F-15C Eagle, AMARG (122nd FS/159th FW/Louisiana ANG), United States Air Force (573/C105)
79-0053, McDonnell Douglas F-15C Eagle, AMARG (186th FS/120th OG/Montana ANG), United States Air Force (597/C122)
79-0072/TY, McDonnell Douglas F-15C Eagle, AMARG (95th FS/325th FW), United States Air Force (620/C141)
80-0021, McDonnell Douglas F-15C Eagle, AMARG (114th FS/173d FW/Oregon ANG), United States Air Force ( 663/C170)
80-0028, McDonnell Douglas F-15C Eagle, AMARG (123rd FS/142nd FW/Oregon ANG), United States Air Force (676/C177)
80-0040, McDonnell Douglas F-15C Eagle, AMARG (114th FS/173d FW/Oregon ANG), United States Air Force (701/C189)
80-0043/HH, McDonnell Douglas F-15C Eagle, AMARG (199th FS/154th OG/Hawaii ANG), United States Air Force (708/C192)
81-0046/TY, McDonnell Douglas F-15C Eagle, AMARG (95th FS/325th FW), United States Air Force (797/C229)
82-0011, McDonnell Douglas F-15C Eagle, AMARG (186th FS/120th OG/Montana ANG), United States Air Force (823/C242)
84-0006/TY, McDonnell Douglas F-15C Eagle, AMARG (95th FS/325th FW), United States Air Force (914/C309)
162401, McDonnell Douglas F/A-18A Hornet, AMARG (VMFA-134), United States Marine Corps (229/A182)
162406/MA-01, McDonnell Douglas F/A-18A Hornet, AMARG (VMFA-112), United States Marine Corps (236/A187)
162407/AF-304, McDonnell Douglas F/A-18A Hornet, AMARG (VFA-203), United States Navy (238/A189)
162420/10A, McDonnell Douglas F/A-18A Hornet, AMARG (NSWC), United States Navy (257/A205)
162424/AD-01, McDonnell Douglas F/A-18A Hornet, AMARG (VF-45), United States Navy (262/A209)
162425/12, McDonnell Douglas F/A-18A Hornet, AMARG (NSWC), United States Navy (264/A211)
162457, McDonnell Douglas F/A-18A Hornet, AMARG (VMFA-134), United States Marine Corps (309/A254)
162463, McDonnell Douglas F/A-18A Hornet, AMARG (VMFA-134), United States Marine Corps (317/A262)
162466/VW-05, McDonnell Douglas F/A-18A Hornet, AMARG (VMFA-314), United States Marine Corps (294/A239 )
162468/MG-07, McDonnell Douglas F/A-18A Hornet, AMARG (VMFA-321), United States Marine Corps (324/A268)
162830/35, McDonnell Douglas F/A-18A Hornet, AMARG (NSAWC), United States Navy (346/A289)
162835/43, McDonnell Douglas F/A-18A Hornet, AMARG (NSAWC), United States Navy (354/A296)
162856/AF-410, McDonnell Douglas F/A-18A Hornet, AMARG (VFA-204), United States Navy (387/A324)
162860/41, McDonnell Douglas F/A-18A Hornet, AMARG (NSAWC), United States Navy (393/A328)
162879/42, McDonnell Douglas F/A-18A Hornet, AMARG (NSAWC), United States Navy (424/A350)
162896/32, McDonnell Douglas F/A-18A Hornet, AMARG (NSAWC), United States Navy (450/A369)
162905/AF-405, McDonnell Douglas F/A-18A Hornet, AMARG (VFA-204), United States Navy (466/A383)
163095/36, McDonnell Douglas F/A-18A Hornet, AMARG (NSAWC), United States Navy (478/A394 )
163111/AF-302, McDonnell Douglas F/A-18A Hornet, AMARG (VFA-203), United States Navy (504/A416)
163113/AF-01, McDonnell Douglas F/A-18A Hornet, AMARG (VFC-12), United States Navy (507/A419)
163118, McDonnell Douglas F/A-18A Hornet, AMARG (VFA-204), United States Navy (516/A427)
163127/MG-02, McDonnell Douglas F/A-18A Hornet, AMARG (VMFA-321), United States Marine Corps (534/A443)
163154/AB, McDonnell Douglas F/A-18A Hornet, AMARG (VMFA-312), United States Marine Corps (580/A487)
163160/DC-01, McDonnell Douglas F/A-18A Hornet, AMARG (VMFA-122), United States Marine Corps (590/A497)
163174/VE-01, McDonnell Douglas F/A-18A Hornet, AMARG (VMFA-115), United States Marine Corps (617/A522)
162429/VE-208, McDonnell Douglas F/A-18A+ Hornet, AMARG (VMFA-115), United States Marine Corps (270/A216)
162841/AF-07, McDonnell Douglas F/A-18A+ Hornet, AMARG (VFC-12), United States Navy (363/A304)
162862/AF-411, McDonnell Douglas F/A-18A+ Hornet, AMARG (VFA-204), United States Navy (397/A331)
162873/AF-400, McDonnell Douglas F/A-18A+ Hornet, AMARG (VFA-204), United States Navy (414/A344)
163149/AF-14, McDonnell Douglas F/A-18A+ Hornet, AMARG (VFC-12), United States Navy (571/A478)
162400/VE-05, McDonnell Douglas F/A-18A++ Hornet, AMARG (VMFA-115), United States Marine Corps (227/A180)
162409/MA-09, McDonnell Douglas F/A-18A++ Hornet, AMARG (VMFA-112), United States Marine Corps (241/A191)
162431/VW-09, McDonnell Douglas F/A-18A++ Hornet, AMARG (VMFA-314), United States Marine Corps (273/A219)
162433/VW-06, McDonnell Douglas F/A-18A++ Hornet, AMARG (VMFA-314), United States Marine Corps (276/A222)
162442/VW-01, McDonnell Douglas F/A-18A++ Hornet, AMARG (VMFA-314), United States Marine Corps (288/A233/0189)
162469/MA-06, McDonnell Douglas F/A-18A++ Hornet, AMARG (VMFA-112), United States Marine Corps (325/A269)
162848/MA-01, McDonnell Douglas F/A-18A++ Hornet, AMARG (VMFA-112), United States Marine Corps (374/A313)
162893/VE-202, McDonnell Douglas F/A-18A++ Hornet, AMARG (VMFA-115), United States Marine Corps (420/A348)
163166/VE-12, McDonnell Douglas F/A-18A++ Hornet, AMARG (VMFA-115), United States Marine Corps (602/A509)
162419/7, McDonnell Douglas F/A-18B Hornet, AMARG (Blue Angels), United States Navy (256/B051)
162850/SH-216, McDonnell Douglas F/A-18B Hornet, AMARG (VMFAT-101), United States Marine Corps (378/B061)
162876/MA-21, McDonnell Douglas F/A-18B Hornet, AMARG (VMFA-112), United States Marine Corps (419/B071)
163104/SH-212, McDonnell Douglas F/A-18B Hornet, AMARG (VMFAT-101), United States Marine Corps (493/B085)
163110/AD-420, McDonnell Douglas F/A-18B Hornet, AMARG (VFA-106), United States Navy (503/B087)
163462/2, McDonnell Douglas F/A-18C Hornet, AMARG (Blue Angels), United States Navy ( 683/C027)
163465/AD-336, McDonnell Douglas F/A-18C Hornet, AMARG (VFA-106), United States Navy (686/C029)
163481/AD-320, McDonnell Douglas F/A-18C Hornet, AMARG (VFA-106), United States Navy (712/C041)
163499/AD-307, McDonnell Douglas F/A-18C Hornet, AMARG (VFA-106), United States Navy (739/C054)
163505/SH-225, McDonnell Douglas F/A-18C Hornet, AMARG (VMFAT-101), United States Navy (749/C058)
163699/NH-313, McDonnell Douglas F/A-18C Hornet, AMARG (VFA-146), United States Navy (758/C062)
163716, McDonnell Douglas F/A-18C Hornet, AMARG (VFA-122), United States Navy (779/C077)
163718/31, McDonnell Douglas F/A-18C Hornet, AMARG (NAWDC), United States Navy (784/C079)
163733/AD-325, McDonnell Douglas F/A-18C Hornet, AMARG (VFA-106), United States Navy (803/C093)
163741/5, McDonnell Douglas F/A-18C Hornet, AMARG (Blue Angels), United States Navy (812/C100)
163742/NH-307, McDonnell Douglas F/A-18C Hornet, AMARG (VFA-146), United States Navy (813/C101)
163745/AD-311, McDonnell Douglas F/A-18C Hornet, AMARG (VFA-106), United States Navy (817/C104)
163776/NH-314, McDonnell Douglas F/A-18C Hornet, AMARG (VFA-146), United States Navy (858/C132)
164036/WS-406, McDonnell Douglas F/A-18C Hornet, AMARG (VMFA-323), United States Marine Corps (922/C171)
164048/33, McDonnell Douglas F/A-18C Hornet, AMARG (NAWDC), United States Navy (936/C179)
164225/AJ-301, McDonnell Douglas F/A-18C Hornet, AMARG (VFA-15), United States Navy (988/C213)
164243/AG-314, McDonnell Douglas F/A-18C Hornet, AMARG (VFA-83), United States Navy (1006/C227)
164244/AD-331, McDonnell Douglas F/A-18C Hornet, AMARG (VFA-106), United States Navy (1007/C228)
164250/AD-320, McDonnell Douglas F/A-18C Hornet, AMARG (VFA-106), United States Navy (1013/C232)
164253/AD-306, McDonnell Douglas F/A-18C Hornet, AMARG (VFA-106), United States Navy ( 1016/C235)
164629/AD-342, McDonnell Douglas F/A-18C Hornet, AMARG (VFA-106), United States Navy (1046/C258)
162445/SD-403, McDonnell Douglas NF/A-18A Hornet, AMARG (VX-23), United States Navy (293/A238)
163476/SD-400, McDonnell Douglas NF/A-18C Hornet, AMARG (VX-23), United States Navy ( 703/C037 )
N176RA, de Havilland Canada EO-5C Dash 7, AMARG (Sierra Nevada Corp), United States Army (76)
N566CC, de Havilland Canada EO-5C Dash 7, AMARG (Sierra Nevada Corp), United States Army (56)
N53993, de Havilland Canada EO-5B Dash 7, AMARG (204th MIB), United States Army (104)
AMARG storage area 25:
81-0893/OK, Boeing TC-18E, AMARG (552nd ACW), United States Air Force (19384)
81-0898/OK, Boeing TC-18E, AMARG (552nd ACW), United States Air Force (19380/525)
165342, Boeing TC-18F, AMARG (SCW-1), United States Navy (18961)
63-7897, Lockheed C-130E Hercules, AMARG (62nd AS/314th AW), United States Air Force (3968)
70-1261, Lockheed C-130E Hercules, AMARG (43rd AW), United States Air Force (4413)
64-14859, Lockheed C-130H Hercules, AMARG (661st AESS), United States Air Force (4082)
74-1690, Lockheed C-130H Hercules, AMARG (186th AS/120th AW/Montana ANG), United States Air Force (4682)
74-2133, Lockheed C-130H Hercules, AMARG (103rd AW/Connecticut ANG), United States Air Force (4730)
78-0806, Lockheed C-130H Hercules, AMARG (920th RQW), United States Air Force (4815)
78-0807, Lockheed C-130H Hercules, AMARG (911th AW), United States Air Force (4817)
78-0808, Lockheed C-130H Hercules, AMARG (911th AW), United States Air Force (4818)
78-0810, Lockheed C-130H Hercules, AMARG (911th AW), United States Air Force (4820)
78-0811, Lockheed C-130H Hercules, AMARG (920th RQW), United States Air Force (4821)
78-0813, Lockheed C-130H Hercules, AMARG (920th RQW), United States Air Force (4823)
79-0473, Lockheed C-130H Hercules, AMARG (179th AW/Ohio ANG), United States Air Force (4852)
79-0477, Lockheed C-130H Hercules, AMARG (186th AS/120th AW/Montana ANG), United States Air Force (4857)
80-0320, Lockheed C-130H Hercules, AMARG (165th AW/Georgia ANG), United States Air Force (4900)
80-0321, Lockheed C-130H Hercules, AMARG (165th AW/Georgia ANG), United States Air Force (4902)
80-0323, Lockheed C-130H Hercules, AMARG (165th AW/Georgia ANG), United States Air Force (4905)
80-0325, Lockheed C-130H Hercules, AMARG (165th AW/Georgia ANG), United States Air Force (4908)
80-0332, Lockheed C-130H Hercules, AMARG (165th AW/Georgia ANG), United States Air Force (4943)
81-0627, Lockheed C-130H Hercules, AMARG (103rd AW/Connecticut ANG), United States Air Force (4941)
82-0057, Lockheed C-130H Hercules, AMARG (109th AW/New York ANG), United States Air Force (4973)
82-0058, Lockheed C-130H Hercules, AMARG (176th Wing/Alaska AANG), United States Air Force (4975)
82-0060, Lockheed C-130H Hercules, AMARG (176th Wing/Alaska AANG), United States Air Force (4979)
83-0486, Lockheed C-130H Hercules, AMARG (179th AW/Ohio ANG), United States Air Force (5008)
84-0204, Lockheed C-130H Hercules, AMARG (154th TS/189th AW/Arkansas ANG), United States Air Force (5038)
84-0205, Lockheed C-130H Hercules, AMARG (154th TS/189th AW/Arkansas ANG), United States Air Force (5042)
85-0036, Lockheed C-130H Hercules, AMARG (357th AS/908th AW), United States Air Force (5074)
85-0038, Lockheed C-130H Hercules, AMARG (357th AS/908th AW), United States Air Force (5079)
85-0039, Lockheed C-130H Hercules, AMARG (357th AS/908th AW), United States Air Force (5080)
85-0040, Lockheed C-130H Hercules, AMARG (357th AS/908th AW), United States Air Force (5083)
85-0041, Lockheed C-130H Hercules, AMARG (357th AS/908th AW), United States Air Force (5086)
85-0042, Lockheed C-130H Hercules, AMARG (357th AS/908th AW), United States Air Force (5089)
86-0413, Lockheed C-130H Hercules, AMARG (154th TS/189th AW/Arkansas ANG), United States Air Force (5100)
86-0415, Lockheed C-130H Hercules, AMARG (154th TS/189th AW/Arkansas ANG), United States Air Force (5105)
86-1392, Lockheed C-130H Hercules, AMARG (154th TS/189th AW/Arkansas ANG), United States Air Force (5095)
86-1394, Lockheed C-130H Hercules, AMARG (154th TS/189th AW/Arkansas ANG), United States Air Force (5099)
86-1396, Lockheed C-130H Hercules, AMARG (154th TS/189th AW/Arkansas ANG), United States Air Force (5103)
86-1397, Lockheed C-130H Hercules, AMARG (154th TS/189th AW/Arkansas ANG), United States Air Force (5111)
86-1398, Lockheed C-130H Hercules, AMARG (154th TS/189th AW/Arkansas ANG), United States Air Force (5112)
78-0812, Lockheed C-130H-3 Hercules, AMARG (920th RQW), United States Air Force (4822)
1502, Lockheed HC-130H Hercules, AMARG (Clearwater), United States Coast Guard (4513)
69-5824/FL, Lockheed HC-130N Hercules, AMARG (920th RQW), United States Coast Guard (4372)
64-14852/FT, Lockheed HC-130P Hercules, AMARG (920th RQW), United States Coast Guard (4036)
64-14855/FL, Lockheed HC-130P Hercules, AMARG (920th RQW), United States Coast Guard (4055)
66-0221, Lockheed HC-130P Hercules, AMARG (920th RQW), United States Coast Guard (4183)
83-1212, Lockheed MC-130H Hercules, AMARG (15th SOS/1st SOW), United States Air Force (5004)
65-0962/DM, Lockheed TC-130H Hercules, AMARG (55th ECG), United States Air Force (4102)
64-14861, Lockheed WC-130H Hercules, AMARG (156th AW/Puerto Rico ANG), United States Air Force (4088)
63-8061, Boeing KC-135D Stratotanker, AMARG (117th ARS/190th ARW/Kansas ANG), United States Air Force (18673)
55-3145, Boeing KC-135E Stratotanker, AMARG (117th ARS/190th ARW/Kansas ANG), United States Air Force (17261)
55-3146, Boeing KC-135E Stratotanker, AMARG (108th ARW/New Jersey ANG), United States Air Force (17262)
56-3593, Boeing KC-135E Stratotanker, AMARG (108th ARW/New Jersey ANG), United States Air Force (17342)
56-3606, Boeing KC-135E Stratotanker, AMARG (132nd ARS/ 101st OG/Maine ANG), United States Air Force (17355)
56-3609, Boeing KC-135E Stratotanker, AMARG (151st ARS/134th OG/Tennessee ANG), United States Air Force (17358)
56-3622, Boeing KC-135E Stratotanker, AMARG (132nd ARS/ 101st OG/Maine ANG), United States Air Force (17371)
56-3626, Boeing KC-135E Stratotanker, AMARG (137th ARW/Oklahoma ANG), United States Air Force (17375)
56-3630, Boeing KC-135E Stratotanker, AMARG (132nd ARS/ 101st OG/Maine ANG), United States Air Force (17379)
56-3631, Boeing KC-135E Stratotanker, AMARG (117th ARS/190th ARW/Kansas ANG), United States Air Force (17380)
56-3638, Boeing KC-135E Stratotanker, AMARG (197th ARS/161st OG/Arizona ANG), United States Air Force (17387)
56-3640, Boeing KC-135E Stratotanker, AMARG (132nd ARS/ 101st OG/Maine ANG), United States Air Force (17389)
56-3641, Boeing KC-135E Stratotanker, AMARG (117th ARS/190th ARW/Kansas ANG), United States Air Force (17390)
56-3650, Boeing KC-135E Stratotanker, AMARG (151st ARS/134th OG/Tennessee ANG), United States Air Force (17399)
57-1421, Boeing KC-135E Stratotanker, AMARG (108th ARS/Illinois ANG), United States Air Force (17492)
57-1422, Boeing KC-135E Stratotanker, AMARG (940th ARW), United States Air Force (17493)
57-1425, Boeing KC-135E Stratotanker, AMARG (151st ARS/134th OG/Tennessee ANG), United States Air Force (17496)
57-1426, Boeing KC-135E Stratotanker, AMARG (117th ARS/190th ARW/Kansas ANG), United States Air Force (17497)
57-1433, Boeing KC-135E Stratotanker, AMARG (132nd ARS/ 101st OG/Maine ANG), United States Air Force (17504)
57-1434, Boeing KC-135E Stratotanker, AMARG (174th ARS/185th OG/Iowa ANG), United States Air Force (17505)
57-1443, Boeing KC-135E Stratotanker, AMARG (132nd ARS/ 101st OG/Maine ANG), United States Air Force (17514)
57-1447, Boeing KC-135E Stratotanker, AMARG (185th ARW/Iowa ANG), United States Air Force (17518)
57-1448, Boeing KC-135E Stratotanker, AMARG (132nd ARS/ 101st OG/Maine ANG), United States Air Force (17519)
57-1450, Boeing KC-135E Stratotanker, AMARG (132nd ARS/ 101st OG/Maine ANG), United States Air Force (17521)
57-1452, Boeing KC-135E Stratotanker, AMARG (197th ARS/161st OG/Arizona ANG), United States Air Force (17523)
57-1460, Boeing KC-135E Stratotanker, AMARG (117th ARS/190th ARW/Kansas ANG), United States Air Force (17531)
57-1463, Boeing KC-135E Stratotanker, AMARG (117th ARS/190th ARW/Kansas ANG), United States Air Force (17534)
57-1464, Boeing KC-135E Stratotanker, AMARG (108th ARW/New Jersey ANG), United States Air Force (17535)
57-1471, Boeing KC-135E Stratotanker, AMARG (132nd ARS/ 101st OG/Maine ANG), United States Air Force (17542)
57-1475, Boeing KC-135E Stratotanker, AMARG (197th ARS/161st OG/Arizona ANG), United States Air Force (17546)
57-1480, Boeing KC-135E Stratotanker, AMARG (108th ARS/Illinois ANG), United States Air Force (17551)
57-1484, Boeing KC-135E Stratotanker, AMARG (197th ARS/161st OG/Arizona ANG), United States Air Force (17555)
57-1491, Boeing KC-135E Stratotanker, AMARG (132nd ARS/ 101st OG/Maine ANG), United States Air Force (17562)
57-1492, Boeing KC-135E Stratotanker, AMARG (151st ARS/134th OG/Tennessee ANG), United States Air Force (17563)
57-1494, Boeing KC-135E Stratotanker, AMARG (108th ARS/Illinois ANG), United States Air Force (17565)
57-1496, Boeing KC-135E Stratotanker, AMARG (132nd ARS/ 101st OG/Maine ANG), United States Air Force (17567)
57-1504, Boeing KC-135E Stratotanker, AMARG (940th ARW), United States Air Force (17575)
57-1511, Boeing KC-135E Stratotanker, AMARG (940th ARW), United States Air Force (17582)
57-2595, Boeing KC-135E Stratotanker, AMARG (117th ARS/190th ARW/Kansas ANG), United States Air Force (17731)
57-2600, Boeing KC-135E Stratotanker, AMARG (174th ARS/185th OG/Iowa ANG), United States Air Force (17736)
57-2601, Boeing KC-135E Stratotanker, AMARG (133rd ARS/157th OG/New Hampshire ANG), United States Air Force (17737)
57-2602, Boeing KC-135E Stratotanker, AMARG (108th ARW/New Jersey ANG), United States Air Force (17738)
57-2604, Boeing KC-135E Stratotanker, AMARG (137th ARW/Oklahoma ANG), United States Air Force (17740)
57-2607, Boeing KC-135E Stratotanker, AMARG (147th ARS/171st ARW/Pennsylvania ANG), United States Air Force (17743)
57-2608, Boeing KC-135E Stratotanker, AMARG (137th ARW/Oklahoma ANG), United States Air Force (17744)
58-0003, Boeing KC-135E Stratotanker, AMARG (126th ARW/Illinois ANG), United States Air Force (17748)
58-0006, Boeing KC-135E Stratotanker, AMARG (108th ARS/Illinois ANG), United States Air Force (17751)
58-0013, Boeing KC-135E Stratotanker, AMARG (117th ARS/190th ARW/Kansas ANG), United States Air Force (17758)
58-0017, Boeing KC-135E Stratotanker, AMARG (132nd ARS/ 101st OG/Maine ANG), United States Air Force (17762)
58-0020, Boeing KC-135E Stratotanker, AMARG (174th ARS/185th OG/Iowa ANG), United States Air Force (17765)
58-0024, Boeing KC-135E Stratotanker, AMARG (108th ARS/Illinois ANG), United States Air Force (17769)
58-0032, Boeing KC-135E Stratotanker, AMARG (108th ARW/New Jersey ANG), United States Air Force (17777)
58-0040, Boeing KC-135E Stratotanker, AMARG (108th ARW/New Jersey ANG), United States Air Force (17785)
58-0041, Boeing KC-135E Stratotanker, AMARG (940th ARW), United States Air Force (17786)
58-0043, Boeing KC-135E Stratotanker, AMARG (132nd ARS/ 101st OG/Maine ANG), United States Air Force (17788)
58-0044, Boeing KC-135E Stratotanker, AMARG (108th ARW/New Jersey ANG), United States Air Force (17789)
58-0053, Boeing KC-135E Stratotanker, AMARG (940th ARW), United States Air Force (17798)
58-0068, Boeing KC-135E Stratotanker, AMARG (108th ARS/Illinois ANG), United States Air Force (17813)
58-0082, Boeing KC-135E Stratotanker, AMARG (137th ARW/Oklahoma ANG), United States Air Force (17827)
58-0090, Boeing KC-135E Stratotanker, AMARG (940th ARW), United States Air Force (17835)
58-0096, Boeing KC-135E Stratotanker, AMARG (940th ARW), United States Air Force (17841)
58-0108, Boeing KC-135E Stratotanker, AMARG (940th ARW), United States Air Force (17853)
58-0116, Boeing KC-135E Stratotanker, AMARG (197th ARS/161st OG/Arizona ANG), United States Air Force (17861)
59-1447, Boeing KC-135E Stratotanker, AMARG (927th ARW), United States Air Force (17935)
59-1456, Boeing KC-135E Stratotanker, AMARG (108th ARW/New Jersey ANG), United States Air Force (17944)
59-1477, Boeing KC-135E Stratotanker, AMARG (940th ARW), United States Air Force (17965)
59-1479, Boeing KC-135E Stratotanker, AMARG (151st ARS/134th OG/Tennessee ANG), United States Air Force (17967)
59-1484, Boeing KC-135E Stratotanker, AMARG (137th ARW/Oklahoma ANG), United States Air Force (17972)
59-1485, Boeing KC-135E Stratotanker, AMARG (108th ARW/New Jersey ANG), United States Air Force (17973)
59-1489, Boeing KC-135E Stratotanker, AMARG (108th ARS/Illinois ANG), United States Air Force (17977)
59-1493, Boeing KC-135E Stratotanker, AMARG (132nd ARS/ 101st OG/Maine ANG), United States Air Force (17981)
59-1496, Boeing KC-135E Stratotanker, AMARG (147th ARS/171st ARW/Pennsylvania ANG), United States Air Force (17984)
59-1503, Boeing KC-135E Stratotanker, AMARG (108th ARW/New Jersey ANG), United States Air Force (17991)
60-0327, Boeing KC-135E Stratotanker, AMARG (191st ARS/151st OG/Utah ANG), United States Air Force (18102)
61-0268, Boeing KC-135E Stratotanker, AMARG (940th ARW), United States Air Force (18175)
61-0271, Boeing KC-135E Stratotanker, AMARG (927th ARW), United States Air Force (18178)
61-0281, Boeing KC-135E Stratotanker, AMARG (117th ARS/190th ARW/Kansas ANG), United States Air Force (18188)
61-0303, Boeing KC-135E Stratotanker, AMARG (940th ARW), United States Air Force (18210)
62-3527, Boeing KC-135E Stratotanker, AMARG (108th ARW/New Jersey ANG), United States Air Force (18510)
63-8050, Boeing NKC-135B Stratolifter, AMARG (452nd FLTS det.2/412th TW), United States Air Force (18667)
61-2674/OF, Boeing OC-135B Stratotanker, AMARG (55th Wing), United States Air Force (18350)
61-2672, Boeing OC-135B Stratotanker, AMARG (45th RS/55th Wing), United States Air Force (18348/C3028)
62-3582/OF, Boeing WC-135C Stratotanker, AMARG (45th RS/55th Wing), United States Air Force (18565/C2102)
67-19417, Boeing EC-137D, AMARG (2nd SOF), United States Air Force (19417)
N897WA, Boeing 707-321B, AMARG (18339)
N8880A, Boeing 707-337B, AMARG, Air Atlanta Icelandic (18708)
TF-AYF, Boeing 707-358B, AMARG, (El Al Israel Airlines) (20097)
N404PA, Boeing 707-321B, AMARG, 170345, United States Air Force (18835/408)
LX-N19997, Boeing 707-307C(TCA) CT-49A, AMARG, NATO (19997/747)
LX-N90449, Boeing E-3A Sentry, AMARG (NAEWF), NATO (22844)
AMARG storage area 26:
57-6471, Boeing B-52G Stratofortress, AMARG (2nd BW), United States Air Force (464176)
57-6472, Boeing B-52G Stratofortress, AMARG (2nd BW), United States Air Force (464177)
57-6488/LZ, Boeing B-52G Stratofortress, AMARG (42nd BW), United States Air Force (464193)
57-6490, Boeing B-52G Stratofortress, AMARG (2nd BW), United States Air Force (464195)
57-6492, Boeing B-52G Stratofortress, AMARG (379th BW), United States Air Force (464197)
57-6495, Boeing B-52G Stratofortress, AMARG (2nd BW), United States Air Force (464200)
57-6503, Boeing B-52G Stratofortress, AMARG (2nd BW), United States Air Force (464208)
57-6508, Boeing B-52G Stratofortress, AMARG (2nd BW), United States Air Force (464213)
57-6511, Boeing B-52G Stratofortress, AMARG (2nd BW), United States Air Force (464216)
57-6515, Boeing B-52G Stratofortress, AMARG (2nd BW), United States Air Force (464220)
57-6519/ED, Boeing B-52G Stratofortress, AMARG (6510th TW), United States Air Force (464224)
57-6520/MO, Boeing B-52G Stratofortress, AMARG (366th Wing), United States Air Force (464225)
58-0160, Boeing B-52G Stratofortress, AMARG (2nd BW), United States Air Force (464228)
58-0165, Boeing B-52G Stratofortress, AMARG (379th BW), United States Air Force (464233)
58-0166/LA, Boeing B-52G Stratofortress, AMARG (2nd BW), United States Air Force (464234)
58-0178, Boeing B-52G Stratofortress, AMARG (93rd BW), United States Air Force (464246)
58-0179/LA, Boeing B-52G Stratofortress, AMARG (2nd BW), United States Air Force (464247)
58-0192/CA, Boeing B-52G Stratofortress, AMARG (93rd BW), United States Air Force (464260)
58-0193, Boeing B-52G Stratofortress, AMARG (2nd BW), United States Air Force (464261)
58-0194, Boeing B-52G Stratofortress, AMARG (379th BW), United States Air Force (464262)
58-0195/LZ, Boeing B-52G Stratofortress, AMARG (42nd BW), United States Air Force (464263)
58-0197/LZ, Boeing B-52G Stratofortress, AMARG (42nd BW), United States Air Force (464265)
58-0202/CA, Boeing B-52G Stratofortress, AMARG (93rd BW), United States Air Force (464270)
58-0203/MO, Boeing B-52G Stratofortress, AMARG (366th Wing), United States Air Force (464271)
58-0206/CA, Boeing B-52G Stratofortress, AMARG (93rd BW), United States Air Force (464274)
58-0210/CA, Boeing B-52G Stratofortress, AMARG (93rd BW), United States Air Force (464278)
58-0211, Boeing B-52G Stratofortress, AMARG (2nd BW), United States Air Force (464279)
58-0212/MO, Boeing B-52G Stratofortress, AMARG (366th Wing), United States Air Force (464280)
58-0213/CA, Boeing B-52G Stratofortress, AMARG (93rd BW), United States Air Force (464281)
58-0214/CA, Boeing B-52G Stratofortress, AMARG (93rd BW), United States Air Force (464282)
58-0216/CA, Boeing B-52G Stratofortress, AMARG (93rd BW), United States Air Force (464284)
58-0218/CA, Boeing B-52G Stratofortress, AMARG (93rd BW), United States Air Force (464286)
58-0221/CA, Boeing B-52G Stratofortress, AMARG (93rd BW), United States Air Force (464289)
58-0222, Boeing B-52G Stratofortress, AMARG (2nd BW), United States Air Force (464290)
58-0226/LZ, Boeing B-52G Stratofortress, AMARG (42nd BW), United States Air Force (464294)
58-0231, Boeing B-52G Stratofortress, AMARG (379th BW), United States Air Force (464299)
58-0233/CA, Boeing B-52G Stratofortress, AMARG (93rd BW), United States Air Force (464301)
58-0235/ED, Boeing B-52G Stratofortress, AMARG (412th TW), United States Air Force (464303)
58-0239, Boeing B-52G Stratofortress, AMARG (2nd BW), United States Air Force (464307)
58-0240/CA, Boeing B-52G Stratofortress, AMARG (93rd BW), United States Air Force (464308)
58-0241, Boeing B-52G Stratofortress, AMARG (42nd BW), United States Air Force (464309)
58-0242/MO, Boeing B-52G Stratofortress, AMARG (366th Wing), United States Air Force (464310)
58-0244/LA, Boeing B-52G Stratofortress, AMARG (2nd BW), United States Air Force (464312)
58-0248/CA, Boeing B-52G Stratofortress, AMARG (93rd BW), United States Air Force (464316)
58-0253/LZ, Boeing B-52G Stratofortress, AMARG (42nd BW), United States Air Force (464321)
58-0255/LZ, Boeing B-52G Stratofortress, AMARG (42nd BW), United States Air Force (464323)
59-2565/CA, Boeing B-52G Stratofortress, AMARG (93rd BW), United States Air Force (464328)
59-2566, Boeing B-52G Stratofortress, AMARG (2nd BW), United States Air Force (464329)
59-2567, Boeing B-52G Stratofortress, AMARG (379th BW), United States Air Force (464330)
59-2569/MO, Boeing B-52G Stratofortress, AMARG (366th Wing), United States Air Force (464332)
59-2572/CA, Boeing B-52G Stratofortress, AMARG (93rd BW), United States Air Force (464335)
59-2581, Boeing B-52G Stratofortress, AMARG (379th BW), United States Air Force (464344)
59-2583, Boeing B-52G Stratofortress, AMARG (379th BW), United States Air Force (464346)
59-2586/ED, Boeing B-52G Stratofortress, AMARG (412th TW), United States Air Force (464349)
59-2588/CA, Boeing B-52G Stratofortress, AMARG (93rd BW), United States Air Force (464351)
59-2595/CA, Boeing B-52G Stratofortress, AMARG (93rd BW), United States Air Force (464358)
59-2599/CA, Boeing B-52G Stratofortress, AMARG (93rd BW), United States Air Force (464362)
59-2602, Boeing B-52G Stratofortress, AMARG (2nd BW), United States Air Force (464365)
60-0019/LA, Boeing B-52H Stratofortress, AMARG (11th BS/2nd BW), United States Air Force (464384)
60-0020/LA, Boeing B-52H Stratofortress, AMARG (20th BS/2nd BW), United States Air Force (464385)
60-0030/LA, Boeing B-52H Stratofortress, AMARG (20th BS/2nd BW), United States Air Force (464395)
60-0043/LA, Boeing B-52H Stratofortress, AMARG (20th BS/2nd BW), United States Air Force (464408)
60-0046/LA, Boeing B-52H Stratofortress, AMARG (20th BS/2nd BW), United States Air Force (464411)
61-0023/LA, Boeing B-52H Stratofortress, AMARG (20th BS/2nd BW), United States Air Force (464450)
61-0024/LA, Boeing B-52H Stratofortress, AMARG (11th BS/2nd BW), United States Air Force (464451)
61-0027/MT, Boeing B-52H Stratofortress, AMARG (23rd BS/5th BW), United States Air Force (464454)
153316/YT-02, Boeing-Vertol CH-46E Sea Knight, AMARG (HMMT-164), United States Marine Corps (2204)
153318/YQ-01, Boeing-Vertol CH-46E Sea Knight, AMARG (HMM-268), United States Marine Corps (2206)
153322/24, Boeing-Vertol CH-46E Sea Knight, AMARG (HMX-1), United States Marine Corps (2210)
153328/YQ-16, Boeing-Vertol CH-46E Sea Knight, AMARG (HMM-268), United States Marine Corps (2216)
153330/YT-15, Boeing-Vertol CH-46E Sea Knight, AMARG (HMMT-164), United States Marine Corps (2218)
153350/PF-03, Boeing-Vertol CH-46E Sea Knight, AMARG (HMM-364), United States Marine Corps (2242)
153382/YT-06, Boeing-Vertol CH-46E Sea Knight, AMARG (HMMT-164), United States Marine Corps (2280)
153960/YT-05, Boeing-Vertol CH-46E Sea Knight, AMARG (HMMT-164), United States Marine Corps (2311)
153962/ML-409, Boeing-Vertol CH-46E Sea Knight, AMARG (HMM-764), United States Marine Corps (2313)
153969/YX-06, Boeing-Vertol CH-46E Sea Knight, AMARG (HMM-166), United States Marine Corps (2320)
153975/YR-12, Boeing-Vertol CH-46E Sea Knight, AMARG (HMM-161), United States Marine Corps (2326)
153998/YT-10, Boeing-Vertol CH-46E Sea Knight, AMARG (HMMT-164), United States Marine Corps (2349)
154000/YQ-06, Boeing-Vertol CH-46E Sea Knight, AMARG (HMM-268), United States Marine Corps (2351)
154014/MQ-431, Boeing-Vertol CH-46E Sea Knight, AMARG (HMM-774), United States Marine Corps (2365)
154016/YT-04, Boeing-Vertol CH-46E Sea Knight, AMARG (HMMT-164), United States Marine Corps (2367)
154040/PF-11, Boeing-Vertol CH-46E Sea Knight, AMARG (HMM-364), United States Marine Corps (2391)
154810/ML-403, Boeing-Vertol CH-46E Sea Knight, AMARG (HMM-764), United States Marine Corps (2417)
154812/YT-07, Boeing-Vertol CH-46E Sea Knight, AMARG (HMM-164), United States Marine Corps (2419)
154815/MQ-426, Boeing-Vertol CH-46E Sea Knight, AMARG (HMM-774), United States Marine Corps (2422)
154828/YQ-04, Boeing-Vertol CH-46E Sea Knight, AMARG (HMM-268), United States Marine Corps (2435)
154829/YR-12, Boeing-Vertol CH-46E Sea Knight, AMARG (HMM-161), United States Marine Corps (2436)
154834/YR-11, Boeing-Vertol CH-46E Sea Knight, AMARG (HMM-161), United States Marine Corps (2441)
154846/YT-02, Boeing-Vertol CH-46E Sea Knight, AMARG (HMMT-164), United States Marine Corps (2453)
154850/YX-06, Boeing-Vertol CH-46E Sea Knight, AMARG (HMM-166), United States Marine Corps (2457)
154851/27, Boeing-Vertol CH-46E Sea Knight, AMARG (HMX-1), United States Marine Corps (2458)
154854/YR-11, Boeing-Vertol CH-46E Sea Knight, AMARG (HMM-161), United States Marine Corps (2461)
154855/MQ-420, Boeing-Vertol CH-46E Sea Knight, AMARG (HMM-774), United States Marine Corps (2462)
154856/YQ-12, Boeing-Vertol CH-46E Sea Knight, AMARG (HMM-268), United States Marine Corps (2463)
155302/ML-400, Boeing-Vertol CH-46E Sea Knight, AMARG (HMM-764), United States Marine Corps (2471)
155303/YX-07, Boeing-Vertol CH-46E Sea Knight, AMARG (HMM-166), United States Marine Corps (2472)
155306/YT-00, Boeing-Vertol CH-46E Sea Knight, AMARG (HMMT-164), United States Marine Corps (2475)
155310/ML-407, Boeing-Vertol CH-46E Sea Knight, AMARG (HMM-764), United States Marine Corps (2479)
155312/ML-406, Boeing-Vertol CH-46E Sea Knight, AMARG (HMM-764), United States Marine Corps (2481)
155315/YR-06, Boeing-Vertol CH-46E Sea Knight, AMARG (HMM-161), United States Marine Corps (2484)
155316/ML-401, Boeing-Vertol CH-46E Sea Knight, AMARG (HMM-764), United States Marine Corps (2485)
156421/YX-01, Boeing-Vertol CH-46E Sea Knight, AMARG (HMM-166), United States Marine Corps (2491)
156422/YT-07, Boeing-Vertol CH-46E Sea Knight, AMARG (HMMT-164), United States Marine Corps (2492)
156429/YT-15, Boeing-Vertol CH-46E Sea Knight, AMARG (HMMT-164), United States Marine Corps (2499)
156433/MQ-434, Boeing-Vertol CH-46E Sea Knight, AMARG (HMM-774), United States Marine Corps (2503)
156434/YP-(00), Boeing-Vertol CH-46E Sea Knight, AMARG (HMM-163), United States Marine Corps (2504)
156439/YR-10, Boeing-Vertol CH-46E Sea Knight, AMARG (HMM-161), United States Marine Corps (2509)
156454/ML-412, Boeing-Vertol CH-46E Sea Knight, AMARG (HMM-764), United States Marine Corps (2524)
156461/ML-427, Boeing-Vertol CH-46E Sea Knight, AMARG (HMM-764), United States Marine Corps (2531)
156464/YR-04, Boeing-Vertol CH-46E Sea Knight, AMARG (HMM-161), United States Marine Corps (2534)
156467/PF-06, Boeing-Vertol CH-46E Sea Knight, AMARG (HMM-364), United States Marine Corps (2537)
156470/YQ-04, Boeing-Vertol CH-46E Sea Knight, AMARG (HMM-268), United States Marine Corps (2540)
156473/YR-05, Boeing-Vertol CH-46E Sea Knight, AMARG (HMM-161), United States Marine Corps (2543)
157649/YW-01, Boeing-Vertol CH-46E Sea Knight, AMARG (HMM-165), United States Marine Corps (2548)
157651/PF-10, Boeing-Vertol CH-46E Sea Knight, AMARG (HMM-364), United States Marine Corps (2550)
157660/YQ-12, Boeing-Vertol CH-46E Sea Knight, AMARG (HMM-268), United States Marine Corps (2559)
157662/YP-04, Boeing-Vertol CH-46E Sea Knight, AMARG (HMM-163), United States Marine Corps (2561)
157664/YQ-11, Boeing-Vertol CH-46E Sea Knight, AMARG (HMM-268), United States Marine Corps (2563)
157665/YQ-15, Boeing-Vertol CH-46E Sea Knight, AMARG (HMM-268), United States Marine Corps (2564)
157670/YR-13, Boeing-Vertol CH-46E Sea Knight, AMARG (HMM-161), United States Marine Corps (2569)
157672/YT-02, Boeing-Vertol CH-46E Sea Knight, AMARG (HMMT-164), United States Marine Corps (2571)
157690/YT-13, Boeing-Vertol CH-46E Sea Knight, AMARG (HMMT-164), United States Marine Corps (2589)
157691/YX-05, Boeing-Vertol CH-46E Sea Knight, AMARG (HMM-166), United States Marine Corps (2590)
157697/YR-10, Boeing-Vertol CH-46E Sea Knight, AMARG (HMM-161), United States Marine Corps (2596)
157702/25, Boeing-Vertol CH-46E Sea Knight, AMARG (HMX-1), United States Marine Corps (2601)
157703/YW-02, Boeing-Vertol CH-46E Sea Knight, AMARG (HMM-165), United States Marine Corps (2602)
157720/ML-410, Boeing-Vertol CH-46E Sea Knight, AMARG (HMM-764), United States Marine Corps (2619)
157721/YT-01, Boeing-Vertol CH-46E Sea Knight, AMARG (HMMT-164), United States Marine Corps (2620)
157723/YT-13, Boeing-Vertol CH-46E Sea Knight, AMARG (HMMT-164), United States Marine Corps (2622)
156655/YH-14, Sikorsky CH-53D Sea Stallion, AMARG (HMH-463), United States Marine Corps (65.159)
156656/YZ-17, Sikorsky CH-53D Sea Stallion, AMARG (HMH-363), United States Marine Corps (65.160)
156666, Sikorsky CH-53D Sea Stallion, AMARG (HMH-463), United States Marine Corps (65.170)
156671/MT-403, Sikorsky CH-53D Sea Stallion, AMARG (HMH-772), United States Marine Corps (65.175)
156672/MT-404, Sikorsky CH-53D Sea Stallion, AMARG (HMH-772), United States Marine Corps (65.176)
156673/YZ-54, Sikorsky CH-53D Sea Stallion, AMARG (HMH-363), United States Marine Corps (65.177)
156959/YL-53, Sikorsky CH-53D Sea Stallion, AMARG (HMH-362), United States Marine Corps (65.206)
156960/UT-05, Sikorsky CH-53D Sea Stallion, AMARG (HMT-302), United States Marine Corps (65.207)
157131/YL-15, Sikorsky CH-53D Sea Stallion, AMARG (HMH-362), United States Marine Corps (65.222)
157141/YL-17, Sikorsky CH-53D Sea Stallion, AMARG (HMH-362), United States Marine Corps (65.234)
157143, Sikorsky CH-53D Sea Stallion, AMARG (HMH-772), United States Marine Corps (65.243)
157158/SU-40, Sikorsky CH-53D Sea Stallion, AMARG (HMT-301), United States Marine Corps (65.284)
157170/YL-01, Sikorsky CH-53D Sea Stallion, AMARG (HMH-362), United States Marine Corps (65.296)
157727/YL-24, Sikorsky CH-53D Sea Stallion, AMARG (HMH-362), United States Marine Corps (65.303)
157734/HH-27, Sikorsky CH-53D Sea Stallion, AMARG (HMH-366), United States Marine Corps (65.310)
157736/YL-32, Sikorsky CH-53D Sea Stallion, AMARG (HMH-362), United States Marine Corps (65.312)
157750, Sikorsky CH-53D Sea Stallion, AMARG (HMH-772), United States Marine Corps (65.326)
157931/YZ-57, Sikorsky CH-53D Sea Stallion, AMARG (HMH-363), United States Marine Corps (65.334)
162506/TB-10, Sikorsky MH-53E Sea Stallion, AMARG (HM-15), United States Marine Corps (65.518)
163058/TB-10, Sikorsky MH-53E Sea Stallion, AMARG (HM-15), United States Marine Corps (65.556)
157755, Sikorsky VH-53D Sea Stallion, AMARG (HMX-1), United States Marine Corps (65.331)
157756, Sikorsky VH-53D Sea Stallion, AMARG (HMX-1), United States Marine Corps (65.332)
8629, Sikorsky MH-53E Sea Stallion, AMARG (FRCE), 169603, Japan Maritime Self-Defence Force (65.586)
8630, Sikorsky MH-53E Sea Stallion, AMARG (FRCE), 169604, Japan Maritime Self-Defence Force (65.587)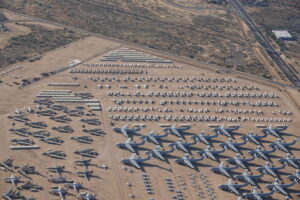 AMARG storage area 27:
153529/TM-00, Douglas OA-4M Skyhawk, AMARG (MALS-11), United States Marine Corps (13595)
154307/6, Douglas OA-4M Skyhawk, AMARG, United States Marine Corps (13695)
153459, Douglas TA-4F Skyhawk, AMARG (VMA-124), United States Marine Corps (13525)
153484/QP-21, Douglas TA-4F Skyhawk, AMARG (VMA-124), United States Marine Corps (13550)
153488, Douglas TA-4F Skyhawk, AMARG (NFWS), United States Marine Corps (13554)
153489, Douglas TA-4F Skyhawk, AMARG (VF-126), United States Marine Corps (13555)
77-0256/NO, Fairchild A-10A Thunderbolt II, AMARG (706th FS/926th FG), United States Air Force (A10-0181)
77-0257/IN, Fairchild A-10A Thunderbolt II, AMARG (45th FS/930th OG), United States Air Force (A10-0182)
77-0260/NO, Fairchild A-10A Thunderbolt II, AMARG (706th FS/926th OG), United States Air Force (A10-0185)
77-0263/AR, Fairchild A-10A Thunderbolt II, AMARG (10th TFW), United States Air Force (A10-0188)
77-0266/NO, Fairchild A-10A Thunderbolt II, AMARG (706th FS/926th OG), United States Air Force (A10-0191)
77-0273/NO, Fairchild A-10A Thunderbolt II, AMARG (706th FS/926th OG), United States Air Force (A10-0198)
77-0274/NO, Fairchild A-10A Thunderbolt II, AMARG (706th FS/926th OG), United States Air Force (A10-0199)
78-0603/MA, Fairchild A-10A Thunderbolt II, AMARG (131st FS/104th OG/Massachusetts ANG), United States Air Force (A10-0223)
78-0622/MB, Fairchild A-10A Thunderbolt II, AMARG (Boeing), United States Air Force (A10-0242)
78-0667/MB, Fairchild A-10A Thunderbolt II, AMARG (353rd FS/354th FW), United States Air Force (A10-0287)
78-0668/MB, Fairchild A-10A Thunderbolt II, AMARG (353rd FS/354th FW), United States Air Force (A10-0288)
78-0672/MB, Fairchild A-10A Thunderbolt II, AMARG (355th FS/354th FW), United States Air Force (A10-0292)
78-0675/MB, Fairchild A-10A Thunderbolt II, AMARG (354th FW), United States Air Force (A10-0295)
78-0677/MB, Fairchild A-10A Thunderbolt II, AMARG (353rd FS/354th FW), United States Air Force (A10-0297)
78-0678/MA, Fairchild A-10A Thunderbolt II, AMARG (131st FS/104th OG/Massachusetts ANG), United States Air Force (A10-0298)
78-0680/MB, Fairchild A-10A Thunderbolt II, AMARG (353rd FS/354th FW), United States Air Force (A10-0300)
78-0698/MB, Fairchild A-10A Thunderbolt II, AMARG (353rd FS/354th FW), United States Air Force (A10-0318)
78-0710/MB, Fairchild A-10A Thunderbolt II, AMARG (355th FS/354th FW), United States Air Force (A10-0330)
78-0713/MB, Fairchild A-10A Thunderbolt II, AMARG (356th FS/354th FW), United States Air Force (A10-0333)
78-0714/MB, Fairchild A-10A Thunderbolt II, AMARG (356th FS/354th FW), United States Air Force (A10-0334)
78-0715/MB, Fairchild A-10A Thunderbolt II, AMARG (353rd FS/354th FW), United States Air Force (A10-0335)
78-0724/MB, Fairchild A-10A Thunderbolt II, AMARG (356th FS/354th FW), United States Air Force (A10-0344)
79-0096/MB, Fairchild A-10A Thunderbolt II, AMARG (353rd FS/354th FW), United States Air Force (A10-0360)
79-0098/MB, Fairchild A-10A Thunderbolt II, AMARG (355th FS/354th FW), United States Air Force (A10-0362)
79-0099/MB, Fairchild A-10A Thunderbolt II, AMARG (355th FS/354th FW), United States Air Force (A10-0363)
79-0101/MB, Fairchild A-10A Thunderbolt II, AMARG (353rd FS/354th FW), United States Air Force (A10-0365)
79-0102/MB, Fairchild A-10A Thunderbolt II, AMARG (356th FS/354th FW), United States Air Force (A10-0366)
79-0112/MB, Fairchild A-10A Thunderbolt II, AMARG (355th FS/354th FW), United States Air Force (A10-0376)
79-0115/MB, Fairchild A-10A Thunderbolt II, AMARG (355th FS/354th FW), United States Air Force (A10-0379)
79-0124/MB, Fairchild A-10A Thunderbolt II, AMARG (353rd FS/354th FW), United States Air Force (A10-0388)
79-0126/MB, Fairchild A-10A Thunderbolt II, AMARG (353rd FS/354th FW), United States Air Force (A10-0390)
79-0127/MB, Fairchild A-10A Thunderbolt II, AMARG (353rd FS/354th FW), United States Air Force (A10-0391)
79-0128/MB, Fairchild A-10A Thunderbolt II, AMARG (353rd FS/354th FW), United States Air Force (A10-0392)
79-0132/MB, Fairchild A-10A Thunderbolt II, AMARG (353rd FS/354th FW), United States Air Force (A10-0396)
79-0133/EL, Fairchild A-10A Thunderbolt II, AMARG (76th FS/23rd FW), United States Air Force (A10-0397)
79-0140/MB, Fairchild A-10A Thunderbolt II, AMARG (356th FS/354th FW), United States Air Force (A10-0404)
79-0158/MB, Fairchild A-10A Thunderbolt II, AMARG (354th FW), United States Air Force (A10-0422)
79-0163/MB, Fairchild A-10A Thunderbolt II, AMARG (355th FS/354th FW), United States Air Force (A10-0427)
79-0166/EL, Fairchild A-10A Thunderbolt II, AMARG (76th FS/23rd FW), United States Air Force (A10-0430)
79-0174/DM, Fairchild A-10A Thunderbolt II, AMARG (358th FS/355th FW), United States Air Force (A10-0438)
79-0176/EL, Fairchild A-10A Thunderbolt II, AMARG (76th FS/23rd FW), United States Air Force (A10-0440)
79-0217/WR, Fairchild A-10A Thunderbolt II, AMARG (81st FW), United States Air Force (A10-0481)
79-0218/WR, Fairchild A-10A Thunderbolt II, AMARG (81st FW), United States Air Force (A10-0482)
79-0220/AR, Fairchild A-10A Thunderbolt II, AMARG (10th TFW), United States Air Force (A10-0484)
79-0221/WR, Fairchild A-10A Thunderbolt II, AMARG (81st FW), United States Air Force (A10-0485)
79-0224/AR, Fairchild A-10A Thunderbolt II, AMARG (10th TFW), United States Air Force (A10-0488)
78-0596/FT, Fairchild A-10C Thunderbolt II, AMARG (75th FS/23rd FG), United States Air Force (A10-0216)
79-0149/BD, Fairchild A-10C Thunderbolt II, AMARG (47th FS/917th FG), United States Air Force (A10-0413)
79-0178/DM, Fairchild A-10C Thunderbolt II, AMARG (354th FS/355th FW), United States Air Force (A10-0442)
79-0179/FT, Fairchild A-10C Thunderbolt II, AMARG (74th FS/23rd FG), United States Air Force (A10-0443)
79-0187/DM, Fairchild A-10C Thunderbolt II, AMARG (357th FS/355th FW), United States Air Force (A10-0451)
79-0188/DM, Fairchild A-10C Thunderbolt II, AMARG (357th FS/355th FW), United States Air Force (A10-0452)
79-0190/DM, Fairchild A-10C Thunderbolt II, AMARG (358th FS/355th FW), United States Air Force (A10-0454)
79-0198/DM, Fairchild A-10C Thunderbolt II, AMARG (354th FS/355th FW), United States Air Force (A10-0462)
79-0206/FT, Fairchild A-10C Thunderbolt II, AMARG (75th FS/23rd FG), United States Air Force (A10-0470)
80-0141/DM, Fairchild A-10C Thunderbolt II, AMARG (358th FS/355th FW), United States Air Force (A10-0491)
80-0142/DM, Fairchild A-10C Thunderbolt II, AMARG (357th FS/355th FW), United States Air Force (A10-0492)
80-0147/DM, Fairchild A-10C Thunderbolt II, AMARG (354th FS/355th FW), United States Air Force (A10-0497)
80-0150/DM, Fairchild A-10C Thunderbolt II, AMARG (358th FS/355th FW), United States Air Force (A10-0500)
80-0155/DM, Fairchild A-10C Thunderbolt II, AMARG (357th FS/355th FW), United States Air Force (A10-0505)
80-0169/DM, Fairchild A-10C Thunderbolt II, AMARG (354th FS/355th FW), United States Air Force (A10-0519)
80-0178/FT, Fairchild A-10C Thunderbolt II, AMARG (74th FS/23rd FG), United States Air Force (A10-0528)
80-0189/FT, Fairchild A-10C Thunderbolt II, AMARG (23rd FG), United States Air Force (A10-0539)
80-0197/DM, Fairchild A-10C Thunderbolt II, AMARG (354th FS/355th FW), United States Air Force (A10-0547)
80-0200/DM, Fairchild A-10C Thunderbolt II, AMARG (357th FS/355th FW), United States Air Force (A10-0550)
80-0203/DM, Fairchild A-10C Thunderbolt II, AMARG (354th FS/355th FW), United States Air Force (A10-0553)
80-0205/DM, Fairchild A-10C Thunderbolt II, AMARG (358th FS/355th FW), United States Air Force (A10-0555)
80-0210/DM, Fairchild A-10C Thunderbolt II, AMARG (354th FS/355th FW), United States Air Force (A10-0560)
80-0212/DM, Fairchild A-10C Thunderbolt II, AMARG (Nat'l Science Foundation), United States Air Force (A10-0562)
80-0220/DM, Fairchild A-10C Thunderbolt II, AMARG (357th FS/355th FW), United States Air Force (A10-0570)
80-0234/DM, Fairchild A-10C Thunderbolt II, AMARG (357th FS/355th FW), United States Air Force (A10-0584)
80-0235/DM, Fairchild A-10C Thunderbolt II, AMARG (358th FS/355th FW), United States Air Force (A10-0585)
80-0236/DM, Fairchild A-10C Thunderbolt II, AMARG (357th FS/355th FW), United States Air Force (A10-0586)
80-0238/DM, Fairchild A-10C Thunderbolt II, AMARG (357th FS/355th FW), United States Air Force (A10-0588)
80-0239/OS, Fairchild A-10C Thunderbolt II, AMARG (25th FS/51st FW), United States Air Force ( A10-0589)
80-0246/DM, Fairchild A-10C Thunderbolt II, AMARG (357th FS/355th FW), United States Air Force (A10-0596)
80-0253/OS, Fairchild A-10C Thunderbolt II, AMARG (25th FS/51st FW), United States Air Force (A10-0603)
80-0254/DM, Fairchild A-10C Thunderbolt II, AMARG (357th FS/355th FW), United States Air Force (A10-0604)
80-0259/FT, Fairchild A-10C Thunderbolt II, AMARG (23rd FG), United States Air Force (A10-0609)
80-0274/DM, Fairchild A-10C Thunderbolt II, AMARG (358th FS/355th FW), United States Air Force (A10-0624)
81-0946/DM, Fairchild A-10C Thunderbolt II, AMARG (358th FS/355th FW), United States Air Force (A10-0641)
81-0947/FT, Fairchild A-10C Thunderbolt II, AMARG (74th FS/23rd FG), United States Air Force (A10-0642)
81-0948/DM, Fairchild A-10C Thunderbolt II, AMARG (358th FS/355th FW), United States Air Force (A10-0643)
81-0950/DM, Fairchild A-10C Thunderbolt II, AMARG (358th FS/355th FW), United States Air Force (A10-0645)
81-0952/DM, Fairchild A-10C Thunderbolt II, AMARG (357th FS/355th FW), United States Air Force (A10-0647)
81-0953/FT, Fairchild A-10C Thunderbolt II, AMARG (74th FS/23rd FG), United States Air Force (A10-0648)
81-0954/BD, Fairchild A-10C Thunderbolt II, AMARG (47th FS/917th FG), United States Air Force (A10-0649)
81-0961/DM, Fairchild A-10C Thunderbolt II, AMARG (357th FS/355th FW), United States Air Force (A10-0656)
81-0970/DM, Fairchild A-10C Thunderbolt II, AMARG (358th FS/355th FW), United States Air Force (A10-0665)
81-0977/DM, Fairchild A-10C Thunderbolt II, AMARG (358th FS/355th FW), United States Air Force (A10-0672)
81-0978/DM, Fairchild A-10C Thunderbolt II, AMARG (357th FS/355th FW), United States Air Force (A10-0673)
81-0982/DM, Fairchild A-10C Thunderbolt II, AMARG (358th FS/355th FW), United States Air Force (A10-0677)
81-0984/DM, Fairchild A-10C Thunderbolt II, AMARG (357th FS/355th FW), United States Air Force (A10-0679)
81-0989/ET, Fairchild A-10C Thunderbolt II, AMARG (96th TW), United States Air Force (A10-0684)
82-0649/DM, Fairchild A-10C Thunderbolt II, AMARG (354th FS/355th FW), United States Air Force (A10-0697)
82-0664/OS, Fairchild A-10C Thunderbolt II, AMARG (25th FS/51st FW), United States Air Force (A10-0712)
78-0686/SW, Fairchild OA-10A Thunderbolt II, AMARG (363rd FW), United States Air Force (A10-0306)
79-0160/SW, Fairchild OA-10A Thunderbolt II, AMARG (363rd FW), United States Air Force (A10-0424)
80-0145/DM, Fairchild OA-10A Thunderbolt II, AMARG (358th FS/355th FW), United States Air Force (A10-0495)
159437/AC-202, Grumman F-14A Tomcat, AMARG (VF-32), United States Navy (103)
160671, Grumman F-14A Tomcat, AMARG (Yanks Air Museum), United States Navy (290)
160928/133, Grumman F-14A Tomcat, AMARG (Yanks Air Museum), United States Navy (357)
162691/AC-112, Grumman F-14B Tomcat, AMARG (VF-32), United States Navy (537)
163409/AA-112, Grumman F-14B Tomcat, AMARG (VF-11), United States Navy (593)
164345/AJ-104, Grumman F-14D Tomcat, AMARG (VF-31), United States Navy (620/D-25)
75-0019, McDonnell Douglas F-15A Eagle, AMARG (159th FS/125th OG/Florida ANG), United States Air Force (115/A099)
75-0024, McDonnell Douglas F-15A Eagle, AMARG (159th FS/125th OG/Florida ANG), United States Air Force (121/A104)
75-0029, McDonnell Douglas F-15A Eagle, AMARG (159th FS/125th OG/Florida ANG), United States Air Force (126/A109)
75-0047, McDonnell Douglas F-15A Eagle, AMARG (159th FS/125th OG/Florida ANG), United States Air Force (147/A127)
75-0049, McDonnell Douglas F-15A Eagle, AMARG (159th FS/125th OG/Florida ANG), United States Air Force (149/A129)
75-0052, McDonnell Douglas F-15A Eagle, AMARG (159th FS/125th OG/Florida ANG), United States Air Force (153/A132)
75-0057, McDonnell Douglas F-15A Eagle, AMARG (159th FS/125th OG/Florida ANG), United States Air Force (159/A137)
75-0058, McDonnell Douglas F-15A Eagle, AMARG (159th FS/125th OG/Florida ANG), United States Air Force (160/A138)
75-0061, McDonnell Douglas F-15A Eagle, AMARG (123rd FS/142nd FW/Oregon ANG), United States Air Force (164/A141)
75-0066, McDonnell Douglas F-15A Eagle, AMARG (159th FS/125th OG/Florida ANG), United States Air Force (169/A146)
75-0067, McDonnell Douglas F-15A Eagle, AMARG (159th FS/125th OG/Florida ANG), United States Air Force (170/A147)
75-0068, McDonnell Douglas F-15A Eagle, AMARG (123rd FS/142nd FW/Oregon ANG), United States Air Force (172/A148)
75-0069, McDonnell Douglas F-15A Eagle, AMARG (159th FS/125th OG/Florida ANG), United States Air Force (173/A149)
75-0072, McDonnell Douglas F-15A Eagle, AMARG (159th FS/125th OG/Florida ANG), United States Air Force (176/A152)
75-0075/JZ, McDonnell Douglas F-15A Eagle, AMARG (122nd FS/159th FW/Louisiana ANG), United States Air Force (180/A155)
76-0019, McDonnell Douglas F-15A Eagle, AMARG (159th FS/125th OG/Florida ANG), United States Air Force (198/A171)
76-0032/HH, McDonnell Douglas F-15A Eagle, AMARG (199th FS/154th OG/Hawaii ANG), United States Air Force (213/A184)
76-0033, McDonnell Douglas F-15A Eagle, AMARG (159th FS/125th OG/Florida ANG), United States Air Force (214/A185)
76-0052/HH, McDonnell Douglas F-15A Eagle, AMARG (199th FS/154th OG/Hawaii ANG), United States Air Force (236/A204)
76-0062/JZ, McDonnell Douglas F-15A Eagle, AMARG (122nd FS/159th FW/Louisiana ANG), United States Air Force (248/A214)
76-0064, McDonnell Douglas F-15A Eagle, AMARG (159th FS/125th OG/Florida ANG), United States Air Force (250/A216)
76-0068/HH, McDonnell Douglas F-15A Eagle, AMARG (199th FS/154th OG/Hawaii ANG), United States Air Force (255/A220)
76-0084, McDonnell Douglas F-15A Eagle, AMARG (159th FS/125th OG/Florida ANG), United States Air Force (275/A236)
76-0103/JZ, McDonnell Douglas F-15A Eagle, AMARG (122nd FS/159th FW/Louisiana ANG), United States Air Force (302/A255)
76-0112/HH, McDonnell Douglas F-15A Eagle, AMARG (199th FS/154th OG/Hawaii ANG), United States Air Force (317/A264)
76-0113/JZ, McDonnell Douglas F-15A Eagle, AMARG (122nd FS/159th FW/Louisiana ANG), United States Air Force (318/A265)
77-0062/JZ, McDonnell Douglas F-15A Eagle, AMARG (122nd FS/159th FW/Louisiana ANG), United States Air Force (333/A274)
77-0069/JZ, McDonnell Douglas F-15A Eagle, AMARG (122nd FS/159th FW/Louisiana ANG), United States Air Force (343/A281)
77-0070/HH, McDonnell Douglas F-15A Eagle, AMARG (199th FS/154th OG/Hawaii ANG), United States Air Force (344/A282)
77-0073, McDonnell Douglas F-15A Eagle, AMARG (123rd FS/142nd FW/Oregon ANG), United States Air Force (349/A285)
77-0074/HH, McDonnell Douglas F-15A Eagle, AMARG (199th FS/154th OG/Hawaii ANG), United States Air Force (350/A286)
77-0077/HH, McDonnell Douglas F-15A Eagle, AMARG (199th FS/154th OG/Hawaii ANG), United States Air Force (354/A289)
77-0078/HH, McDonnell Douglas F-15A Eagle, AMARG (199th FS/154th OG/Hawaii ANG), United States Air Force (355/A290)
77-0079/HH, McDonnell Douglas F-15A Eagle, AMARG (199th FS/154th OG/Hawaii ANG), United States Air Force (356/A291)
77-0083/HH, McDonnell Douglas F-15A Eagle, AMARG (199th FS/154th OG/Hawaii ANG), United States Air Force (362/A295)
77-0086, McDonnell Douglas F-15A Eagle, AMARG (123rd FS/142nd FW/Oregon ANG), United States Air Force (367/A298)
77-0087/MA, McDonnell Douglas F-15A Eagle, AMARG (101st FS/102nd FW/Massachusetts ANG), United States Air Force (368/A299)
77-0091, McDonnell Douglas F-15A Eagle, AMARG (123rd FS/142nd FW/Oregon ANG), United States Air Force (372/A303)
77-0098, McDonnell Douglas F-15A Eagle, AMARG (123rd FS/142nd FW/Oregon ANG), United States Air Force (381/A310)
77-0108, McDonnell Douglas F-15A Eagle, AMARG (123rd FS/142nd FW/Oregon ANG), United States Air Force (392/A320)
77-0123, McDonnell Douglas F-15A Eagle, AMARG (123rd FS/142nd FW/Oregon ANG), United States Air Force (410/A335)
77-0132, McDonnell Douglas F-15A Eagle, AMARG (123rd FS/142nd FW/Oregon ANG), United States Air Force (420/A344)
74-0140/HH, McDonnell Douglas F-15B Eagle, AMARG (199th FS/154th OG/Hawaii ANG), United States Air Force (69/B013)
75-0081/HH, McDonnell Douglas F-15B Eagle, AMARG (199th FS/154th OG/Hawaii ANG), United States Air Force (120/B017)
75-0088/SL, McDonnell Douglas F-15B Eagle, AMARG (110th FS/131st FW/Missouri ANG), United States Air Force (171/B024)
76-0141, McDonnell Douglas F-15B Eagle, AMARG (123rd FS/142nd FW/Oregon ANG), United States Air Force (321/B043)
76-0142, McDonnell Douglas F-15B Eagle, AMARG (123rd FS/142nd FW/Oregon ANG), United States Air Force (330/B044)
78-0469/MA, McDonnell Douglas F-15C Eagle, AMARG (131st FS/104th OG/Massachusetts ANG), United States Air Force (447/C002)
78-0471/TY, McDonnell Douglas F-15C Eagle, AMARG (2nd FS/325th FW), United States Air Force (449/C004)
78-0475/MA, McDonnell Douglas F-15C Eagle, AMARG (131st FS/104th OG/Massachusetts ANG), United States Air Force (454/C008)
78-0477, McDonnell Douglas F-15C Eagle, AMARG (159th FS/125th OG/Florida ANG), United States Air Force (457/C010)
78-0478/MA, McDonnell Douglas F-15C Eagle, AMARG (131st FS/104th OG/Massachusetts ANG), United States Air Force (458/C011)
78-0486, McDonnell Douglas F-15C Eagle, AMARG (114th FS/173d FW/Oregon ANG), United States Air Force (467/C019)
78-0488, McDonnell Douglas F-15C Eagle, AMARG (114th FS/173d FW/Oregon ANG), United States Air Force (470/C021)
78-0491, McDonnell Douglas F-15C Eagle, AMARG (159th FS/125th OG/Florida ANG), United States Air Force (473/C024)
78-0505/TY, McDonnell Douglas F-15C Eagle, AMARG (95th FS/325th FW), United States Air Force (490/C038)
78-0525, McDonnell Douglas F-15C Eagle, AMARG (186th FS/120th OG/Montana ANG), United States Air Force (513/C058)
78-0527, McDonnell Douglas F-15C Eagle, AMARG (159th FS/125th OG/Florida ANG), United States Air Force (515/C060)
78-0531/MA, McDonnell Douglas F-15C Eagle, AMARG (131st FS/104th OG/Massachusetts ANG), United States Air Force (520/C064)
78-0545/MA, McDonnell Douglas F-15C Eagle, AMARG (131st FS/104th OG/Massachusetts ANG), United States Air Force (536/C078)
78-0550/JZ, McDonnell Douglas F-15C Eagle, AMARG (122nd FS/159th FW/Louisiana ANG), United States Air Force (542/C083)
79-0016/TY, McDonnell Douglas F-15C Eagle, AMARG (2nd FS/325th FW), United States Air Force (545/C085)
79-0020, McDonnell Douglas F-15C Eagle, AMARG (186th FS/120th OG/Montana ANG), United States Air Force (551/C089)
79-0021/TY, McDonnell Douglas F-15C Eagle, AMARG (2nd FS/325th FW), United States Air Force (552/C090)
79-0029/TY, McDonnell Douglas F-15C Eagle, AMARG (95th FS/325th FW), United States Air Force (564/C098)
79-0030/TY, McDonnell Douglas F-15C Eagle, AMARG (2nd FS/325th FW), United States Air Force (565/C099)
79-0034/TY, McDonnell Douglas F-15C Eagle, AMARG (95th FS/325th FW), United States Air Force (571/C103)
79-0035/JZ, McDonnell Douglas F-15C Eagle, AMARG (159th FW/Louisiana ANG), United States Air Force (572/C104)
79-0042/EG, McDonnell Douglas F-15C Eagle, AMARG (58th FS/33rd FW), United States Air Force (581/C111)
79-0048, McDonnell Douglas F-15C Eagle, AMARG (114th FS/173d FW/Oregon ANG), United States Air Force ( 590/C117)
79-0049, McDonnell Douglas F-15C Eagle, AMARG (159th FS/125th OG/Florida ANG), United States Air Force ( 592/C118)
79-0065, McDonnell Douglas F-15C Eagle, AMARG (159th FS/125th OG/Florida ANG), United States Air Force (612/C134)
79-0066/EG, McDonnell Douglas F-15C Eagle, AMARG (131st FS/104th OG/Massachusetts ANG), United States Air Force (613/C135)
79-0074/EG, McDonnell Douglas F-15C Eagle, AMARG (58th FS/33rd FW), United States Air Force (623/C143)
79-0079, McDonnell Douglas F-15C Eagle, AMARG (114th FS/173d FW/Oregon ANG), United States Air Force (629/C148)
80-0006, McDonnell Douglas F-15C Eagle, AMARG (114th FS/173d FW/Oregon ANG), United States Air Force (640/C155)
80-0009/EG, McDonnell Douglas F-15C Eagle, AMARG (58th FS/33rd FW), United States Air Force (645/C158)
80-0015/EG, McDonnell Douglas F-15C Eagle, AMARG (58th FS/33rd FW), United States Air Force (654/C164)
80-0026, McDonnell Douglas F-15C Eagle, AMARG (123rd FS/142nd FW/Oregon ANG), United States Air Force (672/C175)
80-0027/TY, McDonnell Douglas F-15C Eagle, AMARG (95th FS/325th FW), United States Air Force (675/C176)
80-0031, McDonnell Douglas F-15C Eagle, AMARG (123rd FS/142nd FW/Oregon ANG), United States Air Force (681/C180)
80-0033/HH, McDonnell Douglas F-15C Eagle, AMARG (199th FS/154th OG/Hawaii ANG), United States Air Force (684/C182)
80-0038/HH, McDonnell Douglas F-15C Eagle, AMARG (199th FS/154th OG/Hawaii ANG), United States Air Force (696/C187)
80-0042/TY, McDonnell Douglas F-15C Eagle, AMARG (95th FS/325th FW), United States Air Force (707/C191)
80-0044, McDonnell Douglas F-15C Eagle, AMARG (199th FS/154th OG/Hawaii ANG), United States Air Force (711/C193)
80-0045, McDonnell Douglas F-15C Eagle, AMARG (122nd FS/159th FW/Louisiana ANG), United States Air Force (715/C194)
81-0021/EG, McDonnell Douglas F-15C Eagle, AMARG (58th FS/33rd FW), United States Air Force (735/C204)
81-0026, McDonnell Douglas F-15C Eagle, AMARG (186th FS/120th OG/Montana ANG), United States Air Force (746/C209)
81-0045/TY, McDonnell Douglas F-15C Eagle, AMARG (95th FS/325th FW), United States Air Force (796/C228)
81-0047, McDonnell Douglas F-15C Eagle, AMARG (114th FS/173d FW/Oregon ANG), United States Air Force (800/C230)
81-0053, McDonnell Douglas F-15C Eagle, AMARG (114th FS/173d FW/Oregon ANG), United States Air Force (812/C236)
81-0055, McDonnell Douglas F-15C Eagle, AMARG (114th FS/173d FW/Oregon ANG), United States Air Force (817/C238)
82-0021/EG, McDonnell Douglas F-15C Eagle, AMARG (58th FS/33rd FW), United States Air Force (835/C252)
82-0026/TY, McDonnell Douglas F-15C Eagle, AMARG (95th FS/325th FW), United States Air Force (841/C257)
82-0027, McDonnell Douglas F-15C Eagle, AMARG (114th FS/173d FW/Oregon ANG), United States Air Force (842/C258)
82-0030/TY, McDonnell Douglas F-15C Eagle, AMARG (95th FS/325th FW), United States Air Force (846/C261)
82-0031/TY, McDonnell Douglas F-15C Eagle, AMARG (2nd FS/325th FW), United States Air Force (847/C262)
82-0032/TY, McDonnell Douglas F-15C Eagle, AMARG (325th FW), United States Air Force (848/C263)
82-0033/EG, McDonnell Douglas F-15C Eagle, AMARG (33rd FW), United States Air Force (849/C264)
82-0034/EG, McDonnell Douglas F-15C Eagle, AMARG (58th FS/33rd FW), United States Air Force (850/C265)
83-0015, McDonnell Douglas F-15C Eagle, AMARG (2nd FS/325th FW), United States Air Force (862/C275)
83-0016, McDonnell Douglas F-15C Eagle, AMARG (114th FS/173d FW/Oregon ANG), United States Air Force (863/C276)
83-0020/TY, McDonnell Douglas F-15C Eagle, AMARG (2nd FS/325th FW), United States Air Force (867/C280)
83-0022/TY, McDonnell Douglas F-15C Eagle, AMARG (95th FS/325th FW), United States Air Force (870/C282)
83-0043, McDonnell Douglas F-15C Eagle, AMARG (114th FS/173d FW/Oregon ANG), United States Air Force (907/C303)
84-0012/OT, McDonnell Douglas F-15C Eagle, AMARG (422nd TES/53rd Wing), United States Air Force (921/C315)
78-0566/TY, McDonnell Douglas F-15D Eagle, AMARG (95th FS/325th FW), United States Air Force (483/D006)
84-0030, McDonnell Douglas F-15C Eagle, AMARG (123rd FS/142nd FW/Oregon ANG), United States Air Force (941/C333)
78-0570/TY, McDonnell Douglas F-15D Eagle, AMARG (2nd FS/325th FW), United States Air Force (509/D010)
78-0574/TY, McDonnell Douglas F-15D Eagle, AMARG (95th FS/325th FW), United States Air Force (537/D014)
79-0009/TY, McDonnell Douglas F-15D Eagle, AMARG (2nd FS/325th FW), United States Air Force (589/D020)
79-0011, McDonnell Douglas F-15D Eagle, AMARG (114th FS/173d FW/Oregon ANG), United States Air Force (604/D022)
79-0014/TY, McDonnell Douglas F-15D Eagle, AMARG (2nd FS/325th FW), United States Air Force (621/D025)
80-0056/TY, McDonnell Douglas F-15D Eagle, AMARG (95th FS/325th FW), United States Air Force (694/D028)
81-0064/TY, McDonnell Douglas F-15D Eagle, AMARG (2nd FS/325th FW), United States Air Force (768/D037)
82-0045/TY, McDonnell Douglas F-15D Eagle, AMARG (2nd FS/325th FW), United States Air Force (833/D041)
80-0541, General Dynamics F-16A (ADF) Fighting Falcon, AMARG (119th FS/177th FW/New Jersey ANG), United States Air Force (61-262)
80-0548/IL, General Dynamics F-16A (ADF) Fighting Falcon, AMARG (169th FS/183rd FG/Illinois ANG), United States Air Force (61-269)
80-0587/IL, General Dynamics F-16A (ADF) Fighting Falcon, AMARG (169th FS/183rd FG/Illinois ANG), United States Air Force (61-308)
80-0588/PR, General Dynamics F-16A (ADF) Fighting Falcon, AMARG (198th FS/156th FG/Puerto Rico ANG), United States Air Force (61-309)
81-0773/ND, General Dynamics F-16A (ADF) Fighting Falcon, AMARG (178th FS/119th OG/North Dakota ANG), United States Air Force (61-454)
81-0791/ND, General Dynamics F-16A (ADF) Fighting Falcon, AMARG (178th FS/119th OG/North Dakota ANG), United States Air Force (61-472)
82-0907/ND, General Dynamics F-16A (ADF) Fighting Falcon, AMARG (178th FS/119th OG/North Dakota ANG), United States Air Force (61-500)
82-0950/ND, General Dynamics F-16A (ADF) Fighting Falcon, AMARG (178th FS/119th OG/North Dakota ANG), United States Air Force (61-543)
82-0956/ND, General Dynamics F-16A (ADF) Fighting Falcon, AMARG (178th FS/119th OG/North Dakota ANG), United States Air Force (61-549)
82-0961/ND, General Dynamics F-16A (ADF) Fighting Falcon, AMARG (178th FS/119th OG/North Dakota ANG), United States Air Force (61-554)
82-0983/ND, General Dynamics F-16A (ADF) Fighting Falcon, AMARG (178th FS/119th OG/North Dakota ANG), United States Air Force (61-576)
82-0992/ND, General Dynamics F-16A (ADF) Fighting Falcon, AMARG (178th FS/119th OG/North Dakota ANG), United States Air Force (61-585 )
82-1012/ND, General Dynamics F-16A (ADF) Fighting Falcon, AMARG (178th FS/119th OG/North Dakota ANG), United States Air Force (61-605)
81-0790/SA, General Dynamics F-16A Fighting Falcon, AMARG (182nd FS/149th OG/Texas ANG), United States Air Force (61-471)
81-0804/AZ, General Dynamics F-16A Fighting Falcon, AMARG (162nd FW/Arizona ANG), United States Air Force (61-485)
82-0906/AZ, General Dynamics F-16A Fighting Falcon, AMARG (162nd FW/Arizona ANG), United States Air Force (61-499)
82-0938/AZ, General Dynamics F-16A Fighting Falcon, AMARG (162nd FW/Arizona ANG), United States Air Force (61-531)
82-0953/PR, General Dynamics F-16A Fighting Falcon, AMARG (198th FS/156th OG/Puerto Rico ANG), United States Air Force (61-546)
82-0955, General Dynamics F-16A Fighting Falcon, AMARG (162nd FW/Arizona ANG), United States Air Force (61-548)
82-0991/SA, General Dynamics F-16A Fighting Falcon, AMARG (182nd FS/149th OG/Texas ANG), United States Air Force (61-584)
82-0995/PR, General Dynamics F-16A Fighting Falcon, AMARG (198th FS/156th OG/Puerto Rico ANG), United States Air Force (61-588)
83-1085/SA, General Dynamics F-16A Fighting Falcon, AMARG (182nd FS/149th OG/Texas ANG), United States Air Force (61-638)
83-1093/SA, General Dynamics F-16A Fighting Falcon, AMARG (182nd FS/149th OG/Texas ANG), United States Air Force (61-646)
83-1098/SA, General Dynamics F-16A Fighting Falcon, AMARG (182nd FS/149th OG/Texas ANG), United States Air Force (61-651)
83-1100/SA, General Dynamics F-16A Fighting Falcon, AMARG (182nd FS/149th OG/Texas ANG), United States Air Force (61-653)
83-1105/SA, General Dynamics F-16A Fighting Falcon, AMARG (182nd FS/149th OG/Texas ANG), United States Air Force (61-658)
83-1108/SA, General Dynamics F-16A Fighting Falcon, AMARG (182nd FS/149th OG/Texas ANG), United States Air Force (61-661)
83-1109/SA, General Dynamics F-16A Fighting Falcon, AMARG (182nd FS/149th OG/Texas ANG), United States Air Force (61-662)
80-0637/AZ, General Dynamics F-16B (ADF) Fighting Falcon, AMARG (162nd FW/Arizona ANG), United States Air Force (62-79)
81-0812/AZ, General Dynamics F-16B (ADF) Fighting Falcon, AMARG (162nd FW/Arizona ANG), United States Air Force (62-81)
82-1036/ND, General Dynamics F-16B (ADF) Fighting Falcon, AMARG (178th FS/119th OG/North Dakota ANG), United States Air Force (62-102/B-151)
78-0099/ED, General Dynamics F-16B Fighting Falcon, AMARG (416th FLTS/412th TW), United States Air Force (62-25)
79-0421/AZ, General Dynamics F-16B Fighting Falcon, AMARG (162nd FW/Arizona ANG), United States Air Force (62-53)
80-0630/AZ, General Dynamics F-16B Fighting Falcon, AMARG (162nd FW/Arizona ANG), United States Air Force (62-72)
83-1119/ED, General Dynamics F-16C Fighting Falcon, AMARG (416th FLTS/412th TW), United States Air Force (5C-2)
83-1129/LF, General Dynamics F-16C Fighting Falcon, AMARG (309th FS/56th FW), United States Air Force (5C-12)
83-1135/AZ, General Dynamics F-16C Fighting Falcon, AMARG (162nd FW/Arizona ANG), United States Air Force (5C-18)
84-1230/LF, General Dynamics F-16C Fighting Falcon, AMARG (309th FS/56th FW), United States Air Force (5C-67)
84-1246/LF, General Dynamics F-16C Fighting Falcon, AMARG (62nd FS/56th FW), United States Air Force (5C-83)
84-1252/LF, General Dynamics F-16C Fighting Falcon, AMARG (309th FS/56th FW), United States Air Force (5C-89)
84-1278/AT, General Dynamics F-16C Fighting Falcon, AMARG (162nd FW/Arizona ANG), United States Air Force (5C-115)
84-1298/FW, General Dynamics F-16C Fighting Falcon, AMARG (163rd FS/122nd OG/Indiana ANG), United States Air Force (5C-135)
84-1307/ED, General Dynamics F-16C Fighting Falcon, AMARG (416th FLTS/412th TW), United States Air Force (5C-144)
84-1381/LF, General Dynamics F-16C Fighting Falcon, AMARG (62nd FS/56th FW), United States Air Force (5C-163)
84-1384, General Dynamics F-16C Fighting Falcon, AMARG (134th FS/158th OG/Vermont ANG), United States Air Force (5C-166)
85-1436/AC, General Dynamics F-16C Fighting Falcon, AMARG (119th FS/177th FW/New Jersey ANG), United States Air Force (5C-216)
85-1452/LF, General Dynamics F-16C Fighting Falcon, AMARG (61st FS/56th FW), United States Air Force (5C-232)
85-1466, General Dynamics F-16C Fighting Falcon, AMARG (175th FS/114th OG/South Dakota ANG), United States Air Force (5C-246)
85-1495/AC, General Dynamics F-16C Fighting Falcon, AMARG (119th FS/177th FW/New Jersey ANG), United States Air Force (5C-275)
85-1497/AC, General Dynamics F-16C Fighting Falcon, AMARG (119th FS/177th FW/New Jersey ANG), United States Air Force (5C-277)
85-1546/TX, General Dynamics F-16C Fighting Falcon, AMARG (457th FS/301st OG), United States Air Force (5C-288)
86-0217, General Dynamics F-16C Fighting Falcon, AMARG (194th FS/144th OG/California ANG), United States Air Force (5C-323)
86-0235/FW, General Dynamics F-16C Fighting Falcon, AMARG (163rd FS/122nd OG/Indiana ANG), United States Air Force (5C-341)
86-0258/AC, General Dynamics F-16C Fighting Falcon, AMARG (119th FS/177th FW/New Jersey ANG), United States Air Force (5C-364)
83-1176/ED, General Dynamics F-16D Fighting Falcon, AMARG (416th FLTS/412th TW), United States Air Force (5D-3)
83-1178/AZ, General Dynamics F-16D Fighting Falcon, AMARG (162nd FW/Arizona ANG), United States Air Force (5D-5)
85-1511/AC, General Dynamics F-16D Fighting Falcon, AMARG (119th FS/177th FW/New Jersey ANG), United States Air Force (5D-33)
86-0053/FM, General Dynamics F-16D Fighting Falcon, AMARG (93rd FS/482nd OG), United States Air Force (5D-56)
160742/HF-59, Bell AH-1W Sea Cobra, AMARG (HMLA-269), United States Marine Corps (26913/29141)
160744/SE-47, Bell AH-1W Sea Cobra, AMARG (HMLA-469), United States Marine Corps (26932)
160801/43, Bell AH-1W Sea Cobra, AMARG (VMM-265 (HMLA-167)), United States Marine Corps (26901)
160809, Bell AH-1W Sea Cobra, AMARG (HMLA-469), United States Marine Corps (26935/29121 )
160810/MP-03, Bell AH-1W Sea Cobra, AMARG (HMLA-773), United States Marine Corps (26930/29143)
162550/41, Bell AH-1W Sea Cobra, AMARG (VMM-265 (HMLA-167)), United States Marine Corps (26219/29155)
163934/SE-40, Bell AH-1W Sea Cobra, AMARG (HMLA-469), United States Marine Corps (26259)
163942/CA-20, Bell AH-1W Sea Cobra, AMARG (HMLA-467), United States Marine Corps ( 26267/29122)
163948/SE-42, Bell AH-1W Sea Cobra, AMARG (HMLA-469), United States Marine Corps (26273)
163949/SE-50, Bell AH-1W Sea Cobra, AMARG (HMLA-469), United States Marine Corps (26274)
164573/SE-46, Bell AH-1W Sea Cobra, AMARG (HMLA-469), United States Marine Corps (26281)
164576/HF-60, Bell AH-1W Sea Cobra, AMARG (HMLA-269), United States Marine Corps (26284/29150)
164587/SE-44, Bell AH-1W Sea Cobra, AMARG (HMLA-469), United States Marine Corps (26286/29163)
164588/TV-51, Bell AH-1W Sea Cobra, AMARG (HMLA-167), United States Marine Corps (29166)
165043/CA-35, Bell AH-1W Sea Cobra, AMARG (HMLA-467), United States Marine Corps (26305/29102)
165049/SE-43, Bell AH-1W Sea Cobra, AMARG (HMLA-469), United States Marine Corps (26317)
165273/CA-33, Bell AH-1W Sea Cobra, AMARG (HMLA-467), United States Marine Corps (26321)
165319/42, Bell AH-1W Sea Cobra, AMARG (VMM-265 (HMLA-167)), United States Marine Corps (26343)
165323/65, Bell AH-1W Sea Cobra, AMARG (HMLA-269), United States Marine Corps (26347)
165392/45, Bell AH-1W Sea Cobra, AMARG (VMM-265 (HMLA-167)), United States Marine Corps (unknown)
70-2484, Bell HH-1H Iroquois, AMARG (514th FTS), United States Air Force (17128)
149719/UP-763, Sikorsky SH-3H Sea King, AMARG (HC-1), United States Navy (61.136)
69-5794, Sikorsky MH-53M Super Jolly Green Giant, AMARG (20th SOS/1st SOW), United States Air Force (65.273)
163786/NW-314, Sikorsky HH-60H Seahawk, AMARG (HSC-85), United States Navy (70.620)
164855/TX-101, Sikorsky SH-60B Seahawk, AMARG (HSL-49), United States Navy ( 70-1938)
165107/TA-705, Sikorsky SH-60B Seahawk, AMARG (HSL-51), United States Navy (70-2268)
62-3614/HM, Northrop AT-38B Talon, AMARG (433rd TFTS/479th TTW), United States Air Force (N5319)
63-8149/HM, Northrop AT-38B Talon, AMARG (479thTTW), United States Air Force (N5496)
63-8166/HM, Northrop AT-38B Talon, AMARG (433rd TFTS/479th TTW), United States Air Force (N5513)
64-13188/HM, Northrop AT-38B Talon, AMARG (435th TFTS/479th TTW), United States Air Force (N5617)
64-13215/HM, Northrop AT-38B Talon, AMARG (433rd TFTS/479th TTW), United States Air Force (N5644)
61-0882, Northrop T-38A Talon, AMARG (64th FTW), United States Air Force (N5248)
61-0896, Northrop T-38A Talon, AMARG (64th FTW), United States Air Force (N5262)
61-0913, Northrop T-38A Talon, AMARG (Hill AFB), United States Air Force (N5279)
61-0918, Northrop T-38A Talon, AMARG (12th FTW), United States Air Force (N5284)
61-0927, Northrop T-38A Talon, AMARG (14th FTW), United States Air Force (N5293)
61-0936, Northrop T-38A Talon, AMARG (12th FTW), United States Air Force (N5302)
62-3618, Northrop T-38A Talon, AMARG (80th FTW), United States Air Force (N5323)
62-3620, Northrop T-38A Talon, AMARG (82nd FTW), United States Air Force (N5325)
62-3623, Northrop T-38A Talon, AMARG (12th FTW), United States Air Force (N5328)
62-3626/EN, Northrop T-38A Talon, AMARG (80th FTW), United States Air Force (N5331)
62-3629, Northrop T-38A Talon, AMARG (12th FTW), United States Air Force (N5334)
62-3637, Northrop T-38A Talon, AMARG (64th FTW), United States Air Force (N5342)
62-3650, Northrop T-38A Talon, AMARG (64th FTW), United States Air Force (N5355)
62-3654, Northrop T-38A Talon, AMARG (12th FTW), United States Air Force (N5359)
62-3657, Northrop T-38A Talon, AMARG (12th FTW), United States Air Force (N5362)
62-3668, Northrop T-38A Talon, AMARG (64th FTW), United States Air Force (N5373)
62-3671, Northrop T-38A Talon, AMARG (14th FTW), United States Air Force (N5376)
62-3672, Northrop T-38A Talon, AMARG (47th FTW), United States Air Force (N5377)
62-3674, Northrop T-38A Talon, AMARG (12th FTW), United States Air Force (N5379)
62-3685, Northrop T-38A Talon, AMARG (64th FTW), United States Air Force (N5390)
62-3686/LB, Northrop T-38A Talon, AMARG (64th FTW), United States Air Force (N5391)
62-3689, Northrop T-38A Talon, AMARG (12th FTW), United States Air Force (N5394)
62-3697, Northrop T-38A Talon, AMARG (64th FTW), United States Air Force (N5402)
62-3698, Northrop T-38A Talon, AMARG (71st FTW), United States Air Force (N5403)
62-3701, Northrop T-38A Talon, AMARG (12th FTW), United States Air Force (N5406)
62-3717, Northrop T-38A Talon, AMARG (12th FTW), United States Air Force (N5422)
62-3720, Northrop T-38A Talon, AMARG (12th FTW), United States Air Force (N5425)
62-3732, Northrop T-38A Talon, AMARG (14th FTW), United States Air Force (N5437)
62-3736, Northrop T-38A Talon, AMARG (71st FTW), United States Air Force (N5441)
62-3742, Northrop T-38A Talon, AMARG (71st FTW), United States Air Force (N5447)
62-3750, Northrop T-38A Talon, AMARG (12th FTW), United States Air Force (N5455)
63-8116, Northrop T-38A Talon, AMARG (12th FTW), United States Air Force (N5463)
63-8120, Northrop T-38A Talon, AMARG (47th FTW), United States Air Force (N5467)
63-8123, Northrop T-38A Talon, AMARG (47th FTW), United States Air Force (N5470)
63-8132, Northrop T-38A Talon, AMARG (71st FTW), United States Air Force (N5479)
63-8139, Northrop T-38A Talon, AMARG (12th FTW), United States Air Force (N5486)
63-8152/VN, Northrop T-38A Talon, AMARG (71st FTW), United States Air Force (N5499)
63-8174, Northrop T-38A Talon, AMARG (14th FTW), United States Air Force (N5521)
63-8222, Northrop T-38A Talon, AMARG (47th FTW), United States Air Force (N5569)
63-8225, Northrop T-38A Talon, AMARG (64th FTW), United States Air Force (N5572)
63-8232, Northrop T-38A Talon, AMARG (14th FTW), United States Air Force (N5579)
63-8235/E, Northrop T-38A Talon, AMARG (64th FTW), United States Air Force (N5582)
64-13174, Northrop T-38A Talon, AMARG (47th FTW), United States Air Force (N5603)
64-13190/BB, Northrop T-38A Talon, AMARG (49th FW), United States Air Force (N5619)
64-13212/BB, Northrop T-38A Talon, AMARG (49th FW), United States Air Force (N5641)
64-13220, Northrop T-38A Talon, AMARG (47th FTW), United States Air Force (N5649)
64-13249, Northrop T-38A Talon, AMARG (47th FTW), United States Air Force (N5678)
64-13253, Northrop T-38A Talon, AMARG (12th FTW), United States Air Force (N5682)
65-10451, Northrop T-38A Talon, AMARG (ACC), United States Air Force (N5870)
66-4383/LA, Northrop T-38A Talon, AMARG (49th FW), United States Air Force (T6014)
13-167, Northrop T-38A Talon, AMARG, 64-13167, Republic of Korea Air Force (N5596)
13-181, Northrop T-38A Talon, AMARG, 64-13181, Republic of Korea Air Force (N5610)
13-204, Northrop T-38A Talon, AMARG, 64-13204, Republic of Korea Air Force (N5633)
13-241, Northrop T-38A Talon, AMARG, 64-13241, Republic of Korea Air Force (N5670)
13-278, Northrop T-38A Talon, AMARG, 64-13278, Republic of Korea Air Force (N5707)
23-646, Northrop T-38A Talon, AMARG, 62-3646, Republic of Korea Air Force (N5351)
23-652, Northrop T-38A Talon, AMARG, 62-3652, Republic of Korea Air Force (N5357)
23-662, Northrop T-38A Talon, AMARG, 62-3662, Republic of Korea Air Force (N5367)
23-680, Northrop T-38A Talon, AMARG, 62-3680, Republic of Korea Air Force (N5385)
23-683, Northrop T-38A Talon, AMARG, 62-3683, Republic of Korea Air Force (N5388)
23-699, Northrop T-38A Talon, AMARG, 62-3699, Republic of Korea Air Force (N5404)
38-147, Northrop T-38A Talon, AMARG, 63-8147, Republic of Korea Air Force (N5494)
38-239, Northrop T-38A Talon, AMARG, 63-8239, Republic of Korea Air Force (N5586)
38-243, Northrop T-38A Talon, AMARG, 63-8243, Republic of Korea Air Force (N5590)
38-246, Northrop T-38A Talon, AMARG, 62-8246, Republic of Korea Air Force (N5593)
AMARG storage area 28:
58-0111, Boeing KC-135E Stratotanker, AMARG (108th ARW/New Jersey ANG), United States Air Force (17856)
Display Row:
142630, Douglas NA-3B Skywarrior, AMARG (NWC), United States Navy (11693)
154633, Douglas OA-4M Skyhawk, AMARG (NATC), United States Navy (13751)
153486/05, Douglas TA-4J Skyhawk, AMARG (VC-8), United States Navy (13552)
152607/NG-502, Grumman A-6E Intruder, AMARG (VA-165), United States Navy (I-155)
163404/NG-502, Grumman EA-6B Prowler, AMARG (VAQ-133), United States Navy (P-144)
80-0144/FT, Fairchild A-10A Thunderbolt II, AMARG (74th FS/23rd FG), United States Air Force (A10-0494)
85-0077, Rockwell B-1B Lancer, AMARG (17th WPS/57th Wing), United States Air Force (37)
60-0010/LA, Boeing B-52H Stratofortress, AMARG (11th BS/2nd BW), United States Air Force (464375)
52-1506, Martin EB-57B Canberra, AMARG (134th DSES/158th DSEG/Vermont ANG), United States Air Force (089)
68-0220, Lockheed C-5A Galaxy, AMARG (433rd AW), United States Air Force (500-23)
163208/208, Douglas C-9B Skytrain II, AMARG (VR-56), United States Navy (47639)
84-0190, McDonnell Douglas KC-10A Extender, AMARG (305th AMW), United States Air Force (48229/399)
161197/G-327/197, Beechcraft TC-12B Super King Air, AMARG (TAW-4), United States Navy (BJ-13)
161204/5T, Beechcraft UC-12B Super King Air, AMARG (Yuma), United States Marine Corps (BJ-20)
72-1874, Boeing YC-14A, AMARG (Boeing), United States Air Force (2)
86-0403, Grumman C-20C Gulfstream III, AMARG (89th AW), United States Air Force (473)
163050, Douglas EC-24A , AMARG (FTRG), United States Navy (45881)
63-7865/RS, Lockheed C-130E Hercules, AMARG (86th AW), United States Air Force (3935)
570497/497, Lockheed DC-130A Hercules, AMARG (VX-30), United States Navy (3204)
148321/XD-03, Lockheed LC-130F Hercules, AMARG (VXE-6), United States Air Force (3567)
89-0510, Lockheed AC-130U Hercules, AMARG (4th SOS/1st SOW), United States Air Force (5229)
89-1056, Lockheed AC-130U Hercules, AMARG (4th SOS/1st SOW), United States Air Force (5205)
55-3132, Boeing NKC-135E Stratolifter, AMARG (452nd FLTS det.2/412th TW), United States Air Force (17248)
164353/AJ-600, Grumman E-2C+ Hawkeye, AMARG (VAW-124), United States Navy (A146)
64-0699/DM, McDonnell F-4C Phantom II, AMARG (Davis-Monthan AFB), United States Air Force (945)
68-0531/HO, McDonnell F-4E Phantom II, AMARG (20th FS/49th FW), United States Air Force (3730)
144618, Vought RF-8G Crusader, AMARG (VFP-63), United States Navy (175)
161866/NF-100, Grumman F-14A Tomcat, AMARG (VF-154), United States Air Force (502)
164341/AJ-112, Grumman F-14D Tomcat, AMARG (VF-31), United States Air Force (616/D-21)
86-0183, McDonnell Douglas F-15E Eagle, AMARG (Boeing), United States Air Force (986/E001)
81-0738, General Dynamics F-16A (ADF) Fighting Falcon, AMARG (119th FS/177th FW/New Jersey ANG), United States Air Force (61-419)
164209/09, McDonnell Douglas F/A-18C Hornet, AMARG (VMFA-122), United States Marine Corps ( 972/C201)
57-0436, McDonnell F-101B Voodoo, AMARG (136th FIS/107th TFG/New York ANG), United States Air Force (614)
63-8285/DM, Republic F-105D Thunderchief, AMARG (Davis-Monthan AFB), United States Air Force (F062)
59-0130/AD152, Convair QF-106A Delta Dart, AMARG (NASA), United States Air Force (317)
74-0187/CC, General Dynamics F-111F Aardvark, AMARG (524th FS/27th FW), United States Air Force (105)
71-21000, Bell AH-1S Cobra, AMARG (1-126th Avn Rgt/Rhode Island ARNG), United States Army (21071)
70-2474/EL, Bell HH-1H Iroquois, AMARG (44th RQF/44th MW), United States Air Force (17118)
151314/TD-05, Kaman SH-2F Seasprite, AMARG (HSL-31), United States Navy (151)
156483, Sikorsky SH-3H Sea King, AMARG (NSWC), United States Navy (61.429)
151924, Boeing-Vertol HH-46D Sea Knight, AMARG (VMR-1), United States Marine Corps (2074)
164073/RA-17, Sikorsky SH-60F Seahawk, AMARG (HS-10), United States Navy (unknown)
N765MG, de Havilland Canada EO-5C Dash 7, AMARG (Sierra Nevada Corp), United States Army (65)
147963/PJ-5, Lockheed SP-2H Neptune, AMARG (VP-69), United States Navy (726-7213)
157313/LF-313, Lockheed P-3C-IIIR Orion, AMARG (VP-16), United States Navy (5528)
150499/337, Lockheed NP-3D Orion, AMARG (VX-30), United States Navy (5025)
136475/E-002, Grumman S-2F Tracker, AMARG (Whiting Field), United States Navy (384)
159404/NK-727, Lockheed ES-3A Viking, AMARG (VQ-5 det.B), United States Navy (3040)
159732/NG-700, Lockheed S-3B Viking, AMARG (VS-31), United States Navy (3061)
160581/701/30-X-1, Lockheed S-3B Viking, AMARG (VX-30), United States Navy (3161)
156712/F-803, North American/Rockwell T-2C Buckeye, AMARG (CTW-6), United States Navy (318-27)
162645/G-833, Beechcraft T-34C Turbo Mentor, AMARG (TAW-4), United States Navy (GL-330)
68-8004/CB, Cessna T-37B Tweety Bird, AMARG (14th FTW), United States Air Force (41106)
62-3653/BB, Northrop T-38A Talon, AMARG (49th FW), United States Air Force (N5358)
158844/F-19, North American CT-39G Sabreliner, AMARG (CTW-6), United States Navy (306-55)
165523/F-15/6-TW-100, North American T-39N Sabreliner, AMARG (CTW-6), United States Navy (282-20)
85-1596, Fairchild T-46A, AMARG (6512nd TS), United States Air Force (unknown)
67-18903, Grumman OV-1D Mohawk, AMARG (641st MIB/Oregon ARNG), United States Army (104C)
90-0175/JS, Boeing E-8C J-STARS, AMARG (Northrop-Grumman), United States Air Force (19621/652/T-3)
142263, Lockheed T-1A Seastar, AMARC (Monterey), United States Navy (1080-1003)
N932NA, Douglas DC-9-33F, AMARG, NASA (47476)
AMARG Process (Arrivals/Maintenance & Departures) area:
85-0074/DY, Rockwell B-1B Lancer, AMARG (9th BS/7th BW), United States Air Force (34)
85-0090/DY, Rockwell B-1B Lancer, AMARG (28th BS/7th BW), United States Air Force (50)
74-1659, Lockheed C-130H Hercules, AMARG (103rd AW/Connecticut ANG), United States Air Force (4585)
74-1682, Lockheed C-130H Hercules, AMARG (103rd AW/Connecticut ANG), United States Air Force (4657)
74-2132, Lockheed C-130H Hercules, AMARG (186th AS/120th AW/Montana ANG), United States Air Force (4722)
79-0480, Lockheed C-130H Hercules, AMARG (152nd AW/Nevada ANG), United States Air Force (4860)
92-2104, Lockheed HC-130N Hercules, AMARG (920th RQW), United States Air Force (5381)
82-1025/FS, General Dynamics F-16A Fighting Falcon, AMARG (184th FS/188th OG/Arkansas ANG), United States Air Force (61-618)
666, General Dynamics F-16A Fighting Falcon, AMARG (416th FLTS), 80-3666, Royal Norwegian Air Force (14803050)
164727/SH-171, McDonnell Douglas F/A-18C Hornet, AMARG (VMFAT-101), United States Marine Corps (1178/C327)
164907/WT-09, McDonnell Douglas F/A-18C Hornet, AMARG (VMFA-232), United States Marine Corps (1239/C366)
164978/VE-08, McDonnell Douglas F/A-18C Hornet, AMARG (VMFA-115), United States Marine Corps ( 1281/C393)
168050/TV-85, Bell AH-1Z Super Cobra, AMARG (HMLA-167), United States Marine Corps (59017)
168052/QT-619, Bell AH-1Z Super Cobra, AMARG (HMLAT-303), United States Marine Corps (59019)
168398/HF-50, Bell AH-1Z Super Cobra, AMARG (HMLA-269), United States Marine Corps (59026)
168418/HF-51, Bell AH-1Z Super Cobra, AMARG (HMLA-269), United States Marine Corps (59021)
168423/QT-461, Bell AH-1Z Super Cobra, AMARG (HMLAT-303), United States Marine Corps (59201)
168962/VT-20, Bell AH-1Z Super Cobra, AMARG (HMLA-367), United States Marine Corps (59219)
169256/QT-671, Bell AH-1Z Super Cobra, AMARG (HMLAT-303), United States Marine Corps (unknown)
87-26008, Sikorsky HH-60G Blackhawk, AMARG (66th RQS/563d RG), United States Air Force (70-1208)
90-26223, Sikorsky HH-60G Blackhawk, AMARG (41st RQS/347th RQG), United States Air Force (70-1544)
90-26228/DR, Sikorsky HH-60G Blackhawk, AMARG (305th RQS/943d RG), United States Air Force (70-1556)
91-26353/AV, Sikorsky HH-60G Blackhawk, AMARG (56th RQS/31st FW), United States Air Force (70-1654)
92-26460, Sikorsky HH-60G Blackhawk, AMARG (41st RQS/347th RQG), United States Air Force (unknown)
92-26472/AK, Sikorsky HH-60G Blackhawk, AMARG (210th RQS/176th OG/Alaska ANG), United States Air Force (70-2010)
165758/FW-758, Sikorsky MH-60S Seahawk, AMARG (Whidbey Island SAR), United States Navy (70-2651)
165770/HU-704, Sikorsky MH-60S Seahawk, AMARG (HSC-2), United States Navy (70-2704)
166300/SA-31, Sikorsky MH-60S Seahawk, AMARG (HSC-3), United States Navy (70-2785)
167787/N4, Northrop Grumman MQ-8B Fire Scout, AMARG, United States Navy (N-4)
167790/N7, Northrop Grumman MQ-8B Fire Scout, AMARG, United States Navy (N-7)
165421/WE-01, McDonnell Douglas AV-8B+(R) Harrier II, AMARG (VMA-214), United States Marine Corps (293)
219, McDonnell Douglas Helicopters MD.530F Cayuse Warrior, AMARG, Afghan Air Force (0219FF)
256, McDonnell Douglas Helicopters MD.530F Cayuse Warrior, AMARG, Afghan Air Force (0256FF)
263, McDonnell Douglas Helicopters MD.530F Cayuse Warrior, AMARG, Afghan Air Force ( 0263FF)
286, McDonnell Douglas Helicopters MD.530F Cayuse Warrior, AMARG, Afghan Air Force ( 0286FF)
287, McDonnell Douglas Helicopters MD.530F Cayuse Warrior, AMARG, Afghan Air Force (0287FF)
297, McDonnell Douglas Helicopters MD.530F Cayuse Warrior, AMARG, Afghan Air Force (0297FF)
332, McDonnell Douglas Helicopters MD.530F Cayuse Warrior, AMARG, Afghan Air Force (0332FF)
510, Mil Mi-8MTV Hip, AMARG, Afghan Air Force (unknown)
703, Mil Mi-17V-5 Hip, AMARG, Afghan Air Force ( 784M17)
716, Mil Mi-17V-5 Hip, AMARG, Afghan Air Force (840M08)
735, Mil Mi-17V-5 Hip, AMARG, Afghan Air Force (840M27)
739, Mil Mi-17V-5 Hip, AMARG, Afghan Air Force ( 840M31)
754, Mil Mi-17V-5 Hip, AMARG, Afghan Air Force (840M46)
On display near the main gate:
51-12760, Cessna O-1A Bird Dog, On Display, United States Air Force (23217)
79-0116/DM white, Fairchild A-10A Thunderbolt II, On Display, United States Air Force (A10-0380)
56-0493, Lockheed C-130A Hercules, On Display, United States Air Force (3101)
56-6716, Lockheed U-2C, On Display, United States Air Force (383)
(150639)/65639/FY red, McDonnell F-4N Phantom II, On Display, United States Air Force (297)
56-3727/HE red, North American F-100F Super Sabre, On Display, United States Air Force (243-3)
(66-13560)/NF yellow, North American/Rockwell OV-10A Bronco, On Display, United States Air Force (321-9)
(61-0159)/62-284/RM, Republic F-105D Thunderchief, On Display, United States Air Force (unknown)
(65-12799)/65-5692, Sikorsky CH-3C Jolly Green Giant, On Display, United States Air Force (61.574)
(68-8229)/71-358/DM red, Vought A-7D Corsair II, On Display, United States Air Force (D-16)
On display outside the Navy Operational Support Center:
153526/03, Douglas TA-4J Skyhawk, On Display, United States Navy (13592)
Best regards,
Grant Robinson
Photograph credits: Grant Robinson