The second part of my four day trip was my first overseas visit since October 2019.
Off to France to see what could be noted at Toulouse and Tarbes-Lourdes, plus any other places that we could fit in.
To start the journey, it was a quick visit to Luton before making our way over to Stansted and our flight. So over to the free one hour car park, a view from the Holiday Inn Express and the hangar nearby and we were off.
My photographs at: https://www.flickr.com/…/jlt…/albums/72177720297632810
Regards
John
Noted between 0915-1010hrsList in order a seen:
9H-IFX Embraer EMB-550 C/n 55020122 Flexjets Operations Malta
VP-CPT Bombardier Global 6000BD-700-1A10 C/n 9509 Corporate
T7-MASHI Bombardier 650 C/n 6162 Corporate
HA-LYT Airbus A320232(SL) C/n 6683 Wizz Air
OE-LEO Gulfstream G650 C/n 6278 Global Jet Austria
N147QS Bombardier Global 6000BD-700-1A10 C/n 9632 NetJets
9H-VFH Bombardier 605 C/n 5979 VistaJet Malta
M-OONL Bombardier Global ExpressBD-700-1A10 C/n 9423 Corporate
N797KK Bombardier Global ExpressBD-700-1A10 C/n 9290 Corporate
G-FOMO Bombardier Global 6000BD-700-1A10 C/n 9797 London Executive Aviation
G-LEAX Cessna 560 C/n 560-5712 London Executive Aviation
N527P Dassault Falcon900LX C/n 275 Corporate
G-CMTO Cessna 525 C/n 525-0848 Air Charter Scotland
N633AD Bombardier Global ExpressBD-700-1A10 C/n 9368 Corporate
G-WUKK Airbus A321231(SL) C/n 8950 Wizz Air UK
G-EZTH Airbus A320214 C/n 3953 easyJet
G-WUKG Airbus A321231(SL) C/n 8236 Wizz Air UK
G-UZLD Airbus A320251N(SL) C/n 9036 easyJet
TC-SSA Dassault Falcon 8X C/n 485 Corporate
N99ZM Bombardier Global 6000BD-700-1A10 C/n 9587 Corporate
G-MEGN Beech B200 C/n BB-1518 Dragonfly Air Charter
N651BA Gulfstream G650ER C/n 6287 Gulfstream Aerospace
G-NJAD Dassault Falcon2000EX EASy C/n 41 NetJets Air Transport UK
N60SN Dassault Falcon 8X C/n 452 Corporate
N700KG Learjet 40 C/n 45-2017 Corporate
D-CHIC Embraer EMB-505 C/n 50500096 Air Hamburg
M-AGIK Dassault Falcon900LX C/n 274 Corporate
N125GH Gulfstream G5 C/n 526 Corporate
G-EZBF Airbus A319111 C/n 2923 easyJet
G-WUKR Airbus A321271NX(SL) C/n 10871 Wizz Air UK
G-WUKE Airbus A320232(SL) C/n 8327 Wizz Air UK
G-SHUI Cessna 680A C/n 680A-0102 Air Charter Scotland
YU-PDD Cessna 560 C/n 560-6044 Air Pink
YR-MXE Boeing 7378MAX C/n 43331 Blue Air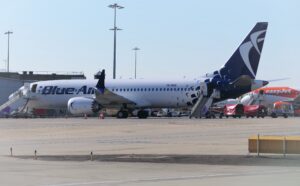 G-UZHM Airbus A320251N(SL) C/n 8405 easyJet
G-EZWA Airbus A320214 C/n 5201 easyJet
HA-LXM Airbus A321231(SL) C/n 7528 Wizz Air
G-WUKF Airbus A320232(SL) C/n 8210 Wizz Air UK
B-KEY Gulfstream G650ER C/n 6098 Corporate
9H-ILB Canadair Regional-Jet850 C/n 8107 VistaJet Malta
M-ROCA Bombardier 605 C/n 5853 Corporate
9H-VBG Bombardier Global 6500BD-700-1A10 C/n 60003 TAG Aviation Malta
9H-VJT Bombardier Global 6000BD-700-1A10 C/n 9721 VistaJet Malta
A7-TAA Bombardier Global 6000BD-700-1A10 C/n 9661 Corporate
C-GURJ Bombardier 605 C/n 5721 Image Air Charter
M-YULI Airbus A319115CJ C/n 5040 Corporate
G-LOBX Bombardier Global 7500BD-700-2A12 C/n 70053 London Executive Aviation
N556CH Gulfstream G650ER C/n 6361 Corporate
N109CH Gulfstream G650ER C/n 6462 Corporate
M-TINK Dassault Falcon 8X C/n 450 Withdrawn from use
VP-CXX Bombardier Global 7500BD-700-2A12 C/n 70098 HK Bellawings Jet
EI-DCK Boeing 7378AS C/n 33565 Ryanair
VT-DHA Bombardier Global ExpressBD-700-1A10 C/n 9111 Corporate
CS-GLC Bombardier Global 6000BD-700-1A10 C/n 9533 NetJets Europe
G-EZDL Airbus A319111 C/n 3569 easyJet
G-EZIY Airbus A319111 C/n 2636 easyJet
G-EZAW Airbus A319111 C/n 2812 Leasing Company
G-EZOU Airbus A320214(SL) C/n 6754 easyJet
G-EZAI Airbus A319111 C/n 2735 easyJet
G-EZBT Airbus A319111 C/n 3090 easyJet
G-WUKI Airbus A321231(SL) C/n 8625 Wizz Air UK
HB-JTZ Bombardier 650 C/n 6134 Execujet Europe
4K-AI88 Gulfstream G650 C/n 6107 ASG Business Aviation
CS-GLY Bombardier Global 5000BD-700-1A11 C/n 9498 NetJets Europe
D-AWOW Embraer Emb-190 100ECJLineage 1000 C/n 19000732 Air Hamburg
OE-LIM Gulfstream G550 C/n 5174 Avcon Jet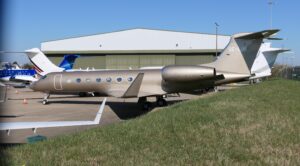 9H-CLG Canadair Regional-Jet850 C/n 8063 Air X Charter
VP-CJH Gulfstream G650ER C/n 6293 Corporate
G-ULFM Gulfstream G450 C/n 4359 Corporate
VP-BJW Boeing 737301 C/n 23551 Fire Service