Hi all,
My intention on the second day of my trip was to get to Oshkosh which was a good 180 miles North of Chicago. Several people had told me to get to Oshkosh as soon as I could, but i figured that I would rather let the place fill up a bit before walking all the rows. So I also gave over today (Saturday) as a opportunity to do some stuff on the way up.
Did all my research on today at home using Google, Google Maps and Google Earth. I still love my military frames so I decided to start by going for a A-7D & F-86L on open display in housing areas to the North and South of Chicago/Midway Airport…
So getting up at 04:00 and being ready for check out at 04:30, It was a good start to my plan for the day. On getting to the reception area, I meet a man with a mop and bucket fighting a losing battle to clear the floor of incoming water. The receptionist with a friendly smile and cheerfulness that suggests that this happens all the time, tells me to go careful out there as most of the local roads are flooded.
As I go out to the car, it is still chucking it down and thunder and lightning can be seen and heard. Easy I thought, head back the way I came last night and get on the Interstate South towards Midway. Got no more than one mile down that road and saw cars turning around and coming back. Those that had continued on, were now lifeless and stuck in deep water. So I turned around too.
I made a mistake that I was lucky to get away with and could have ruined the whole day before even starting. I was following someone who went straight into deep water without slowing down and I hadn't seen it due to a combination of being pitch black dark, dazzle from oncoming headlight and windscreen wipers at the max. So even though I managed to slow down, I still found myself committed with a nice bow wave coming from my car. So I kept the car moving slowly and crossed the fingers….
Learning my lesson from that, I backed right off following anyone else. Lots of closed roads, u-turns and stalled cars later, I managed to get myself on I- 90 (Northwest Tollway) which would then take me to I-294 (Tri-State Tollway) and enable me to head South towards Midway. As these roads were elevated, no problems there. Never seen flooding or car carnage like it over here in the UK……
As I was heading South past O'Hare, I seriously considered ditching my plan to do all this stuff today and play it safe by heading straight to Oshkosh bearing in mind my earlier let off and the fact that the Interstate roads seemed ok. What swayed me to continue was the fact that it had stopped raining now and I could see the storm moving away in the first light of day.
So first stop would be Brookfield around 05:45. Head South on I-294 from O'Hare. Take Ogden Avenue (34) or 47th Street towards La Grange. Take entrance road (Congress Park Avenue) into west side of Jaycee Ehlert Memorial Park. Google Earth co-ordinates 41, 48′, 39.00″N – 87, 50′, 53.75″W
https://www.flickr.com/photos/62861611@N08/albums/72157650435701121
53-0700, North American F-86L Sabre, On Display, Jaycee Ehlert Memorial Park, United States (201-144)
More local flooding encountered, so back tracked to the I-294 and again headed South. Off onto 127th Street (Burr Oak Avenue) heading EastBlueIsland. OldBlueIslandPark is on the right hand side of this road and the A-7 is displayed on the East side of the Park. Arrived here at 06:20……Google Earth co-ordinates 41, 39′, 37.42″N – 87, 41′, 16.09″W.
https://www.flickr.com/photos/62861611@N08/albums/72157650447844785
71-0347/JH, Vought A-7D Corsair II, On Display, Old Blue Island Park, United States (D-258)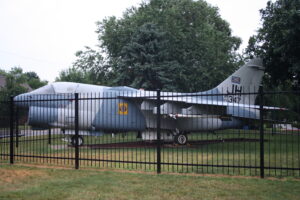 Headed North now back towards O'Hare with my next target being Midway Airport. I transitted through here a few years ago, changing from a ATA Airlines flight to a Southwest Airlines flight enroute to Albuquerque. As I spotted airside on that occassion, this would be my first visit from outside.
With Midway Airport being a perfect square shape and local roads going around all four sides, you can't go wrong here really. East (Terminals) side of the airport is a write off for views due to a high wall. South side will give you views along 63rd Street. I pulled into Odyssey Aviation's parking lot and read off a lot of biz and Southwest parked on the Terminals.
West side (South Central Avenue) gives you a good view from Signature's parking lot. It has to be said that I wouldn't hang around these parking lots for too long, just get your stuff and go.
There is a 7 floor parking garage located on the North (55th Street) that would give good all round views of the airfield from the top level, but I wanted to press on given that I had read most of what was I was able to get, so I gave this a miss. Star pot here was my first Epic LT, not too many of these about? The Seebee being nice too…..
Chicago/Midway 06:50-07:20
N958CA, Canadair Regional Jet CRJ-100ER, Comair/Delta Connection (7111)
N661SW, Boeing 737-317, Southwest Airlines (23173)
N676SW, Boeing 737-3A4, Southwest Airlines (23288)
N373SW, Boeing 737-3H4, Southwest Airlines (26581)
N388SW, Boeing 737-3H4, Southwest Airlines (26591)
N629SW, Boeing 737-3H4, Southwest Airlines (27704)
N697SW, Boeing 737-3T0, Southwest Airlines (23838)
N487WN, Boeing 737-7H4, Southwest Airlines (33854)
N747SA, Boeing 737-7H4, Southwest Airlines (29799)
N790SW, Boeing 737-7H4, Southwest Airlines (30604)
N904WN, Boeing 737-7H4, Southwest Airlines (36616)
N920WN, Boeing 737-7H4, Southwest Airlines (32460)
N944WN, Boeing 737-7H4, Southwest Airlines (36659)
N947WN, Boeing 737-7H4, Southwest Airlines (36924)
N950WN, Boeing 737-7H4, Southwest Airlines (36664)
N84CA, Beechcraft 200 Super King Air (BB-166)
N515FX, Bombardier Aerospace Challenger 300 (20032)
C-FPBX, Bombardier Aerospace Learjet 45 (45-085)
N356WA, Bombardier Aerospace Learjet 60 (60-123)
N604DH, Canadair Challenger 604 (5344)
N604DT, Canadair Challenger 604 (5627)
N120WE, Cessna 182T Skylane (182-81117)
N341QS, Cessna 560 Citation V (560-0341)
N681LF, Cessna 680 Citation Sovereign (680-0151)
N955QS, Cessna 750 Citation X (750-0055)
N47TP, Cirrus Design Corp SR20-G3 (2037)
N412PG, Dassault Falcon 50 (097)
N124LS, EMBRAER ERJ-135BJ Legacy 600 (14500948)
N592MG, Epic LT (022)
N932FD, Gates Learjet Corporation Learjet 31A (31A-187)
XA-RDL, Gates Learjet Corporation Learjet 31A (31A-078)
C-GUAC, Gates Learjet Corporation Learjet 35A (35A-309)
N269JR, Gates Learjet Corporation Learjet 35A (35A-224)
N549PA, Gates Learjet Corporation Learjet 35A (35A-119)
N60ND, Gates Learjet Corporation Learjet 55 (55-088)
N221WR, Gulfstream Aerospace Gulfstream III (381)
N900VP, Israel Aircraft Industries IAI-1124 Westwind (289)
N187SL, Piaggio P.180 Avanti (1164)
N444WC, Piper PA-31T2 Cheyenne IIXL (31T-8166054)
N693PC, Piper PA-32-260 Cherokee Six (32-7400026)
N565CB, Republic RC-3 Seabee (946)
By now I had a pounding headache and was finding it hard to concentrate on driving. It was already very hot and humid, so I guessed maybe I hadn't taken enough fluid on. So a quick stop was made to stock up on water and shove some pills down. Back on the I-294 heading North, I again passed Chicago/O'Hare. Quick stop at Scott Street for these two around
08:10….
N790AX, Boeing 767-281, ABX Air/DHL (23140)
XA-CAC, EMBRAER ERJ-190LR, Aeromexico Connect (19000135)
Next stop was Chicago Executive/Palwaukee. From O'Hare, head North on I-294. Take Palatine Road exit and head East. The airfield is on the right. The weather which had been improving, suddenly turned nasty again during my visit here and a lot of what was read off was done from the sanctuary of the car.
A real shame was that there was some kind of open day event in one part of the airfield where the very nice Collings Foundation B-24J and B-17G were parked ready for visitors – unfortunately so much rain fell on top of what they had already received the night before, that the event was cancelled whilst I was there.
This also meant that the road to a Cafe area here was shut off and I couldn't see the P-38, P-47 & P-51 that Google Earth shows to be parked around that area. With a wind that you couldn't stand up in and horizontal rain, I didn't push for access and made do with what I could get.
Seen here between 08:30-09:48……
N8997L, American Aviation AA-1B Trainer (AA1B-0447)
N6675L, Beech F33A Bonanza (CE-882)
N6JC, Beech F33A Bonanza (CE-994)
N20292, Beechcraft 58 Baron (TH-966)
N459T, Beechcraft B35 Bonanza (CD-422)
N6664N, Beechcraft C23 Sundowner (M-2386)
N93012/231909/OR-R, Boeing B-17G Flying Fortress (32216)
N918EG, Bombardier Aerospace Learjet 45 (45-154)
N38SV, Bombardier Aerospace Learjet 60 (60-229)
N796CH, British Aerospace 125-800A (258049)
N87TR, Canadair Challenger 600S (1076)
N601WM, Canadair Challenger 601-3A (5026)
N1478Q, Cessna 150L Commuter (150-72778)
N747KA, Cessna 150L Commuter (150-73454)
N3103V, Cessna 150M Commuter (150-76382)
N714UF, Cessna 152 (152-79438)
N9831G, Cessna 172N Skyhawk (172-73637)
N504FA, Cessna 172S Skyhawk (172S-9504)
N6265T, Cessna 172S Skyhawk (172S-10733)
N87JA, Cessna 172S Skyhawk (172S-8012)
N463SP, Cessna 172S Skyhawk SP (172S-8370)
N71051, Cessna 182M Skylane (182-59474)
N207DD, Cessna 207 Stationair (207-00049)
N3603Y, Cessna 210 Centurion (210-58103)
N19FB, Cessna 210M Centurion II (210-61668)
N761UE, Cessna 210M Centurion II (210-62522)
N416BA, Cessna 560 Citation Ultra (560-0359)
N651QS, Cessna 560XL Citation Excel (560-5251)
N678GS, Cessna 560XLS Citation Excel (560-5616)
N958QS, Cessna 750 Citation X (750-0158)
N761AE, Cessna A.152 Aerobat (A152-0926)
N119WZ, Cirrus Design Corp SR22 (0414)
N681PG, Cirrus Design Corp SR22 (2102)
NX224J/252534/Q2-M, Consolidated B-24J Liberator (1347)
C-GLBB, Dassalt Falcon 900EX (5465)
N50TG, Dassault Falcon 2000EX (3054)
N314TW, Dassault Falcon 20E (314)
N900MK, Dassault Falcon 900 (040)
N484DC, Diamond DA.20-C1 Eclipse (C0251)
N49PL, Eclipse Aviation 500 (000255)
N522TE, Eclipse Aviation 500 (000022)
N575JS, EMBRAER EMB-500 Phenom 100 (50000051)
N351AM, Gates Learjet Corporation Learjet 35A (35-409)
N94GP, Gates Learjet Corporation Learjet 35A (35-411)
N55RG, Gulfstream Aerospace Gulfstream IISP (001)
N8012D, Lake LA-4-200 Buccaneer (1066)
N303LM, Lancair LC-40-550FG Columbia 300 (40041)
N2201M, Mooney M.20J (24-0560)
N58089, Mooney M.20K (25-0872)
N906T, Mooney M.20TN Acclaim (31-0088)
N395KT, Piaggio P.180 Avanti (1044)
N16390, Piper PA-28-140 Cherokee (28-7325262)
N8844N, Piper PA-28-140 Cherokee (28-25695)
N8204J, Piper PA-28-161 Cherokee (28-8216154)
N3619R, Piper PA-28-180 Cherokee (28-5714)
N5271L, Piper PA-28-180 Cherokee (28-4569)
N2247M, Piper PA-28R-201 Cherokee (28R-7837073)
N697JB, Piper PA-34-200T Seneca II (34-7770035)
C-GMVV, Piper PA-44-180 Seminole (44-7995164)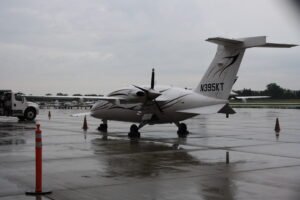 Photo credits: Grant Robinson
Regards,
Grant Robinson